It's been years in the making — does Virgin Hotels New York mark the start of a new luxury travel empire for the British billionaire? Alexandra Jones travels to the States to find out
This is Sir Richard Branson's first New York opening — a vast, 460 room, 39-floor glass behemoth with multiple roof terraces, bars, a pool and even a taverna, which will one day become an ivy festooned wedding venue (though admittedly when I see it ahead of the hotel's grand opening the ivy is yet to grow in, so it's all looking a little skeletal).

Branson broke ground on the project way back in 2015 and the development represents hundreds of millions in terms of investment. It's one of the flagship openings which is meant to set the tone, in terms of scale and ambition, for the rapidly expanding Virgin Hotels empire. This year the company will also begin work on sites in Miami and Denver and has an eye on London too — it's a far cry from 2020 when, as Branson recently told the BBC, thanks to the pandemic he "thought we were going to lose everything."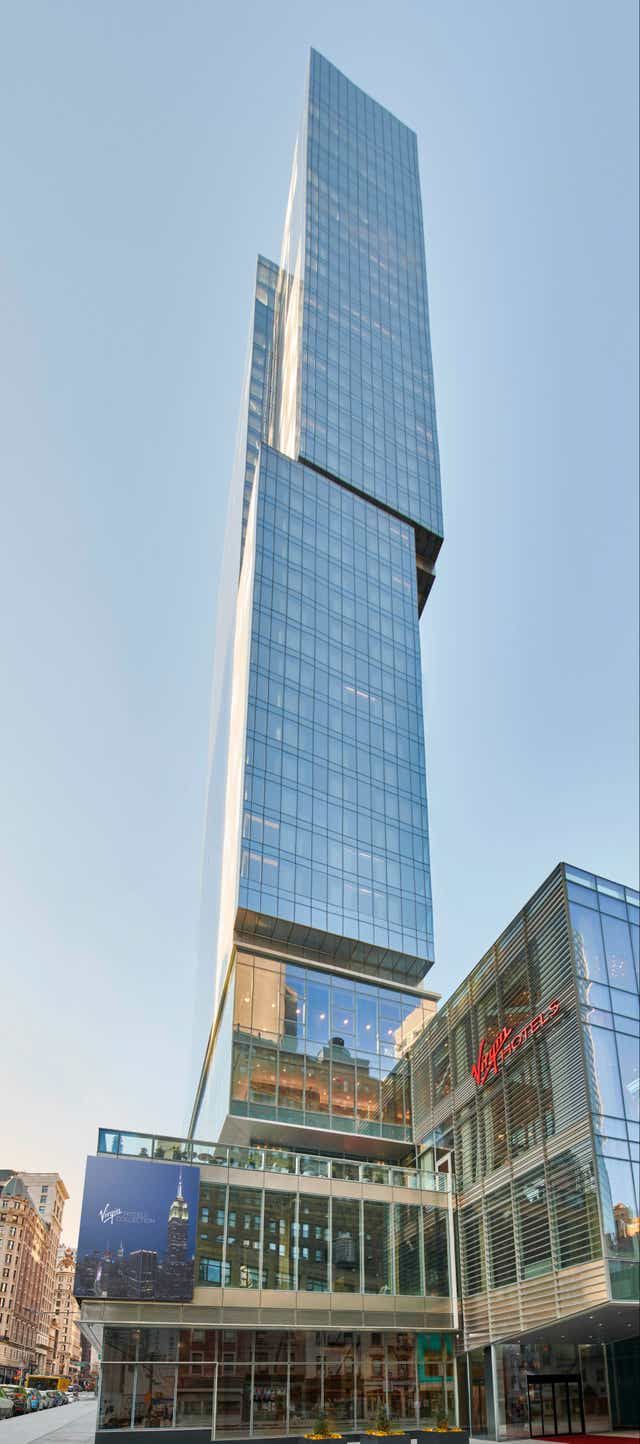 Virgin Hotels New York was purpose built: the company broke ground on the site in 2015
Has all that time and money paid off in New York? In a word: yes.

Admittedly, Virgin Hotels New York is trying to be all things to all people. On the one hand, it's giving vibey party hotel with a Pool Club that serves cocktails all day and a late night 'Shag Room' (think karaoke, crimson banquettes and a statement chandelier), on the other, it has the kind of sober and unfussy bedrooms that seem much more suited to business travellers.

Still, it would be difficult to have a bad time there — the place exudes an air of fun and frivolity. The staff are effusively polite, the views are impeccable, the music is (quite often) live, the food is standout. If this is Branson's bid to shore up Virgin's future, it's a good one.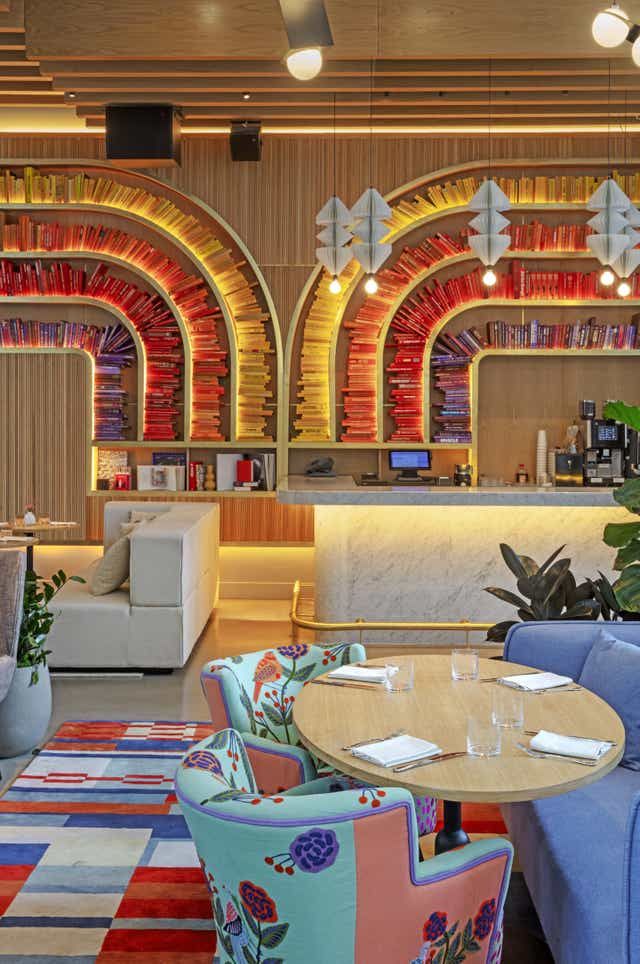 Virgin Hotels New York
Where is it?

Right in the middle of Manhattan, towering cheek-by-jowl next to the Empire State Building.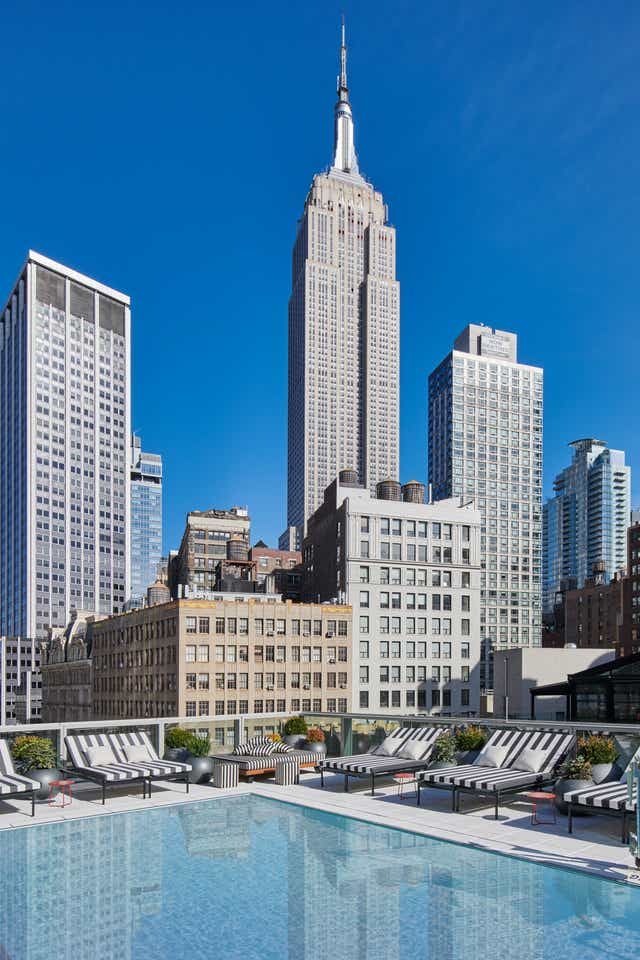 The view from the pool deck at Virgin Hotels New York
Most of the rooms have spectacular views of the landmark (as well as the Chrysler Building and the Statue of Liberty). Even if you're sprawled by the pool (it's reserved exclusively for hotel guests), which is on the fourth floor and dwarfed by the skyscrapers around it, you're still afforded one of the most iconic vistas in Manhattan thanks to the hotel's proximity to the Empire State.

It's a slice of prime real estate in NoMad (short for North of Madison Square Park) which puts you within 30 minutes' walking distance of Central Park (perfect if you want to get a morning run in), 20 minutes from MoMA and Grand Central Station, and just ten minutes from Madison Square Garden and Times Square.

It's ideally located for anyone looking to explore Manhattan on foot. NoMad has recently seen a slew of new hotel openings including the Ritz-Carlton, The Ned (which opened in late 2022) and The Ace — all are just a block or two from the Virgin location and it's easy to see why it's become such an attractive area for a certain breed of vibey hotel chain — this is the quintessential New York experience.

Style

Despite how big the hotel is, the communal spaces feel warm and playful with Everdene — the all-day-dining restaurant and terrace which takes up the hotel's entire third floor — acting as the heart of the operation. It's a 4000-square-foot space, suffused with light and buzzing with activity from sun-up to way past sundown. Floral-festooned armchairs, blue velvet sofas, a scarlet baby grand piano, statement scarlet staircase — it borders on chintzy but is undoubtedly a fun space.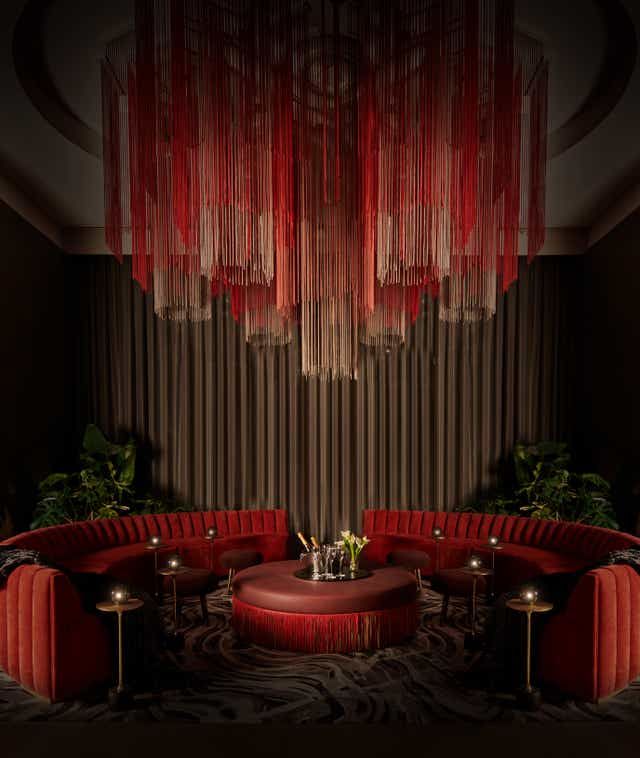 The Shag Room at Virgin Hotels New York

The Shag Room is a low-lit, late night cocktail bar serving nibbles and party vibes. Karaoke can be requested, though the crowd when I stayed seemed too cool for it.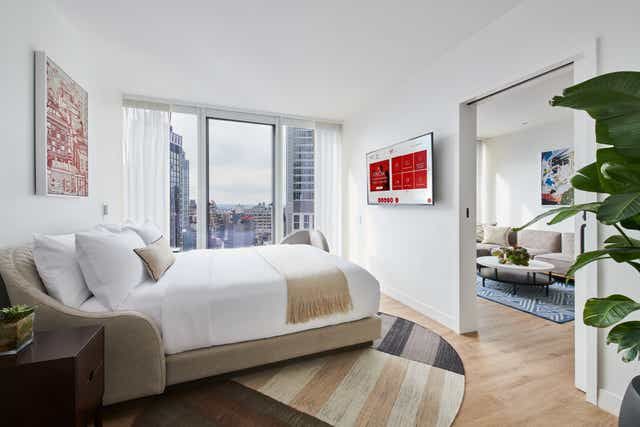 Virgin Hotels New York

By contrast, the 'chambers' (i.e. rooms) have playful touches but are fairly basic on the whole. Virgin have optimised the space by turning the entrance hall area into a dressing room (complete with vanity and softly lit make-up mirror) and then have a sliding partition door in case you want to separate it from the bedroom.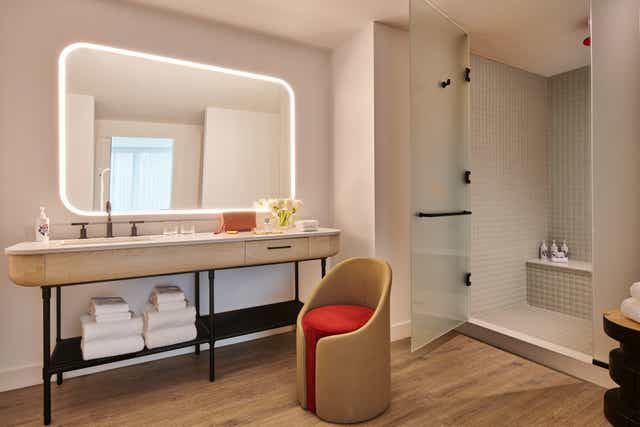 Virgin Hotels New York

It's a clever use of 25-square-metres and makes everything feel spacious and well thought out. The standout feature in each chamber is really the floor-to-ceiling windows — and admittedly, you don't need zany artworks and plush fabrics when Broadway and the Empire State Building are your backdrop. Otherwise, the rooms are simply but comfortably furnished and decorated mainly in white — with pops of Virgin's signature red here and there (each room, for instance, comes with a red Smeg mini fridge).

Food & drink

The modern American menu at Everdene is the work of chef Freddy Vargas (an alumni of Scarpetta in Beverly Hills — now closed, though once a regular haunt for the likes of Rihanna, Samuel L. Jackson, and Hilary Swank). And wow-ee, the food is good — whether you're in for breakfast, lunch or dinner the fare at Everdene is fresh, unpretentious and big on flavour.

At breakfast the egg white frittata with spinach, shitake and goats cheese was a revelation. Egg white anything is always a good barometer for a chef's culinary skills given how bland it has the potential to be — this frittata was positively moreish. I asked for the recipe. Equally not to be missed, the indulgently creamy scrambled eggs with burrata. At dinner, the tagliolini with forest mushroom, garlic, chive and a mountain of parmigiano reggiano was the standout — deliciously indulgent and earthy. A fine dining restaurant is set to open in the building too in the coming months, though Everdene, with its nightly live jazz performances (that red baby grand gets put to good use!), more than holds its own as a destination restaurant.

Extracurricular

You're right in the middle of Manhattan and the island is your oyster. If you want to be wowed by the city itself, head to the nearby One Vanderbilt and try the Summit Experience — it's part viewing platform, part art installation and is one of the most spectacular ways to see the city from high up.