The incumbent president of Hong Kong's legislature has been re-elected to the post after running unopposed in the first one-man race for the body's top position since the city's return to mainland China in 1997.

With no opposition camp to put forward a challenger, pro-establishment veteran Andrew Leung Kwan-yuen was confirmed as head of the new Legislative Council just minutes after the nomination period closed on Tuesday – unprecedented for a process that once required days of debates before consensus was reached.

After Tuesday's announcement, Leung played down the lack of competition for the body's top post.

"In the past, there were competitions between the pro-establishment and the opposition camp," he said. "But whether that is a real competition, people would already have an answer in their minds."

Last month's Legco election, the first since Beijing overhauled Hong Kong's political system to ensure only "patriots" held office, had raised questions of representation, despite officials' assurances that candidates came from diverse backgrounds. In the end, every seat in the now 90-member legislature went to pro-establishment candidates, save one, which went to a third-party centrist.

The mainstream opposition had sat out the poll, with many of its leaders currently behind bars, and those still free questioning whether the new patriots-only rules even permitted them to run.

Leung, however, insisted on Tuesday that his colleagues came from a diverse array of "classes, cultures and depths", and that he was honoured to have gained their approval.

He said the legislature under his stewardship would observe the "one country, two systems" governing principle, and uphold national security.

Leung also hailed the end of what he described as "the days of confrontation with the government", saying he expected only positive interactions in the new legislature, even as he called on the executive branch to come up with more balanced policies in the future.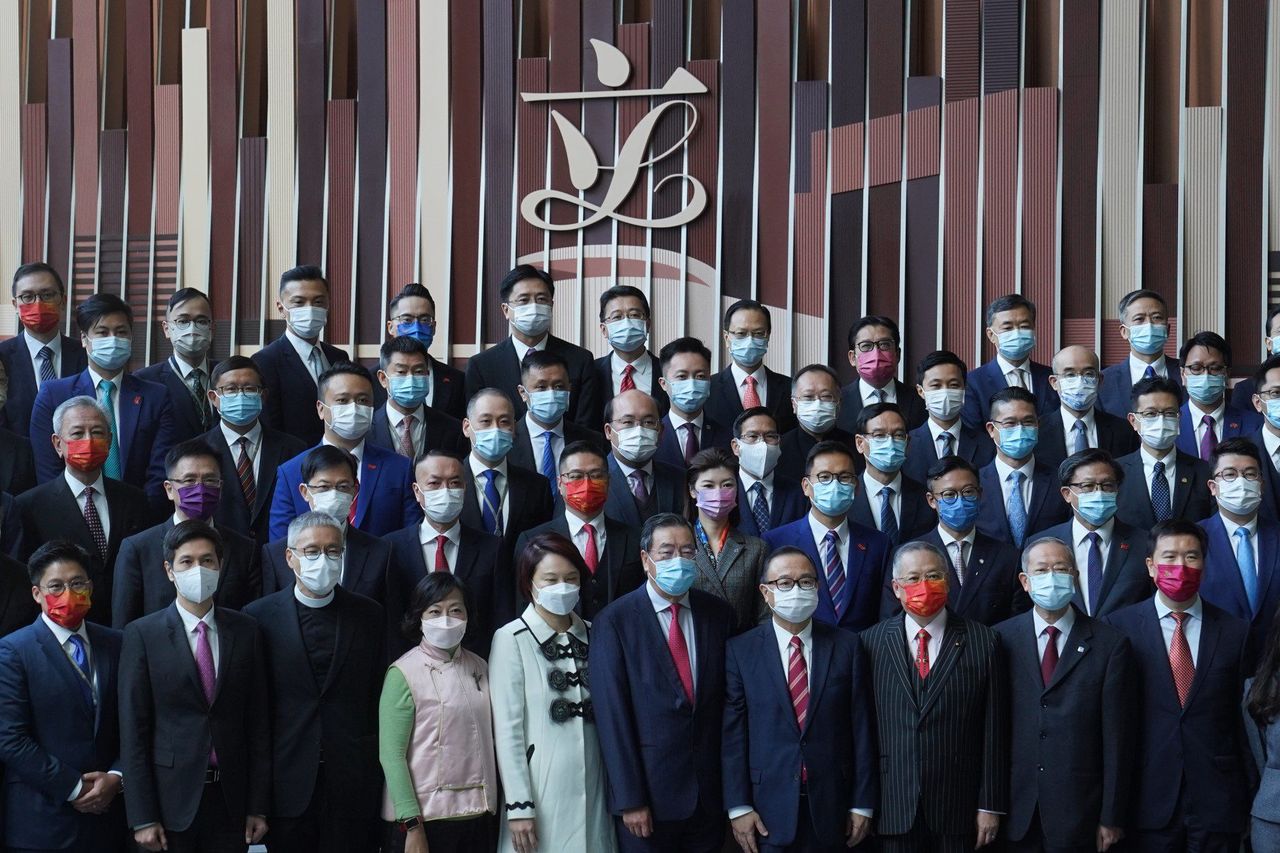 Newly elected lawmakers appear at their swearing-in ceremony at the Legislative Council on Monday.

All previous Legco presidential hopefuls had faced challengers, including Leung himself, who ran against James To Kun-sun in 2016. Rita Fan Hsu Lai-tai, who headed the body between 1998 and 2004, ran against Andrew Wong Wang-fat, her predecessor under British rule, and the Democratic Party's Albert Ho Chun-yan.

Fan's successor, Jasper Tsang Yok-sing, was challenged by Democrat Fred Lee Wah-ming in 2008, and Civic Party head Alan Leong Kah-kit in 2012.

Lau Siu-kai, vice-president of semi-official think tank the China Association of Hong Kong and Macau Studies, said competition had always been created previously because there was an opposition candidate.

He also said lawmakers would pick Leung because they wanted someone with past experience especially on the rules of procedure.

Steve Tsang, director of the SOAS China Institute at the University of London, said it confirmed Hong Kong "followed more closely the pattern on the mainland".

Earlier elections allowed some scope because an element of "competition" had to be seen, he said. "But the choice of speaker or presiding officer of Legco is about selecting the leader, so it needs to follow the guidance," he said.

In advance of Monday's Legco oath-taking ceremony, the red-and-white bauhinia emblem of Hong Kong that once hung in the chamber was replaced with the red-and-gold five-starred emblem of China, pursuant to a new legal requirement.

Asked why he did not consult the newly elected lawmakers about the change, Leung acknowledged the snub, but said he had consulted Legco's administrative wing, the government and Beijing's liaison office over the relevant safety, legal and political issues.