The government has announced changes to income tax rules, which will mean millions of people pay more.
Income tax is the single biggest source of funding for the government.

What changes have been announced?

Chancellor Jeremy Hunt will freeze the income tax personal allowance at £12,570 until April 2028.

Anyone who earns more than this will pay more tax.

He is also freezing the threshold at which people start paying higher rate tax for the same period. They were already frozen until 2026.

Freezing the thresholds means that tax bands stay the same, even as people's pay goes up.

As wages rise, people pay tax on a larger proportion of their earnings, and more people move into higher tax brackets. This is sometimes called fiscal drag.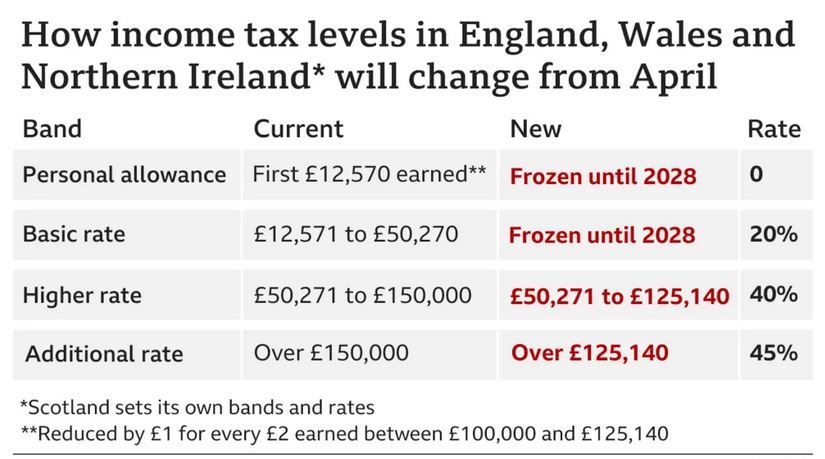 The Office of Budget Responsibility - which independently assesses the government's economic plans - estimates that freezing thresholds until 2028 will create an additional 3.2 million new taxpayers, and will mean 2.6 million more people pay higher rate tax.

Mr Hunt has also announced that the threshold when the highest earners start paying the top rate of tax will fall from £150,000 to £125,140 from April 2023.

What income do you pay tax on?

You pay income tax to the government on earnings from employment and profits from self-employment.

Income tax is also due on some benefits and pensions, the money you get from renting out property, and returns from savings and investments above certain allowances.

These rules apply in England, Wales and Northern Ireland. Scotland has different rules to the rest of the UK.

What is the basic rate of income tax?

You pay the basic rate of income tax on earnings between £12,571 and £50,270 a year.

The basic rate is 20%, so a fifth of the money you earn between those amounts goes to the government.

What is the higher rate of income tax?

The higher rate of income tax is 40%, and is paid on earnings between £50,271 and £150,000 a year. The top of this band will fall to £125,140 from April 2023.

Once you earn over £100,000 a year, you start losing your tax-free personal allowance.

You lose £1 of your personal allowance for every £2 that your income goes above £100,000, which means if you earn more than £125,140 a year, you no longer get any personal allowance.

What is the additional rate of income tax?

Under the current rules, the additional rate of income tax is 45%, and is paid on earnings above £150,000 a year.

This will drop to £125,140 in April 2023.

The government says about 660,000 people pay the additional rate of income tax.

What is National Insurance?

For employees, National Insurance is in many ways similar to income tax - it is also a tax on the money you earn.

It is the second biggest source of money for the government.

It works on some of the same thresholds as income tax.

You do not pay it on the first £12,571 you earn a year. It is then charged at 12% on earnings up to £50,271, and it is 2% on any money made above that.

Mr Hunt confirmed the main National Insurance thresholds will also remain frozen until April 2028.

It is not paid by people over the state pension age even if they are still working.

Employers also have to pay National Insurance.

How is tax different in Scotland?

Some income tax rates are different in Scotland because of powers devolved to the Scottish Parliament.

These are the current income tax rates:

* No tax paid on £12,570 personal allowance

* £12,571 to £14,732 starter rate of 19%

* £14,733 to £25,688 Scottish basic rate of 20%

* £25,689 to £43,662 intermediate rate of 21%

* £43,663 to £150,000 higher rate of 41%

* Above £150,000 top rate of 46%

* Personal allowance reduced by £1 for every £2 earned above £100,000.

The Scottish government will set out its tax and spending plans for 2023/24 on 15 December.