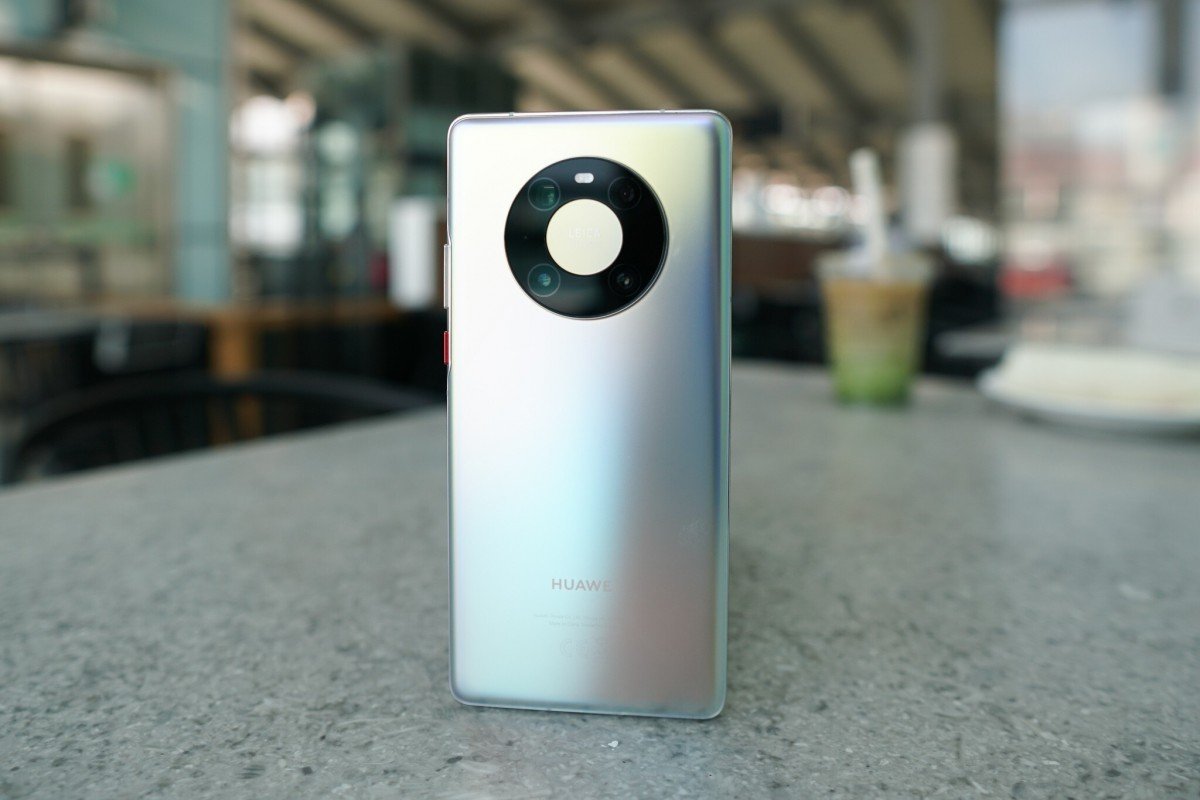 The Huawei Mate 40 Pro with its unique circular camera module. This could be Huawei's last Android-powered smartphone.
Huawei's latest flagship smartphone, the Mate 40 Pro, could mark the end of an era. With US sanctions shutting off its access to high-end chips and the Chinese company's recent announcement that we will see at least one smartphone in 2021 running on its in-house HarmonyOS operating system, this could be the last Android-powered Huawei smartphone with a cutting-edge chip.

Until then, the Mate 40 Pro is yet another hardware powerhouse.


Design and hardware

The Mate 40 Pro continues the design aesthetic established by the Mate 20 Pro: a drastically curved OLED screen, a 3D face unlock system (a rarity in Android), and a centrally located, circular camera module.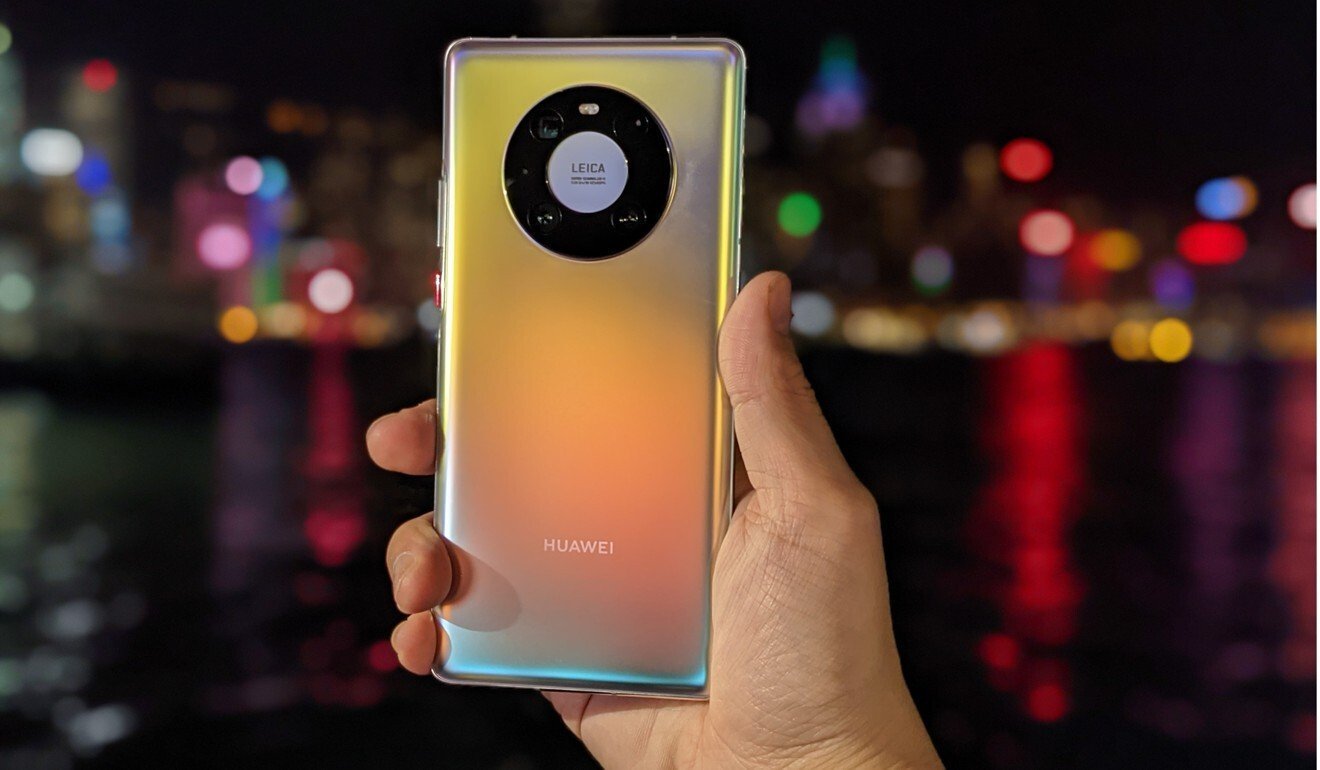 The Huawei Mate 40 Pro has a circular camera module.

The Mate 40 Pro's main camera system comprises a 50-megapixel main lens with the largest image sensor size in the industry (for better light intake); a 20-megapixel ultrawide-angle camera; and a 12-megapixel Periscope zoom lens that offers 5X lossless optical zoom.This is not the most powerful zoom lens in Huawei's line-up – the more premium Mate 40 Pro+ and Huawei P40 Pro+ use an even better 10X lossless Periscope sensor.
But truth be told, the current 5X lens here still produces far sharper zoom shots than the iPhone 12 or other Androids. That 10X lens is almost an unnecessary flex.

Around the front, in the larger-than-usual hole-punch cut-out are two selfie camera lenses (a main one and a 100-degree wide angle), along with an infrared camera for 3D facial scanning.

The phone offers 8GB of RAM, with UFS 3.1 storage, and the Kirin 9000, Huawei's latest flagship chip that's built on 5nm architecture, the same as Apple's A14 Bionic. In silicon tech, the smaller the nm the better, and in early benchmarks the Kirin 9000 beats the 7nm Qualcomm Snapdragon 865 chip used in most of the latest flagship Android phones.

Huawei designed the Kirin line of chips itself, but relies on a Taiwan-based semiconductor manufacturing company to build them, and US sanctions have forced the partnership to end, meaning the Kirin 9000 could be the last in this series.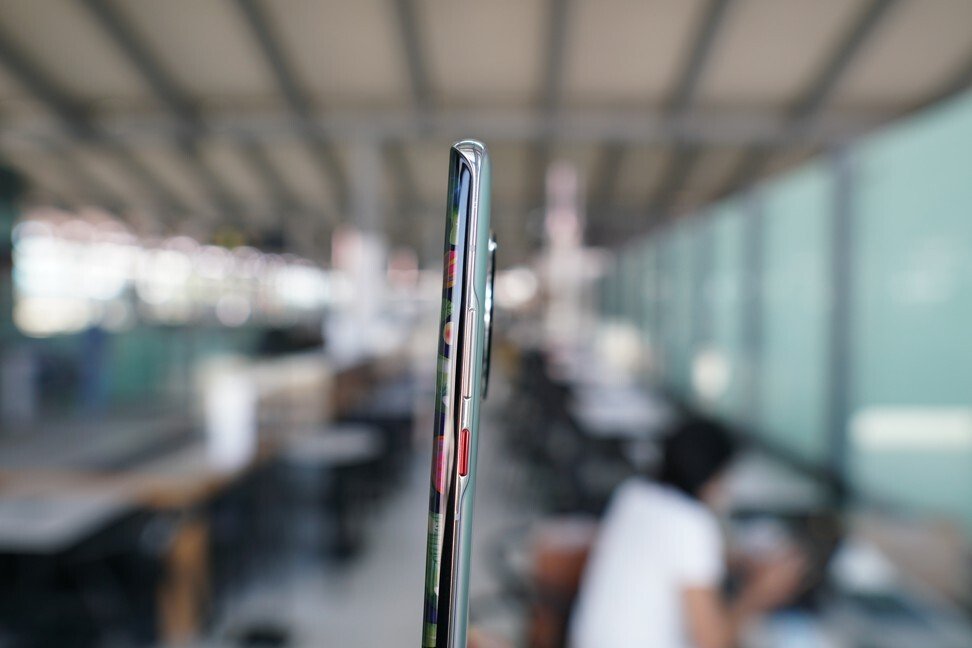 The 6.67-inch screen on the Huawei Mate 40 Pro curves drastically.
Software and features

Those same US sanctions that are threatening Huawei's chip supply have also prevented Huawei's software using Google's core services such as YouTube, Gmail, and the Google Play store.

Huawei has spared no expense in building up its own app ecosystem, and while it has found many viable alternatives to key Google services – Here Maps works almost as well as Google Maps, and Microsoft's Outlook is a great email client that even supports Gmail – there's no replacing the ubiquitous YouTube.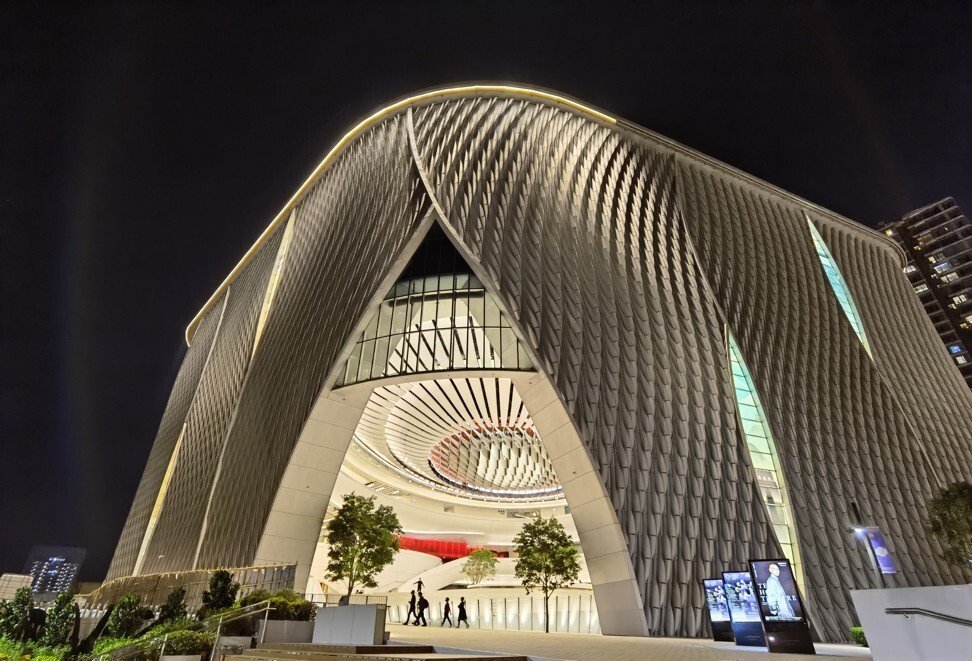 Dynamic range and image sharpness are excellent in shots captured by the Huawei Mate 40 Pro's main 50-megapixel camera lens.

The good news is that other major apps most of the world use – such as Instagram, Facebook and WhatsApp – all work on Huawei devices, though users will have to side-load them, as they're not officially available on Huawei's app store.

Still, despite the Google setback, I find that I can still use a Huawei phone as my main device and not lose out on too much. The Google situation will never be ideal to people outside China, but it's not an absolute deal breaker.

The EMUI 11 software is smooth, and the display's 90Hz refresh rate adds to the fluidity of its animation. Huawei has added multitasking functionality such as the ability to open most apps in a smaller floating window.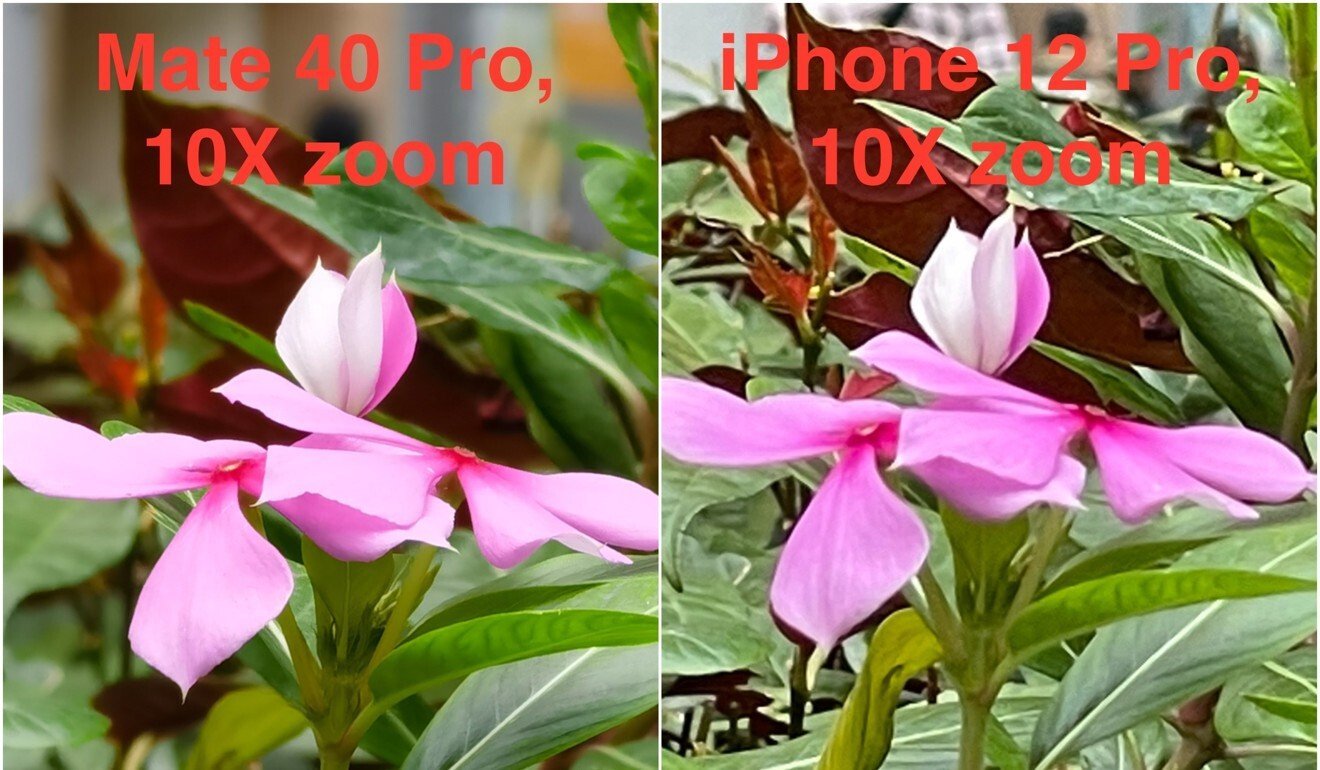 A pair of 10X zoom shots captured by the Huawei Mate 40 Pro and the iPhone 12 Pro. Huawei's Periscope zoom lens produces a far sharper image than the iPhone's telephoto zoom lens.
Performance and battery life

Whether in its photography or processing power, the Mate 40 Pro performs like a champ. Huawei has had the best smartphone camera system for still photos for the past three years, and this hasn't changed.

The main 50-megapixel lens can practically see in the dark, producing well-lit shots in pitch black rooms. The wide-angle camera has a tighter crop than on other phones, but packs much more sharpness into the frame.

Video is where the Mate 40 Pro falls to rivals: the iPhone 12 for the most part shoots smoother, more vivid videos, and I'd argue Samsung's Note 20 Ultra edges out the Mate 40 Pro in video stabilisation too.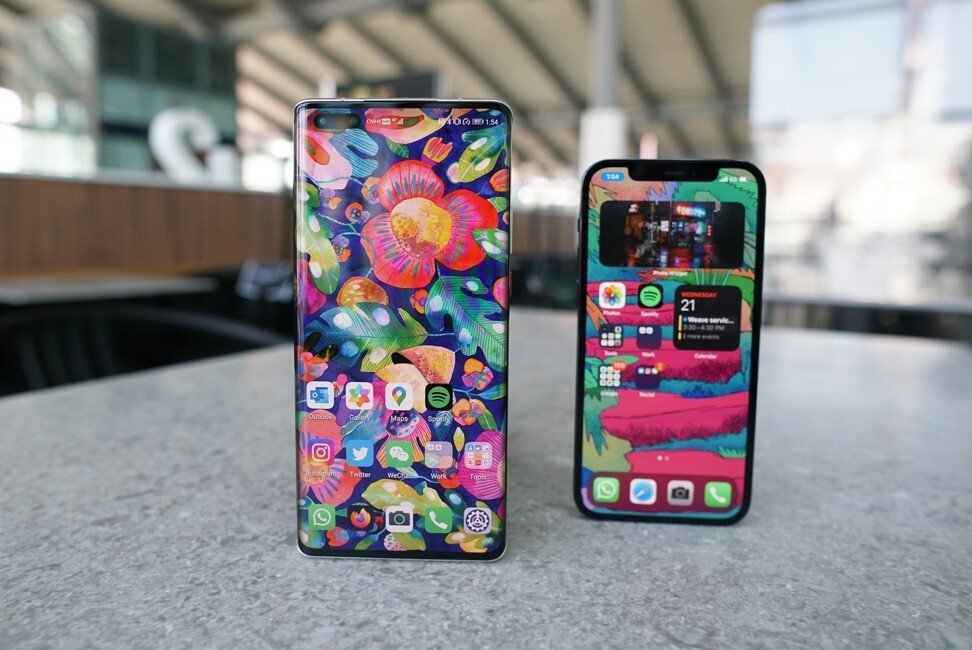 The Huawei Mate 40 Pro (left) next to the Apple iPhone 12.

The 5nm chip is extremely powerful when it comes to handling real-time computational tasks such as AI scene recognition or applying HDR effects to photos after the fact. Apps launch fast and battery life is also top notch, as is usual with Huawei. The 4,400 mAh cell here routinely gets me through 12 to 14 hour days with 25 per cent power to spare.


Conclusion

Were it not for the Google issue, the Mate 40 Pro would be easily the most impressive slab Android smartphone released this autumn (the Galaxy Fold 2 foldable is in a category of its own).

It's hard to recommend the Mate 40 Pro to regular consumers. However, gadget enthusiasts should have much interest in this device, not just because it has the best camera system and the best chip of any Android handset, but because this phone could become a collector's item because of its special place as, possibly, the last Android Huawei phone.

Dimensions: 162.9mm x 75.5mm x 9.1mm (glass back)

Weight: 212g (glass back)

Display: 6.76in OLED screen

Battery: 4,400 mAh

OS version reviewed: EMUI 11.0 (Based on Android 10)

Processor: 5nm Kirin 9000 chip

Cameras: 50-megapixel main lens, 20-megapixel ultrawide angle camera, 12-megapixel Periscope zoom lens

Memory: 8GB RAM + 256GB ROM

Colours: silver, white, black, green, yellow

Price: €899 (US$1,063)