Council bosses have said they were not consulted by the Home Office about the arrival of at least 55 migrants at a hotel at a seaside resort.
North Devon Council said the hotel in Ilfracombe was an "unsuitable location" for them due to its remoteness.

North Devon MP Selaine Saxby asked the Home Office directly for an "urgent and detailed consultation" with the council.

The Home Office said the use of hotels was a "short-term solution".



'I don't know what to do'

Councillor David Worden, leader of the council, said he was told in October by the government that the hotel would not be used to house migrants.

He said: "We were not consulted or formally notified about this change in direction from the Home Office, nor do we have a full understanding at this stage of their intentions for the hotel's future use."

He warned Ilfracombe was an "unsuitable location for use as asylum accommodation due to its remoteness and the likely impact of the loss of an operating hotel on the local economy".

BBC News spoke to one migrant, who did not want to say where he was from, but moved from Croydon and arrived in Ilfracombe at about 02:00 GMT on Thursday.

He said: "I don't think that this is the right place, because in London I used to have an Orthodox Church where everything is in my language and I understood everything.

"Now I don't know what to do, because I have no information and they are not telling us how long we are going to stay here. I don't know what is happening."

Linda White, who resides in north Devon, said Ilfracombe was not the right location to bring asylum seekers.

She said: "It was done I think behind everyone's back, there aren't homes for the people down here anyway.

"A lot of people can't get a dentist, a doctor or a hospital appointment, and they have put these poor people down here."

Local Karen Dart said residents would have "liked a bit more consultation", but knew that "people need help and they are leaving countries that have problems so they are welcome".

Mr Worden said he recognised the council's "responsibility to help people seeking safety in the UK", and said the council, Devon County Council and Ms Saxby intended to gain a "full understanding" of the Home Office's "intentions for the hotel's future".

It comes as Home Secretary Suella Braverman has been criticised over the conditions at a migrant processing centre at Manston in Kent.

There are thousands of migrants at the camp, which local Conservative MP Roger Gale said had been "overwhelmed".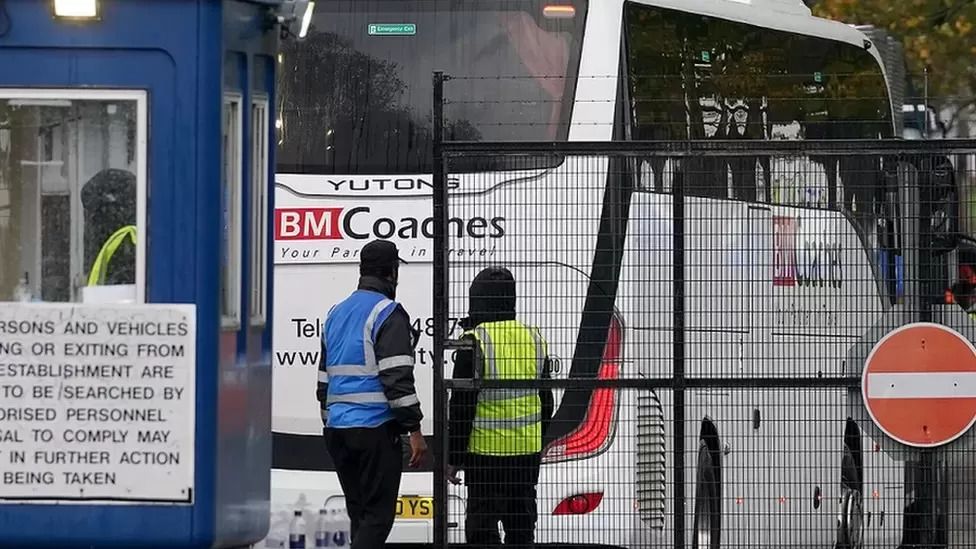 A coach arriving at the Manston processing centre in Kent this week

Ms Saxby said the Home Office needed to find a solution for processing asylum claims.

"This is just not an appropriate way to treat people who are seeking asylum in our country and I hope now they are with us in Ilfracombe they are at least more comfortable than where they've come from," she said.

The Home Office said: "The number of people arriving in the UK who require accommodation has reached record levels and has put our asylum system under incredible strain.

"The use of hotels to house asylum seekers is unacceptable - there are currently more than 37,000 asylum seekers in hotels costing the UK taxpayer £5.6m a day.

"The use of hotels is a short-term solution and we are working hard with local authorities to find appropriate accommodation."