Hong Kong's residents have emerged as some of the busiest and most aggressive buyers of London homes, as they made a beeline to snap up residential real estate ahead of a January 2021 application process that opens the path to the right of abode and full citizenship in Britain.

Hongkongers bought £305.6 million (US$405 million) of prime London homes in the first nine months of 2020, ranked second among foreign property buyers behind France and ahead of mainland China, according to research by Astons, an investment immigration adviser.

The flurry of investments come before applications commence on January 31 for Hong Kong holders of the British National (Overseas) passport and their immediate family members to receive a special class of visa that puts them on the path to citizenship. The programme, created amid deteriorating UK-China relations after the Chinese legislature passed a national security law for Hong Kong, could attract more than one million Hongkongers to move to Britain in the next five years, with half of them relocating in the first year, according to British media reports citing official estimates.

"The ability for Hong Kong's BN(O) passport holders to apply for British citizenship will impact the London market over the coming months and it has already started to do so with prospective buyers starting their search for a home in anticipation," said Aston's managing director Arthur Sarkisian, in an emailed interview with South China Morning Post.

Foreigners bought 41 per cent of London's residential real estate with prime postcodes in the first three quarters, totalling £3.32 billion, according to Astons. The French were the biggest investors, spending £365.4 million on 11 per cent of the total purchases by foreigners. Hong Kong was tied with the United States in second place with 9.2 per cent, or £305.6 million, while mainland China's buyers were in third place with £275.7 million, or 8.3 per cent.

"We've seen a considerable uplift in enquiries from our Hong Kong office by those interested in securing a property in London since the announcement" of the BN(O) passport holders' eligibility for UK residency, said Marc von Grundherr, a director of international property consultant Benham and Reeves.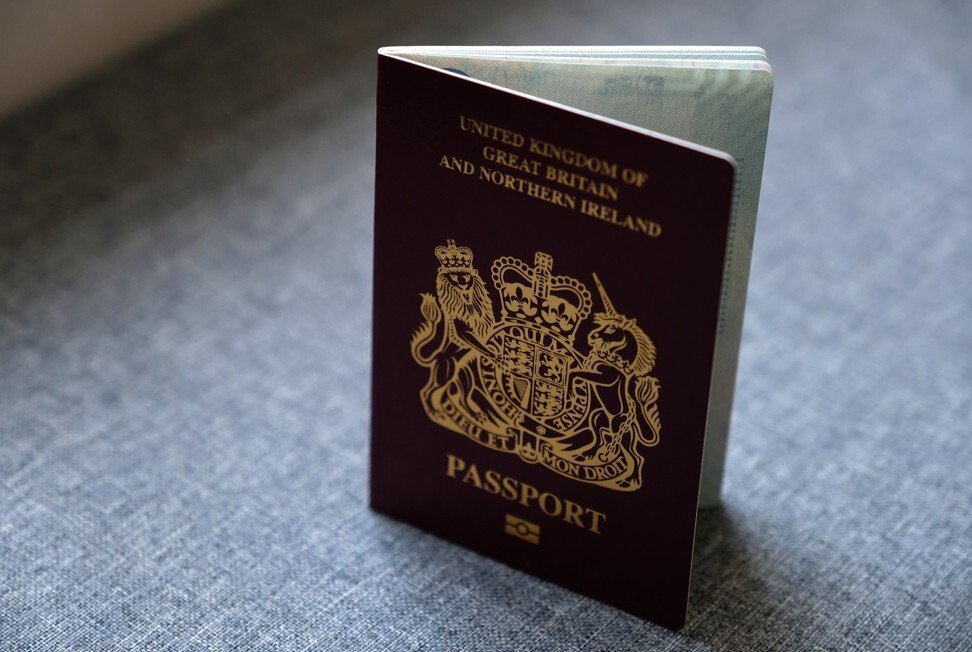 A picture shows British National (Overseas) passport on 12 November 2018.

The BN(O) passport, some of which were issued to Hong Kong's residents after the city's return to China's sovereignty in 1997, is not recognised by the Chinese government and is invalid for travel to mainland China. Hongkongers can separately use a passport bearing the mark of Hong Kong as a Special Administrative Region (SAR) of China, and must use a separate home-return permit to visit the mainland.

As many as 6,438 homes totalling £8.1 billion were sold in the first nine months, which translates to £1.26 million for the average home, according to Astons' data.

"The clear feedback we have from [Hong Kong's] buyers is that the weak pound and the ongoing discount in prime London values from the peak back in 2014 are the main attractions," said Liam Bailey, global head of research at consultancy Knight Frank. "Travel restrictions have hampered some sales and we expect to see an uptick in interest into 2021."

The surge in demand has also been helped by savings in stamp duties. Currently, foreign investors of UK property will receive the same stamp duty holiday as domestic buyers, which equates to as much as £15,000 in the top tiers of London's prime market. In addition, there will be a further 2 per cent stamp duty surcharge for foreign buyers in April 2021.

"It's only natural that those looking to obtain UK citizenship will commit fully to a new life here and so owning a home is an essential part of this," said Sarkisian. "As a result, Hong Kong buyers are expected to account for a considerable amount of market activity in London's prime property sector over the coming year and beyond."