Never in recent memory has Hong Kong been so gripped by a US presidential election – and one candidate in particular.

Throughout the day, Hongkongers hung on every minute development, glued to television news channels that dedicated most of their airtime to covering the as yet undecided race thousands of kilometres away between US President Donald Trump, a Republican, and his Democratic challenger Joe Biden.

But it was Trump in particular who appeared to be on Hongkongers' minds, with locals' feelings towards the incumbent more often than not a reflection of how they would like to see US-China relations play out over the next four years.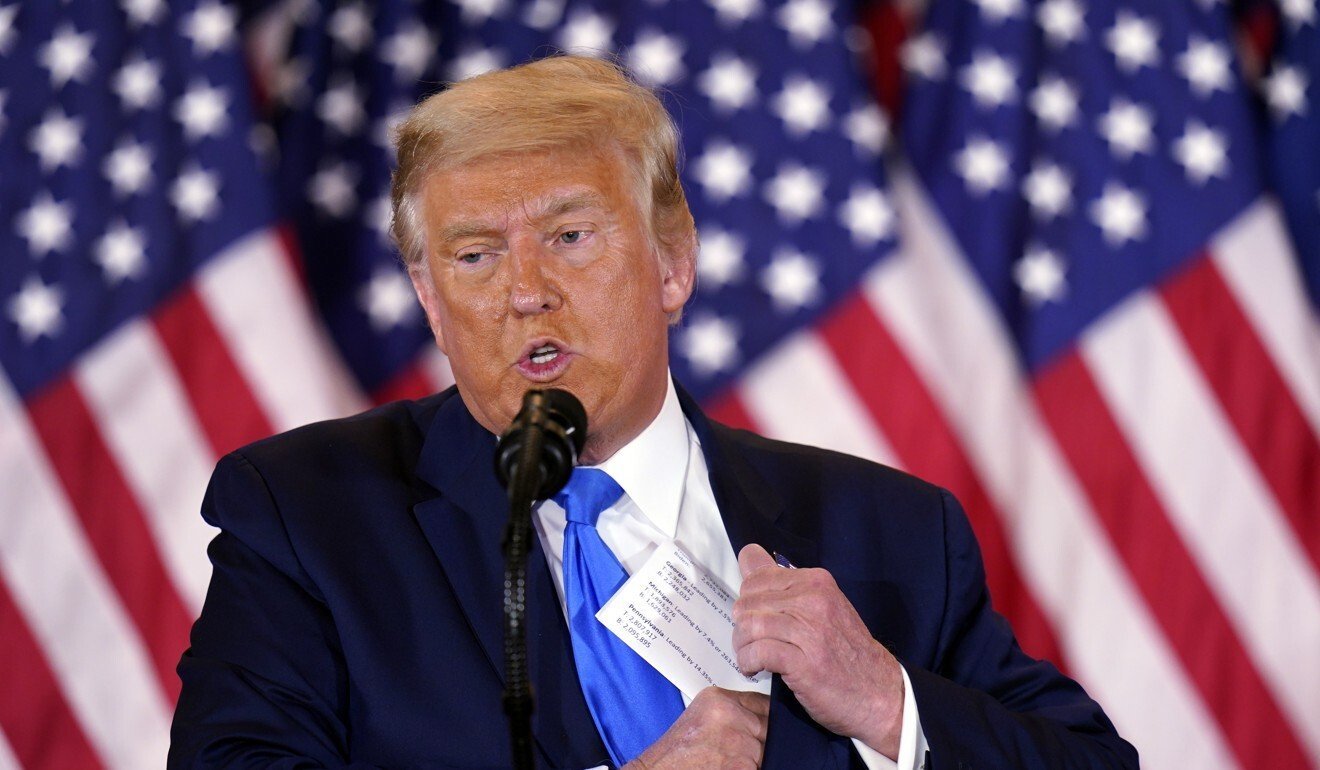 US President Donald Trump's re-election bid has drawn intense interest in Hong Kong.

Those sympathetic to the city's pro-democracy camp took to LIHKG, a Reddit-like forum favoured by activists during last year's anti-government protests
, to share their own takes on the election on Wednesday.

The topic accounted for nine of the 10 most popular posts at one point, with entries ranging from reposted news articles to joking shows of support for Trump, who has scored points among supporters of the protest movement for the US's recent hardline stance on China.

If Trump won, one supporter boldly vowed, "I will give away 100 servings of fried chicken! I will not eat my words."

Another sought to comfort others as Biden continued to hold a modest lead against Trump.

"There has already been a bipartisan consensus [in America] against the Chinese Communist Party," the user wrote, suggesting the US' recent hawkish approach would not change even if Biden won.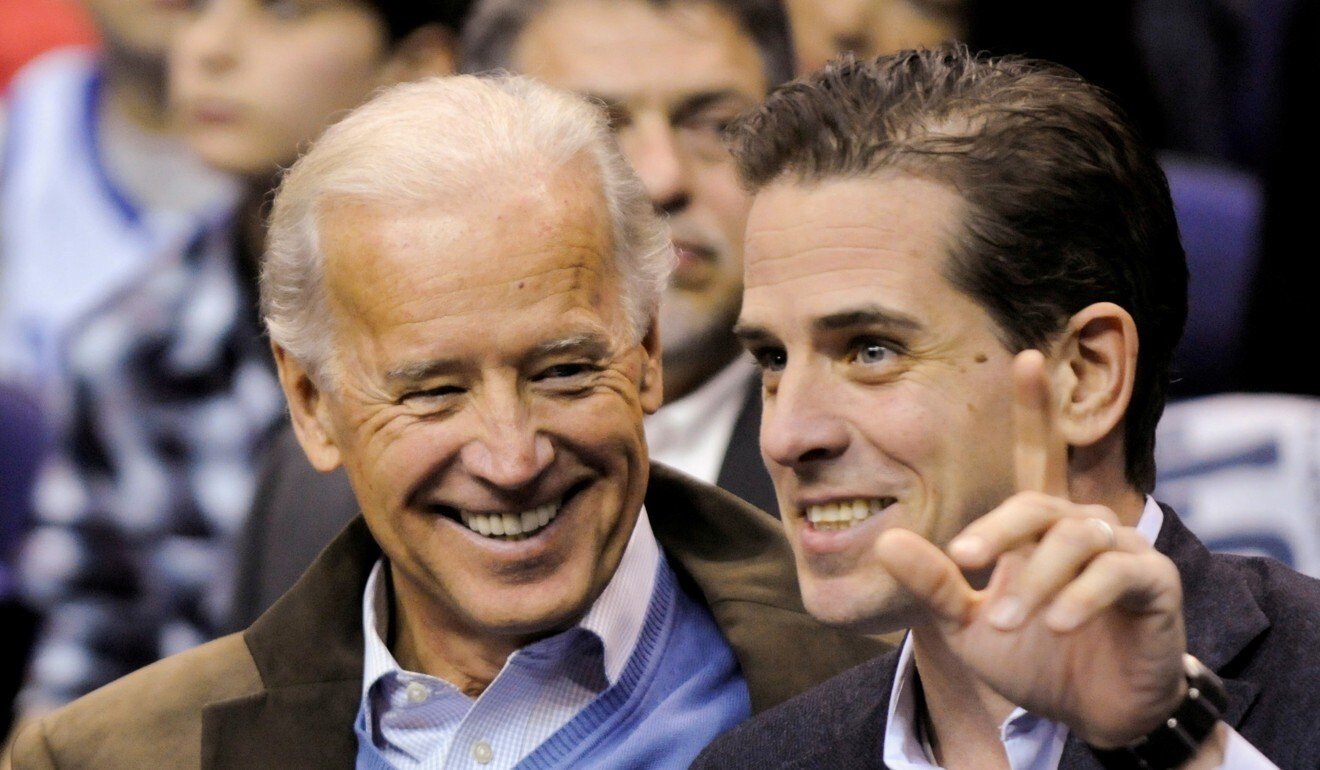 Supporters of Hong Kong's protest movement last year have been comparatively lukewarm on Democratic challenger Joe Biden (left), pictured with his son Hunter.

International relations analyst Derek Yuen Mi-chang, formerly a lecturer at the University of Hong Kong, said locals had been talking about the election for months.

"They are drawing a connection between the result and the way in which the US will handle China and Hong Kong," he said.

Following months of anti-government demonstrations – which succeeded in halting a controversial extradition bill, but not in securing wider democratic concessions as participants had hoped – some Hong Kong protesters, prominent opposition figures among them, began to look to Trump for support.

Last week, one of the most circulated newspapers in Hong Kong found itself caught up in a plot to discredit Biden. Mark Simon, the right-hand man of media tycoon and Apple Daily founder Jimmy Lai Chi-ying, admitted commissioning research that resulted in a report accusing Biden's son Hunter of having business ties with the Chinese government. The report was attributed to a fictional identity, complete with a headshot fabricated using artificial intelligence.

Biden refuted the report, calling it misinformation, but not before it was disseminated by Trump associates to sympathetic media outlets.

Lai later apologised, saying Simon used his money without his consent to pay off the project.

Meanwhile, there were others among the city's activist circles who castigated Trump for his human rights track record back home, pointing out the irony of support for him among many in the city's pro-democracy camp.

Indeed, Trump has encouraged the forceful suppression of anti-racism protests in the US, pushed a staunch law and order platform amid widespread accusations of excessive police violence, and grinned at calls for the arbitrary imprisonment of political opponents – all things that ostensibly fly in the face of Hong Kong protesters' long-held "five demands".

Yet his support among locals is nonetheless substantial, given his administration's open vocal support of the protest movement and its recent sanctions against Hong Kong and Chinese officials accused of undermining the city's autonomy.

Just last month, Washington again drew the ire of Beijing by including Hong Kong for the first time in its annual refugee admissions proposal.

Yuen, the analyst, said the protest movement hit a wall earlier this year with the imposition of the city's sweeping, Beijing-drafted national security law, which criminalised some previously tolerated forms of dissent, such as shouting common protest slogans.

Locally, protesters had run out of ways to carry on with their activism, Yuen said, so they looked to Trump for action. "That became the driving force" for his support, he added.

Wilson Chan Wai-shun, founding secretary general of the Global Studies Institute (Hong Kong), a research provider, said the faraway election had taken on outsize importance locally, given it was seen as a bellwether for how America would deal with China in the coming years.

The phenomenon, he noted, explained why the vocal support for Trump also extended to some people in Taiwan.

"It's an emotional projection," he said.

Meanwhile, some members of Hong Kong's pro-government camp have been equally passionate in expressing their distaste for Trump, at one point desecrating an image of him outside the US consulate in the city.

"Some really hate him. Some really like him," Chan said of Hongkongers' views on the president. "That turns into the fervent discussion we are seeing."