Hong Kong universities appear to have fared well overall in international rankings by two British-based firms this year, but a closer look reveals declines in their global reputation and perceived employability of their graduates.

Some experts and academics said the reasons could include the impact of last year's anti-government protests, which saw demonstrators occupying several Hong Kong university campuses with some of the most violent clashes between radicals and the police taking place at Chinese and Polytechnic universities.

A Post analysis of six league tables published between June and November this year by Quacquarelli Symonds (QS) and Times Higher Education (THE) found that the universities' scores in global reputation, in particular, suffered.

"It is inevitable that global impressions of Hong Kong took a hit when the data of these surveys were collected during or after the period when the city's most chaotic scenes were shown in the international media," said Lingnan University vice-president Professor Joshua Mok Ka-ho.

Overall, six out of seven Hong Kong universities climbed up the QS World University Rankings 2021 that compared 1,000 institutions and was released in June. The top-ranked University of Hong Kong (HKU) rose three places to 22nd spot, and the Hong Kong University of Science and Technology (HKUST) came next, in 27th place.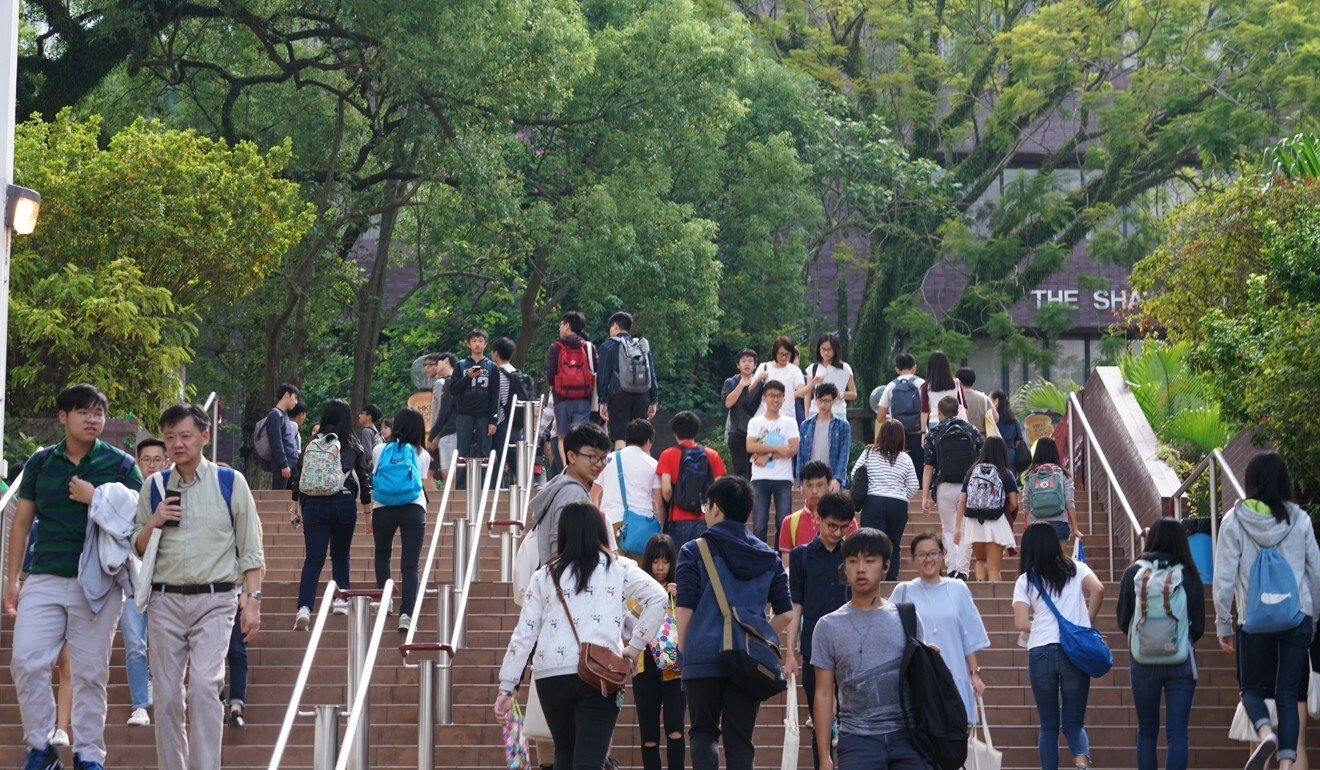 Students at the University of Hong Kong.

In THE's World University Rankings 2021 released in September, four out of seven ranked Hong Kong universities moved up or remained the same among 1,500 institutions, with highest-ranked HKU at 39th position, down four places from last year. Polytechnic University recorded the biggest leap from 171st to 129th position.

In the more recent Asia edition of the QS global rankings published last month, four out of eight Hong Kong universities moved up or remained the same, while the rest slid.


'Employers expect students to focus on studies'

Both rankings asked employers worldwide what they thought of the graduates produced by universities. Here, a more troubling picture emerged for Hong Kong.

QS surveyed about 50,000 employers between January and March this year, asking them to identify institutions with the "most competent, innovative and effective" graduates.

Six Hong Kong universities saw significant declines in their employers' reputation scores. Top performer HKU's score slipped from 82.6 out of 100 last year to 76.3, while Chinese University's score slid from 61.5 to 53.1. City University's dropped most from 41.3 last year to 32.8.

There was a similar outcome in the QS Asia edition published last month, with employers' reputation scores falling for seven universities. Again, City University recorded the biggest drop from 76.3 to 66.7, even though the university's overall ranking rose one spot to 18th globally.

THE polled 9,000 recruiters worldwide from May to July this year, and three out of four ranked universities in Hong Kong slipped in its employability ranking. The best performer was HKUST, although it fell from 10th position last year to 26th this year.

Alexa Chow Yee-ping, managing director of a Hong Kong-based human resources consultancy firm, said she believed some global employers were put off from hiring Hong Kong universities' graduates after last year's protests.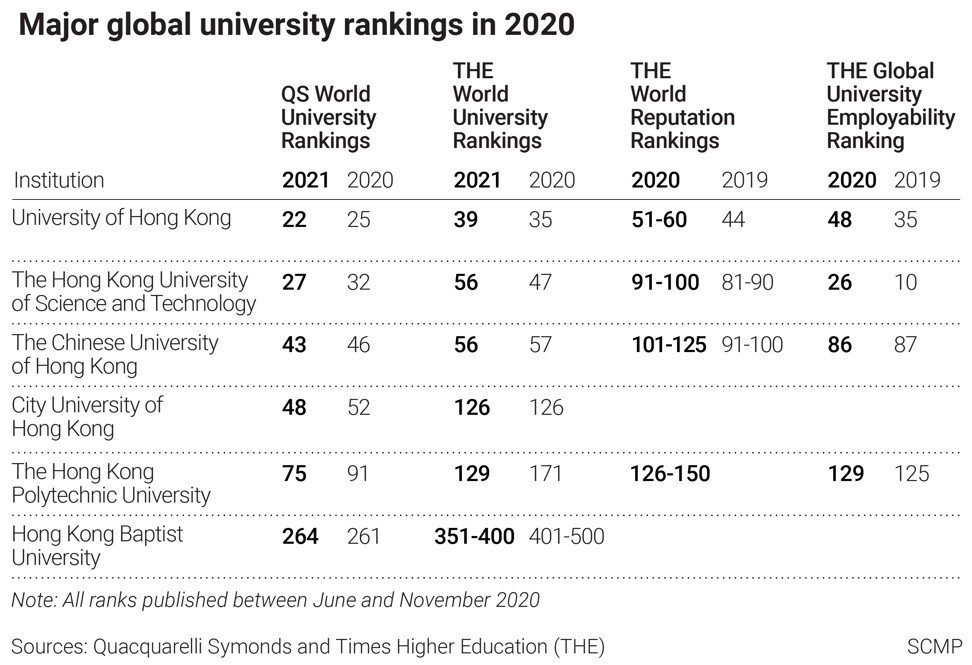 "Many youngsters took part in the demonstrations while university campuses were occupied by protesters," she said. "Employers generally expect university students to focus more on their studies. If they spend so much time on other activities, some would wonder if their academic performance could be affected."

Aside from local firms, she said some multinational companies had also become more wary of Hong Kong graduates because of the impression made by the protests.


'No direct relation to protests'

The rankings by QS and THE differed when it came to rating Hong Kong universities' academic reputation, which included the quality of research and teaching.

After QS asked 100,000 scholars worldwide to rate their peers, most Hong Kong universities recorded slight increases in academic reputation scores in both the global and Asia rankings.

But THE, which collected about 10,000 responses from scholars worldwide for its academic reputation survey between November last year and February this year, recorded a decline in research performance scores for four Hong Kong universities and lower teaching scores for three institutions.

Research and teaching scores also declined at several city universities when it came to assessing them by subjects taught. THE's 2021 global subject rankings ranked 11 disciplines including arts and humanities, business and economics, engineering, law and social sciences.

The rankings for arts and humanities subjects saw four out of five Hong Kong institutions with lower scores for both research and teaching.

Phil Baty, THE's chief knowledge officer, told the Post it was inescapable that this year's results indicated that the reputation of Hong Kong universities, in the eyes of academics, was diminishing compared to the rest of the world.

But he saw "no direct relation" to last year's anti-government protests.

"I guess we could speculate and say that situations such as unrest and difficulties on campuses [as reported] in the world's media could influence people's thinking. But I would not go as far as to say that we have any evidence of that," he added.

He expected that the impact of the protests and Hong Kong's changing social atmosphere might be reflected more clearly in future rankings.

Among other things, some have expressed concern about academic freedom in the city with the introduction of a sweeping national security law
by Beijing in June.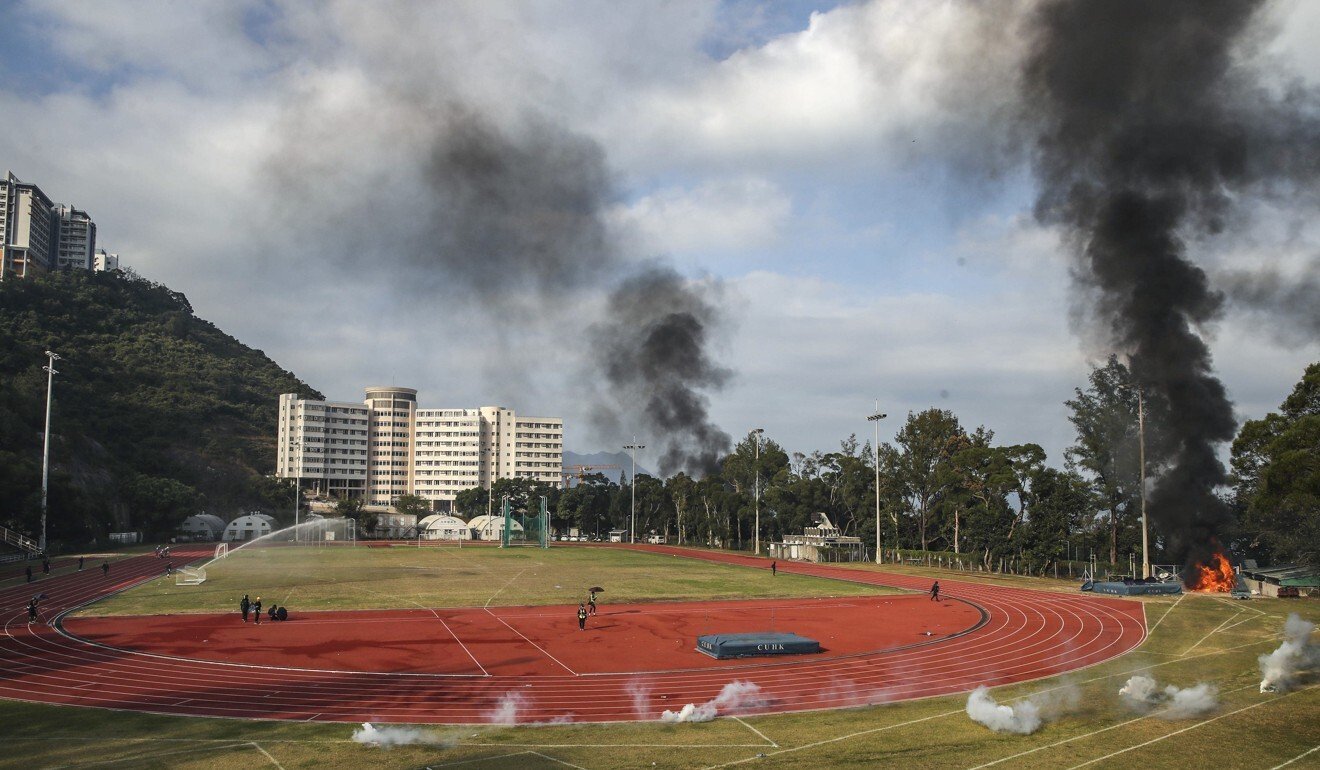 Smoke billows out of Chinese University campus in Sha Tin as police fire tear gas during an operation to disperse protesters last year.

Baty said: "Will we see more talented Hongkongers choosing to leave or study elsewhere, or maybe getting [overseas] residence and relocating permanently to other countries? Will there be a brain drain, and will we see that in the rankings?

"There will be issues potentially showing up in rankings in the years to come, that we will see as a result of change."

Five universities contacted by the Post said they would continue working towards providing quality education, striving for excellence in teaching and research. PolyU and HKUST said they would refer to the rankings to identify areas for improvement.

Fung Wai-wah, a senior lecturer at CityU's school of continuing and professional education and president of the Professional Teachers' Union, said prospective students and their parents were usually among those who paid the closest attention to the annual rankings, especially when choosing universities to attend.

But Lingnan University's Joshua Mok said that ultimately, while universities do refer to the rankings, these annual outcomes do not affect the institutions' strategic development plans.

Besides, he added, most universities in Hong Kong are funded by the University Grants Committee, and funding allocations are not based on rankings. And that, he added, was a relief.

"If universities no longer viewed teaching and learning as their core mission, and instead started to aim solely at improving their rankings, that would not be quality education," he said.