The withdrawal of Hong Kong's wealthiest man, Li Ka-shing, from the race to join the revamped Election Committee reflects behind-the-scenes efforts by Beijing to reduce the political clout of the city's tycoons, according to insiders.

The richest families behind the biggest property conglomerates were informed they would be restricted to having only two members each on the committee, several sources told the Post.

Aside from Li, 93, senior adviser of CK Hutchison Holdings, New World Development's Henry Cheng Kar-shun, 74, Henderson Land's Lee Shau-kee, 93, and Wheelock's Peter Woo Kwong-ching, 74, are not in the running for the committee's subsector elections on September 19.

They have stepped aside, sending younger family members and only a handful of top executives from their associated businesses to participate in the powerful elective body.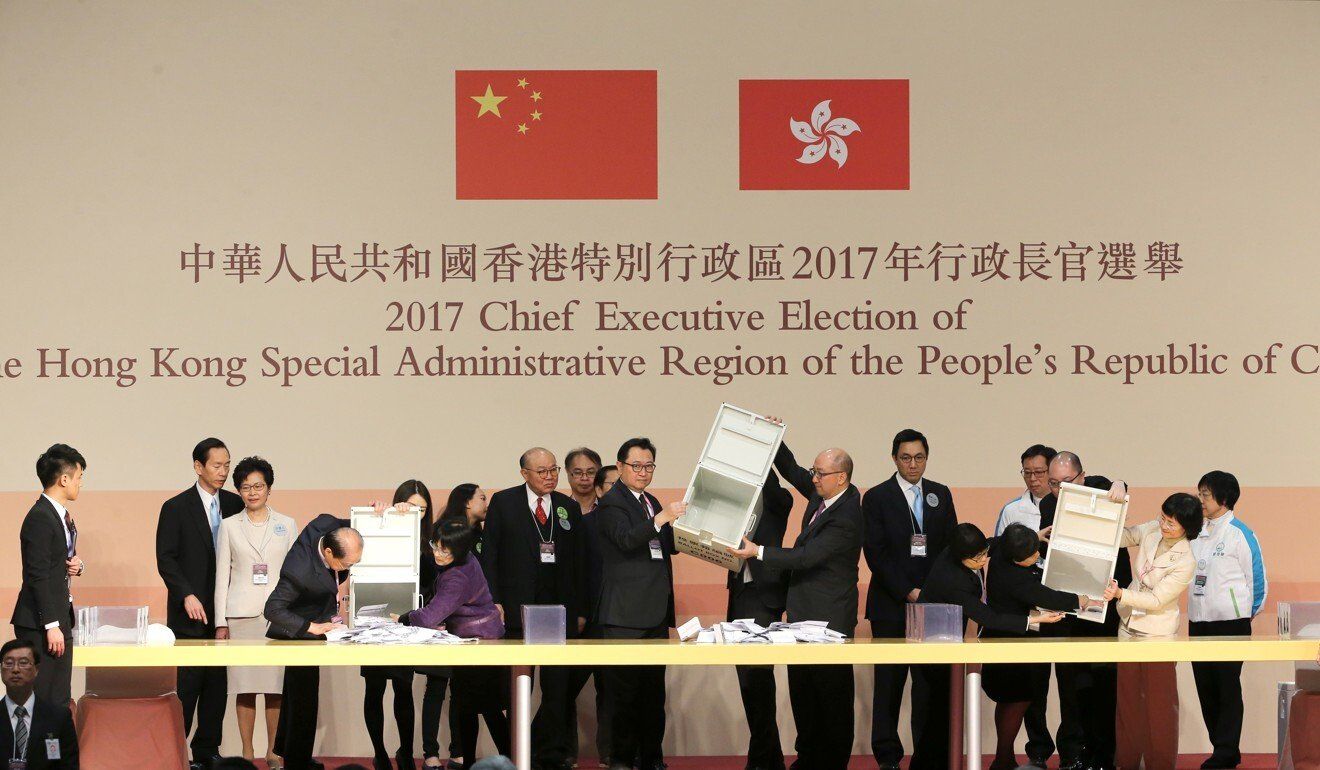 Hong Kong's next chief executive will be chosen by a radically reorganised election committee.

"The big families will still have a say in the committee with their representatives. But Beijing's blunt message to us is, 'You can no longer be a kingmaker'," said a heavyweight businessman familiar with Beijing's thinking.

The tycoons have long held sway in the committee, not only by being members themselves, but also by having multiple associates from their sprawling business empires in its various subsectors.

The committee, previously tasked only with choosing the city's chief executive, has been expanded to 1,500 members as part of Beijing's radical overhaul of Hong Kong's electoral system. It will now not only elect the city leader but also nominate lawmakers and send a group of members to the Legislative Council.

This month's poll, the first since Beijing revamped the election system to ensure only "patriots" rule Hong Kong, will see contests in just 13 of the committee's 40 subsectors.

More than 75 per cent of seats are uncontested, including 533 set aside for appointed, ex officio members.

Among 603 expected to get in without a contest are the tycoons' younger family members.

Richard Li Tzar-kai, the 93-year-old Li's youngest son, is in the uncontested subsector of the Employers' Federation of Hong Kong. His brother, Victor Li Tzar-kuoi, is an ex officio member, as he is a delegate of the Chinese People's Political Consultative Conference (CPPCC), the country's top advisory body.

Henderson Land's Peter Lee Ka-kit is also a CPPCC member, and his brother Martin Lee Ka-shing is in the uncontested real estate and construction subsector. They are the sons of tycoon Lee Shau-kee.

The third-generation family members in the committee elections are: cousins Christopher Kwok Kai-wang and Adam Kwok Kai-fai from Sun Hung Kai, and Sonia Cheng Chi-man and her brother Adrian Cheng Chi-kong from New World. All four are in uncontested seats.

Since Hong Kong's handover to the mainland in 1997, Li Ka-shing has had a strong say in choosing the city leader, as he and the other tycoons were said to control about a fifth of the votes in the election committee.

Political analyst Johnny Lau Yui-siu said the new "two persons per family" rule reflected Beijing's attempt to reduce the tycoons' influence on government policy and instil a sense of fair play in the business community.

He said Beijing's message was that it would not tolerate bargaining over political power.

"But I believe the tycoons must have their own ways of getting around this, as they will want to maintain clout in politics for their interests," he added.

Tian Feilong, an associate professor at Beihang University's law school in Beijing, said it was normal for the older generation of magnates to recede from the political stage.

"Don't overinterpret the phenomenon," he said. "But Beijing is delighted to see that the internal adjustment of the committee's composition is heading towards the principle of 'balanced participation'."

Aside from the senior tycoons' exit, the committee election has seen coordination by numerous candidates in uncontested subsectors who submitted their nominations on the same day and presented the same manifesto.

But a pro-establishment insider said efforts were made to ensure some level of competition, as Beijing had repeatedly asked the city government to "do its best" in the Election Committee polls, followed by elections for Legco in December and chief executive next March.

"There must be some sort of competition in the election. Or else, how can the government 'do its best' if everyone has a walkover victory?" he asked.

Although competition is not keen in the 13 subsectors that will be contested to fill 364 seats, new dynamics have emerged among the mainly professional groups with an opposition presence, as some candidates hope to "test the waters" in the revamped system.

Social worker Francis Chau Yin-ming, chairman of Sai Kung District Council, was one of very few opposition figures who cleared the new national security vetting process to join the race.

He is among 23 candidates competing for 12 seats in the social welfare subsector.

Chau said he was surprised to have got the green light, as he had signed a petition as a councillor to oppose the national security law before it took effect. He was running with six others, including reputable academics, as part of a team of like-minded candidates.

"As a veteran in the industry who took part in election committee races four times, the number of votes I get could reflect whether the electoral system is improved or distorted," he said.

The architectural, surveying, planning and landscape subsector, with 15 elected seats, has 17 candidates, including a list of 15 professionals running as a team. Veteran architect Ivan Fu Chin-shing, who is not among them, signed up on the last day of the nomination period.

A first-time contestant, he said: "Elections are a campaign for dialogue, which I consider as important as who wins. It's never a bad thing if my participation creates new dynamics and encourages dialogue between candidates and voters."