Hong Kong media tycoon Jimmy Lai Chee-ying can spend Christmas at home, after prosecutors failed in their bid to overturn the HK$10 million (US$1.3 million) bail granted to him by a judge, who placed him under house arrest on Wednesday.

In a grey jacket and white shirt and trousers, the 73-year-old left the High Court with his lawyers at 10.50pm after bail procedures were completed, putting an end to a four-hour wait by dozens of journalists who were outside.

He waved to the press before taking the front passenger seat of his private car, as police temporarily cordoned off a carriageway to allow his departure.

The founder of Next Digital, which owns the Apple Daily newspaper, had spent the past 20 days in custody after first being charged with fraud, then with collusion under the Beijing-imposed national security law.

He was ordered to observe a string of "tailor-made" terms for his temporary release, after he became the first person charged under the new legislation to win court bail.

Mr Justice Alex Lee Wan-tang ordered Lai to remain at his home on Kadoorie Avenue in Ho Man Tin at all times, except when he had to report to police or attend court hearings.

Lee, one of the two publicly known High Court judges designated to handle national security cases, banned Lai from engaging in acts which might "reasonably be regarded as" calling for foreign governments to impose sanctions or a blockade, or engage in other hostile activities against Hong Kong or China.

He was also banned from meeting officials from foreign governments, attending or hosting media interviews or programmes, publishing articles in any media, and posting messages or comments on social media, including Twitter.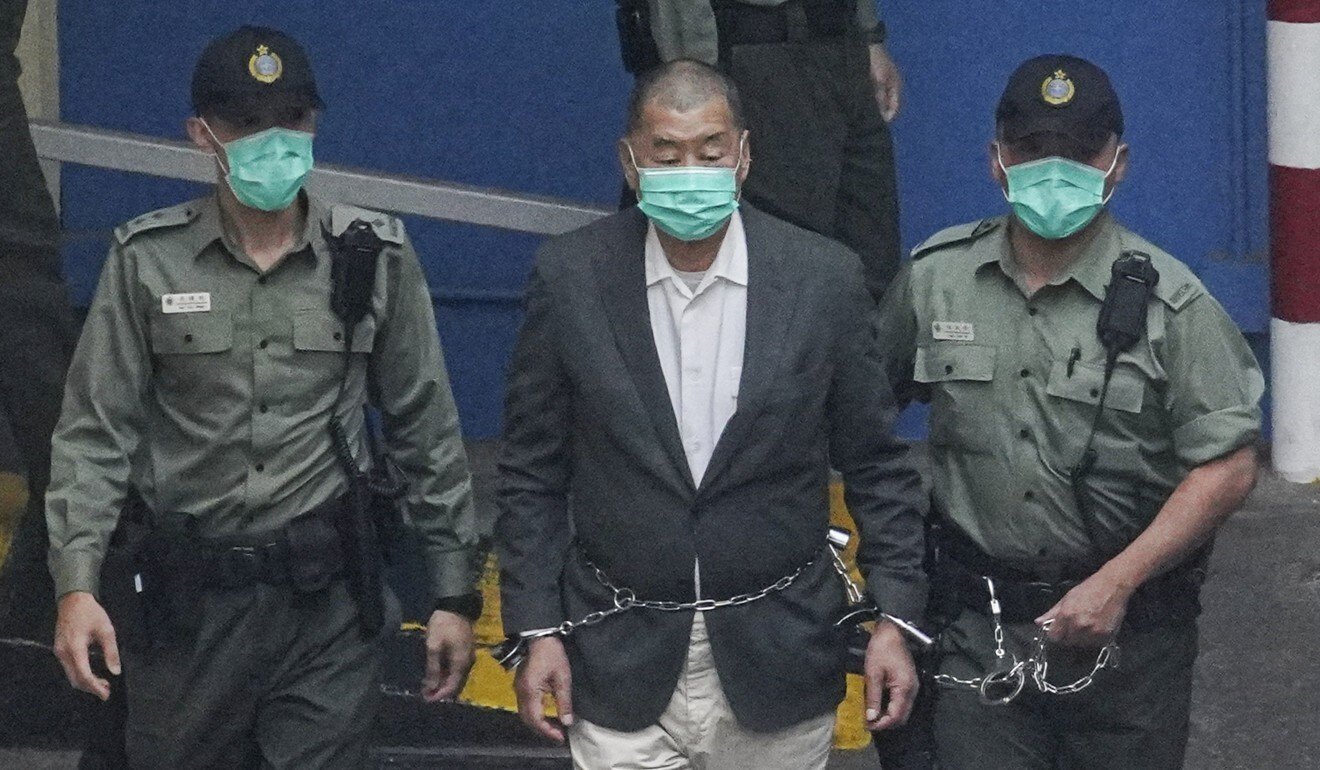 Jimmy Lai is facing a charge under the national security law.

The judge ordered Lai to deposit HK$10 million with the court, and asked his three sureties, whose identities were not revealed, to each deposit HK$100,000. He also ordered Lai to surrender all travel documents and report to police three times a week.

Anthony Chau Tin-hang, senior assistant director of public prosecutions, said his team would seek to appeal against the bail decision at the city's top court, and asked the judge to preserve the status quo by ordering Lai to be remanded pending the appeal.

But Lee snubbed the request, as he cast doubt on whether he was entitled to entertain such an application, and whether the law allowed prosecutors to take their complaint to the Court of Final Appeal.

"I don't have the jurisdiction [to grant the application]," Lee said, adding he would hand down a written judgment to explain his ruling later.

After the hearing, Lai passed on festive greetings from the dock to those sitting in the court's public gallery, saying: "Happy, Merry Christmas."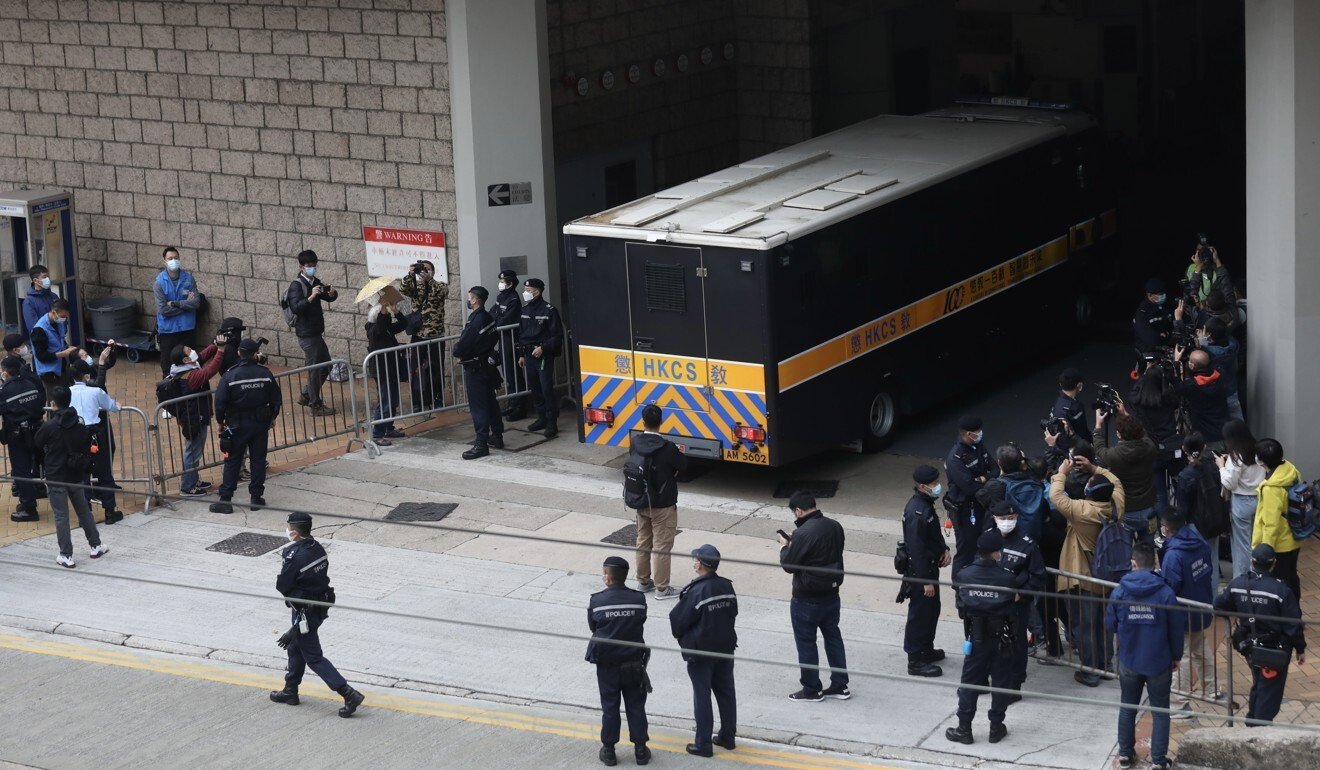 A van carrying Apple Daily founder Jimmy Lai pulls into Hong Kong's High Court on Wednesday morning.

Lai had returned to court on Wednesday for a bail review after a magistrate refused two earlier applications.

He had been remanded since December 3, when he was charged with fraud alongside two senior Next Digital executives: Royston Chow Tat-kuen, 63, and Wong Wai-keung, 59.

Prosecutors alleged that Lai defrauded Hong Kong Science and Technology Parks Corporation, a government-owned enterprise, by breaching land lease terms on the use of Next Digital's office space in Tseung Kwan O.

The space was said to have been improperly subleased to a secretarial firm, Dico Consultants Limited, from June 27, 2016, to May 22, 2020, in violation of a 1999 land lease, enabling Dico to evade land premiums and Next Digital to earn rent.

Chief Magistrate Victor So Wai-tak granted bail to Wong and Chow, but refused Lai's application.

A week later, Lai was brought to court again, to face national security law charges, for allegedly colluding with foreign powers.

Prosecutors said Lai tagged US Secretary of State Mike Pompeo in a tweet calling for overseas countries to "voice out and take action" over Beijing's suppression, even after the new law came into force on June 30.

They also targeted Lai's Apple Daily commentaries, in which he said he believed international sanctions against Beijing over the new law would be more severe than the penalties imposed over the 1989 Tiananmen Square crackdown.

Magistrate So again rejected Lai's bail application, this time in his capacity as a judicial officer designated to handle national security law cases.
Lai has been granted bail in three other cases related to last year's anti-government protests and in another over this year's banned June 4 vigil.

Both the fraud and national security law cases are set to return to West Kowloon Court on April 16.