Hong Kong's government has launched a special bond with the most generous payout in years for senior citizens, as it extends a financial lifeline to one of the world's fastest greying population amid the city's worst recession on record.

A Silver Bond will go on sale at 9am on December 1, guaranteed to receive 3.5 per cent in annual interest, payable twice a year, according to the Hong Kong Monetary Authority (HKMA), the city's de facto central bank. The interest is 50 basis points higher than an earlier tranche sold last year, and more generous than the 2 per cent rate in the iBond launched last month.

The bonds will be available to the city's permanent residents born in 1956, or before, in HK$10,000 increments at 20 banks and securities brokers until 2pm on December 11. The Silver Bonds are not transferable and are not tradeable on the secondary market, said the HKMA's head of currency and settlement Samson Yuen.

"The purpose is to encourage investors to hold onto the bond and gain a reliable and stable interest return," Yuen said during a press conference.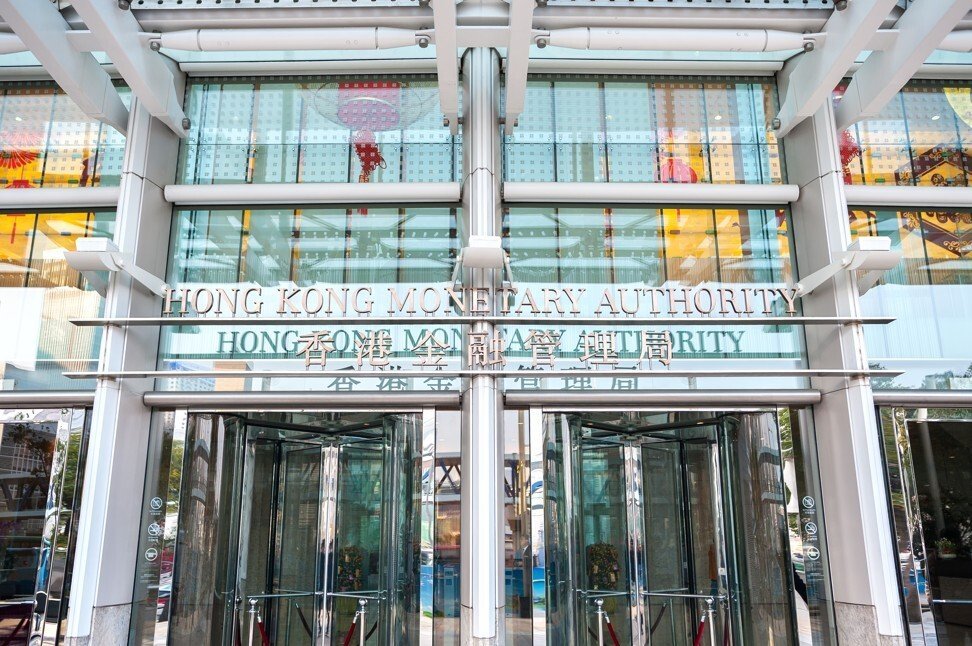 Entrance of the Hong Kong Monetary Authority at Two IFC in Central.

Like global central banks and governments from Australia to the United States, Hong Kongs government has dug deep into one of the world's largest coffers to offer financial incentives, tax subsidies and aid to help small businesses, and poor households survive the economic slowdown brought by the global coronavirus pandemic.

Hong Kong's government has earmarked HK$300 billion (US$38.7 billion) this year through three rounds of anti-epidemic fund and the budgetary disbursements by Financial Secretary Paul Chan Mo-po.

Hong Kong is ranked 33rd in the world in its greying population with 16.4 per cent of the city's population of about 8 million residents aged 65 years or older. Before the coronavirus pandemic, 360,000 Hongkongers over the age of 65 lived in poverty, about 25 per cent of the city's elderly population, according to the Hong Kong Poverty Situation Report 2018, a government study.

Life expectancy in the world's least affordable city is also the longest, topping 85 years, according to the 2018 World Bank data. That puts pressure on pensioners to prepare for two decades of financial sustenance from their retirement at 65 years.

The Silver Bonds are the second inflation-adjusted financial instrument sold in the city in two months. The purpose of offering the bonds is to offer retail investors facing down the prospects of low global interest rates a safe place to park their investments, a particularly acute problem for Hong Kong's 1.3 million elderly population, said Yuen.

"With the global economy struggling under the pandemic, many central banks have issued lots of liquidity," Yuen said. "Elderly residents now see greater investment risks and lower returns, making it hard to plan for retirement."

The city plans to issue HK$10 billion worth of the Silver Bonds, and could increase that to HK$15 billion if necessary – a level that would be five times higher than the HK$3 billion of Silver Bonds issued in 2019. If the number of subscriptions exceeds HK$15 billion, the bonds will be distributed round-by-round, ensuring that those seeking a small number of bonds will be served first, said HKMA's senior executive director Edmond Lau.

Investors will be limited to HK$1 million worth of bonds, or 100 units, "to avoid hoarding by a small number of investors," said Lau. "Higher interest rates make it more attractive to the public, and higher subscription rates will meet the objective of promoting the 'silver-haired' market."

The first interest payment will be dispersed on June 22, with subscribers able to redeem the bonds early at their principal value plus any accrued interest.