Schools in Hong Kong have been urged to hold more regular activities to promote understanding of the city's new security law, and the education minister has pledged to take a multipronged approach to raising children's sense of national identity.

Writing on his blog on Sunday, Secretary for Education Kevin Yeung Yun-hung said his bureau had sent a letter to schools advising them to hold more activities raising awareness during the days around "National Security Education Day" on Thursday.

He suggested the activities could include holding a national flag raising ceremony and playing the Chinese national anthem.

"Through the morning assemblies, head teachers' classes and other classes, teachers could explain to students the important concepts of national security," he wrote. "Schools could hold different types of activities to encourage students to actively study and apply the relevant information."

Yeung's suggestions came after the Education Bureau issued a set of guidelines in February on the national security law, covering everything from school management and curriculum to students' behaviour and the responsibilities of faculty in relation to the law. The Beijing-imposed legislation, enacted at the end of June last year, outlaws acts of secession, subversion, terrorism and collusion with foreign forces.

Under the guidelines, children as young as six must learn the law's basic concepts as well as the names of its four designated offences – subversion, secession, terrorism and collusion with foreign forces – while schools have been told they have to call police in "grave or emergency" situations, such as pupils chanting or displaying slogans, singing political songs or forming human chains.

"National security education is an integral part of national education, so we should strive to cultivate student's national sense, national sentiments and national identity," Yeung said.

The minister said his bureau would continue to stick to its multipronged approach in supporting schools, including providing teaching materials and exemplars, and advising on the planning of promotional activities to help schools promote the topic on and outside campus.

"The Education Bureau will continue to provide relevant training for teachers and professional support and advice for schools through school visits and forming study groups among teachers," Yeung said.

"I hope that students can understand that as part of the nation, they have the responsibility to understand the national culture, tradition and history, and to contribute to the nation and Hong Kong society."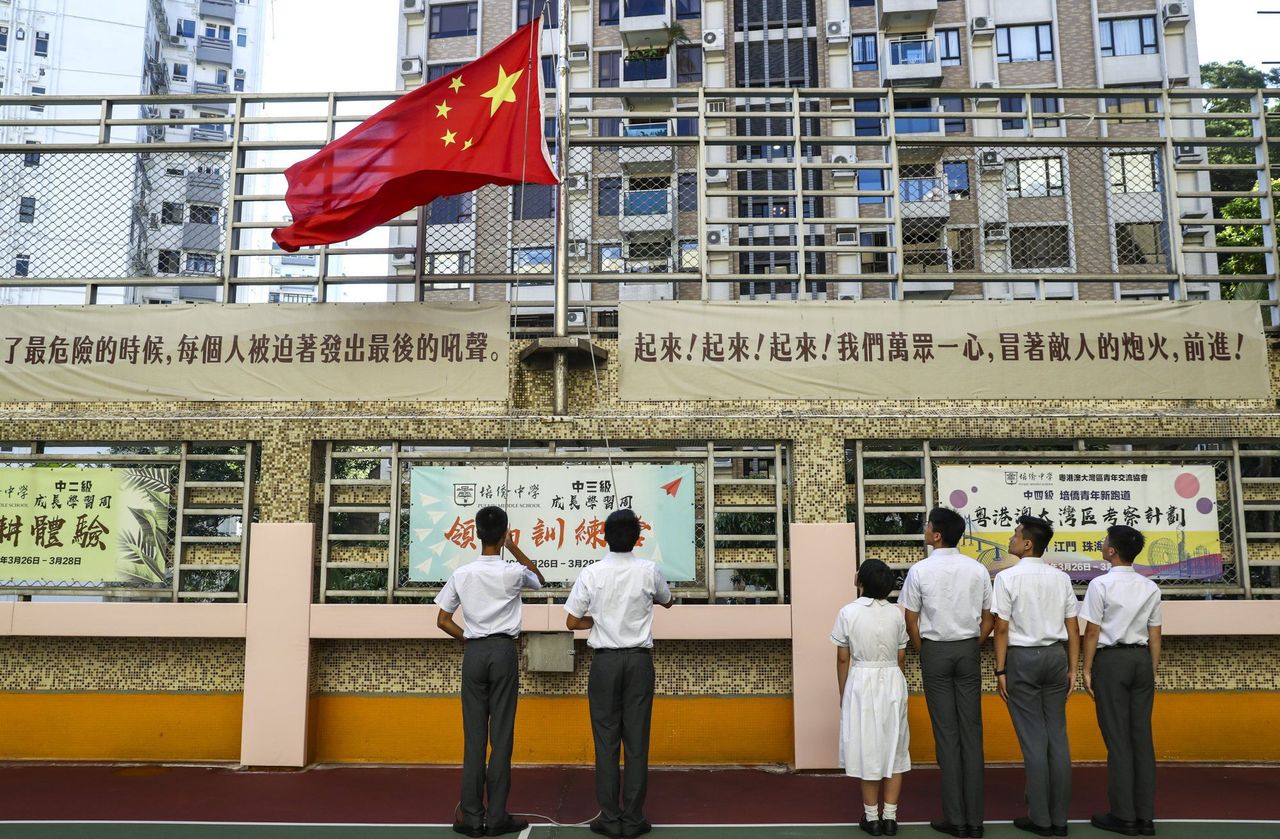 Students from Pui Kiu Middle School in North Point observe a national flag-raising ceremony.

Separately, speaking on the television programme City Forum, Ho Hon-kuen, chairman of Education Convergence, called on the bureau to provide textbooks for teachers to ease the roll out of the revamped liberal studies subject.

"The first thing we need to do is to get the facts right, then we could discuss an issue with reason, and from different standpoints. Critical thinking comes afterwards and lastly we should focus on the way forward," he said.

He said he believed there had been a lot of cases involving misrepresentation of facts, which made it difficult to teach the subject well without any guidance from textbooks.

Claiming that Western media had made "Xinjiang genocide accusations without any proof", he said critical thinking was not "the imposition of your one-sided values on other people".

The government has decided to rename the liberal studies subject as "citizenship and social development", and aims to roll out the revised programme in September at the earliest.

Other proposed changes to the subject include turning the compulsory assessment criteria into a simple pass or fail, vetting all textbooks, and requiring students to visit mainland China.

The senior secondary school subject will also cover only three themes – namely Hong Kong, the nation, and the contemporary world – instead of the existing six. Modules to be scrapped include a section covering issues related to personal development and interpersonal relationships.