Rent control is a contentious issue and perhaps nowhere more so than in capitalist and laissez-faire Hong Kong. The city holds the unenviable crown of being the world's most expensive for renters, according to a 2019 Deutsche Bank report on the global cost of living.

Those with limited means are finding it increasingly difficult to find affordable accommodation. With an average waiting time of 5.8 years for public housing, the longest in 20 years, many are turning to the city's 110,000 subdivided flats.

Subdivided flats are defined as premises that form part of a unit of a building, whether residential, industrial or commercial. They include partitioned units, cubicles, loft spaces, caged homes, rooftop houses and even bed spaces. I encourage the reader to pause and reflect on what it would feel like if their entire home was a bed space.

The median monthly rent of HK$4,800 (US$620) for a median 124 sq ft of space in a subdivided unit, can be a less expensive option on an absolute basis for Hongkongers. On a per square foot basis though, subdivided units are more expensive than other private rental flats. A government task force report
found the median monthly rent for subdivided flats to be HK$39 per square foot, versus HK$28 and HK$34 for a flat smaller than 430 sq ft in the New Territories and Kowloon respectively.

Most subdivided flats are located in buildings over 50 years old, and have suboptimal living conditions, many with shared postboxes, toilets and kitchens. The average space per person is 70 sq ft, or around half the size of a standard 134 sq ft car park space in Hong Kong.

The problems of living in subdivided flats were further highlighted during the coronavirus pandemic, with transmissions frequent. Confined to a small space and with over 30 per cent having no access to the internet, according to a study by the NGO Society for Community Organisation, students experienced great difficulties learning online.

Households living in subdivided units had a median monthly income of HK$15,000 last year, less than half of the city's median of HK$33,000. Around half the households living in subdivided flats are in the queue for public housing.

Hong Kong's shortage of affordable housing coupled with long waiting times for public housing mean that something has to be done to shield lower-income families from being taken advantage of and overcharged on rent.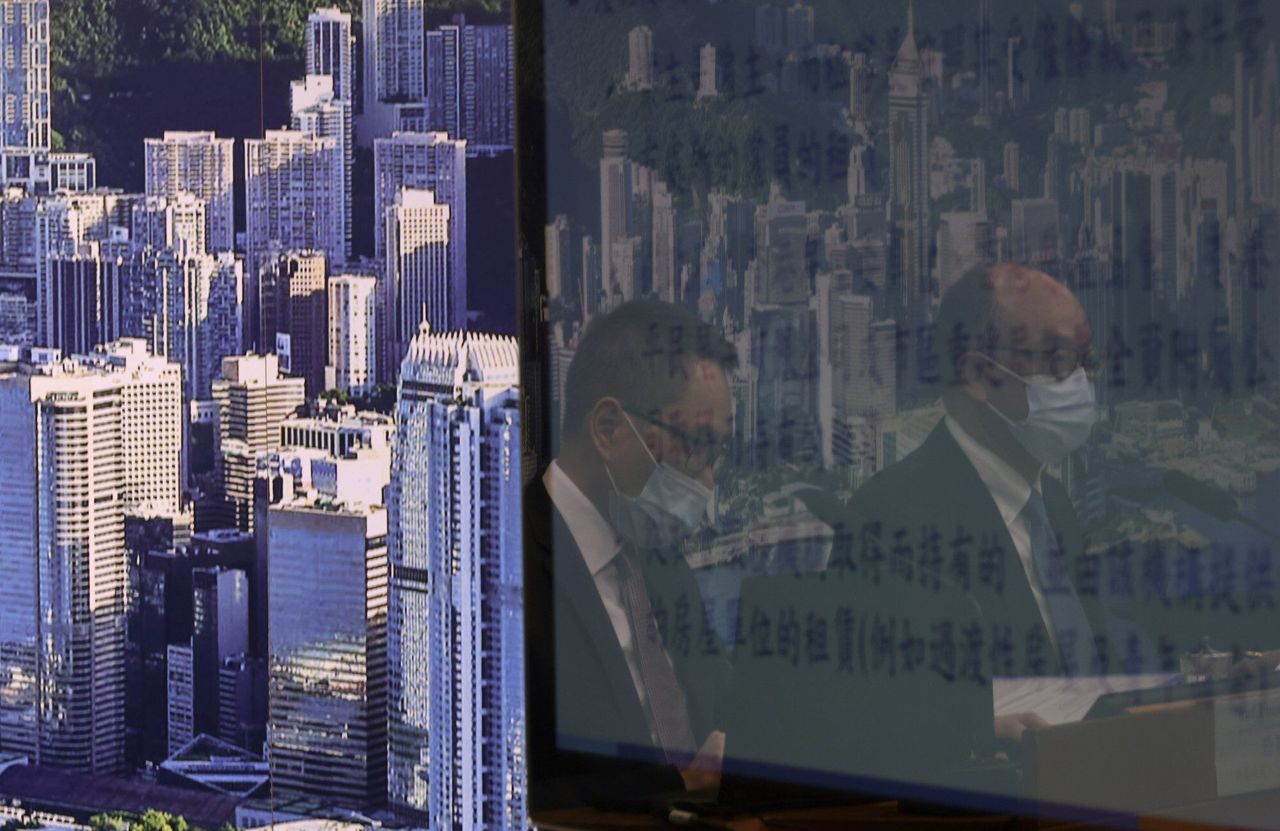 Carlson Chan Ka-shun (left), special duties director at the Transport and Housing Bureau, and Secretary for Transport and Housing Frank Chan Fan are reflected on a screen during a press conference on July 6 on the government's push to introduce tenancy control.

To safeguard the interests of grass-roots tenants of subdivided units, the government introduced a Landlord and Tenant (Consolidation) (Amendment) Bill
to address some key aspects of tenancy and rent issues. The bill aims to protect the tenant through measures such as mandating the signing of a written tenancy agreement, four years of security of tenancy, prohibiting landlords from overcharging tenants on utilities, and restricting the level of rent increase. The tenancy control legislation does not, however, legalise any illegal structures or unauthorised building works.

The more controversial aspect of the subdivided unit tenancy control bill is rent control. Rent increases on tenancy renewals of subdivided units will be tied to the rental index and restricted to a cap of 15 per cent for a two-year contract.

Critics argue that this is higher than the 10 per cent cap on public housing units, and also does not prevent landlords from raising rents before the law is implemented. Unfortunately, it is not possible to legislate everyone's behaviour to avoid all unintended consequences; society will have to rely on landlords' benevolence and conscience.

Conversely, landlords and others with property interests argue that there should be no rent control at all. Historically, rent control was introduced in Hong Kong in 1921 but removed in 1998 due to pressure from those with rental property. Given our housing crisis, it is high time this bill is introduced. A 15 per cent rent cap on tenancy renewal for higher-than-average rent per square foot should not be too much of a strain on our landlords.

Some people may not be happy with how far this bill goes in addressing Hong Kong's housing issues, but it's a start. While the tenancy control bill for subdivided units does not alleviate the underlying issue of an affordable housing shortage, it would help people live more securely. After all, housing is a basic human right.