Hong Kong's expected next leader, John Lee Ka-chiu, is planning a televised forum, visits to poor residents of subdivided flats and meetings with young people, all towards reinventing himself as a friendly, caring leader, the Post has learned.

Sources said his campaign office was also organising an election rally ahead of the May 8 vote to "raise morale" and show that he had wide support.

But analysts questioned whether Lee, a former chief secretary and security minister, would succeed. While he appeared willing to engage the public and the media, they said, he needed to win over the city's disenchanted younger generation and business elites.

"Many business leaders may support him nominally as the chief executive candidate, but whether the elite truly trust him and his ministerial team could be another matter," said political analyst Hui Ching, research director of the Hong Kong Zhi Ming Institute think tank.

Since becoming the only candidate, Lee has met various sectors of the 1,454-strong Election Committee which will decide the next leader, and spent time preparing his manifesto.

On Wednesday, his campaign team posted a message on the candidate's Facebook page, urging Hongkongers to express their views through the platform, Instagram and WhatsApp. As of Saturday night, the post had attracted 2,300 comments.

An insider from the campaign office said Lee was finalising his manifesto, to be revealed at a press conference on April 28 or 29.

"We have yet to decide whether this event will be broadcast online only or if journalists would be invited to cover it in person," he said.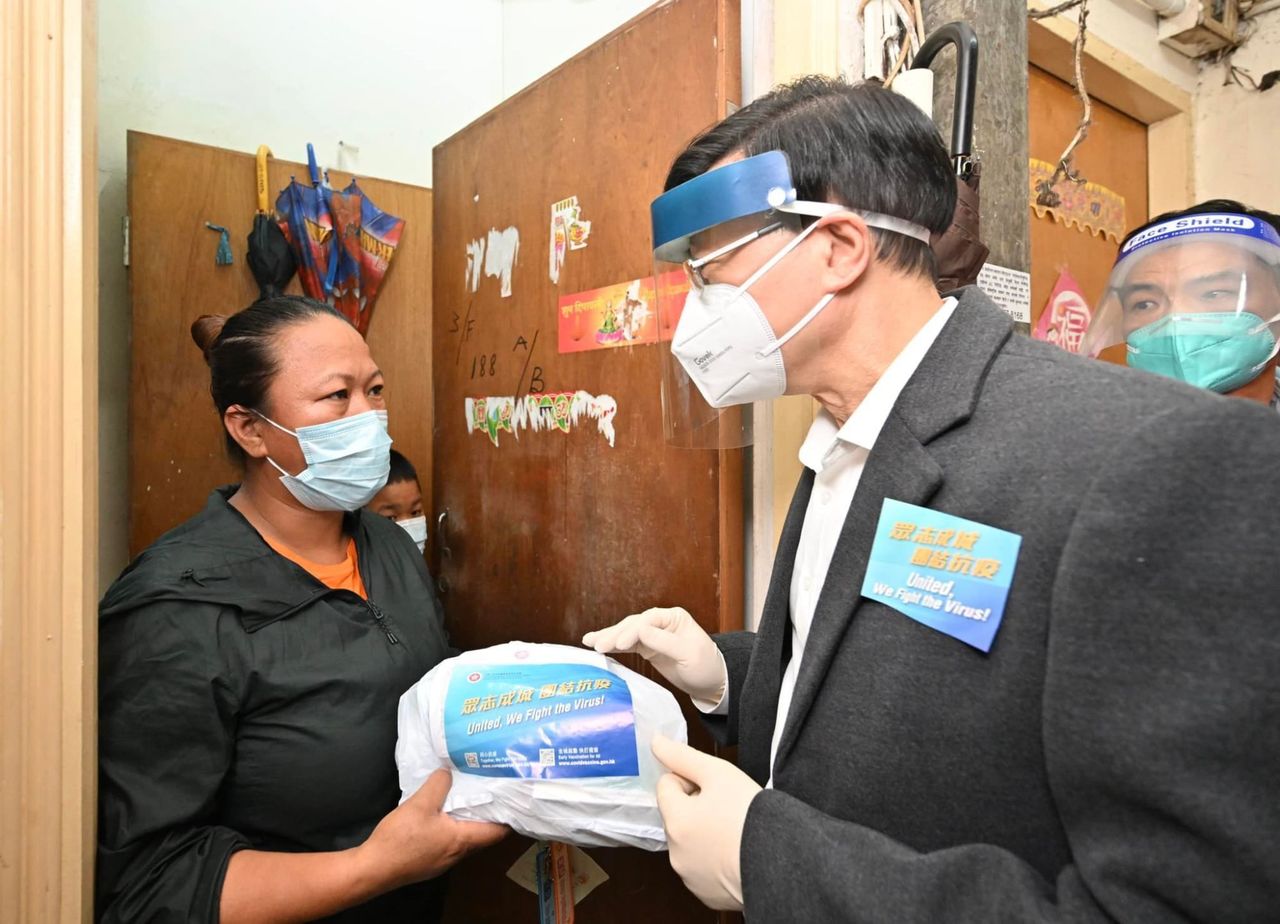 John Lee distributes anti-epidemic kits to residents earlier this month, when he was chief secretary.

A televised policy forum would follow, he added, and the team was discussing it with the local TV stations.

In the run-up to the contested 2007, 2012 and 2017 leadership races, candidates debated each other in televised forums.

The insider explained that as Lee was the only candidate this time, the forum could be modelled on the annual TV programmes held by the city leader and financial secretary following their respective policy address and budget announcement, when they fielded questions from a select group of journalists.

"Such a televised programme would help Lee get his policy messages across to families and audiences in the city," the source said.

Lee was also set to visit subdivided flats and meet more residents and shopkeepers on the street after unveiling his manifesto, the source added.

"Lee has to be the chief executive of all people in Hong Kong and demonstrate that he has the charisma and capability to unite the city and tackle livelihood issues," the insider said. "These visits would give him more first-hand experience of what ordinary people's lives are like."

In the last election in 2017, winning candidate Carrie Lam Cheng Yuet-ngor visited various districts, but her community outreach efforts were ridiculed when she appeared unfamiliar with using an Octopus prepaid card on the MTR.

The insider said Lee would need to be careful with outdoor activities this year and avoid flouting pandemic-related social-distancing rules.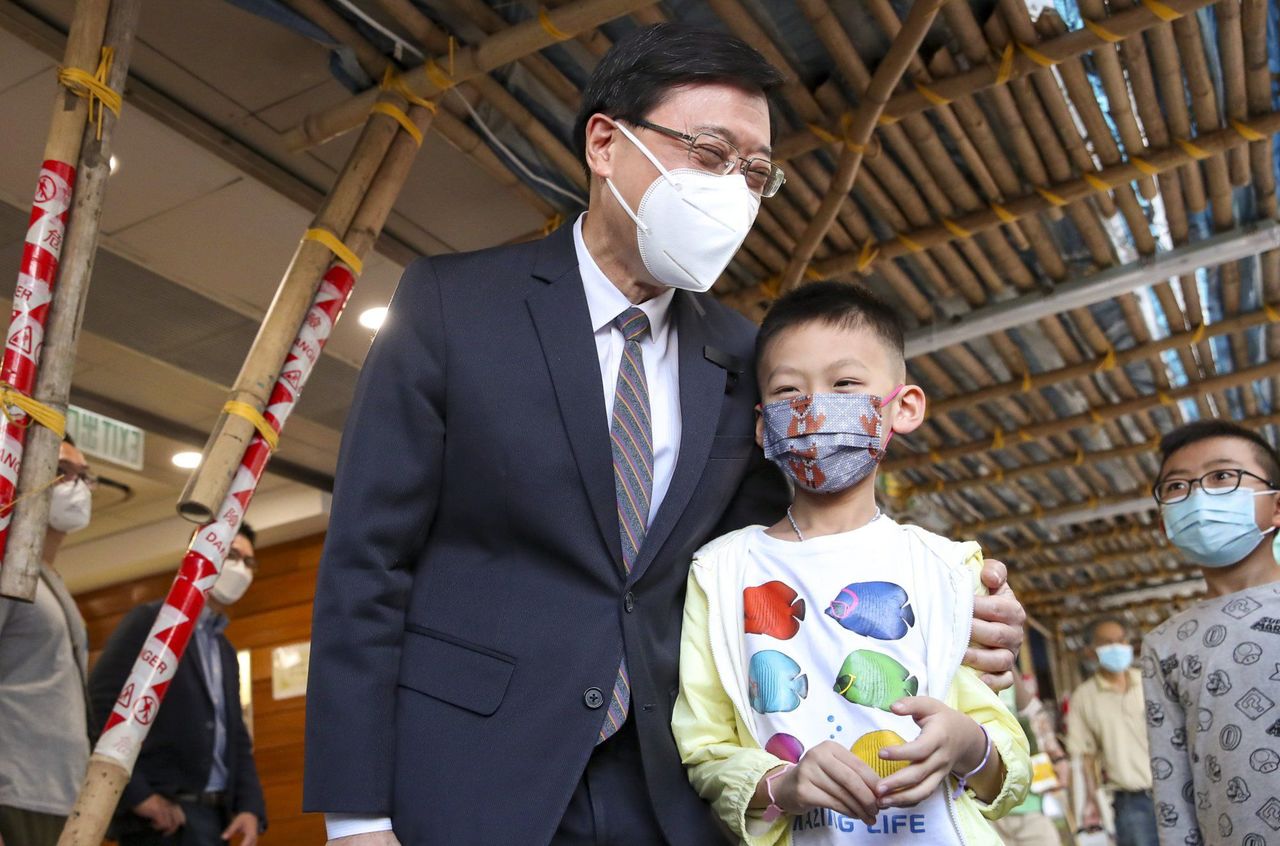 John Lee is planning a series of activities to present himself as a friendly, caring leader, sources say.

A source from Lee's office said the team was also arranging meetings with youth groups.

"Lee's manifesto will touch on youth policies. We are arranging some activities with young people to discuss the details in the manifesto," the source said.

Asked if all these plans were meant to help Lee rebuild his public image, the source confirmed that this was among the objectives.

"He needs to pay attention to the younger generation. They are important for social unity … and have various concerns and ideas about the city's future," the insider said.

Lee is on track to become the third chief executive returned without a contest since Britain handed the city back to China in 1997.

Inaugural chief executive Tung Chee-hwa was the only candidate when he sought re-election in 2002. After he resigned in 2005, citing health reasons, his successor Donald Tsang Yam-kuen won the by-election without a contest.

Both their campaigns were criticised for the lack of public engagement and debates on policies.

In 2002, Tung ruled out hosting a large public forum, shunned invitations to other ones and only issued an election platform after being criticised roundly by the opposition for not wanting to do so.

Three years later, Tsang also refused to take part in forums, although his campaign team planned visits to tea houses and residential districts and MTR rides for him to chat with ordinary Hongkongers.

While Lee appeared more willing to reach out than either Tung or Tsang, social scientist Chung Kim-wah, deputy CEO of the Hong Kong Public Research Institute, said it would be hard for him to avoid revisiting the 2019 social unrest and showing some sympathy towards the city's student protesters.

"It's hard to compare Lee's campaign with those in 2002 and 2005 because those were the early days after the handover, when people had high hopes in the government," Chung said. "Now the city is so much more divided, and the rift cannot be healed unless the government is willing to face what it has done to civic society since 2019."

Opposition and media figures have been arrested, and media outlets shut down, along with Beijing's imposition of a national security law on the city in 2020 and an overhaul of the electoral system to ensure that only "patriots" run Hong Kong.

Chung said the recent arrest of veteran journalist Allan Au Ka-lun, for allegedly conspiring to publish seditious materials, had raised questions about diminishing freedom of speech in Hong Kong.

The insider from Lee's campaign office countered that the former security chief would become more popular by achieving results on policies such as housing and reopening the border with mainland China.

Political analyst Hui was less optimistic. He said Lee had to improve his public communication, noting that his critics had set up a Facebook page to question his Chinese-language skills, attracting more than 17,800 followers so far.

Lee's campaign page has more than 19,500 followers.

"Politics is about packaging and publicity," Hui said. "Popular politicians don't have to be very experienced. They don't even have to be very eloquent. Good aides, spin doctors and language experts can help them win support, especially from the top echelons of society."