He has stayed away from public functions over the past three months, partly due to coronavirus lockdown measures, but mostly because he sees other threats to his personal safety.

"I would prefer not to meet anyone whom I do not know well or without the basis of trust," Law told the South China Morning Post. "I'm trying to protect myself at different levels."

Four years ago, riding on his fame from co-leading the 2014 Occupy movement as a student activist, Law became Hong Kong's youngest ever lawmaker when he was elected to the Legislative Council at the age of 23.

But during his swearing-in, Law added an upward inflection to the word "Republic" in "People's Republic of China", making it sound like he was doubting, rather than declaring, his allegiance.

The act enraged pro-Beijing parties and Law soon was booted out of the legislature after a court found he and five others had been insincere with their oath.

Later that year, in 2017, he was jailed for eight months after being convicted of inciting an unlawful assembly when he and other activists stormed the courtyard of the government's offices in one of the most iconic moments before the Occupy protests began. He won on appeal, walked out of prison and spent a year in the United States at Yale University for his master's degree.

Law returned to Hong Kong last year to prepare to run in the September Legco election, which was eventually postponed amid the pandemic.

But he fled Hong Kong and went into self exile after Beijing made public its plans to introduce the security law. When he left the city, no charges had been laid against him.

Until now, police have not openly provided a list of wanted dissidents. However, police sources did identify Law, now 27, as one of six people overseas wanted on suspicion of breaking the new law, which bans acts of secession, subversion, terrorism and collusion with foreign forces.

In an irony not lost on Law, colonial era Hong Kong was once fabled as a safe-haven base for dissidents fleeing mainland China in the wake of the Tiananmen Square crackdown in 1989. More than 30 years later, for the first time in its history, Hong Kong has its own first generation of exiled dissidents. Law is their most famous face.

In the three months since leaving, Law – who grew up in a working-class family and read cultural studies at Lingnan University – has met America's top diplomat, Mike Pompeo, visited Rome (ahead of Chinese state councillor Wang Yi's meeting with Italian foreign minister Luigi Di Maio), and been named by Time magazine as one of the world's 100 most influential figures.

He typically starts his days catching up on Hong Kong news that happened while he was asleep, then checks international media sites.

He then listens to world news podcasts, clears his emails and prepares for whatever webinar, interview or conference he may have been invited to speak at as the icon of Hong Kong's young activists in exile.

Among other events, he has testified at the US House Foreign Affairs Committee and been a featured speaker at the Freedom House annual award.

"I spent a lot of effort in advocacy work in the United States when I did my master's degree at Yale last year, which laid a foundation for me," he said, referring to the one-year course in East Asian Studies he took on a full scholarship. "But it is not about European politics. I have to learn it all over again now in Britain."

Law said he and others felt a deep sense of guilt at fleeing, especially when they saw comrades locked up in jail suffering.

It was this guilt that motivated him to seize every opportunity to contribute to the cause, and put to good use his international profile.

"Those who have left Hong Kong would share the feeling that we are luckier than many," said Law, who left the city without informing his family to protect them and with just a backpack and a piece of hand luggage. "The fact that I can lessen my guilt through my advocacy work – which others may have less room to do – is already a blessing to me, despite the heavy workload and stress."

Law frowned when asked about the obstacles he faced operating from abroad as he sought to brush aside the personal attention.

He was fully aware that he is not a typical political dissident in exile.

"With my exposure, there are a lot of things that I can do, and people would know what I am up to and are willing to help if I face obstacles. This is not something that every Hong Kong dissident can enjoy," he said. "My case can hardly let people truly understand what it is like to be forced outside Hong Kong, which is indeed a very painful thing."

At least five well-known activists who had called for foreign sanctions on Chinese authorities or advocated independence left Hong Kong before or just after the national security law kicked in.

While the city's police force claims not to have a figure for the number of suspects arrested in anti-government protests last year who subsequently absconded, reports suggest more than several hundred activists have made their way to Taiwan and Britain.

Former British consulate staffer Simon Cheng Man-kit, who alleged he was tortured in mainland China following a business trip there, was subsequently granted asylum in Britain.

Cheng said he was pressed to give information about activists in the city's anti-government protests and the British government's supposed role in the unrest, but mainland authorities said the 30-year-old Hongkonger was arrested for soliciting a prostitute.

Upon settling in London, Cheng co-founded a group which he said had so far provided assistance to 150 fleeing Hongkongers in the past three months to Britain.

The group, Haven Assistance, handles two to three cases on average per week, according to Cheng, with some activists as young as 18.

"Some arrived in Britain without having paid a visit here before, not having a penny in their pockets while keeping their parents in the dark," said Cheng.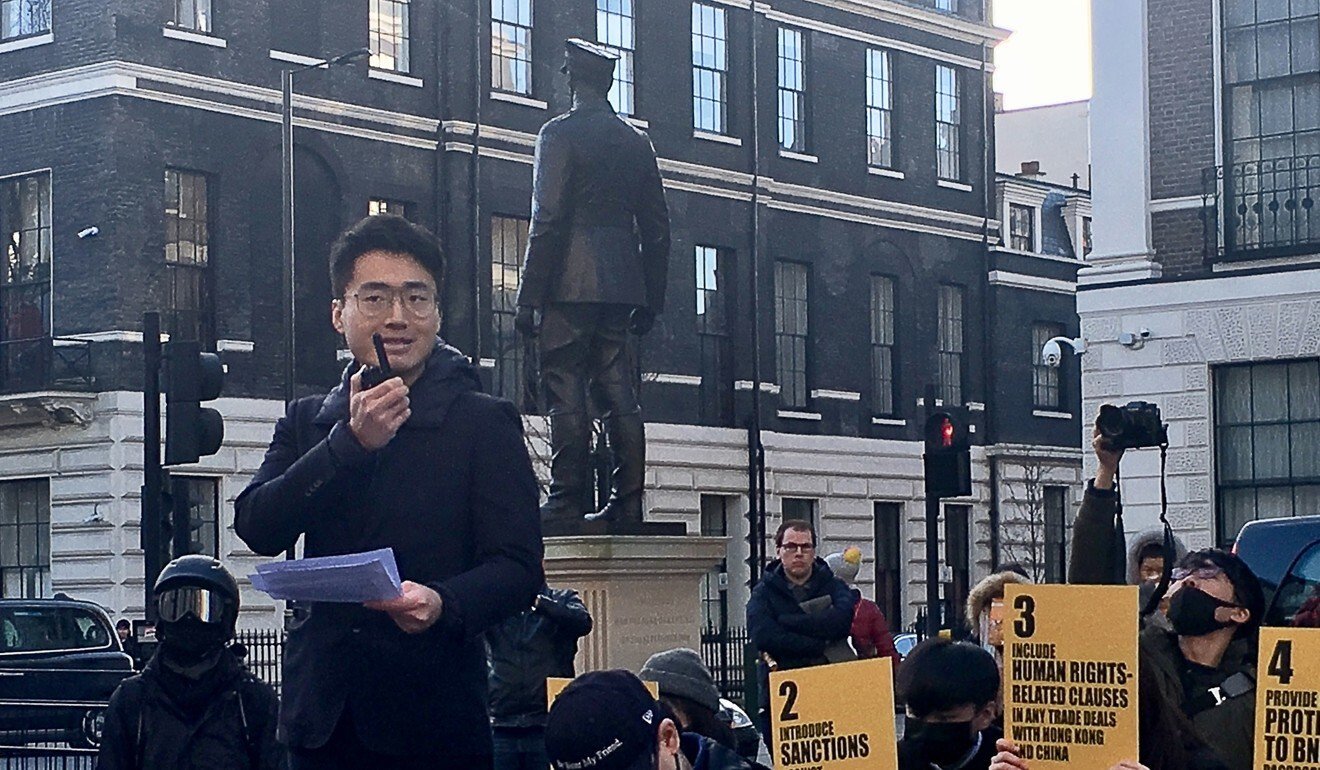 Simon Cheng addresses a crowd protesting outside the Chinese embassy in London.

"Some do not speak English or are suffering mental trauma." The group did not provide the new arrivals financial assistance but assisted them in applying for government funding and support.

Last month, 12 activists, who faced charges related to the social unrest with one being charged under the national security law, were captured at sea while reportedly fleeing to Taiwan. They were detained in Shenzhen and now face charges of illegally crossing a border or organising such an act.

While many of this first generation of overseas dissidents have headed for Britain or Taiwan, some have looked to the United States, receiving encouragement on October 2 when the country proposed giving Hong Kong residents priority resettlement in the country as refugees.

Like Law, most of this first generation of overseas dissidents said they left their families and friends in Hong Kong with great reluctance and guilt as they watched former comrades continue the fight.

Many see their best chance at making up for their left-behind comrades' sacrifices by contributing to international lobbying efforts – even though they know these will be difficult to sustain.

As Ray Wong Toi-yeung, formerly a leader of the pro-independence group Hong Kong Indigenous, who was granted refugee protection in Germany two years ago, put it: "Hong Kong used to be the place that provided shelter for refugees, but now we have become a place which produces refugees."


THE PAIN OF EXILE

Wong and his ally Alan Li Tung-sing fled Hong Kong in 2017, long before the national security law and the year of anti-government protests that led to it – protests that were sparked by a now-withdrawn government bill that would have paved the way for the extradition of criminal suspects from Hong Kong to mainland China.

The pair had faced rioting charges for their role in the Mong Kok riot of 2016, when a dispute broke out during Lunar New Year between some hawkers control officers and street vendors, supported by their group. Tensions escalated quickly and turned into clashes as protesters took on the police.

Rather than face charges that could lead to 10-year jail terms, the pair jumped bail and sought asylum in Germany in 2017. Their applications were approved the following year.

Ray Wong Toi-yeung and Alan Li Tung-sing.

Wong's party colleague Edward Leung Tin-kei, the poster boy of the city's separatist movement who decided to face trial in Hong Kong on similar charges, was eventually jailed six years for rioting.

Having settled in Germany for three years, Wong, who is now studying at the University of Göttingen, said he was still constantly torn by two impulses: the need to integrate into a new environment and the longing for his hometown.

"I have been badly distracted by what happened in Hong Kong since last June," said Wong, about the social unrest sparked by the extradition bill. "I'm also stuck in a strong sense of guilt. I am enjoying the freedom here, leaving my comrades behind and failing to share the pain they suffer. I owe them."

Wong, 27, was an outspoken advocate in Hong Kong in the past for a more radical or forceful approach to protests. But he was fully aware that his role – and his influence – changed the moment he left Hong Kong.

"Even though I have been following the news closely, I would never experience what they have experienced in Hong Kong," he said.

"I was a leader of a political party who would make public speeches. But now I can only observe everything from a distance and the information I get is limited. I have refrained from giving too much of my opinions apart from what happened to me or what's going on in Germany."

Lower profile activists who have fled Hong Kong arguably have things the toughest.

Lau Hong, 18, left in July with only his computer, charging cables and a "small sum of money". The self-described "poor student", formerly from the Open University, also brought some rations of biscuits, oats and nuts, not knowing what lay ahead after landing at Heathrow Airport in London, where he is now based.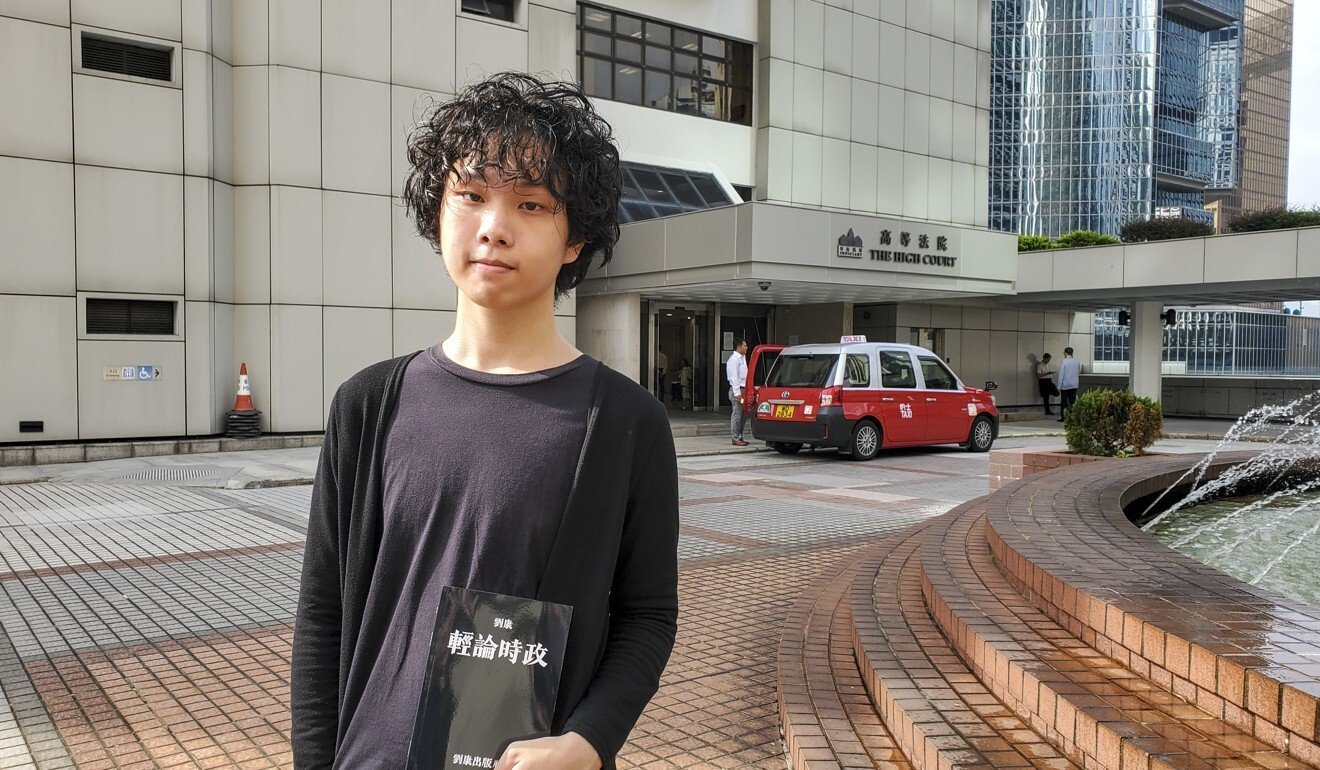 Founder of the Hongkonger Utilitarian Party Lau Hong.

As the founder of the Hongkonger Utilitarian Party, a group championing democracy, freedom and independence, Lau can reliably assume he has crossed one of Beijing's red lines.

He recalled applying for asylum at an immigration counter immediately upon his arrival on a 5am flight to Britain almost three months ago. His preliminary application was approved 12 hours later. He is now staying at accommodation provided by the British government and living on food assistance, although his life has been put on hold because he needs further permission to work or study.

An enthusiast of literature and philosophy, Lau once changed his name to Honcques Laus, a variation of the name of one of his favourite philosophers, Jean-Jacques Rousseau. Having studied translation as a student, he has spent much of his time in exile translating On Liberty, a famous essay by the English philosopher John Stuart Mill, into Chinese.

He said the philosopher's work, described by Mill himself as being about the "struggle between authority and liberty", offered great insights into the situation facing Hongkongers.

He has found life in exile tolerable and even managed to make some local friends. Even the typical English diet has not been enough to put him off. While British dishes such as fish and chips might seem dull and oily to many Asians, Lau said at least they were not completely alien to a Hongkonger.

But Lau knows the real challenge will come when the subsidy he receives from the British government runs out.

In the long run, his plan is to take on restaurant work to support himself and return to university to pursue his love of literature and philosophy.

Unlike Law, Lau has not got to meet high-profile diplomats, but he – and other exiles like Cheng – have kept their spirits high by writing to various governments and politicians in places such as Britain, the United States and South Korea to keep them abreast of Hong Kong's situation.

"Despite being in exile in Great Britain, I am still struggling for civil liberties for Hongkongers," he said.


SENSE OF HELPLESSNESS

Others, like Davin Wong, 22, have been overcome by a sense of helplessness.

Wong, previously the president of the University of Hong Kong's student union, had been taking part in the city's protest movement as a student activist until on August 30 last year when he was attacked by a man wielding a cane in Wan Chai during a non-protest day.

Spooked by the thrashing from a complete stranger, Wong, a Canadian passport holder, resigned from his post at the student union and boarded a Canada-bound flight within the next 24 hours.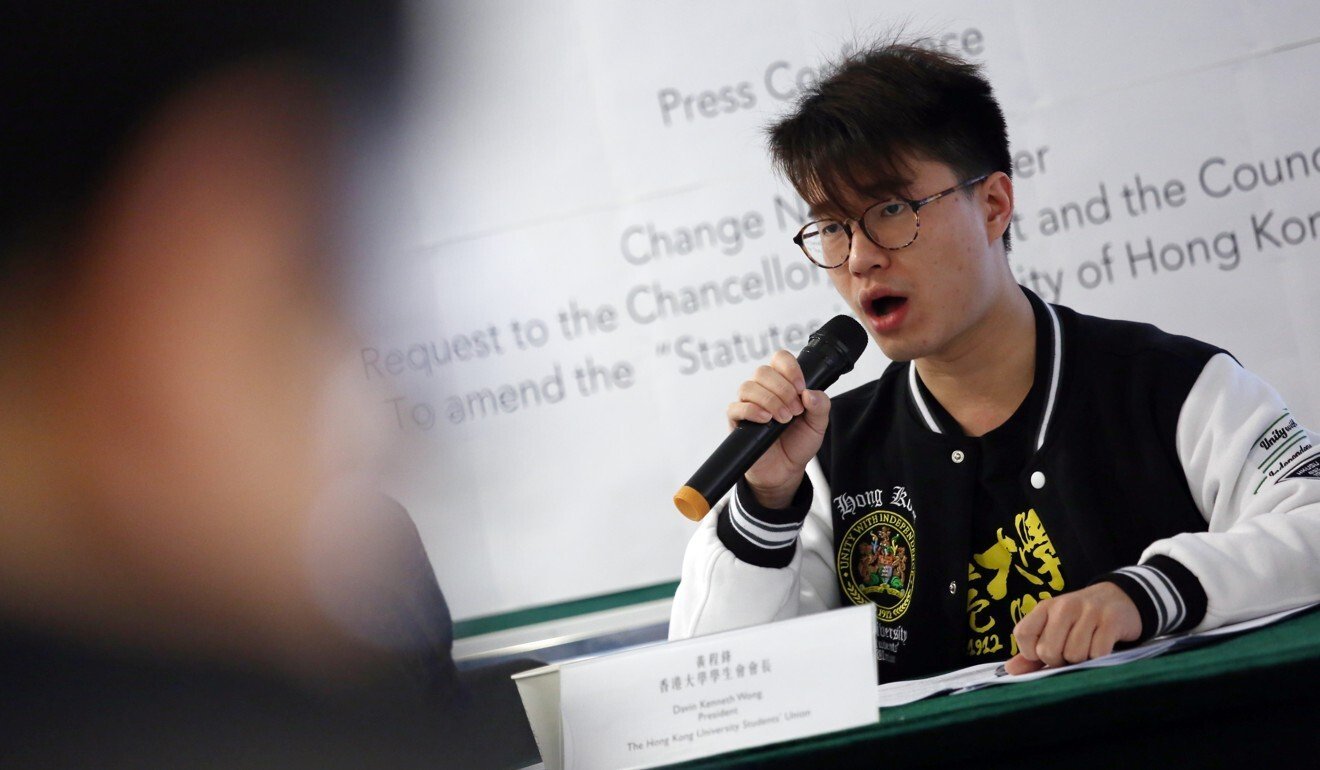 Davin Wong.

"There has been some extrajudicial oppression against me in Hong Kong which has posed a safety threat to me and the people around me," Wong said, declining to reveal more details. "The threats existed even before the protests erupted."

He had once hoped to return to Hong Kong, but ruled that out after the imposition of the national security law.

Wong was a year-four student and three semesters away from finishing his law degree at HKU when he left. Now he is starting all over again as a freshman in the University of British Columbia.

Like other Hongkongers in exile, he has devoted himself to international lobbying. He took a key role in the newly-formed Alliance Canada Hong Kong, which has fought for Canadian sanctions against Chinese authorities and a resettlement programme for Hongkongers.

But he admits to feeling lost and frustrated, even useless from time to time.

"In Hong Kong, you could fight through thick and thin with your friends. But here, you can only try to help Hong Kong by lobbying Canada to do something. It is very indirect," he said. "This sense of powerlessness is only going to grow as the world gradually shifts its focus away from Hong Kong."


LESSONS FROM THE PAST

In 1989, about 400 dissident intellectuals, students and activists fled mainland China after the Tiananmen Square crackdown and passed through Hong Kong – then a British colony – on their way to carve out new lives in Europe, the US and Taiwan.

At the time they attracted international attention, sympathy and considerable financial support for their cause of promoting democracy on the mainland. Some were invited to serve as visiting scholars at prestigious universities; others formed alliances to continue the fight; yet others served the cause by giving media interviews.

But as the years turned into decades, the support slowly dried up and interest in them waned. The spotlight moved elsewhere. Cast into the shadows, reality sank in and many struggled to find jobs. They also grew divided by disagreements and infighting.

Zhou Fengsuo, a former student leader of the 1989 democracy movement, who ranked fifth on Beijing's most-wanted list at the time and has lived in the US ever since, expected Hong Kong's overseas dissidents to face similar obstacles.

"It is very difficult to repeat the same message year after year," he said.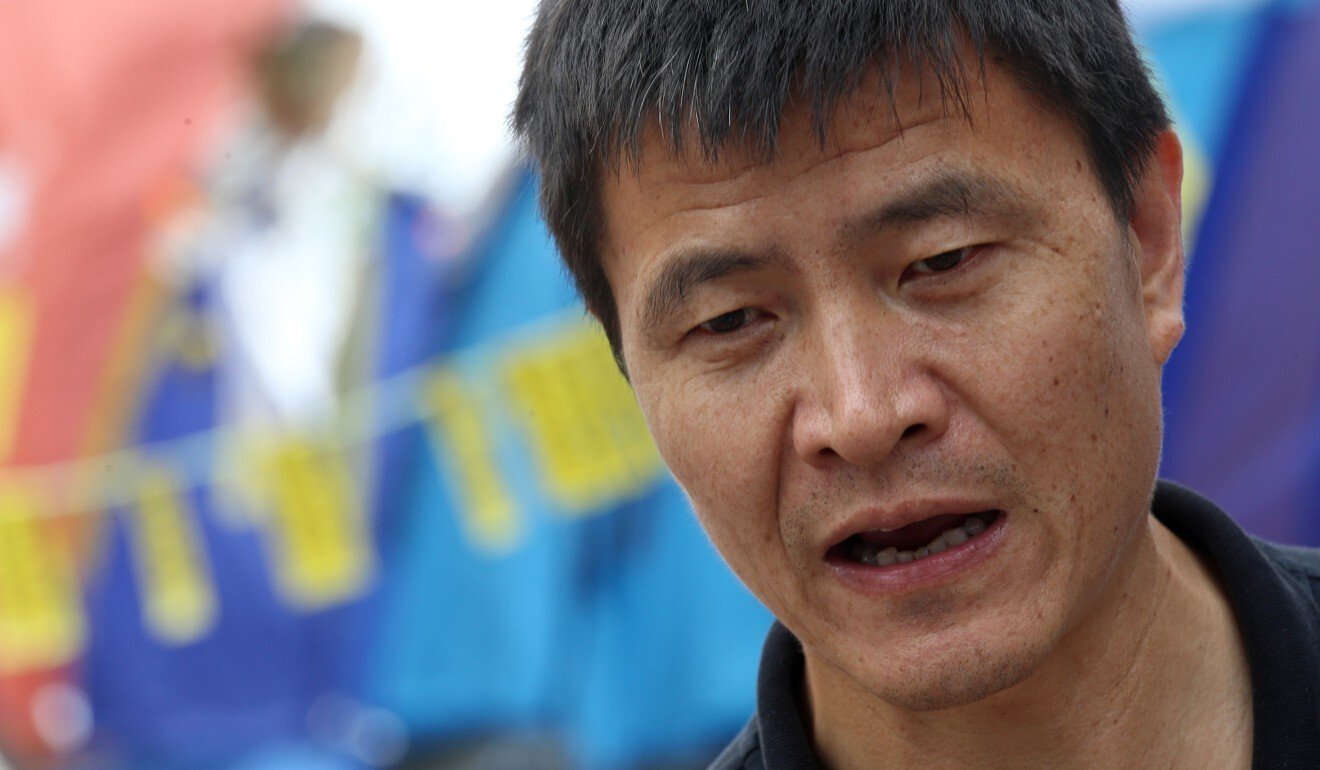 Zhou Fengsuo, a former student leader of Beijing's democracy movement in 1989.

His advice for the young exiles? Cultivate careers rather than be full-time activists, engage the local communities and stay in close contact with their homebase in Hong Kong.

Dr Jie Chen, a political scientist at the University of Western Australia who has researched Chinese political opposition in exile, said one of the core challenges for dissidents was that the geopolitical environment was beyond their control.

He cited the experience of the Tiananmen dissidents, whom he said had enjoyed a "very favourable international environment" for several years after the crackdown.

Western nations imposed diplomatic sanctions on Beijing, he noted, while the UN Human Rights Commissions backed demands for Beijing to release some political prisoners.

But the pressure eased when the Clinton administration in Washington opted to engage China in 1994.

Chen said Hong Kong's overseas dissidents – who are still enjoying international attention amid a new cold war between the US and China – should learn from the plight of their Tiananmen counterparts and map out strategies on what to do when interest began to wane.

"What should be the campaign strategy if the Hong Kong exile community becomes just one of many cases trying to get the attention of the US administration [while] the US-China relationship as a whole normalises? Do they have a sustainable strategy suitable for a long-term struggle?" he asked.

To overcome this, London-based Simon Cheng suggested forming a shadow parliament overseas. He said this would not be an alternative government and thus would not be in breach of the national security law.

The proposed shadow parliament, he said, would be a "lively platform" which would give activists a mandate and legitimacy to pursue a common cause. "It would unite Hongkongers in and out of the city and provide a safe place to reflect Hongkongers' voice," said Cheng, who plans to run a public consultation exercise over the idea.

Nathan Law, however, showed little interest, arguing the focus needed to remain on Hong Kong, which he said was still generating "political energy".

"Hong Kong's struggles are still ongoing, despite not being in the form of massive protests," said Law.

"My goal now is to assist the world to understand what's happening in Hong Kong … instead of generating my own political energy."

On how to sustain the momentum, Law said China affairs would always be a "mountain" in the international arena that drew attention.

"How could we make Hong Kong a leading agenda in China affairs? That somehow would determine international attention in Hong Kong," he said.

Both Ray Wong in Germany and Davin Wong in Canada, meanwhile, agreed that the Hong Kong overseas diaspora should go beyond their own circles and connect with grassroot communities locally.

That included joining political parties of their adopted cities, casting votes in polls and uniting overseas Hongkongers so they could motivate local politicians to back their causes, said Ray Wong.

"Towards this direction, we would not be lobbying foreign countries in the capacity of Hongkongers, but that of local citizens," he said, citing the effort of Uygur communities in the US, who have drawn attention to Beijing's treatment of the ethnic minority in its western province of Xinjiang. China has been accused of holding up to a million Uygurs in what critics claim are internment camps, but Beijing says are re-education centres.

Davin Wong also said Hongkongers in Canada should seek to understand the Canadian political landscape and language and push for changes from a local perspective.

Political scientist Chen said Hong Kong's dissidents had at least two distinct advantages over other exile communities: decent English language skills and the attention of the world given the US-China geopolitical rivalry.

Professor Steve Tsang, director of the China Institute at SOAS University of London, said more important than the community's size were its effectiveness, resources and organisation. "There is enormous goodwill towards Hong Kong globally and there is therefore huge scope for them to tap into this. The real issue is if they know how to and if they can do so effectively."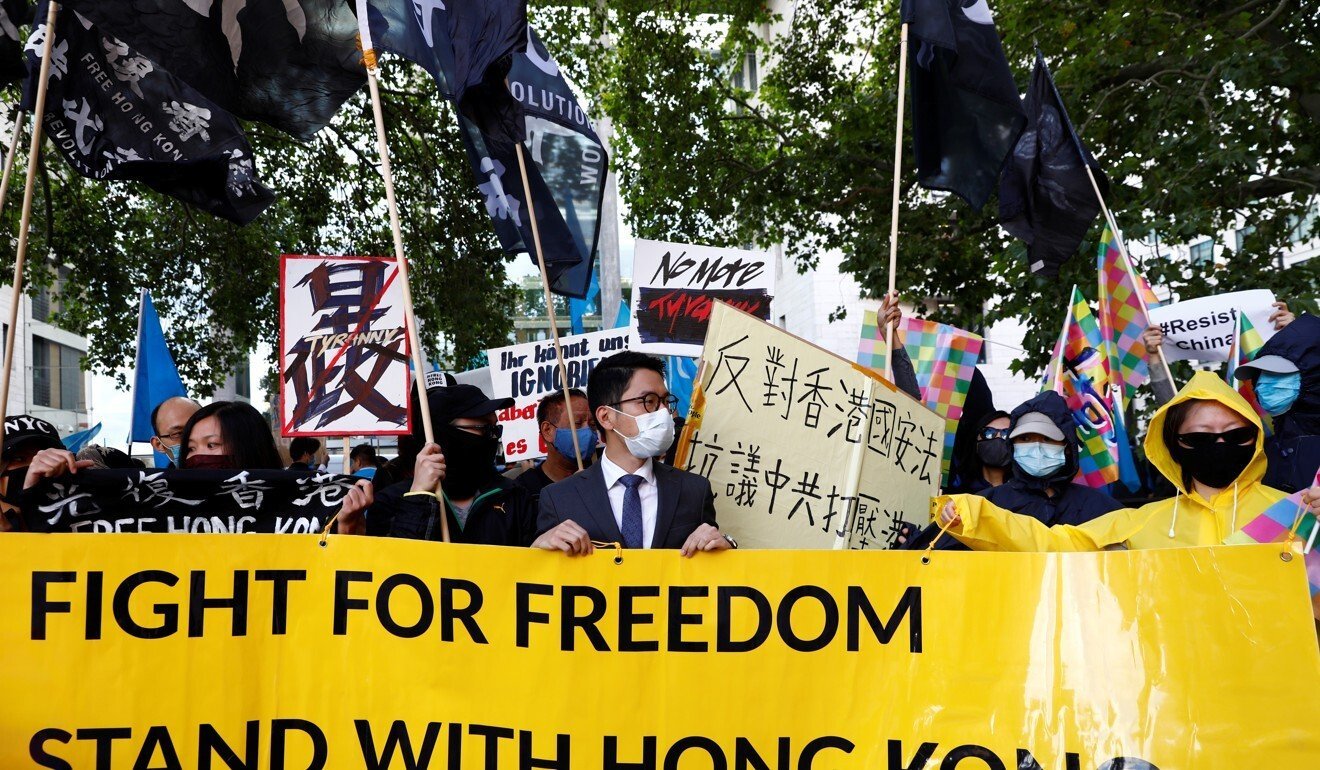 Hong Kong exile Nathan Law rallies during the Chinese Foreign Minister Wang Yi's visit to Berlin.

Tsang said with time, dissidents in exile generally would become less relevant and grow to be outsiders to their hometowns, unless they sought new ways of engaging and coordinating international support.

Democratic movements usually succeeded or failed largely on the basis of the politics on the ground, and external support tended to affect outcomes only marginally, he said.

"As long as Xi Jinping remains leader of China, he will crush any democracy movement in Hong Kong, and there is little the international community can do about it," said Tsang. "It is harsh but it is the reality."

For now, Law conceded he had no concrete plans of his own, and described himself as "a person without a future".

He acknowledged facing a race against time to lay the foundations for action while the world was still paying attention. Those foundations involved cultivating connections and personal relations with foreign politicians and sustaining international exposure.

Law is grappling with other pressures too. As he is not relying on any political organisation, he has been burning through his savings in London. Recently, he launched a platform online, encouraging supporters to pay a monthly subscription fee from US$10 to US$100 to read his personal thoughts and political analyses and to discuss the movement's future with him.

"I would not say I have made the correct decision to leave, but I am very clear about what I am doing," he said.

The former student leader cut ties with his family when he left Hong Kong to avoid causing them trouble. Almost all others the Post spoke to did the same in order not to implicate them.

"As long as I am active on social media, they know I am all right then everything is good," he said. "Of course I miss them. I hope there will be a day when I can return to Hong Kong when Hong Kong is democratic and free."