A Hong Kong group known for organising some of the city's largest protests will not seek to hold its annual July 1 march for the first time in 19 years, citing the recent jailing of its leader and an ongoing police investigation into its legality.

Chung Chung-fai, acting convenor of the Civil Human Rights Front, revealed on Sunday that the body made up its mind on Friday to forgo its annual protest – timed to coincide with the anniversary of Hong Kong's handover to China – after a meeting with its member organisations.

The front has held the July 1 march every year since 2003, when 500,000 people took to the streets to oppose a proposed national security law that was ultimately scrapped by the Hong Kong government. And even with pandemic-related rules forbidding large gatherings, the front attempted to keep up the tradition last year, filing an application for the event only to be rejected by police on public health grounds.

Chung – a former leader of the group who retook the helm in a transitional capacity after convenor Figo Chan Ho-wun was jailed for 18 months in May over an unauthorised 2019 protest – told the Post the group found itself in dire straits.

"As you know, Figo is now in jail," he said. "There is no manpower to do anything as there is no one remaining in the secretariat any more."

Explaining the decision not to apply for the July 1 march this year, Chung alluded to the police investigation into the group's legality, which was launched in late April, giving rise to speculation that authorities were seeking to ban it outright.

"If the police think we are an illegal body, it is unlikely they will grant our application," Chung said.

The acting convenor stressed the decision to not to hold this year's march was merely a one-off, but allowed he could not see how the situation might improve in the long run.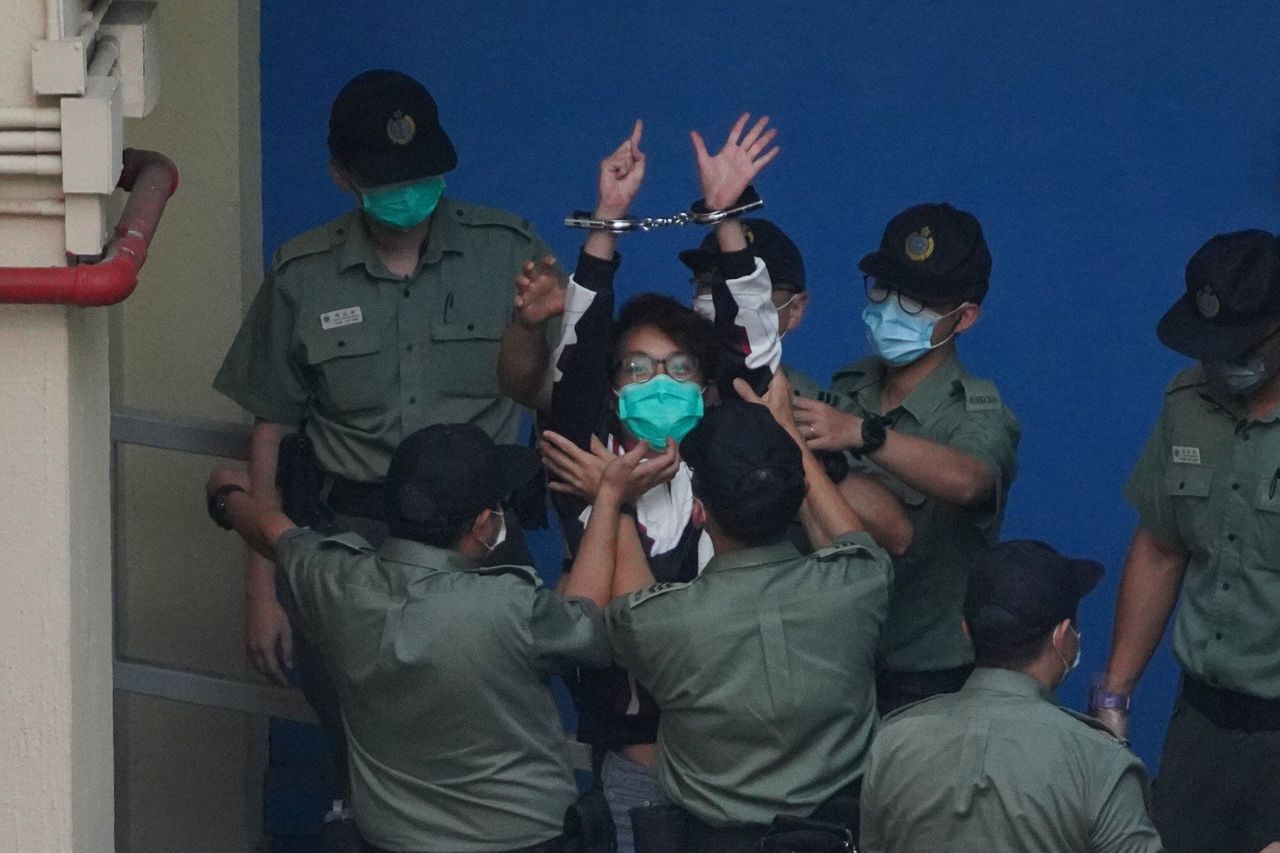 Civil Human Rights Front convenor Figo Chan is remanded in custody last month ahead of his sentencing over an unauthorised protest in 2019.

In an interview with the Post before he was jailed, Chan said he had been on his own for months in his efforts to keep the group afloat after some secretariat members stepped down out of political concerns, or were forced to resign after being arrested under the national security law imposed by Beijing last year.

Police have yet to give an update on the progress of their investigation since they approached the group in April with a series of questions over its finances, its role in a petition handed to the United Nations and its reasons for failing to register with the government under the Societies Ordinance. The group at the time refused to provide answers, arguing it was not obliged to and had never been asked about its status since it was formed in 2002.

Raphael Wong Ho-ming, chairman of League of Social Democrats, one of the front's member groups, said activists had not decided how they planned to mark July 1 this year, but were keen to set up street booths on the day to make their voices heard.

Icarus Wong Ho-yin, founder of Civil Rights Observer, said the arrests of opposition leaders – and more recently senior staff of the Apple Daily tabloid – under the national security law had sent a chill through the city's activist circles.

Recent court cases in which judges sentenced even nonviolent opposition figures to lengthy prison terms had also dealt a blow to those who organised and attend marches, he added.

"Marches and protests are important elements of a free society, and they demonstrate how liberal a society is," Wong said, calling for the government to relax social-distancing rules to allow public processions given the city's recent success in bringing the pandemic under control.

However, Lau Siu-kai, vice-president of semi-official think tank the Chinese Association of Hong Kong and Macau Studies, said the front had not been able to stop violent protesters from hijacking its peaceful demonstrations in 2019, adding that could be used against it if the authorities were to reject its registration under the Societies Ordinance.

"Its existence also depends on whether it will be found a threat to national security," he added.