Hong Kong prisons have begun trimming the locks of female inmates to just past shoulder length, after a recent court ruling that the Correctional Services Department was discriminating by imposing different hair standards on the two sexes, the Post has learned.

In the past, male prisoners had to keep their hair "short to medium-short" but females could have hair of any length.

That was sex discrimination, the Court of Final Appeal ruled last November in a case brought by activist and former opposition lawmaker "Long Hair" Leung Kwok-hung, whose locks were previously shorn when he served a brief 2014 prison stint for his involvement in an earlier protest.

From this month, haircuts are now mandatory for both sexes at Hong Kong's 28 correctional facilities. There is no change for males, but long-haired women will have regular trims to keep their tresses at "armpit length".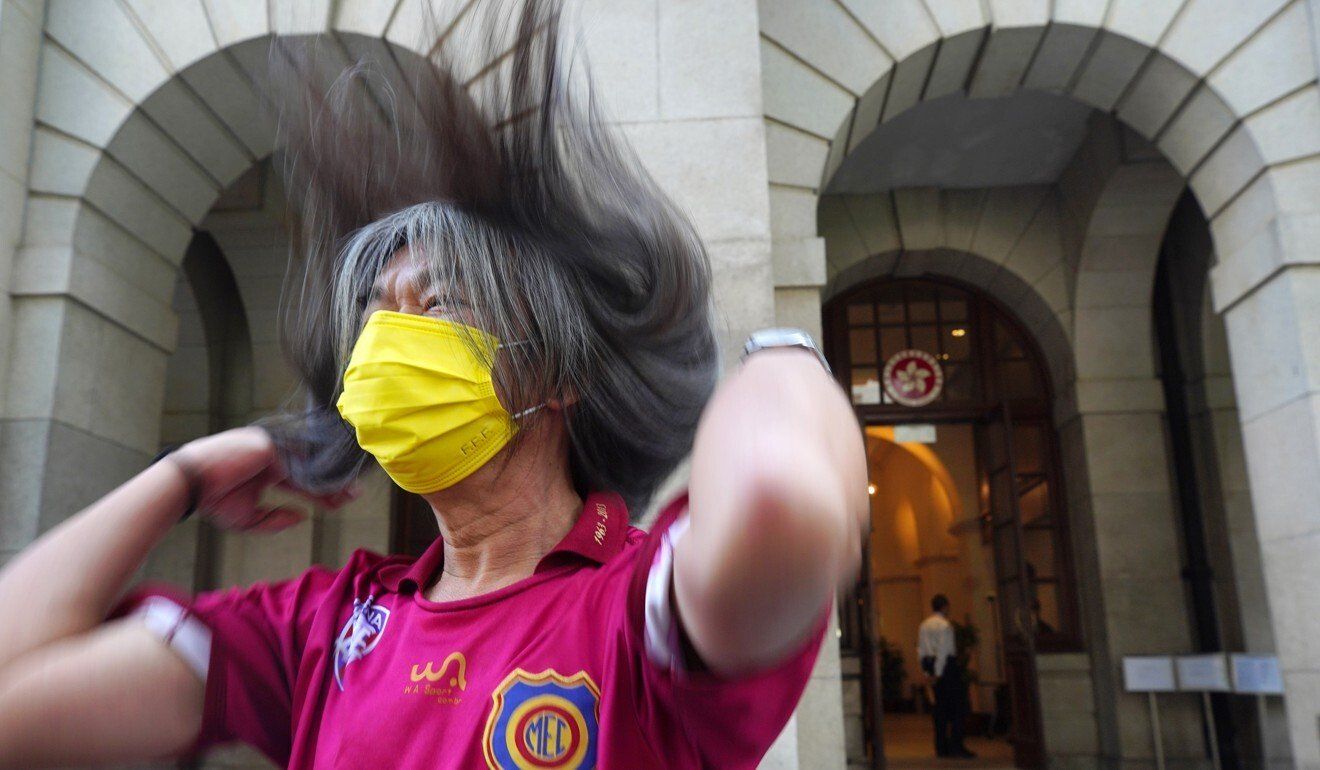 "Long Hair" Leung Kwok-hung flips his signature hair outside the Court of Final Appeal after winning against the Correctional Services Department in November.

But critics and prisoners' rights advocates say the department has not yet removed discrimination, as there are still different standards for each gender. One warned of possible conflicts over haircuts between prisoners and frontline prison officers.

In a written reply to the Post on Tuesday, the department said that in following the court ruling, it "considered relevant options" and sought the advice of the Department of Justice before implementing the new haircut arrangement for inmates from February 1.

"Now, all prisoners, male or female, have to keep an appropriate hair length," it said. "Those who do not like to have their hair cut because of special personal reasons can make representations for exemption. The department will make suitable arrangements after considering all relevant factors."

Other options considered by the department included requiring all inmates to keep medium-short hair except in special cases, or allowing them to maintain their hair at the length upon admission to prison unless there is a medical reason to cut it.

A department source said: "The new arrangement is that all will have their hair cut. Men will have to keep their hair short to medium-short, as in the past, but women are only allowed up to armpit length."

A prison worker said she and her colleagues have begun implementing the new guideline for women in phases, with newcomers being the first that have to comply fully.

Existing inmates have been encouraged to meet the new requirement, and some who were willing have already had their hair trimmed.

"So far, it hasn't been an issue and people have not been resisting," she said.

In 2019, Hong Kong had an average daily prison population of about 7,800, with females accounting for about one in five inmates.


'Inmates can hide weapons in hair'

Inmates' haircuts first became an issue in 2014 after veteran activist, then opposition lawmaker "Long Hair" Leung had his trademark locks cut off when he was sent to jail to serve a brief sentence for his part in a 2011 protest.

The prison authorities' practice at the time was to keep the hair of male prisoners cut "sufficiently close", according to an internal order by the Commissioner of Correctional Services.

Female prisoners did not have their hair cut shorter than it was on admission to prison without giving consent, unless there was a medical need.

That meant female prisoners had a choice, while the males did not.

Leung sought a judicial review, saying the prisons' arrangement amounted to sex discrimination and was therefore unconstitutional.

When the case reached the city's apex court last November, the judges ruled unanimously that the prison rule for male inmates did indeed amount to sex discrimination.

The department asked for the ruling to be suspended for six months to allow it time to work out a new policy, but this was rejected by the top court last month.

The judges said the department should have begun making preparations after the Court of First Instance ruled in Leung's favour in 2017.

"There is nothing complex about that judgment," they said, in turning down the department's request. "It simply requires elimination of the less favourable treatment regarding hair length requirements based on sex."

On learning that the prisons had begun implementing the armpit-length rule for females this month, "Long Hair" Leung said there was still a difference in the way the sexes were treated.

"Male prisoners face the same restrictions as before," he said.

Former opposition lawmaker Shiu Ka-chun said while there have been no problems so far in implementing the new rules for women, conflicts could arise in future if some did not want to have their hair trimmed.

He felt the department should just get rid of the hair rules for both sexes.

But pro-establishment legislator Gary Chan Hak-kan, chairman of the Legislative Council's security panel, said the department could not drop the hair rules for both genders because of safety, hygiene and discipline concerns.

"If prisoners have long hair, they can hide small blades or weapons in their hair and that could threaten the safety of correctional officers or other inmates … Discipline is needed in jail," he said.

Past experience showed a relative low risk of female prisoners hiding weapons in their hair, but he said the department still had to trim their hair to demonstrate fairness.

"Now that the court has made a ruling, the department can only follow it and cut the hair of female inmates too. If they are unhappy, they can only blame 'Long Hair' or the court," he said.