Hong Kong police will mobilise more than 8,000 officers and maintain high-profile patrols over the next 48 hours to guard against any eventuality on National Day.

The preparations were being carried out to ensure the official flag-raising ceremony, National Day cocktail reception and related public events on October 1 ran in a safe and orderly manner, a force insider said on Wednesday.

He said police would cordon off the area in Wan Chai around Golden Bauhinia Square and the Hong Kong Convention and Exhibition Centre, where ceremonies would be held, from around Wednesday midnight.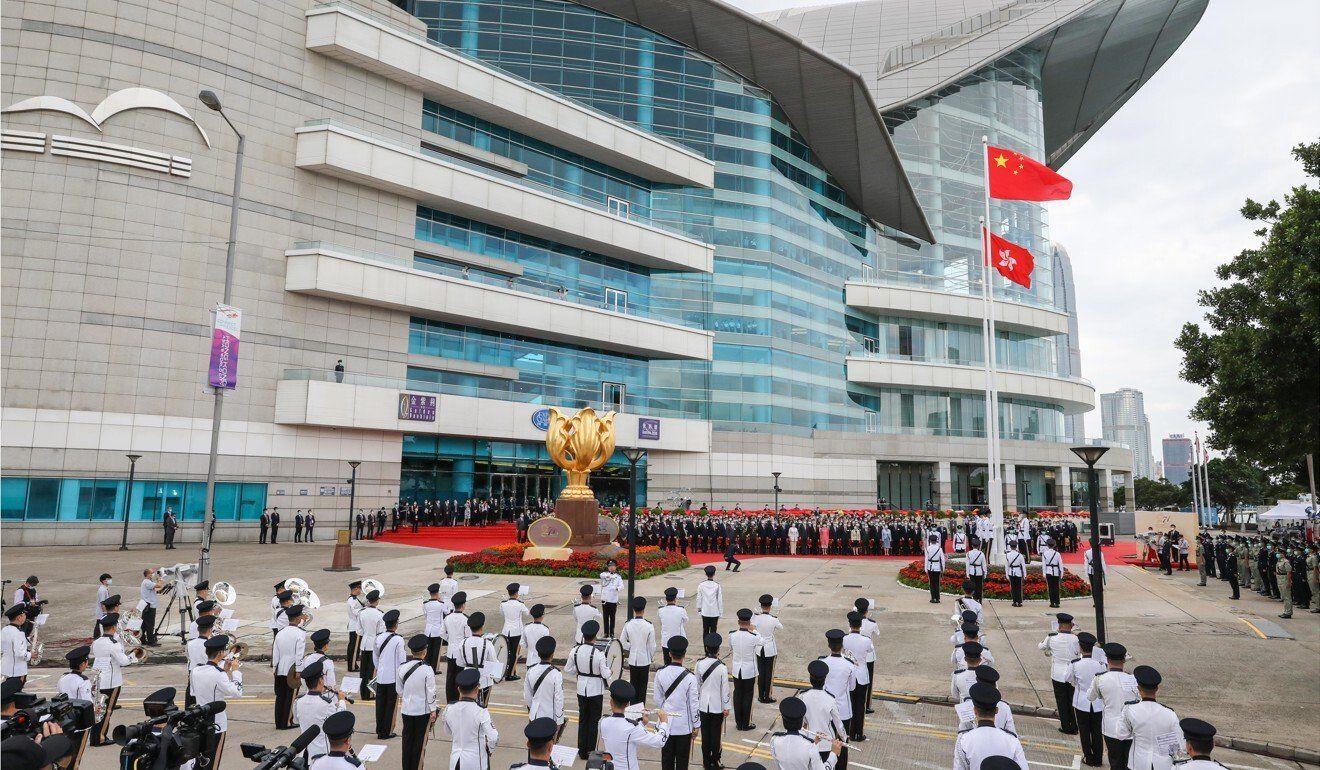 The National Day flag-raising ceremony at Golden Bauhinia Square in Wan Chai last year.

Counter Terrorism Response Unit personnel and Special Tactical Squad officers, also known as "Raptors", would be among the thousands on duty on Thursday and Friday.

"Officers will carry out patrols in a high-profile manner in different districts. In addition, plain-clothes officers will be deployed to strategic sites to carry out surveillance," the source said.

He said the force would continue to carry out risk assessment, enhance personal protective gear for frontline officers and raise safety awareness.

Police deployed up to 6,000 officers for the Election Committee poll on September 19, with personnel outnumbering the 4,900 voters eligible to take part in the ballot – the city's first under an electoral overhaul imposed by Beijing to ensure only "patriots" hold power.

Security minister Chris Tang Ping-keung vowed on Saturday to step up intelligence gathering and arrange enough manpower for National Day events.

Meanwhile, a citywide crackdown against triad groups behind cross-border smuggling activities continued on Wednesday following the death of a police officer after a collision during a high-speed chase in Hong Kong waters at the weekend.

The body of Senior Inspector Lam Yuen-yee, 37, was recovered two days after she and her colleagues were thrown into the sea by the force of the collision as they sought to intercept a vessel off Sha Chau.

The source said police took intelligence-led enforcement actions in the fight against triads, and the organised and illegal logistics trade between Hong Kong and mainland China over the past few days.

During the crackdown, police stepped up patrols in Hong Kong waters and enhanced inspections at the loading bays used by smugglers across the city, he said. Officers also intercepted vessels for inspection.

The source said the operation was ongoing and police would "continue high-profile and strict enforcement actions to combat sea smuggling activities".

Up to Tuesday night, 85 people including 17 suspected triad members were rounded up.