Police say 4,350 high risks found among 74,000 inquiries in October alone; 7,450 rated as lower risks.
An anti-scam website run by police in Hong Kong is estimated to have avoided at least HK$400 million (US$50.96 million) in fraud losses to the public since it launched in late September.

Superintendent Wilson Fan Chun-yip of the police cybersecurity and technology crime bureau said the "Scameter" site had logged 74,300 inquiries about suspicious calls, emails or hyperlinks from the public last month alone and 4,350 were classified as "red", the highest risk level, and "related to scam reports, or of high cybersecurity risk".

Fan on Wednesday said that the average loss in scam cases in September was about HK$138,000.

He added if 3,000 of the 4,350 people who were faced with a high risk last month did not verify the information with the Scameter, they would have lost more than HK$400 million.

"I think this showed that the Scameter was very effective," he added.

The force said 6,920 inquiries were given an orange alert, and 530 rated a yellow warning. The figures mean a total of 11,800 inquiries, or 16 per cent, were potentially related to scams.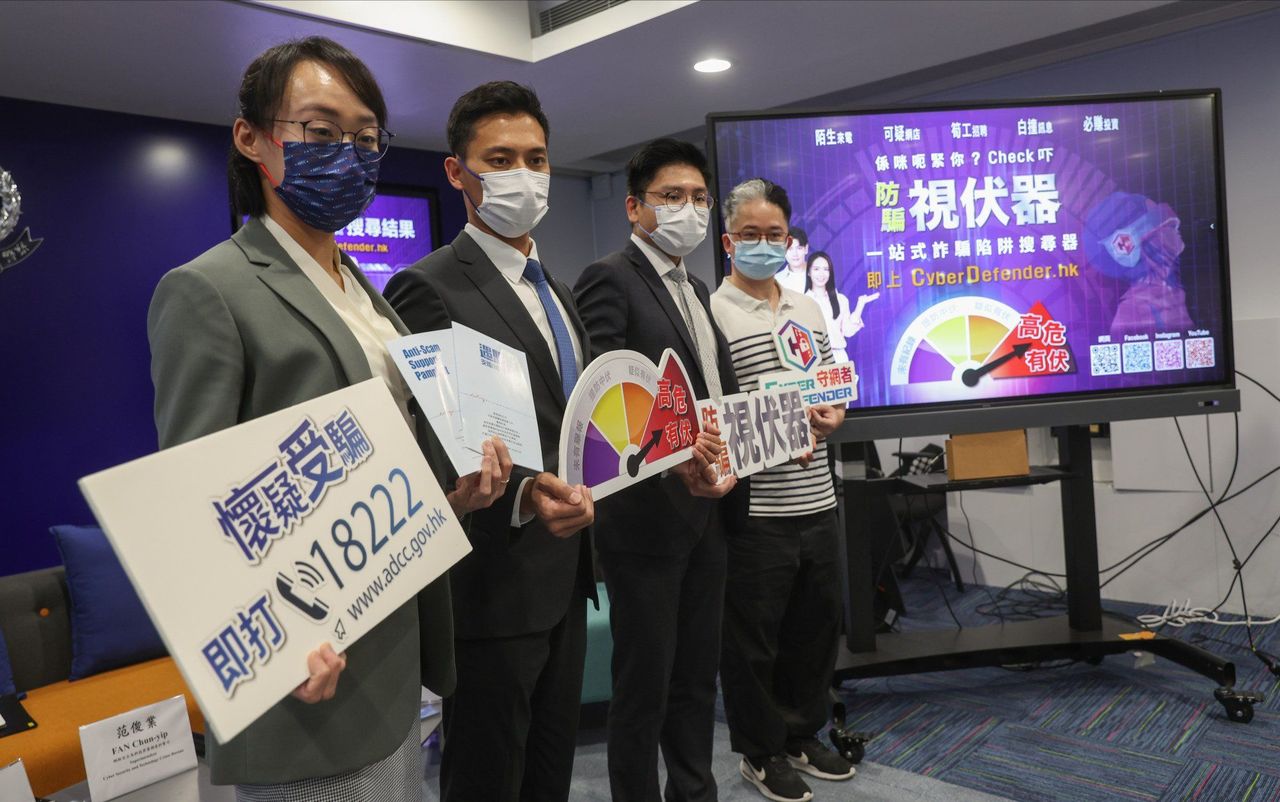 (From left) Police Chief Inspector Bonnie Ngan Hoi-ian, Superintendent Wilson Fan, Chief Inspector Lester Ip Cheuk-yu and William Wu Man-hon, the founder of HKJunkCall, at police headquarters in Wan Chai.
The service can be used to check suspicious websites, emails, phone numbers, or payment account numbers.
The database is a treasure trove of information obtained by police officers from earlier scam investigations and, based on the risk level, users are given a red, orange, or yellow alert, or a purple response if there is no record that matches.
Fan said the force would work with other authorities and non-governmental organisations on the feasibility of interception of phishing texts and the removal of fraudulent websites.
Police have spotted that many scammers used Hong Kong phone numbers to call from abroad.
Communication authorities said they had tackled the problem by labelling bogus city phone numbers with the country code +852, so anyone who got a call from one would be alerted.
William Wu Man-hon, the founder of HKJunkCall, which runs an internet database of junk phone numbers, said his team had noticed that, rather than calling from abroad, the number of scammers making calls from the city had increased.
"Since July, there are plenty of reports of local phone calls, with callers claiming to be health or immigration department officers. Starting from last month, there were also callers claiming to be customer service officers, and can call the receiver by their full name. Residents need to stay alert on the authenticity of their claims," Wu warned.
Fan said that the government's real-name registration system for phone Sim cards would be in full swing by next February, which could lessen phone frauds.
But he insisted police would remain vigilant and combat any new tactics that scammers came up with.
New SIM cards have required real-name registration before they are activated since March.
But existing SIM card users were given a buffer period until February next year to complete real-name registration with their telecommunications service providers.
Fraud cases have been a major headache for the city's police in recent years.
Police recorded a total of 19,444 scams, an increase of 39.7 per cent year on year, from January to September.
Scams accounted for 38.9 per cent of the 49,927 crime incidents logged in Hong Kong over the same period.
A university student, identified only as Ms Wong, also attended the police press conference through a teleconferencing link.
She said she was defrauded of HK$270,000 through an online employment scam last month.
A caller who claimed to be a headhunter and a customer service officer contacted her on the internet, and asked her to perform up to three sets of 40 clicks a day on a "software improvement website".
Wong said she was given a small reward of about HK$10 to HK$20 on completion of the first few sets of tasks.
But as she took on more tasks, the scammers started to withhold the reward and repeatedly asked her for deposits and the completion of more tasks, so that she could get a full refund.
Ms Wong eventually realised she had been cheated and contacted police.