Some parents and educators have questioned why children were allowed to play with toy guns at a Hong Kong police event, after the force's chief hit out at critics and slammed the doxxing of one school that took part.

Commissioner Chris Tang Ping-keung on Saturday complained that the pupils visiting the police college tactical training complex in Wong Chuk Hang on Thursday for a National Security Education Day event had been vilified and their school harassed online.

As the controversy rumbled on for a second day, Tang also accused some media outlets and academics of "smearing the force" through their coverage and commentary, while the city's biggest teachers' union believed police should review their arrangements.

A photograph of a schoolgirl pointing a toy gun at a classmate in a mock-up of a train carriage at the college was widely shared online, and in one of the critical media reports, the Apple Daily tabloid juxtaposed it with an image of a controversial crackdown during the 2019 anti-government unrest when police officers stormed an MTR compartment to chase protesters.

The Po Leung Kuk charity group, which runs scores of schools across the city, said its pupils had been "just playing with each other".

"The school will remind students not to engage in misleading behaviour when they interact," it added in a statement.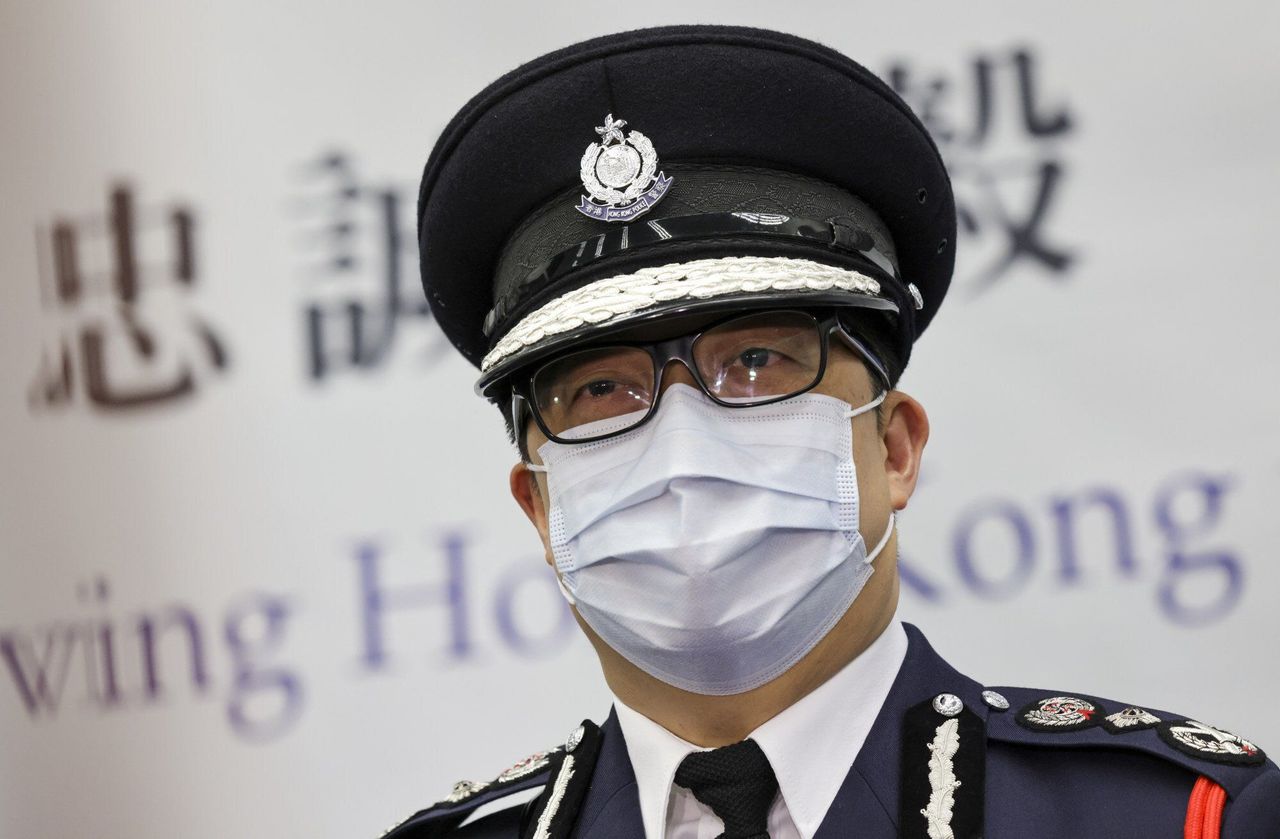 Commissioner of Police Chris Tang.

Some media outlets quoted internet users comparing the activity to a police clearance operation inside Prince Edward MTR station on August 31, 2019. News footage at the time showed officers using batons and pepper spray on protesters inside train carriages, which led to accusations they had used excessive force.

A father surnamed Chong, of the concern group Hong Kong Parents League for Education Renovation, said many people had expressed doubts about police arrangements for Thursday's event.

"Some parents even felt a chilling effect," said the father of two primary school children.

He questioned whether giving weapons to children at a police open day was suitable and if it went against teaching the value of resolving conflicts through peaceful means.

"When [the police chief] described it as children innocently playing, I guess most people would not think playing with weapons is innocent. Many parents cannot really accept his interpretation of the incident," Chong added. "Are the implications that national security can be achieved by merely using weapons?"

Fung Wai-wah, president of the 100,000-member Professional Teachers' Union, believed the force should review its open-day arrangements and whether it could avoid stirring up memories for some people because of the setting used.

Although in the past, firearms such as rifles and machine guns were on display and available for children to hold at open days hosted by the People's Liberation Army Garrison in the city, both Fung and Chong pointed to differences between police and the PLA.

"[Unlike the PLA], children see police officers every day and might interact with them," Chong said. "Could it convey the meaning that the force is being militarised now?"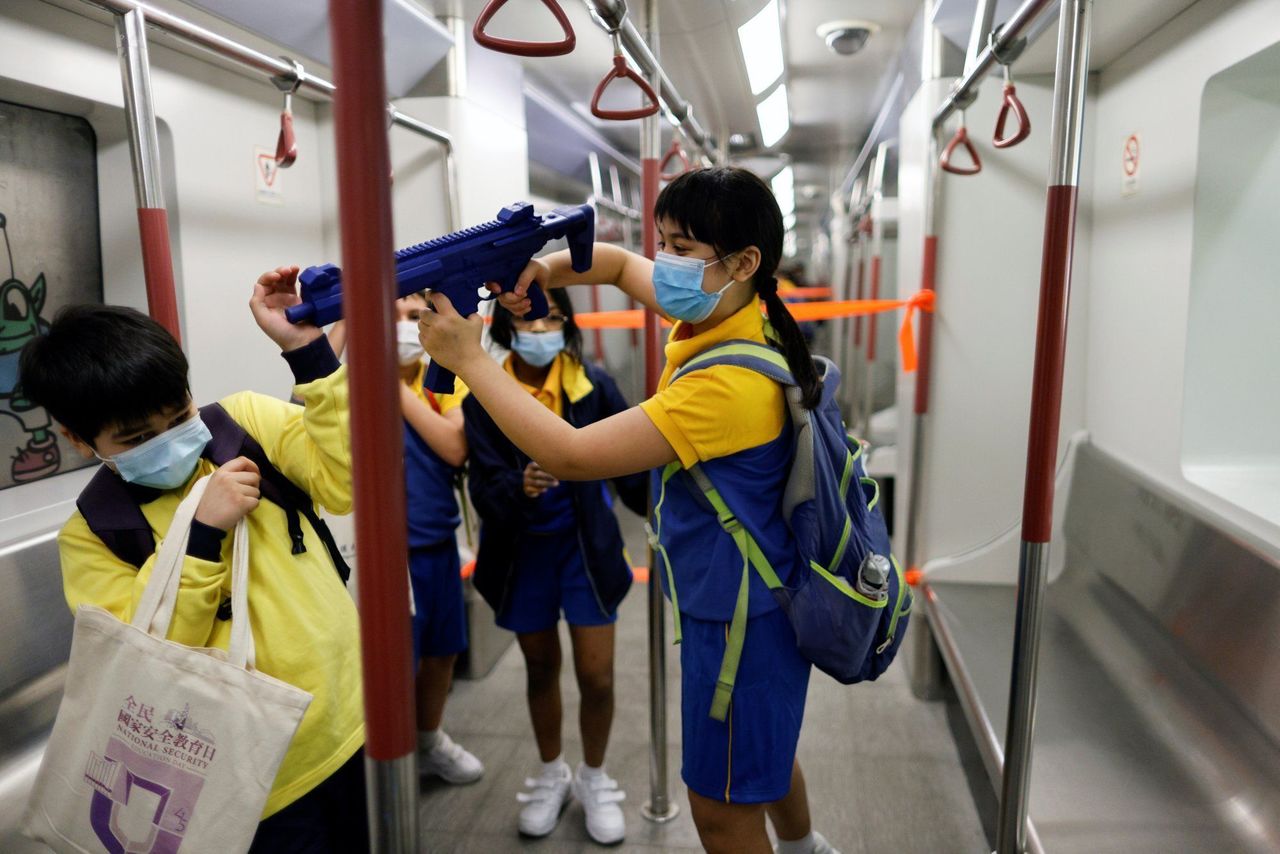 A child plays with a toy submachine gun on a mock-up train at Hong Kong Police College on Thursday.

For a second straight day, Tang commented on media coverage of the official educational events on national security and the involvement of children.

"The children were portrayed as if they were somehow related to violent riots, while many people engaged in doxxing and harassing the primary school. This is certainly dividing society and inciting hatred," Tang said.

"It seems to tell people that 'if you support police, I will harass you'. The act of bringing our children into this is very immoral and wrong."

Without naming anyone, Tang also censured some local scholars who jumped in to criticise him after his previous remarks.

"They are trying to verbally condemn me, but I want to tell the public, as the police chief, I will not be intimidated by these forces, and I will continue to tell the truth," he told the press on Saturday.

Wong Kam-leung, chairman of the 40,000-strong Federation of Education Workers, also believed the photograph was an isolated incident, adding that children were probably "only overly excited" when given the chance to play with model guns.

"Some media are obviously trying to smear national security education … which is a despicable move," said Wong, a primary school principal.

But Chris Yeung Kin-hing, chairman of the Hong Kong Journalists Association, said the media should not be blamed.

"Maybe [Tang] disliked their coverage, but different media outlets do have different ways of handling news photographs and captions," Yeung said.

"When looking at the coverage … it might also trigger various associations among different people."