Hong Kong's police chief would back a new law banning fake news and has doubled down on his criticism of a local newspaper which he said "incited hatred" with its coverage of National Security Education Day last week.

Commissioner of Police Chris Tang Ping-keung escalated his attacks against Apple Daily on Tuesday, two days after the tabloid-style newspaper said its reporting of events was based on facts and pointed out a free press was enshrined in the Basic Law, the city's mini-constitution.

Tang's accusations stemmed from the newspaper's front page coverage of last week's security day, and the Reuters photograph it published of children playing with toy guns. Citing online comments, it likened the scene to an incident in 2019.

On August 31 that year, during the anti-government protests that gripped the city, officers used pepper spray against people in a train carriage at Prince Edward MTR station.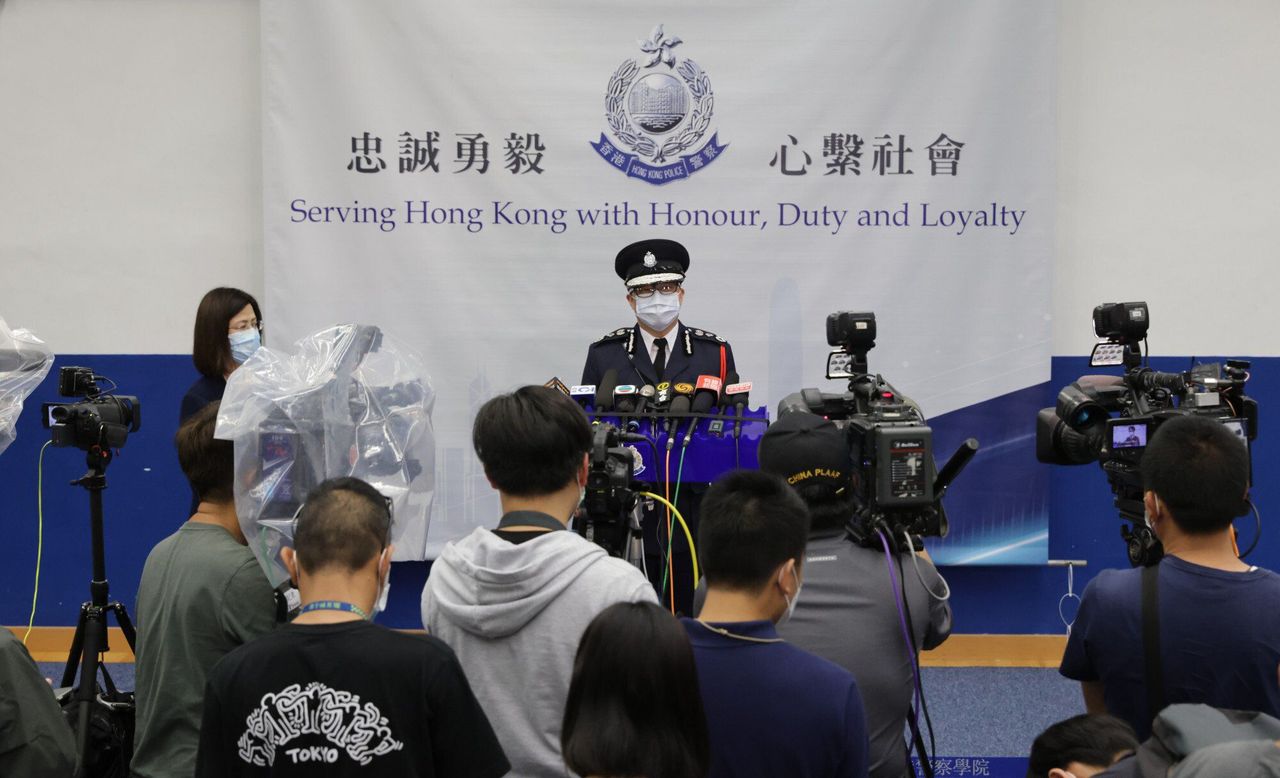 Commissioner of Police Chris Tang speaks to the media after a passing-out parade at Hong Kong Police College in Wong Chuk Hang.

The front page prompted the police chief to warn against the spread of fake news, while over the weekend newspapers supportive of Beijing demanded Apple Daily, which is owned by Next Digital founder Jimmy Lai Chee-ying, be outlawed.

Asked during TVB show Straight Talk if authorities intended to pass a law against fake news, Tang said: "I think it's good to have such a law, you know, for every law that can assist the national security and assist us to make Hong Kong safer."

Tang said the city needed to have a discussion on the subject and there should be "a clear definition about fake news".

In February, Chief Executive Carrie Lam Cheng Yuet-ngor vowed to bring in new laws to combat the spread of misinformation, which she said had increased amid the coronavirus pandemic and the protests in 2019. But she did not single out any media organisation.

While some parents' groups and educators also voiced concern about children being given sample weapons to play with, Tang told the show there was nothing wrong with it as the force only wanted them to know more about its work.

"I think you [the host] and me, both were kids before, and it's normal for kids to get a gun, toy guns and to run around. And that's really natural," he said.

The problem, he said, came with the media linking the scene with the unrest two years ago, and questioned its motives for doing so.

"Is it trying to incite hatred?" he said. "Is it trying to split society? Is it trying to create a contradiction between different sectors of the society? I think this is the evil part."

Tang's comments came as Reporters Without Borders, an international press freedom watchdog, warned that the national security law posed a "grave threat" to the city's journalists. Hong Kong's ranking remained at 80 out of 180 countries and territories in the group's 2021 world press freedom index.

Less than two months before the 32nd anniversary of the Tiananmen Square crackdown, Tang was asked if police would permit the first June 4 candlelight vigil since the security law came into effect. The annual event has been the only large-scale public commemoration of the event on Chinese soil.

In response, Tang said the force had to go through a "threat assessment" process and would consider public order, national security and the rights and freedom of individuals.

Separately, veteran journalist Michael Chugani, who hosted Straight Talk, has resigned from TVB and also ended his columns with the Post and the Hong Kong Economic Journal. He said he needed a break and would stay in the city in the short term, but had not yet decided whether to leave.

"Hong Kong has changed, people change," he said.

The show is expected to be hosted by dentist Eugene Chan Kin-keung, former chairman of the RTHK board of advisers and a supporter of former chief executive Leung Chun-ying in his previous election bid.

Chris Yeung Kin-hing, chairman of Hong Kong Journalists Association, said the group had always opposed the idea of a fake news law, which he said had been used by many regimes to crack down on dissidents.

He said it was worrying that what Tang and officials went after was the newspaper's handling of a picture but not facts. "The picture itself is real," he said. "The authorities are only unhappy with the story angle, which is not positive in the eyes of the police. This is severely eroding press freedom."