Hong Kong table tennis star Doo Hoi-kem says she's in the form of her life after spending eight "amazing" months in China sharpening her skills ahead of the Tokyo Olympics where she will partner Wong Chun-ting in mixed doubles.

Mixed doubles will be introduced in Tokyo for the first time in the Olympic programme and Doo says her experience in China, where the country is considered a table tennis power, was time well spent as she managed to improve her fitness and technique to new levels.

Already a rising star in women's singles, the 24-year-old said the move to train in China proved the right decision, as many of her counterparts had been struggling for competition and training opportunities since the pandemic wreaked havoc on the sporting calendar last year.

"I was so lucky to have played and train in China for the build-up to the Olympic Games," said Doo, who returned to Hong Kong 10 days ago after starting her training stint on the mainland in November after the 2020 World Cup in China.

"I trained with the Chinese women's first [senior] team for two months. They had three training sessions a day and they also had fitness sessions on top of that in the late evening. It was an amazing experience."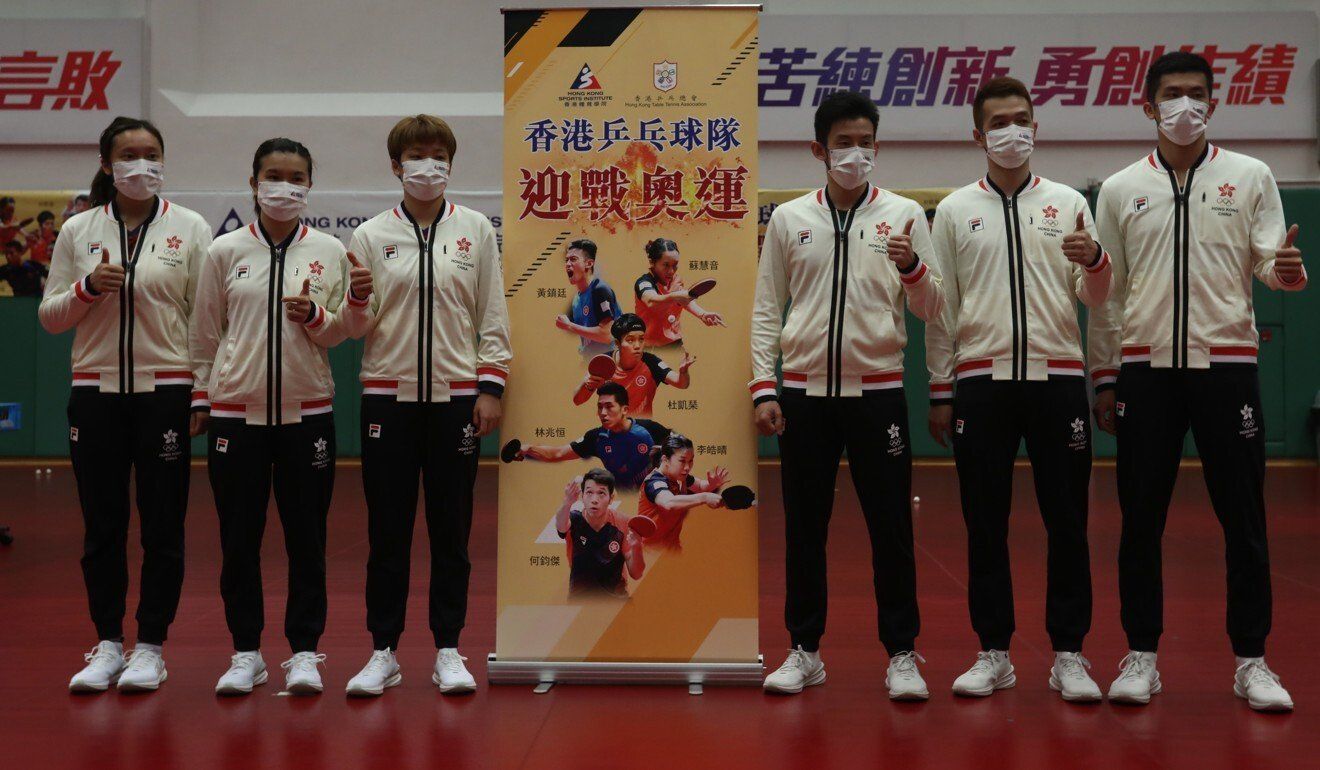 Hong Kong table tennis team at the 2020 Tokyo Olympics (from left to right) Minnie Soo, Lee Ho-ching, Doo Hoi-kem, Wong Chun-ting, Ho Kwan-kit and Lam Siu-hang.

Women's team coach, Li Ching, said Doo's power and speed had both improved and that would put her in good stead in Tokyo.

"The Chinese women paddlers are the best in the world and Doo got in a lot of practice against these classy players during her stint," said Li. "The Hong Kong pair [Wong and Doo] are already quite strong and with a bit of luck, they could go all the way and win a medal."

There are only 16 pairs in the inaugural medal programme, with one team from each country. China will be represented by reigning world champions Xu Xin and Liu Shiwen, the favourites for gold, while hosts Japan, Taiwan and Hong Kong could pose a serious challenge to the mainlanders.

Doo and Wong were champions at the 2018 Grand Finals in Incheon and were also bronze medallists at the 2017 World Championships in Düsseldorf. They are fourth in the Olympic rankings which means they won't meet any of the world's top pairs in the opening round in Tokyo.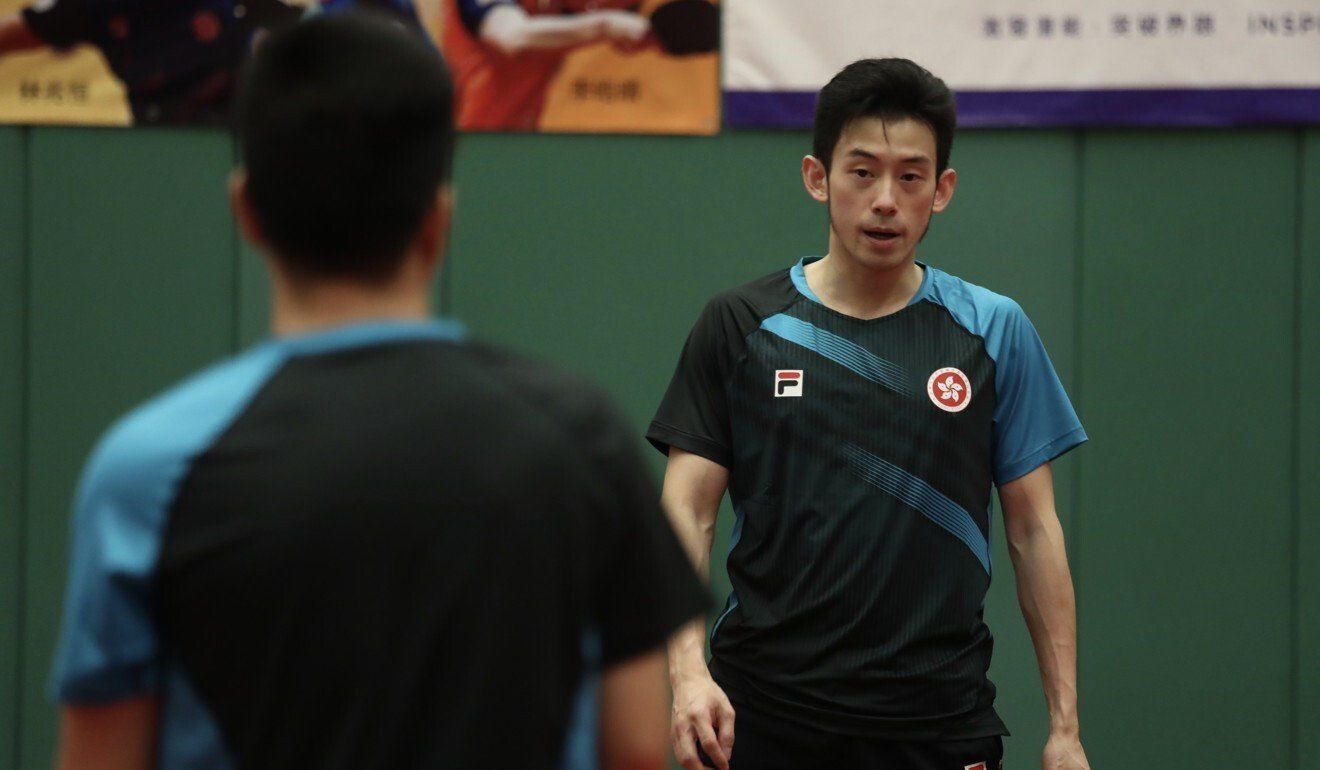 Wong Chun-ting is getting ready for the Tokyo Olympics.

"The mixed doubles will be a medal event for the first time at the Olympics and the focus will be on them," said the coach, the 2004 Athens Olympics silver medallist in men's doubles with Ko Lai-chak.

"There will be high expectations on the Hong Kong pair and this might put them under some pressure. If they can transform that pressure into motivation, they will be good enough to challenge for a medal."

Li is also impressed by the progress Wong has made after the player made a full recovery from a nagging ankle injury suffered two years ago. "In mixed doubles, the men usually win the points and Wong has shown tremendous form recently. That will give his partner Doo more confidence," said the coach.

During a training competition in China last month, Wong pushed world number one, Fan Zhendong, to five games, losing 3-2. Wong also showed good form in his 3-1 loss to defending Olympic champion Ma Long.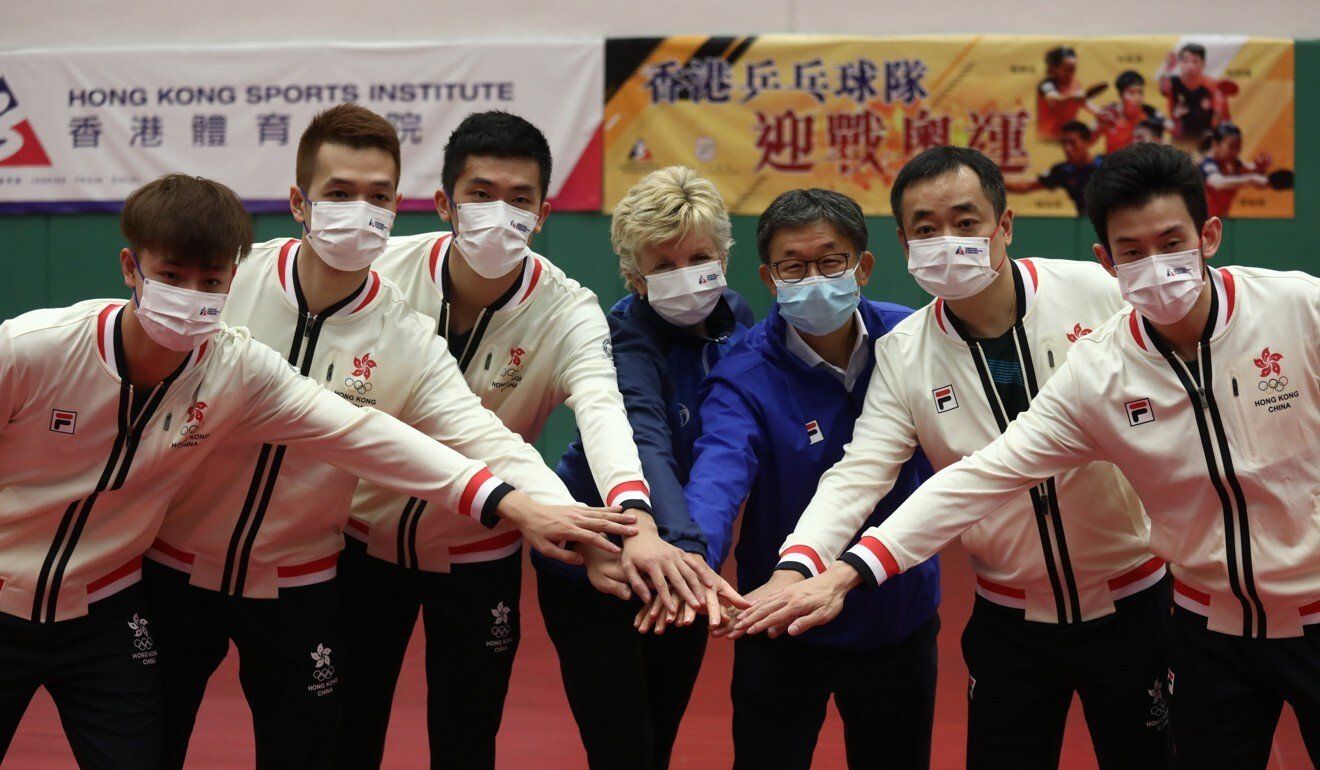 The men's team (L to R) Ng Pak-nam (reserve player), Ho Kwan-kit, Lam Siu-hang, Sports Institute chief Trisha Leahy, Table Tennis association chairman Tony Yue Kwok-leung, coach Liu Guodong, and Wong Chun-ting at the Sports Institute.

Wong, 29, will lead the men's team as an experienced member having competed at the 2016 Rio Olympics. "I have been working with Doo for a long time in mixed doubles and we have gained some good results," he said. "She is very proactive in training and she is very determined. It is good to have her at the Olympics. We will be challenging for a medal."

Hong Kong will send a women's team, who are ranked fourth in the Olympic rankings, are also considered dark horses for a medal.

"Our target is to reach the quarter-finals before kicking off the medal run," said coach Li. "China remain the team to beat and it will be very difficult to upstage them while [hosts] Japan are serious contenders. But don't forget other teams such as Taiwan, South Korea and Singapore. They are pretty much on the same par as us."

While 24-year-old Doo will be a major force on the local women' team, debutant Minnie Soo Wai-yam, 23, will be another player to watch, along with veteran Lee Ho-ching, who will be competing in her third Olympics at the age of 29. The men's team also comprise two 24-year-old players – debutant Lam Siu-hang and Rio Olympian Ho Kwan-kit.

Hong Kong will send a full quota of six players to the 2020 Tokyo Games with two teams of three players each and two of each team also competing in the singles event and one from each side will compete in the mixed doubles.