Seven opposition activists, including four lawmakers, were arrested on charges of contempt and interference with Legislative Council officers on Sunday, over a chaotic meeting in May that descended into shouting and scuffles.

The pan-democratic camp condemned the arrests as "selective" and politically motivated, as no pro-establishment lawmakers were arrested, even though some had been involved in physical clashes during the meeting in question.

Pro-establishment legislators, however, said police had done their job in accordance with the law.

At an afternoon press conference, police superintendent Chan Wing-yu also revealed the force was awaiting further legal advice from the Department of Justice that could potentially lead to more arrests.

"Law enforcement action was taken in accordance with the law and evidence gathered during the investigation … It's not about their social status or political background," he said.

The seven are accused of disrupting Legco's House Committee meeting on May 8. The meeting descended into chaos as 11 opposition lawmakers were thrown out by pro-establishment leader Starry Lee Wai-king, who took control of the committee to begin clearing a backlog of bills for review, a surprise move pan-democrats criticised as an abuse of power. She was later re-elected chairwoman of the committee.

Those charged are Democratic Party lawmakers Wu Chi-wai, Helena Wong Pik-wan and Andrew Wan Siu-kin; Labour Party chairman Kwok Wing-kin; lawmaker Fernando Cheung Chiu-hung; and former lawmakers Eddie Chu Hoi-dick and Raymond Chan Chi-chuen.

The latter two stepped down in September after deciding not to serve out terms extended by a year following the postponement of planned Legco elections.

Chan, the police superintendent, said all seven had been charged under the Legco (Powers and Privileges) Ordinance.

"As the Legco meeting was about to start on May 8, some lawmakers engaged in disruptive acts, such as running towards security guards standing in front of the chairman's podium," he said.

"Police received the Legco secretariat's report … After investigations and seeking legal advice from the justice department, we made the arrests today."

The suspects, aged 33 to 63, were released on bail, but must show up at the Eastern Magistrates' Courts for trial on Thursday.

Under the Legco ordinance cited, anyone who creates or joins in a disturbance likely to interrupt the proceedings of the council or a committee, faces a potential fine of HK$10,000 (US$1,290) and imprisonment of up to 12 months.

The same maximum punishment applies to anyone who assaults, interferes with, molests, resists or obstructs any officer of the council while in the execution of his duty.

The mayhem on May 8 took place after months in which the House Committee, responsible for scrutinising government bills before they are put to a vote in the legislature, had failed to elect a new chairman.

Opposition lawmaker Dennis Kwok, who for procedural reasons was presiding over the meetings, was accused of deliberately delaying the election of a chair in order to block the passage of laws disagreed with by the opposition, most significantly a national anthem bill.

After two Beijing agencies publicly slammed the pan-democrat bloc for filibustering, the pro-establishment camp moved to take control of the committee.

As the 2.30pm meeting started amid pushing and jostling, Lee, who was surrounded by security guards, attempted to speak, her voice mostly drowned out by the cacophony. Opposition lawmakers repeatedly tried to storm the chairman's seat, with Chu at one point climbing the wall behind the podium to get closer to Lee.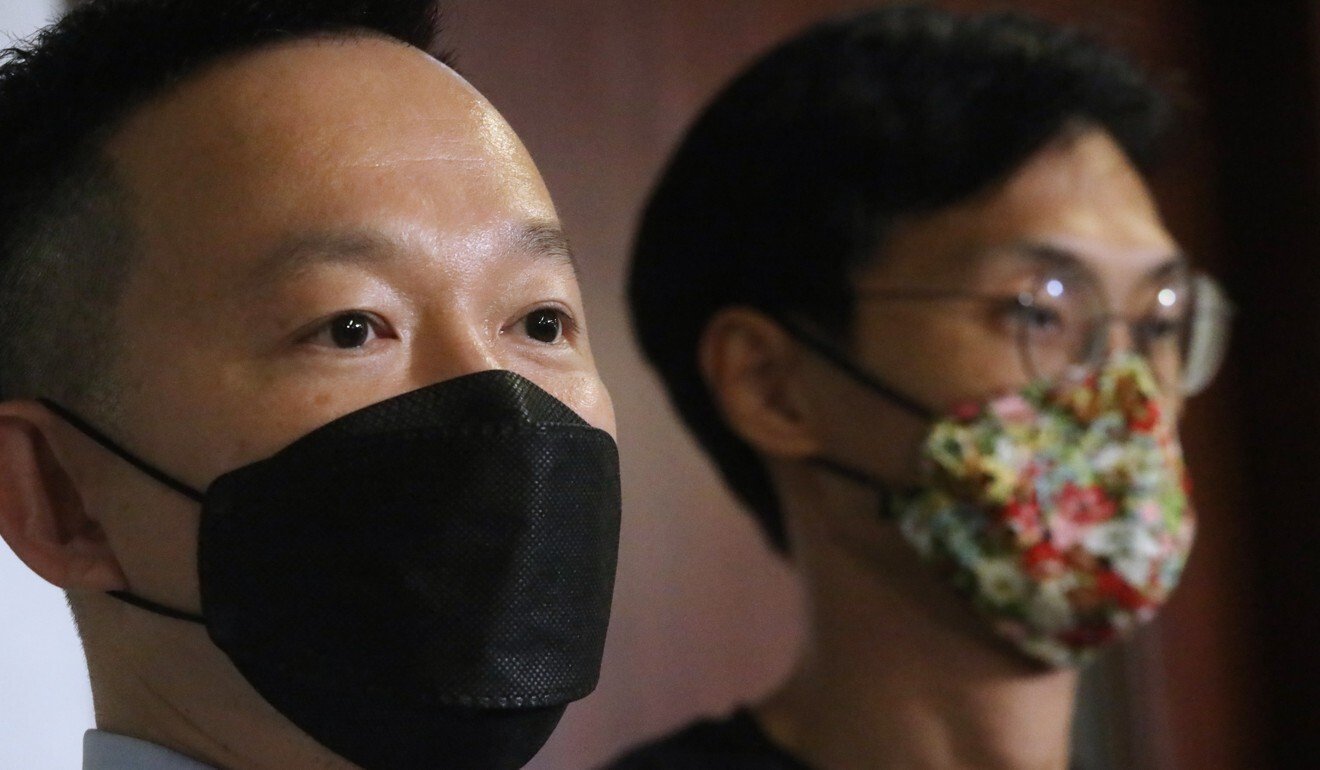 Lawmaker Raymond Chan (left) was one of those involved in the Legco chaos.

The Democratic Party's Wong was seen speaking on a portable microphone, while Raymond Chan was dragged along the ground by the establishment camp's Kwok Wai-keung for several metres.

Kwok Wing-kin, the Labour Party chairman, also allegedly threw a pile of paper from the public gallery at rival lawmakers.

On Sunday, Chan Wing-yu was asked why police had arrested only opposition figures, but not pro-establishment lawmakers, such as Kwok Wai-keung.

Chan insisted the arrests were made after officers had thoroughly probed the entire incident.

"We collected statements from witnesses. We also examined every video recording of what happened carefully … and made our assessments for the justice department to consider."

But Chan added that the report submitted by police did touch on other physical clashes at the scene, including the incident involving Kwok Wai-keung and Raymond Chan.

"We are still waiting [for the justice department's response], it would be inappropriate for me to comment," he said.

Chan was also asked why Wong was arrested for chanting slogans. But the superintendent declined to comment further, saying the case had now entered judicial procedures. "I will leave this issue for the court to solve," he said.

In a joint statement, pan-democrat lawmakers strongly condemned the Hong Kong government for "arbitrary arrests and suppression of lawmakers and the people's rights of resistance".

"The Legco ordinance was originally intended to protect lawmakers. It is ridiculous that it is now being misused by the authoritarian government as a legal weapon of oppression … We demand the unconditional and immediate release of all democrats."

In the camp's press conference in the evening, Wan said it was absurd that officers had to search his home and take him away early in the morning.

"The parties that showed the most contempt towards Legco were the loyalists and the government," he said. "Many pro-establishment colleagues broke the law during the meeting ... I was injured, police said they would investigate, but now I'm arrested – the plaintiff has become the defendant."

But Kwok Wai-keung said police were only doing their job.

"The opposition camp thought that there would be no consequence to what they did. But the legislature was just too chaotic. Police needed to make things right," he said.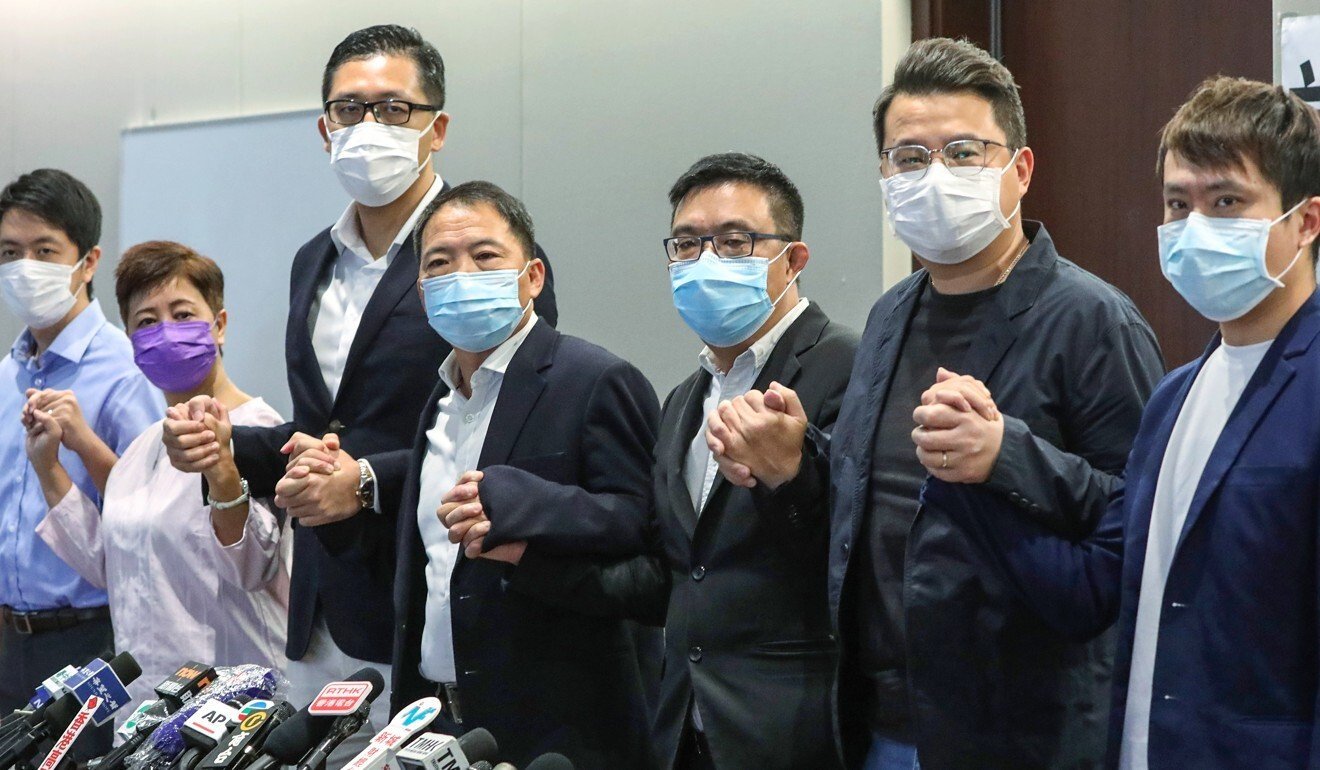 Democratic Party members meet the press outside Legco in August.

In June, Raymond Chan was granted permission to initiate a rare private prosecution against Kwok.

Kwok pleaded not guilty to common assault at West Kowloon Court in September, after the judge rejected a justice department request for time to consider whether to exercise its right to intervene. A pre-trial review hearing has been scheduled for November 9.

Sunday was not the first time Hong Kong lawmakers have been charged for disrupting a Legco meeting.

Former lawmaker Leung Kwok-hung previously pleaded not guilty to a contempt charge alleging he had created a disturbance during a November 2016 Legco committee meeting by snatching a folder from then undersecretary for development Eric Ma Siu-cheung.

In 2018, a magistrate found the contempt charge not applicable to a lawmaker. But in June, the appeal court ruled that legislators are not immune from contempt charges if they disrupt Legco meetings, giving the green light to restore criminal proceedings against Leung that are still ongoing.