More than 800 village houses that sprouted in rural Hong Kong over the past two years might involve illegal deals between villagers and developers, a research group has alleged.

The "small houses" were built under a colonial policy dating to 1972, which allows every male indigenous villager in the New Territories, or ding, to build a three-storey home with each floor limited to 700 sq ft.

The policy was meant to meet villagers' housing needs, but Liber Research Community, an NGO focused on land and development policies, suspects the new homes were not built for the villagers themselves and called on the government to investigate.

"In the past two years, one small house was built every day by possibly illegal means," said Brian Wong Siu-hung, a member of the group. "These buildings are suspected of having been sold to developers for profit, which goes against the objective of the small-house policy."

Hong Kong's small-house policy: indigenous rights or unfair advantage?


The group believes some of the villagers' development rights might have been sold to developers in secret deals that are hard to trace. In some cases, the transactions went through secret contracts and offshore companies set up in the British Virgin Islands, making them even harder to pin down.

By using digital geographical tools and land searches, the group identified newer village homes that looked suspicious because they were built in groups of at least three, with similar architecture and neatly aligned.

They appeared more like villas than village houses, and most were within walled off compounds managed as private estates, with proper names and security guards.

All of this suggested the houses and their surroundings were planned and built by well-resourced parties rather than individual villagers, the group said. Its land searches of selected lots also revealed that plots were sold by villagers to companies.

Typical ding houses are built independently according to individual land owners' own designs, rarely resembling neighbouring properties.

There are about 43,000 such houses in Hong Kong and under the small-house policy, ding rights cannot be transferred. The policy is meant to allow an indigenous villager to "erect for himself for self-occupation a small house on a suitable site within his own village".

The illegal transfer of ding rights has long been an open secret, but there have been few prosecutions. Typically, villagers sign a secret contract with a developer agreeing to transfer the houses to the developers once they are completed.

The Liber group was set up in 2009 by a group of local postgraduates in geography and planning and over the years has exposed ding house issues, sparking discussion in the community and the Legislative Council.

Suspected illegal developments have cropped up near eco-sensitive areas in Hong Kong.

In 2017 the group made public a database of more than 9,800 small houses in the New Territories it believed might be involved in illegal trading.

While updating its research recently, the group found more than 804 village houses built within the past two years, making a total of 10,581 it suspects changed hands illegally.

Nearly two-thirds of the new houses in its latest study were concentrated in Yuen Long, including a cluster built around or encroaching into eco-sensitive fish ponds at Fung Lok Wai, near Mai Po wetlands, a conservation area.

The rest were found mainly in the North and Tuen Mun districts.

Liber wants the government to investigate as its research uncovered links to companies set up in British Virgin Islands (BVI).

"As BVI companies are widely used to conceal information, including the identities of their board of directors, it is extremely hard to acquire information about developers behind the small house villa developments," Wong said.

He added that the use of offshore companies was a tactic to keep shady deals under the radar of the authorities.

A spokesman for the Lands Department told the Post it would look into the cases in Liber's report.

Since last December, those applying to build small houses must declare if they have a deal to sell their land rights to a developer, and any false declaration or attempt to defraud the government into giving approval is deemed illegal.

The spokesman said that over the past three years, 183 cases had been referred to law enforcement agencies to follow up.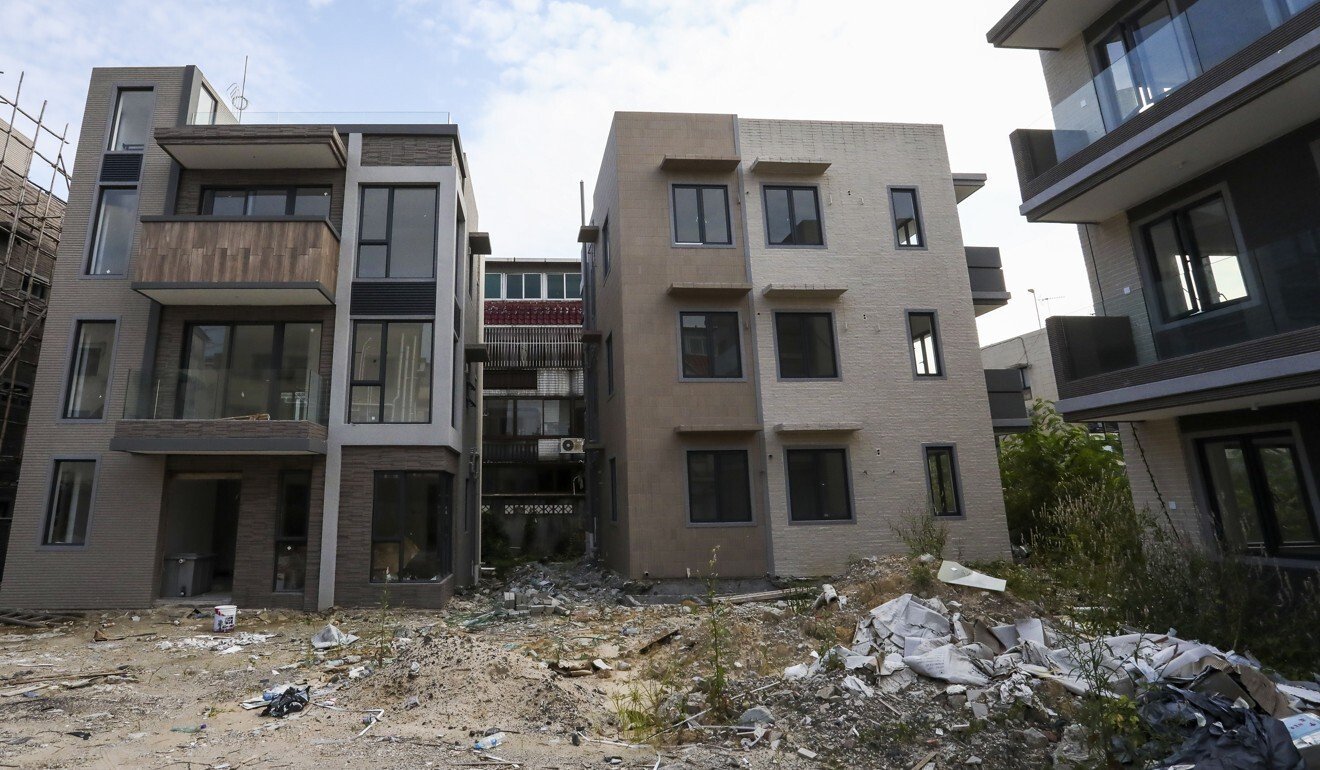 Leung Fuk-yuen, former chairman of the Shap Pat Heung rural committee in Yuen Long district, dismissed the Liber allegations.

The first case involving the illegal transfer of ding rights reached the courts in 2015, when a developer and 11 indigenous villagers in Sha Tin were sentenced to jail terms of up to three years over the sale of ding rights for profit. Their appeals are pending.

Leung Fuk-yuen, former chairman of the Shap Pat Heung rural committee in Yuen Long district, dismissed the Liber allegations, saying the mere presence of houses of the same design did not necessarily indicate illegal transactions.

"Some village leaders might want to improve their living quality, so they plan to build some better houses together, instead of just building one house," he said. "And they might have financial difficulties or other needs a few years later and decide to sell the houses."

Opposition lawmaker Lam Cheuk-ting said government departments have never dealt with the issue seriously.

"Since the 2000s, government officials have vowed to tackle these illegal transactions and to identify suitable options for resolving problems associated with the small-house policy, but nothing has changed," he said.

"Clearly, ding house issues are not a top priority of the government."