Eight Hong Kong opposition lawmakers and activists facing prosecution over a chaotic Legislative Council meeting in May will be allowed to enter their pleas after the city's top court first rules on the constitutionality of a similar prosecution.

West Kowloon Court on Friday granted the application for a three-month adjournment to the eight, who face a total of 15 charges stemming from the May 8 House Committee meeting, which descended into shouting and scuffles.

The charged group consists of Democratic Party lawmakers Wu Chi-wai, Helena Wong Pik-wan, Andrew Wan Siu-kin and Ted Hui Chi-fung; Labour Party chairman Steven Kwok Wing-kin and lawmaker Fernando Cheung Chiu-hung; and former lawmakers Eddie Chu Hoi-dick and Raymond Chan Chi-chuen.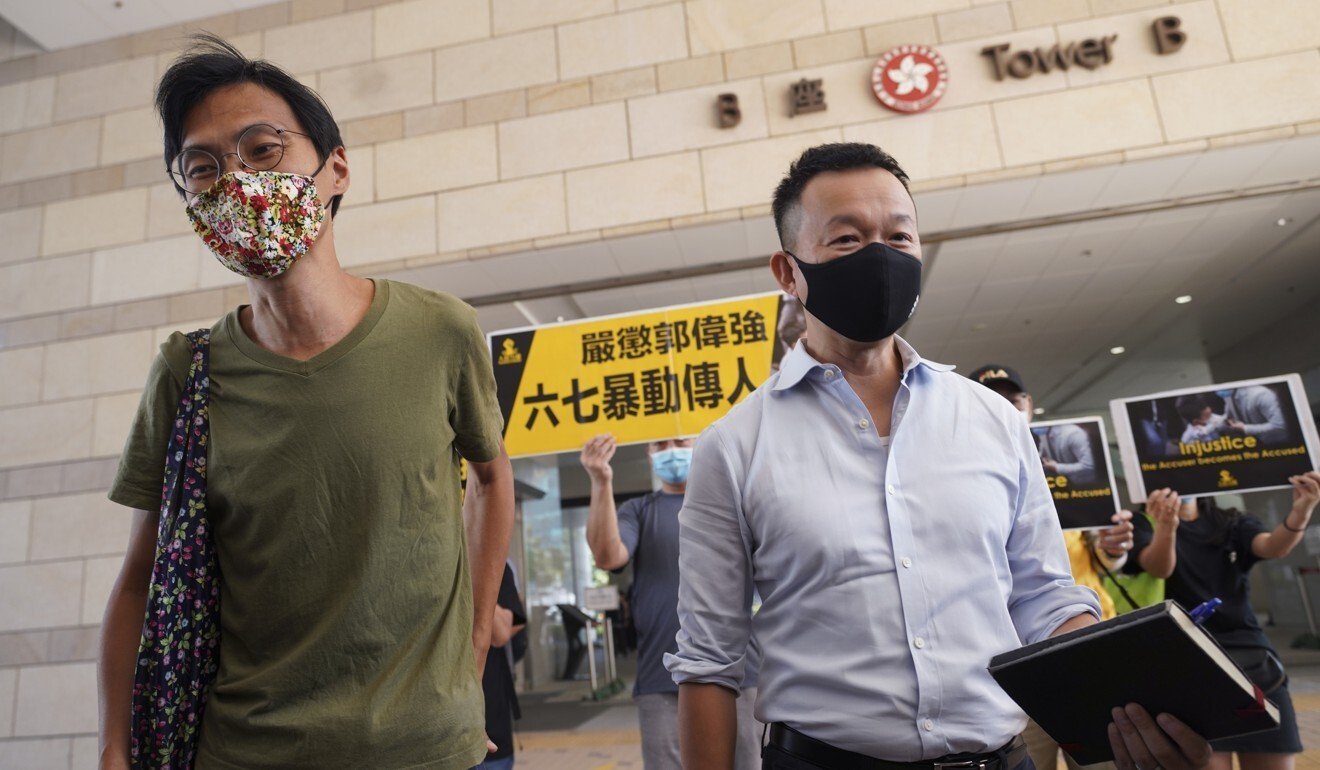 Former lawmakers Eddie Chu (left) and Raymond Chan arrive at West Kowloon Court on Friday.

All except Wu have been charged with contempt under the Legislative Council (Powers and Privileges) Ordinance, accused of "[creating] a disturbance that interrupted or was likely to interrupt the proceedings" during the meeting.

Six of them – Wu, Wan, Hui, Kwok, Chu and Chan – were also charged with one to two additional counts of obstructing a Legco officer under the same legislation.

Their case is one of four ongoing criminal proceedings examining the degree to which the 1985 ordinance protects lawmakers who disturb legislative meetings while exercising their freedom of speech and debate.

In one of those cases, former lawmaker "Long Hair" Leung Kwok-hung was set to stand trial for a contempt charge over snatching a folder from a government official during a penal meeting in 2016, until a magistrate two years later found the charge inapplicable to a Legco member and concluded Leung's action was covered by privilege.

But the Court of Appeal overturned the magistrate's decision in June, saying the offence must apply to lawmakers to ensure the legislature could properly discharge its constitutional functions.

Leung will apply to restore the lower court's ruling at the Court of Final Appeal on February 2.

At Friday's hearing, senior assistant director of public prosecutions Anthony Chau Tin-hang said his team was ready to hear the defendants' pleas, but defence lawyers asked for a delay until the determination on Leung's appeal request.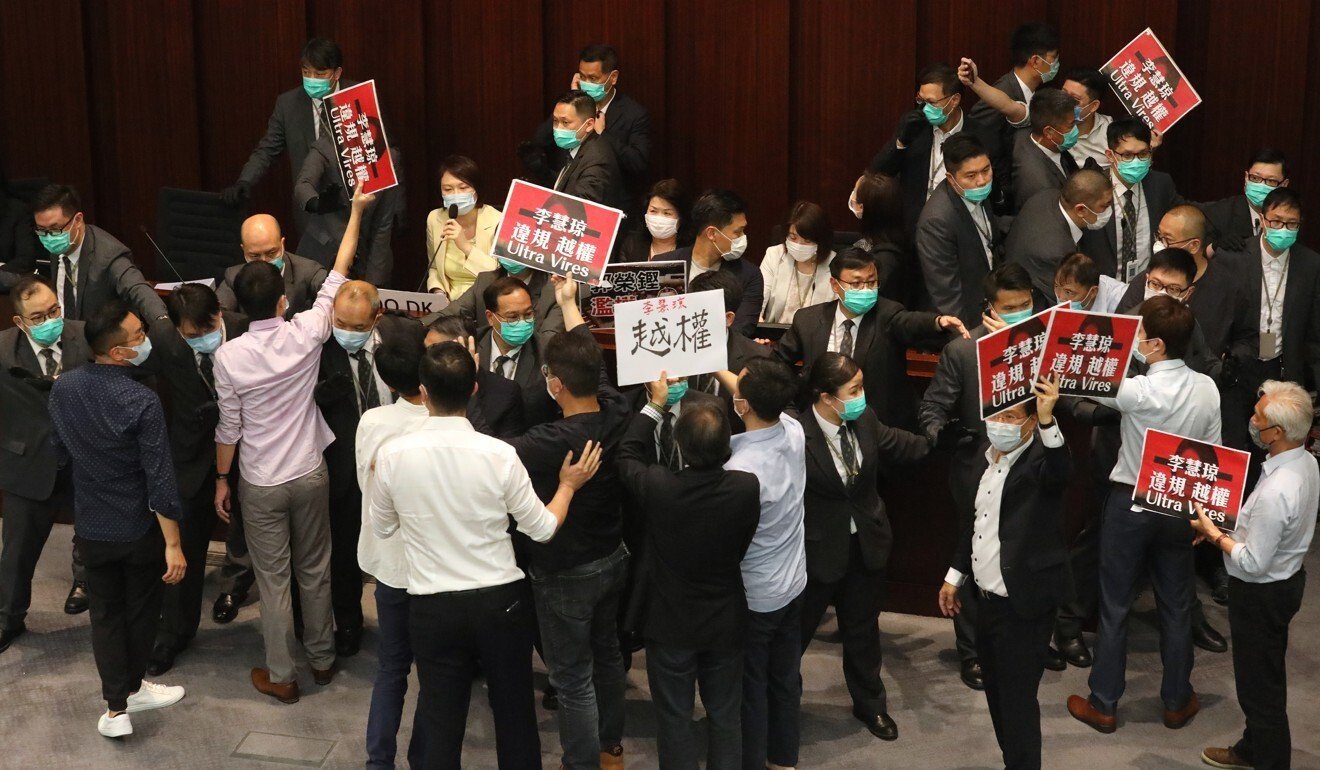 Eight Hong Kong lawmakers and activists charged over a chaotic Legco meeting in May will be allowed to enter their pleas in February.

Principal Magistrate Peter Law Tak-chuen adjourned the case to February 11, when two other cases arising from conflicts in other Legco meetings – which Wan, Hui, Chu and Chan were also allegedly involved in – will also be heard. He granted bail of HK$1,000 to each defendant, but ordered them to continue living at their respective home addresses.

Wu, convenor of the opposition bloc, said after the ruling that "selective" prosecution against the opposition would only attract international sanctions and add to concerns about the implementation of Hong Kong's governing "one country, two systems" principle.

"We hope the government understands that political problems can only be solved by political means, not by legal means," the Democratic Party chairman said. "We will continue our fight."

In a separate case heard in the same court on Friday, Hui was charged alongside party member and lawmaker Lam Cheuk-ting and two others over a protest outside Tuen Mun Police Station on July 6, 2019.

The two legislators and a third defendant, Ronnie Tsang Chun-hei, were accused of trying to pervert the course of justice outside the station by requesting a person, identified as X by the prosecution, to remove pictures of protesters from their mobile phone.

Hui and a fourth defendant, Aggie Chung Hoi-yin, were accused of unlawful access to, and vandalising, X's mobile device. Tsang was additionally charged with unlawful assembly outside the police premises.

Magistrate Law moved the case to the District Court for trial at the prosecution's request. The case will be heard at the higher court on November 26.