Fourteen people have been found guilty of rioting near Beijing's liaison office in Hong Kong two years ago, after a judge ruled they had "participatory intent" based on their black clothes and protest equipment in their possession.

The nine men and five women were the second batch of defendants to be convicted over the incident in Sheung Wan on July 28, 2019, after the city's top court laid down principles on trials for rioting and unlawful assembly.

The 14 defendants, aged between 21 and 34, were found guilty on Thursday of taking part in the riot that stretched several blocks from Morrison Street to Rumsey Street, about 1km away from the liaison office and Western police station.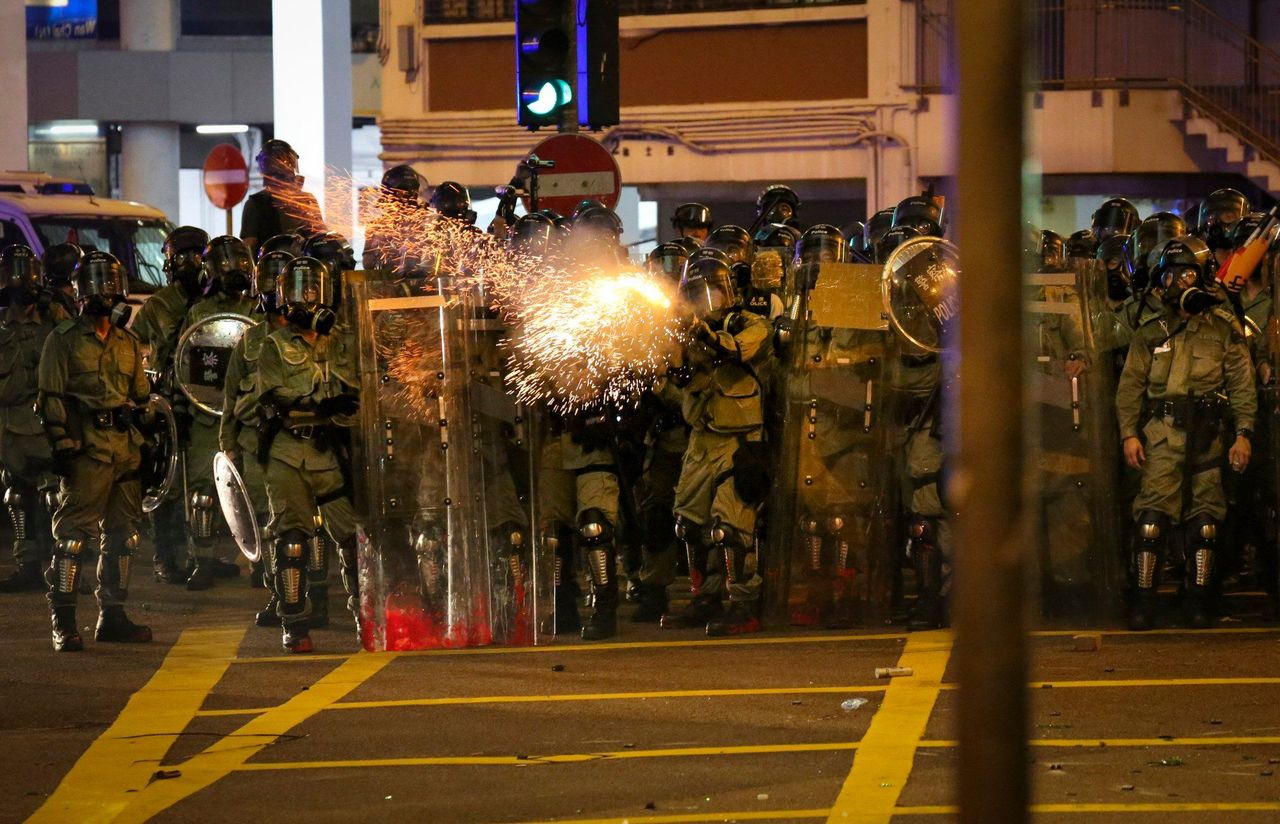 Riot police fire tear gas at protesters around Central and Sheung Wan on July 28, 2019.

The incident came during the first months of protests staged in opposition to a now-shelved extradition bill that would have allowed for the transfer of suspects to mainland China among other jurisdictions. The social unrest grew into a much wider anti-government movement.

The defendants were accused of engaging in a guerilla-style battle with police that lasted nearly six hours before they were arrested along with three others on Man Wa Lane at around 9.47pm.

During the District Court trial, heard in the more spacious West Kowloon Court, prosecutors largely relied on circumstantial evidence as they had provided no evidence proving the suspects were involved in any violent act.

Video footage showed five of the accused – student Leung Chi-pang, cooks Chan Wai-lam and Yeung Wai-sing, electrician Lam Ho-ching and Lau Yiu-chuen who did not disclose his occupation – moving in sync with the gathering protesters.

The remaining nine – jobless Li Shu-wah and Cheung Man-hei, computer technician Chan Chak-fung, teacher Po Tsz-ching, students Pang Yu-tung and Liu Tsz-ting, pilot Liu Chung-yin, nurse Vicky Chan Wing-ki and construction worker Wu Ka-chun – were all wearing black outfits and carrying protest equipment at the time of their arrest.

Judge Ernest Michael Lin Kam-hung ruled the 14 could not have been "innocent third-parties" who walked past the area on their way home or had lawful excuses to remain at the scene despite repeated police warnings.

Instead, the similarity of their attire to those of violent protesters enabled them to hide in the crowd and assist others in resisting police, he found.

Cheung, who pleaded guilty to a count of having a walkie-talkie without a licence before the start of the trial, was further convicted of possessing an offensive weapon in a public place for keeping a laser pointer in her backpack.

The 14 are expected to be sentenced on January 31 alongside 20-year-old student Ho Pak-yiu, who pleaded guilty to rioting over his involvement in the same incident.

Prosecutors have charged 44 people with rioting in three separate cases over the chaos in Sheung Wan on the night in question.

The first trio of defendants were acquitted in July last year after a different judge ruled that the prosecution failed to prove the accused had assembled with others to breach the peace.

The Department of Justice later sought the court's clarifications on points of law regarding public order offences.

In a landmark ruling last month, the Court of Final Appeal held that, in the absence of direct evidence, judges could still convict riot suspects by relying on other indicators of participation, such as possession of protest equipment and the circumstances surrounding the arrest.

A week after that verdict, a third judge convicted 20 people of rioting over the clashes but acquitted three others citing a lack of evidence. Sentencing in that case will be handed down on January 8.

In a separate District Court case, 25-year-old bank clerk Chung Ji-hin was found guilty of rioting in a residential area in 2019, while his two co-defendants were cleared of the same charge.

That case centred on protests in Hung Hom that took place at around 8pm on December 1, 2019, when demonstrators blocked roads and trashed shops that included Genki Sushi and Yoshinoya on Tak Hong Street.

All three defendants were arrested in the vicinity of the two restaurants but denied taking part in any riot.

Judge Frankie Yiu Fun-che, however, noted that Chung was intercepted while running in the same direction as a group of 40 people moving away from the vandalised shops, and footage of his arrest clearly showed him dropping a brick to the ground at the time.

But for marketing officer He Ching-sha, 23, and part-time social worker Chan Sze-ling, 25, the judge acquitted them after finding the testimony of their arresting officer "could not be safely accepted".

Yiu also cleared Chan of a second count of possession of offensive weapon in relation to a laser pointer she was carrying, citing a lack of evidence that she had used the device or intended to use it to harm others.

Chung was remanded in custody pending sentence on January 13.

Rioting is punishable by seven years in prison at the District Court level.