A Hong Kong fortune-teller who charged HK$800 for her services was arrested by an undercover customs officer in a sting operation on Tuesday, after she claimed her professional and academic qualifications were recognised by the government.

The 32-year-old, surnamed Li, was detained after providing a numerology consultancy service – a type of fortune-telling based on numbers – to the undercover agent in her office in a Kwun Tong industrial building shortly before midday.

Senior investigator Roger Chow Kin-chi, of the Customs and Excise Department's unfair trade practice investigation group, said the woman was arrested on suspicion of applying a false trade description to a service.

He said that broke the Trade Descriptions Ordinance, and was punishable by up to five years in jail and a HK$500,000 fine. The woman has been bailed pending further investigation.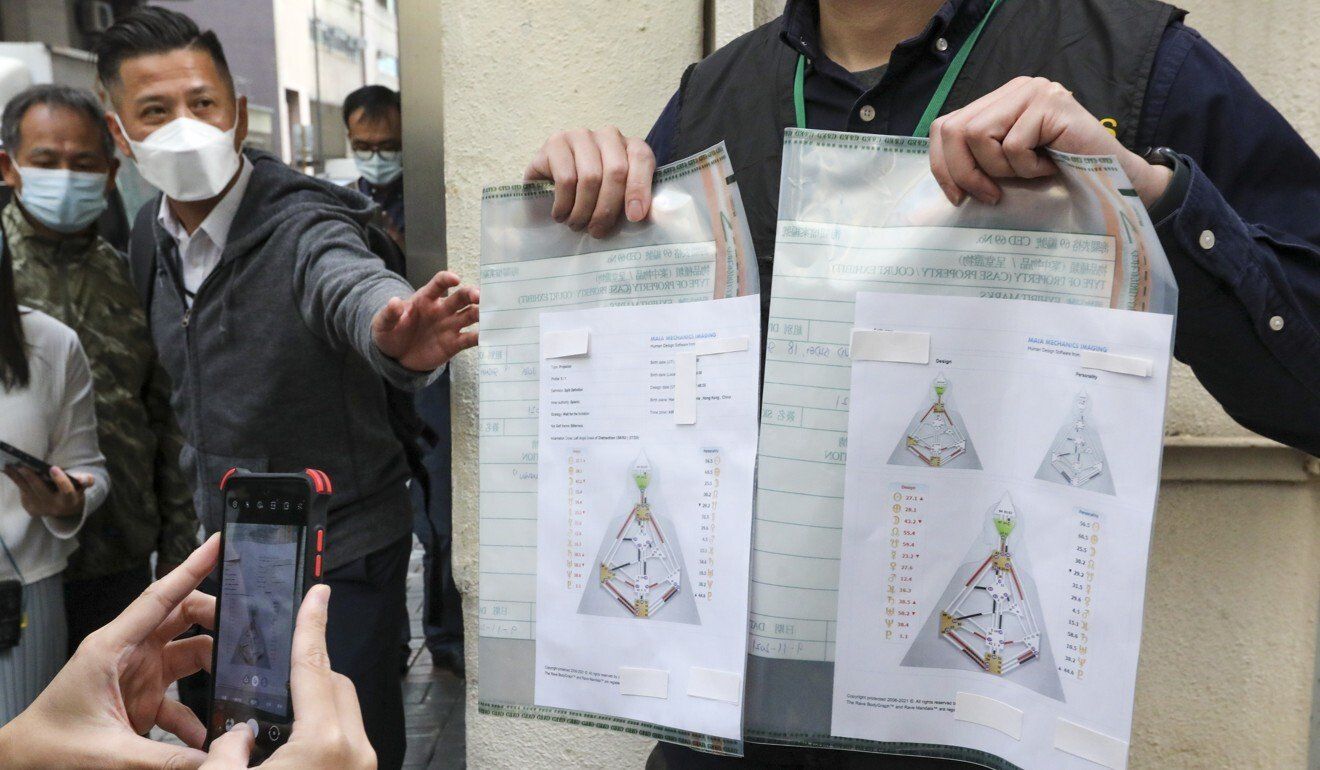 A customs officer displays some of the evidence seized on Tuesday.

Customs officers began investigating after receiving a complaint in June, accusing the woman of making a false claim over her recognised qualification.

After establishing that she was lying, the undercover officer posed as a customer on Tuesday morning, and arrested her. Officers were still looking into how long the woman had been offering her services.

A law enforcement source said the woman had created a webpage advertising a 30-minute consultation for HK$800.

According to the source, numerology predictions over destiny and career choices are based on a person's birth date and time.

On her webpage, the woman said she trained in "human design" fortune-telling for about five years, and became an analyst in this field in 2019.

The source said there were human design courses in the city, but they were not officially recognised by the government.

Chow reminded merchants to comply with the requirements of the trade law, and said consumers should only seek reputable services.

He also urged members of the public to report any suspected violations of the Trade Descriptions Ordinance to the department's 24-hour hotline on 2545-6182.

The arrest was made about a fortnight after customs officers detained a male director and female employee at a barista training centre on suspicion of applying a false trade description to a barista skill course.

According to the department, the barista training centre claimed it was approved by an international accreditation organisation, and customers would receive a certificate issued by the body upon completion of the course.

The arrests were made on October 27 after the investigation revealed the training centre was not an approved facility as it claimed.