King Field Shipyard Limited accuses operators of iconic tourist attraction of backing out of deal struck in May before it was towed out of city.
The company behind Hong Kong's ill-fated Jumbo Floating Restaurant is facing a HK$4.8 million (US$611,460) lawsuit for allegedly defaulting on an agreement to sell the iconic tourist attraction for just HK$4 after the ship capsized in the South China Sea.

In a High Court filing on Monday, King Field Shipyard Limited accused the operators of the Jumbo Floating Restaurant and Tai Pak Floating Restaurant, collectively known as Jumbo Kingdom, of failing to deliver the imperial palace-like vessels pursuant to a deal struck on May 19.

Jumbo, which had served Britain's Queen Elizabeth and Hollywood film stars during its heyday, keeled over near the Paracel Islands, known as the Xisha Islands in China, while en route to its new home in Cambodia in June 2022.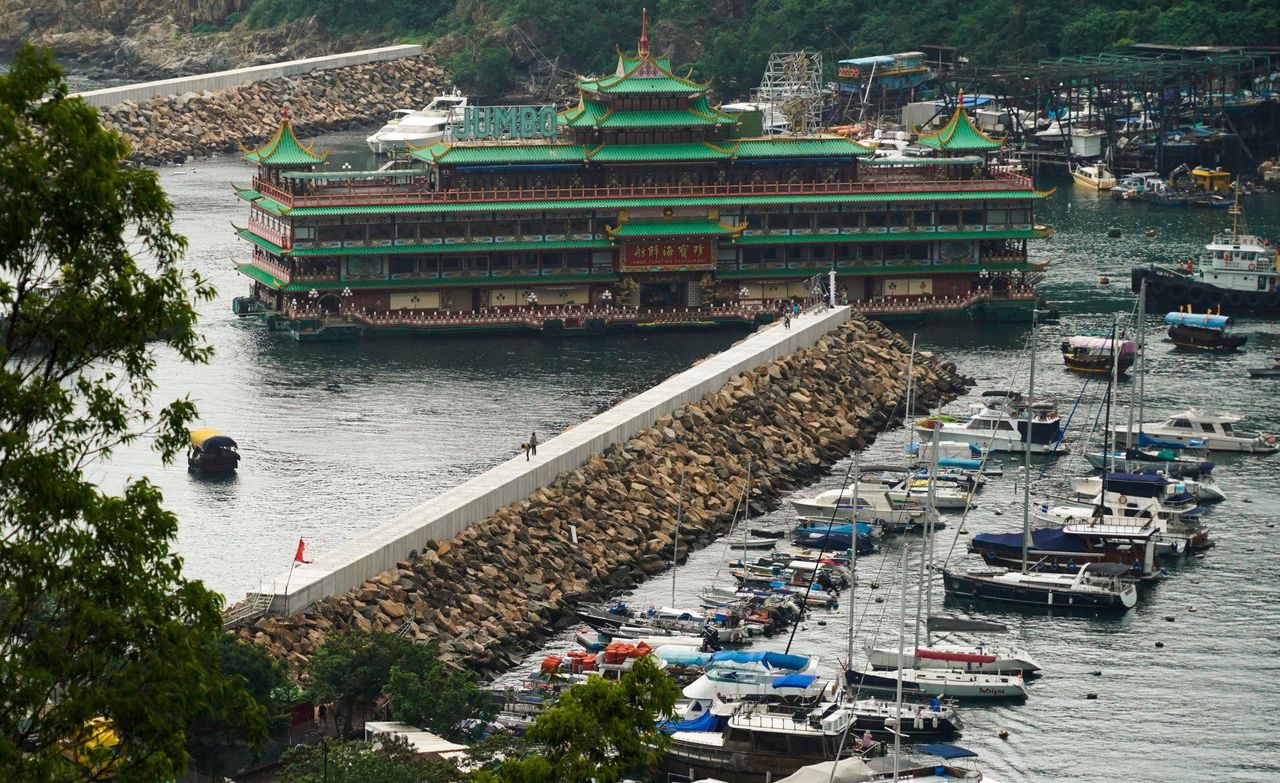 The operator of the restaurant reported accumulated losses in excess of HK$100 million.
The floating restaurant sailed away earlier that same month after its operator reported accumulated losses in excess of HK$100 million.
The nearby Tai Pak restaurant, which remains afloat on the south side of Hong Kong Island, received permission from marine authorities to stay put as a laid-up vessel.
The High Court writ, drafted by CFN Lawyers, revealed that Aberdeen Restaurant Enterprises Limited and its subsidiary Tai Pak Seafood Restaurant Limited had agreed to sell all four ships that formed the floating landmarks to King Field at HK$1 each.
In return, the ships' owners would pay HK$5.4 million to the buyer as administrative charges, comprising a HK$600,000 deposit and a HK$1.2 million handling fee for each of the four vessels, the court filing said.
Despite paying the deposit, the defendants were said to have stalled the ships' transfers after a kitchen barge connected to Jumbo submerged in Aberdeen Typhoon Shelter on June 1.
The incident happened before parties could sign the paperwork to complete the transfer of the ships' ownership at the Marine Department.
King Field accused the ships' owners of going against their promises and taking advantage of their own wrong to unilaterally cancel the agreement on July 26.
"Despite the plaintiff's negotiating in good faith, the defendants were not responsive in respect of … the completion of the agreement," the writ said. "The defendants had failed to maintain the Jumbo ship in the safely moored status prior to delivery causing the same to be submerged and/or sunk."
The court was asked to order the physical delivery of the Tai Pak restaurant and the capsized Jumbo to the plaintiff, payment of HK$4.8 million in the plaintiff's favour, together with damages and interest.