Authorities have given the greenlight to three housing projects under a pilot scheme launched by former chief executive Carrie Lam in 2019.
More Hong Kong developers may apply to participate in a government pilot scheme aimed at using private land for public housing after authorities endorsed three applications, which aim to build a total of 21,600 flats, with 15,100 for public housing.

The three applications made under the Land Sharing Pilot Scheme involved sites in Yuen Long and Tai Po districts, and were endorsed by the Executive Council, a key decision-making body. A panel of advisers established by the government under the pilot scheme earlier backed the proposals.

One of the applications, jointly made by Topwood, Success King and Richduty Development, which are all under Sun Hung Kai Properties, seeks to build about 1,870 public housing or starter flats and 1,260 private homes on a site on Ho Chau Road in Yuen Long, covering a total gross floor area of about 133,400 square metres (1.4 million square feet). The panel said the proposal struck a balance between housing demand and conservation.

Another application, for a 19.3-hectare site (47.7 acres) on She Shan Road and Lam Kam Road in Tai Po, was made by Ocean Target Enterprises of Henderson Land Development and Gettenwood Company and Fullmark Development, all under Wheelock Properties.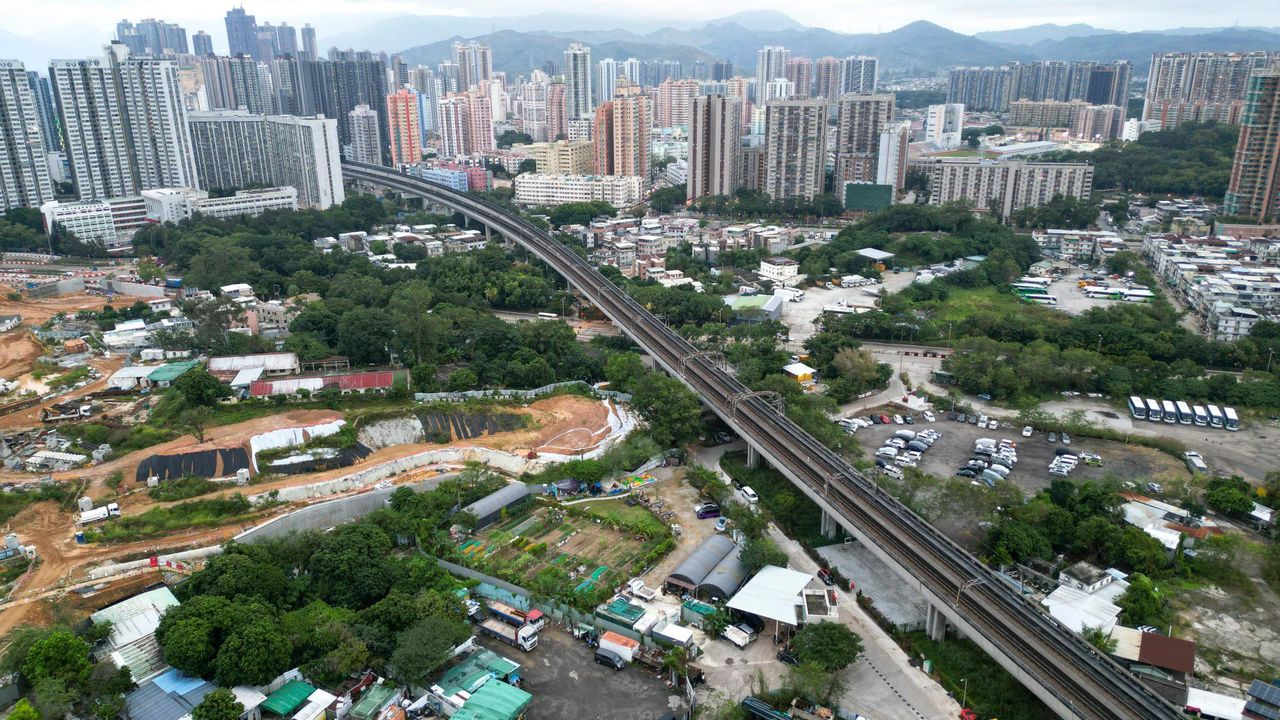 The site of the approved development of a green belt for residential use in Long Ping road in Yuen Long.

They plan to build 9,190 public housing or starter homes and 3,640 private flats with a total gross floor area of about 606,000 square metres. Both sites are made up of private lots and adjoin government land.

The panel said the scale of the project would allow the provision of more government, institutions or community facilities to serve the residents.

The third application, made by Busy Firm Investment under its parent company New World Development, concerns a site on Long Ping Road in Yuen Long for using the current green belt for residential purposes with supporting facilities. The development, which covers a total gross floor area of about 265,900 square metres, seeks to build 4,020 public housing and 1,600 private flats.

The panel said the project would help the transformation of brownfield sites in the area and match with the housing estates in the vicinity.

The projects would have a total of 21,600 flats, 75 per cent of which would be public housing.

The government has so far received five applications, with the other two – from Nan Fung Development and Wheelock Properties – still being vetted.

A Development Bureau spokesman said the scheme aimed to unlock the development potential of private land in areas not covered by the government's planning studies or conservation areas, adding applicants were still subject to town planning procedures.

"If the progress is smooth, it is expected that work may start from 2025 at the earliest," the spokesman said.

Under the scheme, owners of farmland can apply to the government to increase the development density of their sites, but must set aside at least 70 per cent of the increased floor area for affordable public sector housing. Applicants will be charged a premium.

In return, the government will carry out infrastructural improvements to enhance the development intensity of the private lots and speed up various planning and project approvals. The scheme was expected to identify 150 hectares for housing in three years.

The pilot scheme was set up by former chief executive Carrie Lam Cheng Yuet-ngor in 2019 as a way to help solve the city's housing crunch, which she said was fuelling the social unrest that broke out that year. She appealed to developers to share their "social responsibility".

At that time, state media criticised private developers for hoarding land and not developing their plots to meet Hong Kong's housing shortage.

Panel adviser Billy Mak Sui-choi, associate professor at Baptist University's department of finance and decision sciences, said the scheme might attract more applications if it proved feasible.

"Now that three applications have been approved, the city's developers will keep monitoring their progress. If they prove to be feasible and profitable, developers may be attracted to submit more applications," he said.

Francis Lam Ka-fai, vice-president of the Institute of Surveyors, said the announcement was a step forward and might draw a few more applications.

But he said that the scheme would only be more attractive when the first batch of housing started construction.

"Developers will observe how things go as it is just the beginning. Town planning and lease changing process were still under the way. They also need to know how much land premium they will be paying. There will be more applications in the future provided that there are enough financial incentives."

Anthony Chiu Kwok-wai, executive director of the Federation of Public Housing Estates hoped that the government could speed up the process in the future to encourage more developers to participate.

"The scheme has already been around for some time. We hope more projects can start soon to ease the public housing demand," Chiu said.

Chan Kim-ching, founder of the Liber Research Community, a local NGO focusing on land and development, said developers would dominate the planning of the area, including the infrastructure nearby, which might not answer the society's needs.

"Under the scheme, the development density of private flats is increased, but developers are subsidised to build infrastructure in the area by enjoying land premium discount," Chan said. "Developers are enjoying more benefits than the public."