Three suspects were students when they opened 64 bank accounts and one cryptocurrency e-wallet.
Hong Kong customs officers have arrested four suspected triad members in connection with laundering HK$411 million (US$52 million) in crime proceeds over two years.

The four men detained were the alleged ringleader, 36, of a local money-laundering syndicate, and three members, the Customs and Excise Department said on Thursday. The Post has learned that they are suspected Sun Yee On triad members.

A law enforcement source said the three alleged members, all aged 21, were students when they were recruited by the syndicate's mastermind in 2019 to set up 64 bank accounts and one cryptocurrency e-wallet for money laundering.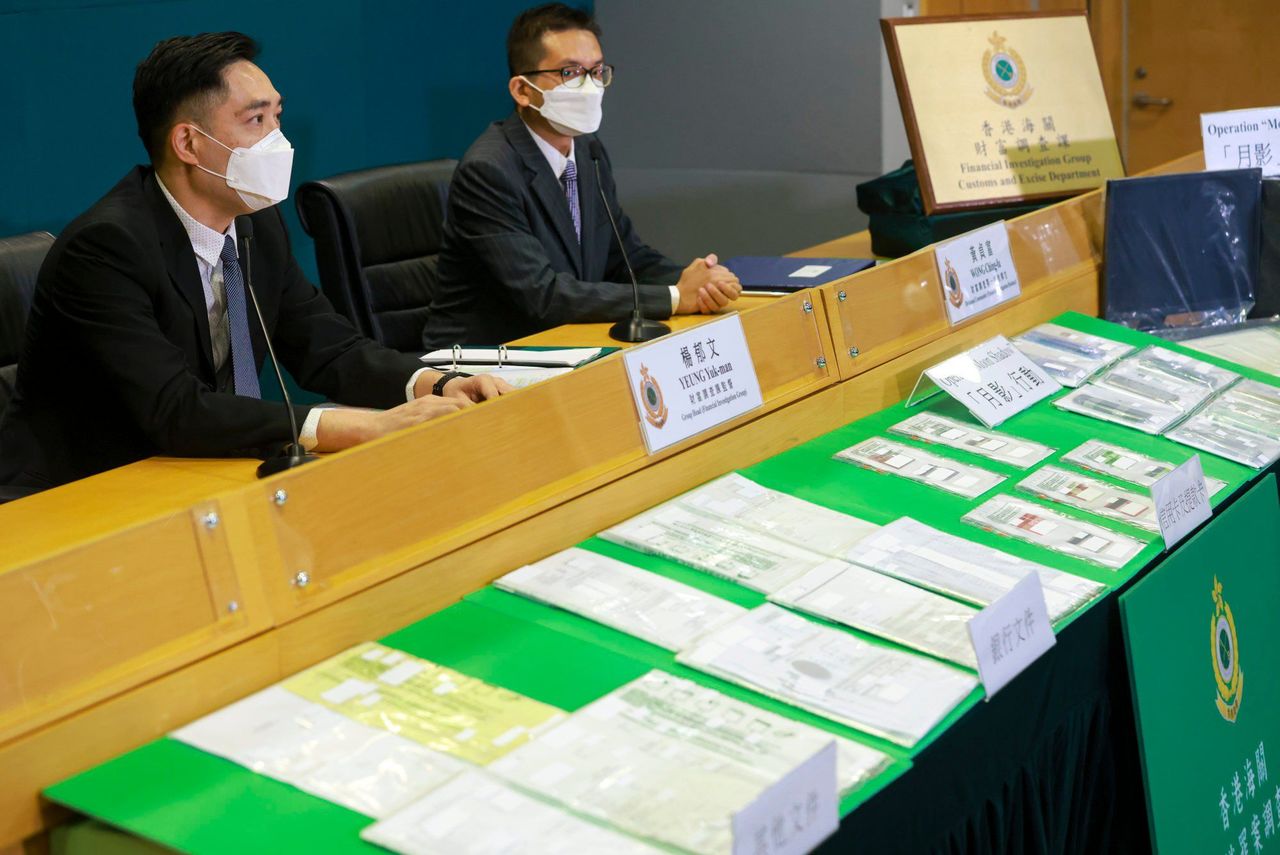 Superintendent Yeung Yuk-man (left), and Assistant Superintendent Wong Ching-fu, hold a press conference on a case involving money laundering.

Assistant Superintendent Wong Ching-fu of customs' syndicate crimes investigation bureau said it was revealed that the trio were paid HK$10,000 to HK$20,000 each to set up the accounts.

"One of the three men set up 11 accounts with four banks in three consecutive days while the other one opened seven accounts in three banks in a single day," he said.

The bureau's Superintendent Yeung Yuk-man said the investigation showed the accounts were used to launder HK$411 million in suspected crime proceeds in more than 9,000 transactions between October 2019 and November 2021.

According to the department, one of the alleged members had no record of tax returns while the other two had a HK$20,000 monthly income in the 2019-20 financial year. Currently, two of them are unemployed while the third is an odd-job worker.

"The enormous amount of money their accounts handled was completely incommensurate with the background and financial status of the three men," Wong said.

He said about HK$300 million of the funds was transferred into their accounts in more than 4,800 transactions from about 700 third-party accounts that included individuals and shell companies.

"The investigation also revealed that another HK$78 million was deposited into the accounts through ATMs in more than 1,500 cash transactions. The biggest cash deposit in a single day was HK$2.97 million," he said.

Yeung said the total amount of cash deposited through ATMs accounted for nearly 20 per cent of the funds.

Another HK$21 million in suspected crime proceeds was laundered through the cryptocurrency e-wallet set up by one of the alleged members, according to the assistant superintendent.

Officers from the bureau began investigating the syndicate in December.

After months of investigation, customs officers mounted an operation code-named "Moon Shadow" on Monday and arrested the four men in a series of raids in Yau Tong, Sau Mau Ping, Yuen Long, Tin Shui Wai and Tai Kok Tsui.

The four suspects were detained on suspicion of money laundering. They had been released on bail, pending further investigation.

During the operation, officers seized two computers, mobile phones, bank cards and related documents.

Wong said customs officers were still investigating the source of the money, final recipients of the funds and the types of illegal activities that generated the proceeds.

Yeung urged the public not to help others set up bank accounts or e-wallets for handling money from unknown sources, warning that those who did could face prosecution.

He said money laundering was a serious offence punishable by up to 14 years in prison and a HK$5 million fine.

According to the department, the operation was continuing with further arrests possible.