Hong Kong government advisers are considering the use of the official Disaster Relief Fund to support Henan after the central province in China was hit by heavy rain and serious floods, with the city's business and political groups also launching fundraising drives.

Zhengzhou, Henan's provincial capital, was battered by several days of heavy rain, causing floods of an intensity not seen in decades. The official death toll from the floods rose to 33 on Thursday and the local authorities said that more than 3 million people had been affected.

Ip Kwok-him, who sits on the Disaster Relief Fund's advisory committee, said the panel discussed the situation in Henan in a regular meeting on Thursday and agreed to contact the Hong Kong government's liaison unit in Henan to keep an eye out for any NGO requiring assistance.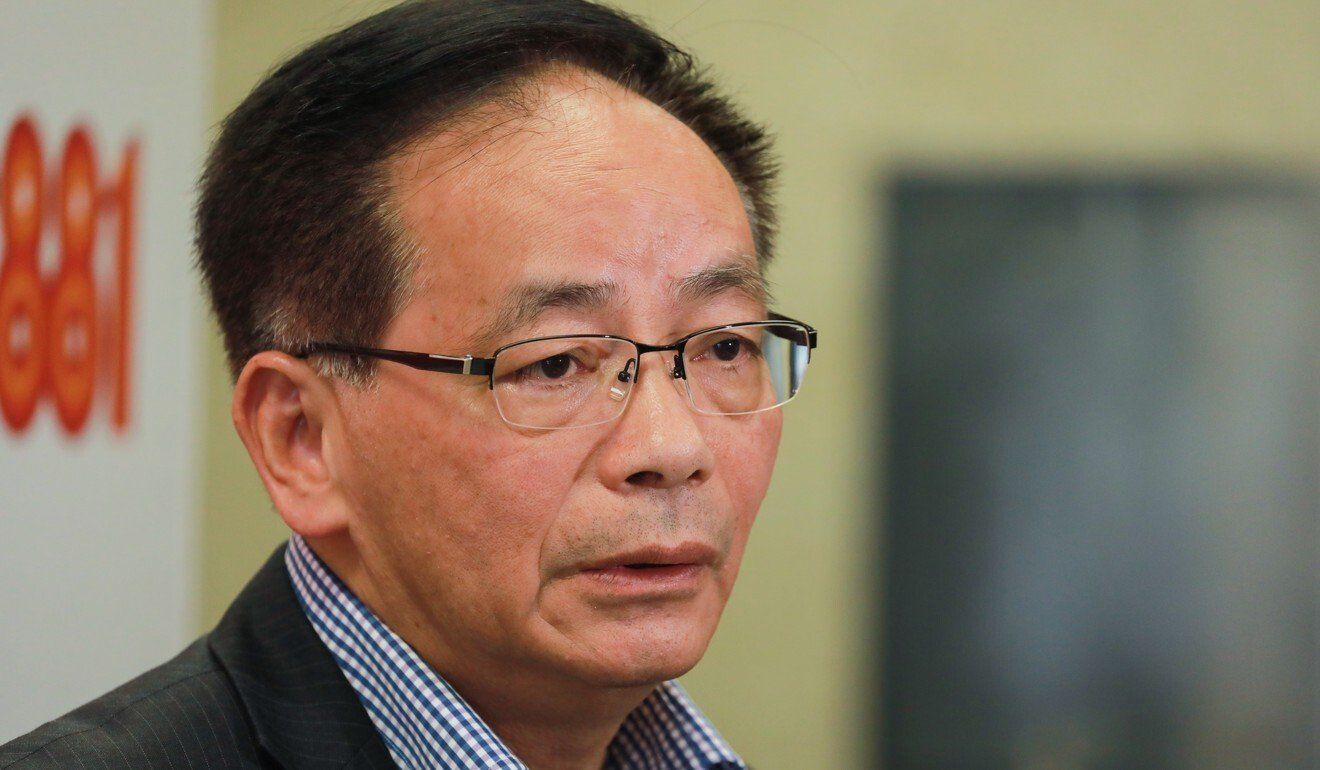 Ip Kwok-him is a member of the Disaster Relief Fund's advisory committee.

"I think we should show support. If any group needs help, the committee will deal with their applications accordingly," Ip said.

Chan Kin-por, chairman of the Legislative Council's finance committee, said he understood that the fund had a reserve of about HK$100 million (US$12.9 million). Donations could be initiated by either the government or NGOs, and funding requests exceeding HK$8 million would require approval from the finance committee, Chan added.

In 2015, the legislature approved HK$50 million in aid, through the fund, after thousands were killed in an earthquake in Nepal.

The fund was also used for mainland disaster relief last September, when the government accepted the committee's advice and approved a grant of HK$1.7 million for an agency, known as the Amity Foundation, to help flood victims in Jiangxi province.

A Hong Kong government spokesman said the administration extended its deepest sympathy to the victims of the Henan floods.

"We believe that under the efforts of the central, provincial and municipal governments, they will be well taken care of," he added.

In a joint letter to Henan authorities, all 36 Hong Kong deputies to China's top legislature said they would donate HK$1 million to the families of those killed by the flood.

Irons Sze Wing-wai, a Hong Kong delegate to the mainland's top political advisory body, said a similar drive among other members from the city had raised HK$6 million so far.

The city's pro-establishment political parties also extended support to the flood victims.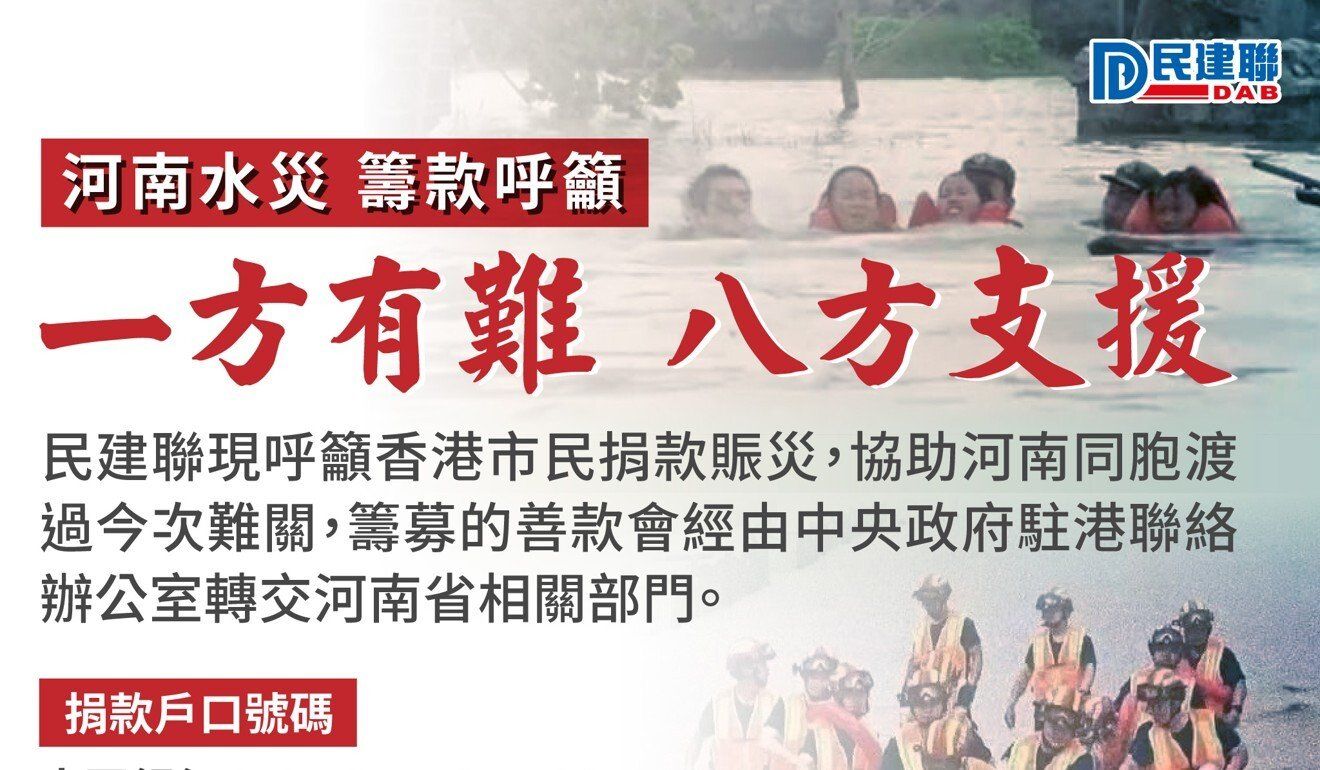 A Facebook post of the Democratic Alliance for the Betterment and Progress of Hong Kong's campaign to support flood victims in Henan.

The Democratic Alliance for the Betterment and Progress of Hong Kong launched a fundraising campaign and urged residents to donate to its community service branch's bank account by July 30.

The Federation of Trade Unions said it had donated HK$300,000 from its own disaster relief and charity fund to Henan authorities. Its president Stanley Ng Chau-pei and chairman Kingsley Wong Kwok had met He Jing, a deputy director of the central government's liaison office in Hong Kong, on Thursday to hand over a cheque to him.

"The situation in Henan is very serious," Ng said. "The federation will continue to raise funds; we hope that our members and residents can lend support, and show that Hong Kong and mainland compatriots are helping and looking after each other."

Anyang is among the cities in Henan province hit by the floods.

Hong Kong retail and entertainment conglomerate Emperor Group said on Wednesday that it would donate at least 13.6 million yuan (US$2.1 million) for mainland authorities to tackle the disaster.

That included 10 million yuan from the group's chairman Albert Yeung Sau-shing and his eldest son, 1 million yuan each from actors Nicholas Tse Ting-fung and William Chan Wai-ting, 500,000 yuan each from singers Joey Yung Cho-yee and Charlene Choi Cheuk-yin, and 300,000 yuan each from artistes Gillian Chung Yan-tung and Hacken Lee.

Hong Kong actress Cecilia Cheung Pak-chi also announced on her Weibo account on Wednesday that she and her team had donated a total of 600,000 yuan to the Red Cross Society's Zhengzhou branch.