Hong Kong activist and former opposition lawmaker Nathan Law Kwun-chung has applied for political asylum in Britain, six months after he went into self-imposed exile in London.

The former student leader, who was ousted from the legislature in 2017 for improperly taking his oath, said he chose to stay in Britain because he hoped to "sound an alarm to remind" the country and Europe of the danger posed by the Chinese Communist Party to the values of democracy.

In an opinion piece published on Monday in British newspaper The Guardian, Law revealed that he had submitted "an application for asylum" in Britain.

Law, who felt Britain and Europe had not stood firmly enough against Beijing, said his move was also related to "the West's strategy for countering the authoritarian expansion of China". Too many people "laboured under the fantasy that China would be a strategic partner to the West, perhaps even one part of the democratic world", he said.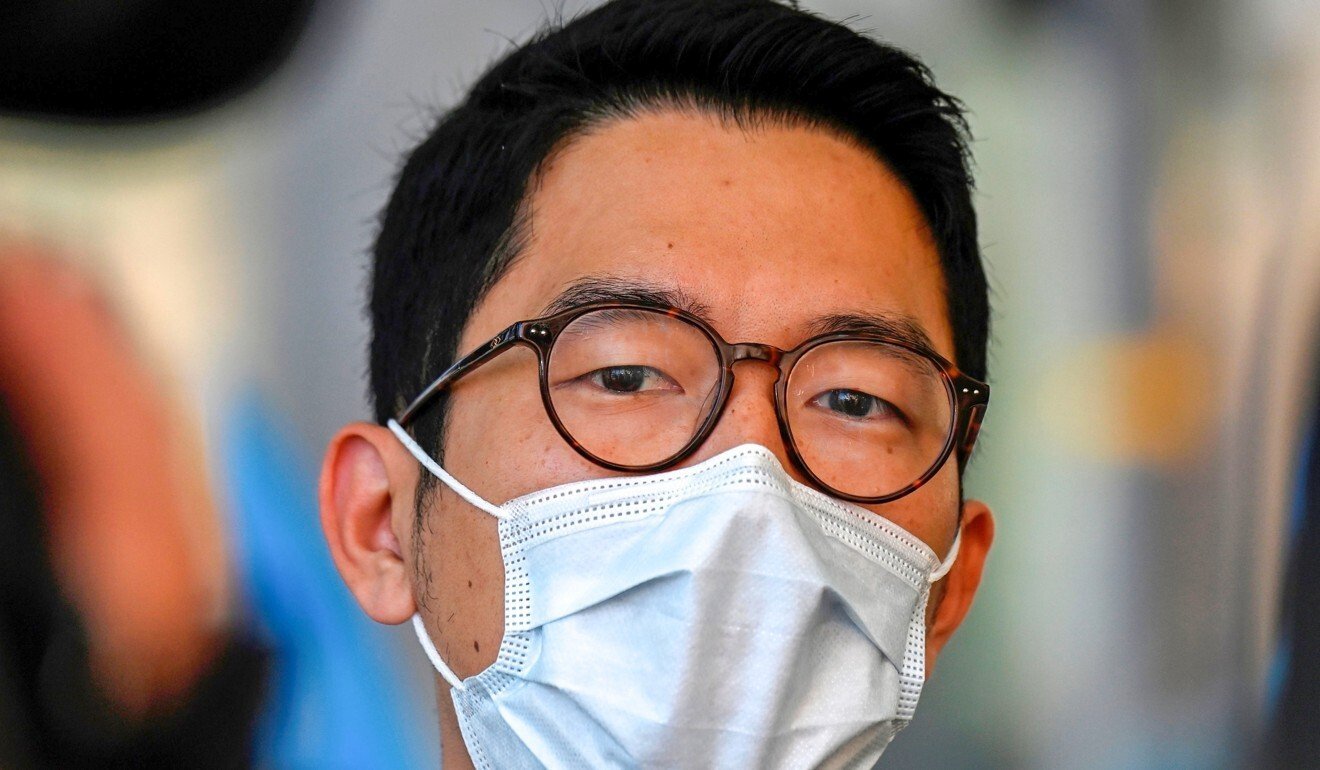 Nathan Law left Hong Kong for London in late June.

"The process of awakening from this illusion takes time. In the [United States], adopting an assertive approach to China and positioning it as one of the country's greatest enemies is a bipartisan consensus now," he wrote.

"This is not the case in [Britain] and the [European Union]; that consensus needs to be built.

"This is the reason why I boarded a plane destined for London. This is also why I planned to stay here and become a political refugee in this foreign yet somewhat familiar place. I hope that my presence can sound an alarm to remind people just how much of a danger the [Chinese Communist Party] poses to our shared democratic values.

"Your eyes should not rest on the economic gains – we have so much to lose."

In a message posted on his Facebook page, Law also explained that he had to act or he would eventually become a person without a passport or proof of identity, because he risked arrest and being "sent back to China automatically" should he enter the Chinese embassy to apply to renew his Hong Kong passport.

He also said he understood his asylum application would have to go through complicated procedures.

"But such experience would put me in a better position to offer advice to the British government on how to facilitate other Hong Kong fellows and arouse the concerns of the London political circle over the Hong Kong exiles," Law's Facebook message said.

At the age of 23, Law was elected to the Legislative Council in the 2016 elections and became the city's youngest ever lawmaker. But he was stripped of his seat in 2017 after a court found he and several others had been insincere with their oath.

Law fled Hong Kong in late June, days before Beijing imposed the national security law, which has drawn criticisms from the West, including accusations from London that the legislation constituted a breach of the 1984 Sino-British Joint Declaration, which laid out the terms of the city's handover in 1997.

In October, arrest warrants were issued for Law after he failed to appear in court. He was among activists charged over an illegal assembly during this year's June 4 vigil in Victoria Park.

Hong Kong police have not openly provided a list of wanted dissidents. However, police sources did identify Law as one of the people overseas wanted on suspicion of breaking the new law, which bans acts of secession, subversion, terrorism and collusion with foreign forces.

In the newspaper article, Law wrote about his self-imposed exile: "I decided to flee to where I could speak freely. I am the first former lawmaker in Hong Kong, and the youngest elected in history, to live a life of exile."

He said he found London "to be exciting and welcoming", and there were "shared cultural roots and signs that make me feel calm and blessed".

He added: "Parliamentarians and journalists are actively amplifying voices like mine and positively influencing government policies."

Professor Lau Siu-kai, vice-president of semi-official think tank the Chinese Association of Hong Kong and Macau Studies, said granting Law asylum would further anger Beijing after Britain's recent plan to open its doors for Hong Kong holders of British National (Overseas) passports sparked fury.

"In the eyes of the Beijing and Hong Kong governments, Law is a separatist, a criminal and a fugitive. If the British side grants him political asylum, coupled with the BN(O) saga, it will certainly further anger Beijing," he said.

"Beijing would see the move as harbouring and encouraging Hong Kong separatists. It is not impossible that Beijing would take countermeasures."