It is never easy being a chief justice, and some people are always unhappy with the decisions of the courts. The crescendo rises in turbulent times, with accusations of bias proliferating, often because of particular sentences.

The judiciary is fortunate, however, to have somebody in Chief Justice Geoffrey Ma Tao-li who is experienced and knows how to handle criticism. Although Ma has faced calls for judicial reform, he has himself always been a reformer.

For example, after Ma commissioned a review, the Judicial Studies Board was established in 2013 with a full-time staff. While Ma chairs its governing body and its daily operations are supervised by Mr Justice Poon Siu-tung, its role is to enhance judicial skills and knowledge by developing continuing education for judges and magistrates.

Apart from identifying specific training needs at each court level, organising seminars and visits and promoting judicial wellness, it provides useful research support for judicial officers. By all accounts, it has had a real impact on judicial effectiveness.

In 2016, Ma established the Secretariat for Complaints against Judicial Conduct, which enables people to pursue complaints. He went one step further in July and authorised the secretariat, in the interests of transparency, to publish online the gist of the complaints received and the responses of the judiciary.

protest-related prosecutions are adjudicated, several magistrates have been accused of bias, whether by granting bail to flight risks, acquitting in the face of evidence or imposing lenient sentences. Although mistakes have been made, they do not indicate bad faith, and Secretary for Justice Teresa Cheng Yeuk-wah can ask the Court of Appeal to correct them.

When bias is alleged, however, a sense of proportion is vital as only a few judicial officers are involved. There are 21 judges in the Court of Final Appeal, 14 in the Court of Appeal, 34 in the Court of First Instance and 39 in the District Court, and complaints against them are rare. There are also 56 full-time magistrates, five special magistrates and several deputy magistrates.

The number who have attracted criticism can be counted on the fingers of one hand. Of course, any judicial officer misbehaving is one too many, but this cannot be allowed to tarnish the reputation of a 170-strong judiciary.

There have been instances where judges compromised their position, and Ma has responded firmly. For example, after a judge was found to have signed a petition opposing the government's fugitive offender proposals, Ma banned him from handling any associated cases.

Internal disciplinary mechanisms exist for individuals who misbehave, as in the civil service. If a judicial officer is found to have acted inappropriately, they may be counselled and a formal record kept, which could affect assignment of cases and future postings. If the failings are grave, formal proceedings to secure removal from office may be unavoidable.

On September 23, Ma issued a statement in which he confronted recent criticism of judicial officers, particularly magistrates. He explained the judiciary's stance on current issues, stressed the standards required of judicial officers and indicated the remedies available when they err, which should have cleared the air.

He emphasised that "judges must not be influenced by political considerations of whatever nature in the discharge of their duty to apply the rule of law". He also said some people level criticism simply because they dislike particular decisions, not because the actual process is flawed.

While accepting that judicial officers are not above criticism, Ma said "it is crucial that such criticisms are both informed and supported with proper grounds and reasons". At the same time, he said judicial officers "must not be biased in any way in the discharge of their official duties".

Although some who were unhappy with particular decisions have advocated for establishing a sentencing committee, it is a misconception to imagine that this would oblige the courts to impose tougher sentences.

In England and Wales, for example, there is a sentencing council which promulgates sentencing guidelines for particular offences. Although judges are normally expected to follow them, they can impose a higher or lower sentence than indicated if there is a good reason for doing so.

In Hong Kong, the Court of Appeal issues detailed sentencing guidelines for particular offences. In protest cases, for example, the court indicated higher sentences were appropriate if the offence was premeditated, large scale, there were many participants or a high level of violence, it resulted in damage, or it continued for a long time.

As a result, jail sentences of between four and seven years are now imposed on protesters, and they are having some deterrent effect. The guidelines have produced consistency throughout the trial courts, and they indicate which offences deserve heavy punishment.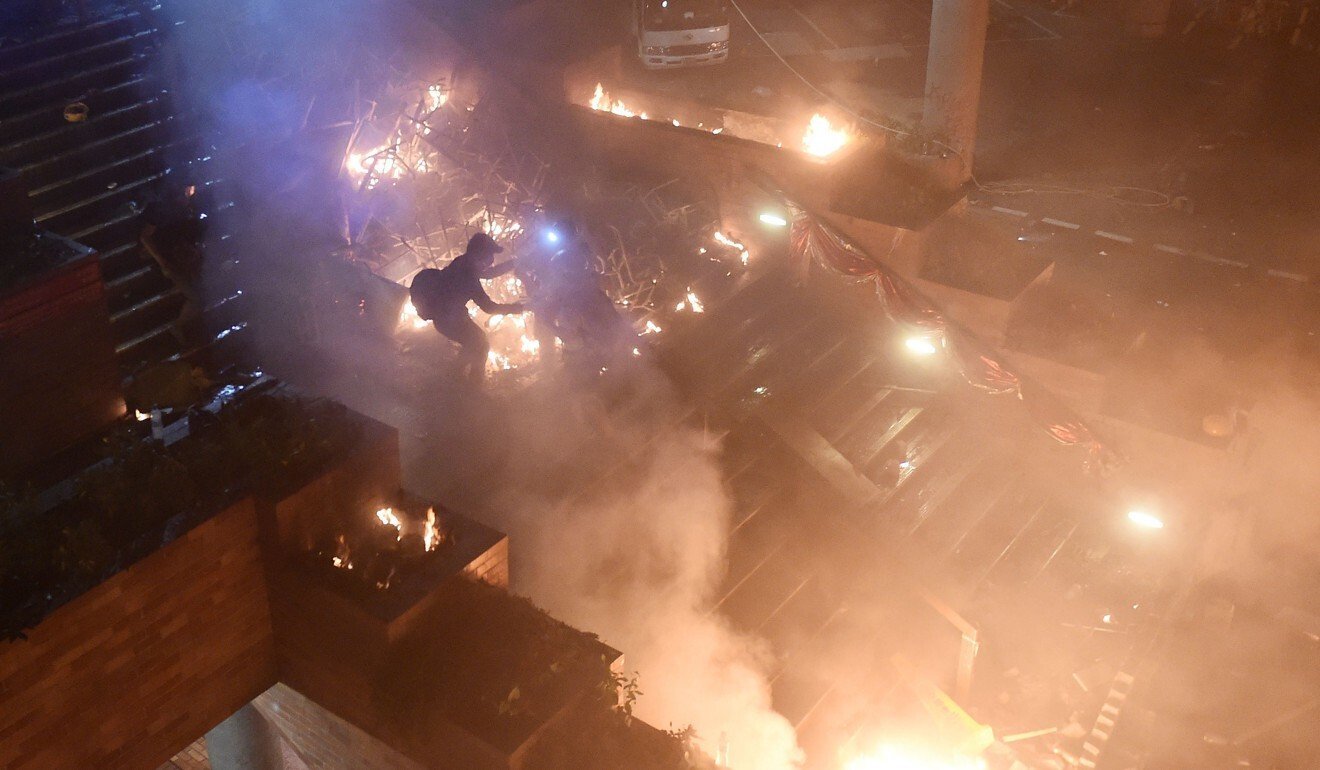 Anti-government protesters start a large fire in a staircase at the main entrance to Hong Kong Polytechnic University on November 18, 2019. The Court of Appeal has issued detailed sentencing guidelines for protest cases, indicating that higher sentences are appropriate in certain instances.

As Ma emphasised, sentencing is a judicial function and not a political question. However, this does not mean courts are insulated from reality. In 2018, for example, Ma presided over the Court of Final Appeal when it considered sentencing levels in a case of unlawful assembly arising from the Occupy Central protests of 2014.

The court made it clear public order offences were a real and growing concern and trial courts must respond appropriately. It also endorsed guidelines indicating unlawful assemblies must be deterred by judicial officers and, where they involve violence, there is a duty to impose tough penalties.

Although there is a right to bail, it can be denied if flight is a risk. Even if granted, chances of abscondment can be reduced if stringent conditions are imposed, such as reporting three times a day.

Given recent instances of flight, suspension of extradition treaties by several jurisdictions and the readiness of some countries to grant political asylum, it is vital that magistrates appreciate the situation. If the courts are not prepared to take judicial notice, the judiciary should arrange briefings by experts familiar with flight risks.

If everybody heeds Ma's words, some of the concerns should diminish. Nobody likes seeing the judiciary caught in the crossfire, but the courts must try harder to allay concerns. If inflammatory language is used, unrealistic sentences imposed or weak bail terms set, people will fret. The judiciary works well, but there is always room for improvement.