Technical issues meant people who had paid £20 to see the virtual gig received an error, denying them entry.

Problems persisted for two hours, after which organisers launched a free stream, meaning anyone could tune in, regardless of whether they had paid.

"I am so sorry about the problems," said festival organiser Emily Eavis.

The replacement stream could only be rewound by an hour, meaning the early parts of the show were still unavailable.

To compensate, Eavis said: "We will obviously make sure we show the whole film again from tomorrow, too, and give you the chance to catch up on any bits you missed".

"I really hope you can enjoy the rest of it tonight. And again, I'm just so sorry to anyone who's had issues."

The show was due to begin at 19:00 BST, with sets from Coldplay, Haim, Jorja Smith, George Ezra, Kano and Wolf Alice - but problems arose from the outset.

Among those affected were former Glastonbury headliners Skunk Anasie. "Code not working," wrote their lead singer, Skin. "Don't make me watch Eurovision."

"Invalid code were my favourite band way before they were cool," added DJ SK Shlomo.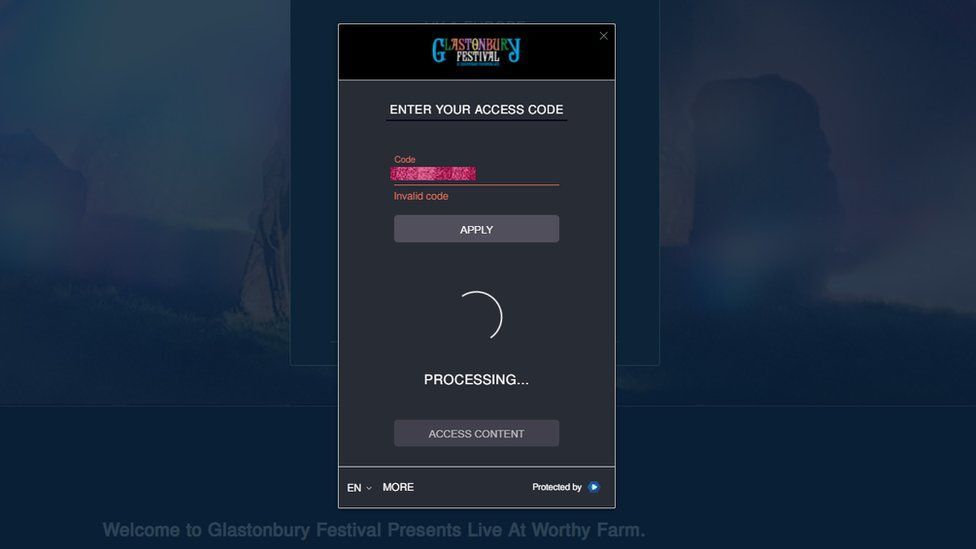 However, some fans were able to access to the show. Festival bloggers Where's My Tent told the BBC they'd logged in at 18:53 BST - and provided video proof that the stream was working.

"Wolf Alice were gorgeous and I cried seeing the stone circle fields," they wrote online. "Michael Kiwunaka was good too. Some good bits in between too, amazing spoken word from Kae Tempest."

However, after their stream failed at 20:25 BST, they were unable to regain access to the show until the free stream was made available.

Another fan said they'd been able to watch the first half hour, but got "kicked out one song into Michael Kiwanuka".

"Unable to get back in now. Shame," they wrote on Twitter.

'Please keep trying'

As complaints flooded in, Driift Live, the technology company which helped organise the stream, told fans to "please keep trying and you should be able to access soon."

Conservative MP Steve Brine branded the situation a "shambles".

"Lots of people have paid you their money for this and your system is clearly unable to handle it," he wrote on Twitter.

The free stream was made available shortly before 21:00 BST. However, for many fans, the two-hour delay will mean a late finish, as performances were already due to run beyond midnight.

Coldplay had billed the concert as a "very special night at Worthy Farm tonight and a home gig for us," after headlining the Glastonbury four times previously.

All the performers waived their fees, with proceeds intended to secure the future of the festival - which has been forced to cancel for two consecutive years.

Now organisers will undoubtedly face thousands of demands for refunds.

Here are some of the responses from fans trying to access the show earlier in the night.