The last time Ian Maxwell saw his youngest sister Ghislaine was on June 10, 2019. They had met in London for a rare and happy family reunion on what would have been their father, media tycoon Robert Maxwell's 96th birthday. Ghislaine wore black with a string of necklaces and dangly silver earrings. "She was lively and happy, in good shape," says Ian. They spoke about how she was looking forward to the summer, rather than reflecting on the past. He never asked about her personal life.

What happened next was played out in the news all over the world. A month after that family gathering, financier Jeffrey Epstein, Ghislaine's ex-boyfriend and best friend, was arrested and charged with sex trafficking underage girls. On August 10, 2019, he was found dead in his prison cell. It was then that the life of Ghislaine began to unravel. On July 2 last year she was arrested at her mansion in New Hampshire and since then she has been in a Brooklyn prison, charged with six crimes including her role in the sexual exploitation and abuse of underage girls. She has pleaded not guilty to the charges, which relate to three unnamed women in incidents between 1994 and 1997, and faces up to 80 years in prison if convicted. Here in the UK, the Metropolitan Police are reviewing similar allegations about Ghislaine and Epstein.

Ian, 64, rarely speaks to the press but has made an exception because he believes that the way his sister is being treated in prison is egregious. He says that she is in solitary confinement in a cramped cell; woken up every 15 minutes in the night because she is considered at risk of suicide. "She has lost weight, her hair is dropping out, her glasses are broken — this is not the way a civilised democracy should treat a 59-year-old woman pre-trial," he says, adding that five bail applications for her have been refused. "She is not able to mount a defence — she can't concentrate, there is no table so she can't read the documents she has to pre-trial."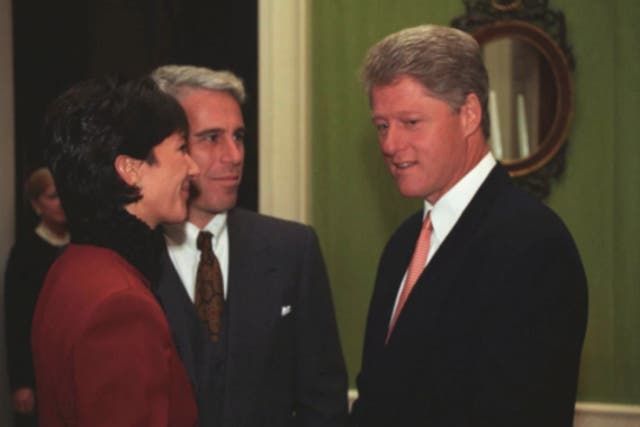 Ian continues: "I am not particularly emotional and I am angry about how Ghislaine has been treated." He has an upper-class accent and pronounces his sister's name Gillin (it has been variously interpreted by reporters as Giz-lane, Jillane and Guerlain). He is adamant that he doesn't know much about his sister's life after she moved to the US in 1991, especially when pressed on her relationship with Epstein. Ian did not even know about his sister's marriage in 2016 to American millionaire Scott Borgerson, 43. Ian says that Borgerson is "off limits" — Ghislaine wants to protect her husband and his two children from a previous relationship. Did his sister ever speak about wanting children of her own? "I don't know, she had serious relationships and no children, she is a step-mother. She has lots of friends but they've been told she is too toxic to talk to."

It is a radically different picture to the Ghislaine who stood out in the upper echelons of society, first as a socialite who hosted lavish parties at her father's mansion and subsequently when she reinvented herself in New York, charming the likes of the Clintons and notably introducing Epstein to Prince Andrew. Writer and cousin of the royals Christina Oxenberg, who knew Ghislaine through Prince Andrew, describes her as "a social-climbing grifter with an arrogant stance. She frequently repeated her father's advice not to befriend poor people". In a new documentary Ghislaine Maxwell: Epstein's Shadow, Lady Victoria Hervey, who went out with Prince Andrew talks about how Ghislaine taught her how to give a blowjob and enjoyed dirty jokes.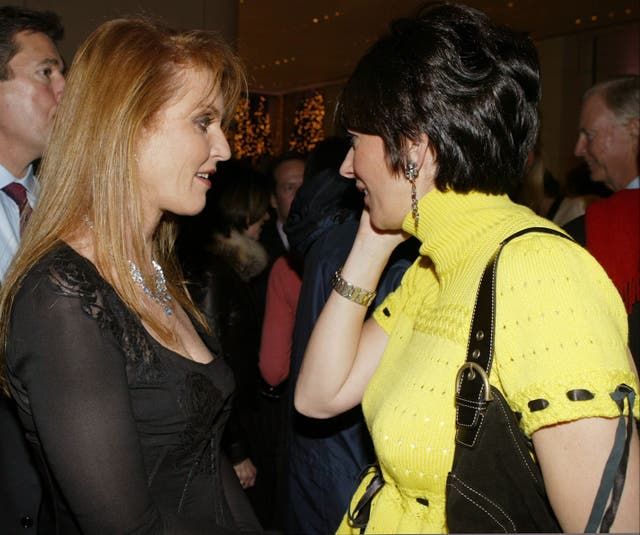 Sarah Ferguson, Duchess of York
Ian bristles when Epstein is raised. He has said he recognises the setting of a photo showing Andrew next to a woman called Virginia Giuffre, who claims she was trafficked by Epstein and that Andrew had sex with her, which he categorically denies. Ian's only comment on Epstein is that they met once at a lunch around 35 years ago that he doesn't remember. According to the documentary, Ghislaine met Epstein in the 1980s when he was doing business in London. Ian refutes his sister's reputation as a social climber. "She was not a flibbertigibbet party-goer. You could not be the child of Robert and Elizabeth Maxwell and be a flibbertigibbet. Hard work had to be done." They grew up in what Ian calls "a rather big house". Headington Hill Hall is a 53-room house in Oxfordshire, where their father entertained prime ministers but was also "an authority figure" who could turn on his family with no warning.

There is a rich web of mythology around Maxwell. At 16, he left his eastern European village in an area called Ruthenia to join the resistance; his mother and one of his sisters were murdered by the Nazis and he came to the UK with nothing. He and his French wife Elisabeth "Betty" married in 1945 and had nine children. Betty, who died in 2013 aged 93, is "the overlooked figure in this saga", says Ian. She had all her children in France, where she was from, because she wanted her gynecologist sister to deliver them.


"Ghislaine was not a flibbertigibbet. You couldn't be if you were the child of Robert and Betty Maxwell, hard work had to be done"

While she held the family together and tried to understand what had happened to the man she fell in love with, Bob was consumed by building his empire. He founded a publishing house and bought tabloids, including the Mirror.

Ian says that he and his siblings were "extremely close", allies against their father. "We split into the littles and the bigs. We invented games, swam in the pool, which was nice." He saw no need to protect his little sister: "Ghislaine was pretty feisty. You have to stand up and be counted. I don't think she needed much protection." For Ian, "two things are important". That Ghislaine is the youngest of the family and that she was born into tragedy. Four years before her birth, their sister Karine had died of leukaemia aged three. Then, when Ghislaine was two days old, their brother Michael, 15, was in a car accident which left him in a coma until he died eight years later. "Our mother had just lost the star of her life, catapulted through a window. Ghislaine had to fight to impose herself. Aged three, she said 'Mummy, I exist'."

It worked. She became her father's favourite — he named his yacht after her and vetted potential boyfriends, none of whom were good enough for his star. Ghislaine went to Balliol College Oxford, where she had a reputation for wearing fashionable clothes no other student could afford and making disparaging asides in French. After graduating, she worked for her father's paper, The European. He asked presenter Anne Robinson, who was at the Mirror, to take her under her wing. Robinson has said: "She had a horrendous childhood, she lacked goals. I think she just went from one strong-minded man to another. I don't excuse anything, but nothing that happened to her in her young life was normal. They were all a bit broken, the Maxwell children."

Ghislaine and Ian's brothers and sisters live all over the world - Philip, the eldest, moved far away to Argentina and is now in North London, writing, Anne is married to an osteopath in North London, twins Christine and Isabel were briefly the toast of Silicon Valley. They made The Sunday Times Rich List in 1999 after amassing their £100 million in the dotcom boom but Isabel declared herself bankrupt in 2015 and Kevin has also been declared bankrupt. They have all spoken of their father's high standards and the heavy toll that took on them.

Robert Maxwell with daughter Ghislaine

Ghislaine was 30 when her father died in 1991, falling from his yacht leaving mounting debts and his reputation in tatters. She fled to New York on a controversially expensive Concorde and it was in the US that she became close to Epstein. Oxenberg says they were kindred spirits. He provided private jets, mansions and as an Oxford contemporary puts it "a daddy replacement"; she was able to smooth the way for them in society, with her charm and British accent: "They were mutually excited by the possibilities they gave each other."

Their romantic relationship didn't last long but Epstein always described Ghislaine as "my best friend". Oxenberg, who writes a weekly blog about her memories of Ghislaine and Epstein, among other things, last saw Ghislaine in 2013, in New York. "She talked about her new boyfriend at the time Ted Waitt, the billionaire businessman and philanthropist. She volunteered that he was rich and had a private plane," says Oxenberg.

Ian prefers to speak about his sister's mission to clean up the oceans and the charity she set up to do this, TerraMar. "She went diving as a child, expecting to see sea creatures like the ones on Jacques Costeau shows; instead she saw a coat hanger. She had to do something." That's the type of woman he says she is.

As well as her charity work, Ian tells me that Ghislaine is a qualified emergency medical technician, a helicopter pilot and that she sold real estate. "This is a woman of substance. Of course you have to have connections to get things done but she is being depicted as being something she never was."

The date of her trial has been postponed until November and the world will be watching to see if we find out then who this woman really is.