"I want to personally thank you for your support," read the letter from Santos. "Now more than ever, the Republican majority needs to stick together."
Rep. George Santos of New York sent thank-you notes to Republicans who helped block a vote on expelling him from the House of Representatives last week.

Several House GOP sources told Insider on Monday that staffers for the New York Republican delivered the letters to their offices. It was not immediately clear if the letter had gone to every single lawmaker who voted to protect Santos.

"I want to personally thank you for your support in referring the vote for my expulsion to the Ethics Committee," reads the letter from Santos. "This has been an especially difficult time in my life, and I want to serve my constituents the best I can."

Santos went on to point to the need for Republican unity — a key motivating factor behind House Speaker Kevin McCarthy declining to push Santos to resign, despite the New York congressman's recent 13-count federal criminal indictment for wire fraud and money laundering as well as his admission to an astonishing series of lies about his background.

"Now more than ever, the Republican majority needs to stick together, and you demonstrated great dedication and courage by putting differences aside to allow the proper process to play out," the letter concludes.

In a statement to Insider, Santos spokeswoman Gabrielle Lipsky said the congressman sent the letters because he "wanted to express his thanks to his fellow members for allowing the process to play out so that the 118th Congress can focus on the critical issues facing our country, starting with border security and addressing the issue of the debt ceiling."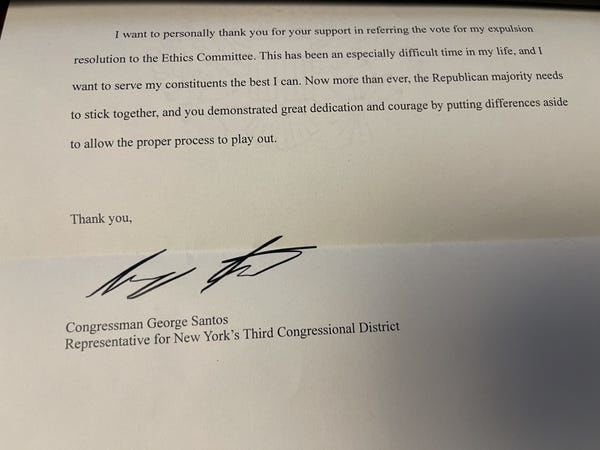 Last week, Democratic Rep. Robert Garcia offered a privileged resolution that would have expelled Santos from Congress if it had received two-thirds majority support in the chamber.

Under House rules, a vote on the matter had to be scheduled within two days.

Republicans, arguing that Santos has not been convicted of a crime yet and seeking to prevent rank-and-file GOP lawmakers from having to vote directly on the controversial congressman's fate, instead moved to refer the resolution to the House Committee on Ethics.

That motion passed by a 221-204 party-line vote on Wednesday, with seven House Democrats — most of which sit on the ethics panel — choosing to vote "present."

It still remains unclear how the Ethics Committee, which had already launched an investigation into Santos, will proceed from here.

The committee is historically known to drag its feet, and often halts its investigations into lawmakers when asked to do so by outside prosecutors.

But the committee has reportedly refused to do that this time, raising the prospect that the committee could soon take action on Santos.