Israel has killed a sixth senior leader of Palestinian Islamic Jihad (PIJ) in an air strike in the Gaza Strip, as fighting between them escalated.
It said Iyad al-Hassani had directed the militant group's operations since his predecessor was killed on Tuesday.

Friday's strike, which medics said also killed another person, followed a barrage of rockets fired from Gaza, some of which reached near Jerusalem.

The chances of an imminent ceasefire appeared slim after the exchange.

However, a Palestinian official familiar with the talks taking place in Egypt told the BBC that Egyptian officials "presented this evening a new proposal for a ceasefire, which is being studied now". Egypt was also waiting for Israel's response, they added.

At least 33 Palestinians in Gaza have been killed - about half of them civilians - since Israel carried out a series of air strikes early on Tuesday that killed three top PIJ commanders, the Palestinian health ministry there says. Another 147 people have been wounded.

One Israeli civilian has been killed and five wounded by Palestinian rocket fire in the same period, Israel's Magen David Adom ambulance service says.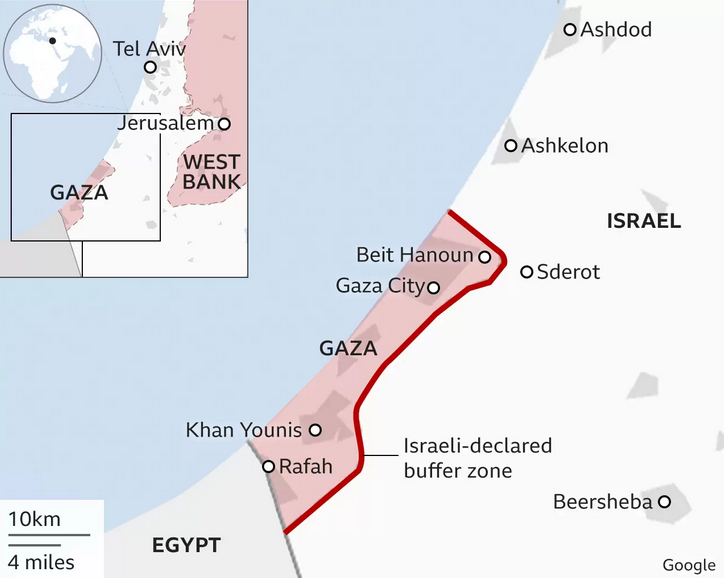 The fighting which resumed on Friday came after 12 hours of relative calm, during which there were several Israeli air strikes but no Palestinian rocket attacks.

Around midday PIJ militants launched dozens of rockets. Some were aimed towards the Jerusalem area, about 65km (40 miles) from Gaza.

The Israeli military said two rockets heading to Jerusalem were intercepted, but another rocket reportedly landed in an open field near the Jewish settlement of Bat Ayin in the occupied West Bank, about 16km south of the city.

PIJ said "the firing of rockets at Jerusalem is a message, and everyone should understand its aim".

Targeting Jerusalem, which Israel considers its capital, is meant to signal to Israel that the group is prepared to connect events in the city to those in Gaza.

It is the first time rockets have landed near there since a 10-day conflict between Israel and militants in Gaza in May 2021.

Israel responded to Friday's rocket fire with intensive air strikes.

Warplanes hit a multi-storey residential building in the northern Nasser area of Gaza City, killing two people. Five others were wounded, including a child, according to rescuers.

A PIJ spokesman confirmed the death of Iyad al-Hassani, according to AFP news agency.

Sources said Hassani was deputy head of Islamic Jihad's armed wing and the most senior figure in the group to be targeted by Israel so far in the fighting.

Israel's air force said Hassani had replaced Khalil al-Bahtini, who was killed on Tuesday, as PIJ's "commanding officer of the operation in the Gaza Strip" and described him as a "significant figure".

The identity of the second person was not immediately clear, but the air force described them as a PIJ "operative".

An Israeli official told the BBC hitting the senior chain of command was also meant as a warning to Hamas, the dominant armed group in Gaza, which so far is thought to have stayed on the sidelines of the current escalation.

More rockets were fired at southern Israeli communities following the strike and Israel said there was likely to be more long-range fire in response to what it called the "targeted killing" of Hassani.

On Thursday, another two top PIJ commanders - the head of its rocket launching force and his deputy - were killed in Israeli strikes in southern Gaza.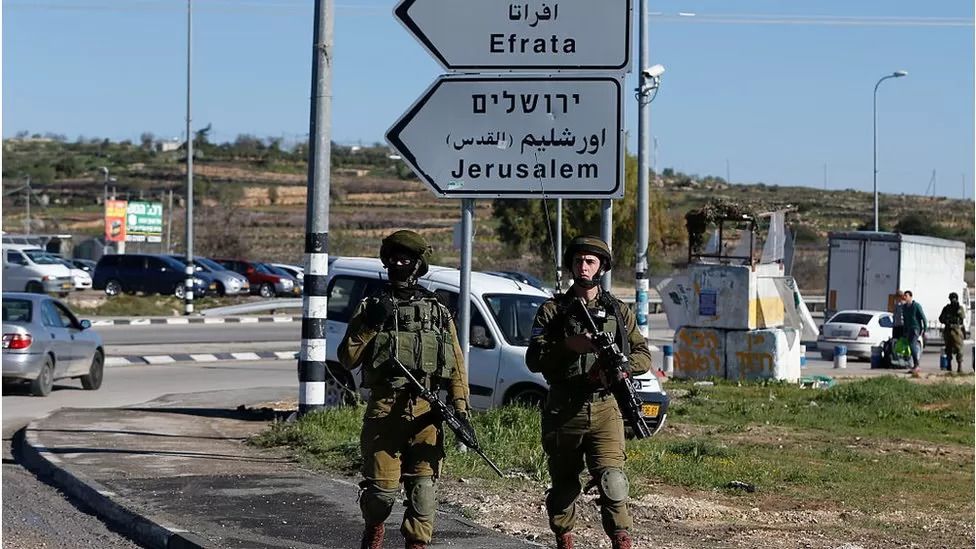 Rockets reached a block of settlements south of Jerusalem on Friday

This week's fighting is the heaviest since three days of hostilities between Israel and PIJ last August, in which 49 Palestinians were killed in Gaza.

At least 973 rockets and mortars have been fired from Gaza over the past four days, with 761 crossing into Israeli territory, according to the military. Most have been intercepted or have landed in open areas.

The military says 181 of the rockets fell short inside Gaza and that they have killed four people there, including three children. Islamic Jihad denies the allegation.

The military also says its strikes have hit 254 PIJ targets in Gaza. According to Gaza's housing ministry, 28 homes have been destroyed, 37 damaged so badly that they are uninhabitable, and 495 partly damaged.

Meanwhile, a British surgeon stranded in Gaza has told the BBC that more than 140 "desperately sick" patients there, most of whom have cancer, are being denied urgently-needed treatment while the crossing to Israel remains shut for a fourth day.

"The doctors I work with here have got multiple examples of people who are in desperate need of cancer treatment," Professor Nick Maynard said.

"These treatments are undoubtedly being delayed and potentially leading to deaths because of the delays now," he added.