At Japan's Naha airbase in Okinawa, the roar of F-15 fighter jets dwarfs the sound of commercial planes that share the same runway.
Three jets take off one after the other to start the day's training, mostly scenarios involving combat and aircraft interception - some have gone on "real life scrambles" or emergency calls to intercept suspected Chinese aircraft.

These routine exercises have taken on a new sense of urgency, according to Lt Col Masatoshi Tanaka.

"We're very nervous," he says. "We've been facing airspace violations of Japanese territory every day. Chinese activities have expanded in number and quality. They involve UAVs [drones], bombers and reconnaissance planes. There are many active aircraft carriers in this area."

Naha is part of the Okinawa island chain, which is on the frontline of any potential conflict between China and the self-ruled island of Taiwan. The territory, which Beijing claims and has vowed to take by force if necessary, has become one of the biggest flashpoints in the world, especially as tensions soar between the US and China.

As China becomes more assertive, Taiwan's security has become a growing concern for Japan, which is hosting the G7 summit in Hiroshima this weekend. And with China expected to dominate the agenda at the summit, Japan's role as a key player in building regional stability has only grown.

The war in Ukraine and an increasingly volatile Indo-Pacific has pushed Japan to a "crucial position in the alignment of powers," according to Yoko Iwama, a professor of international relations at the National Graduate Institute for Policy Studies.

"We are the linchpin of the network of American alliances and partnerships in the region and I think the Americans are aware of that," she said.

Prime Minister Fumio Kishida has certainly been making moves to reflect that. In March, Japan normalised diplomatic ties with South Korea after years of terse silence in what has been hailed as a "new chapter".

That same month, Mr Kishida met India's Prime Minister Narendra Modi and then made a surprise visit to Ukraine and pledged $30m (£24m) in non-lethal military aid.

Under him, Japan has announced the biggest military build-up since World War Two, pledging to double defence spending by 2027 - which would give it the third largest defence budget in the world. This illustrates both Tokyo's urgent need to show that it can defend itself, and also help its closest ally, the US.

Any defence scenario will involve the US, and Okinawa is home to the biggest concentration of US troops in Japan, but the country also needs to show that it can put up a fight. The hope is that this would be enough to deter Beijing and avoid a conflict in the region.

But Japan is close enough to feel the ripples of a conflict that it does not want, but could be pulled into.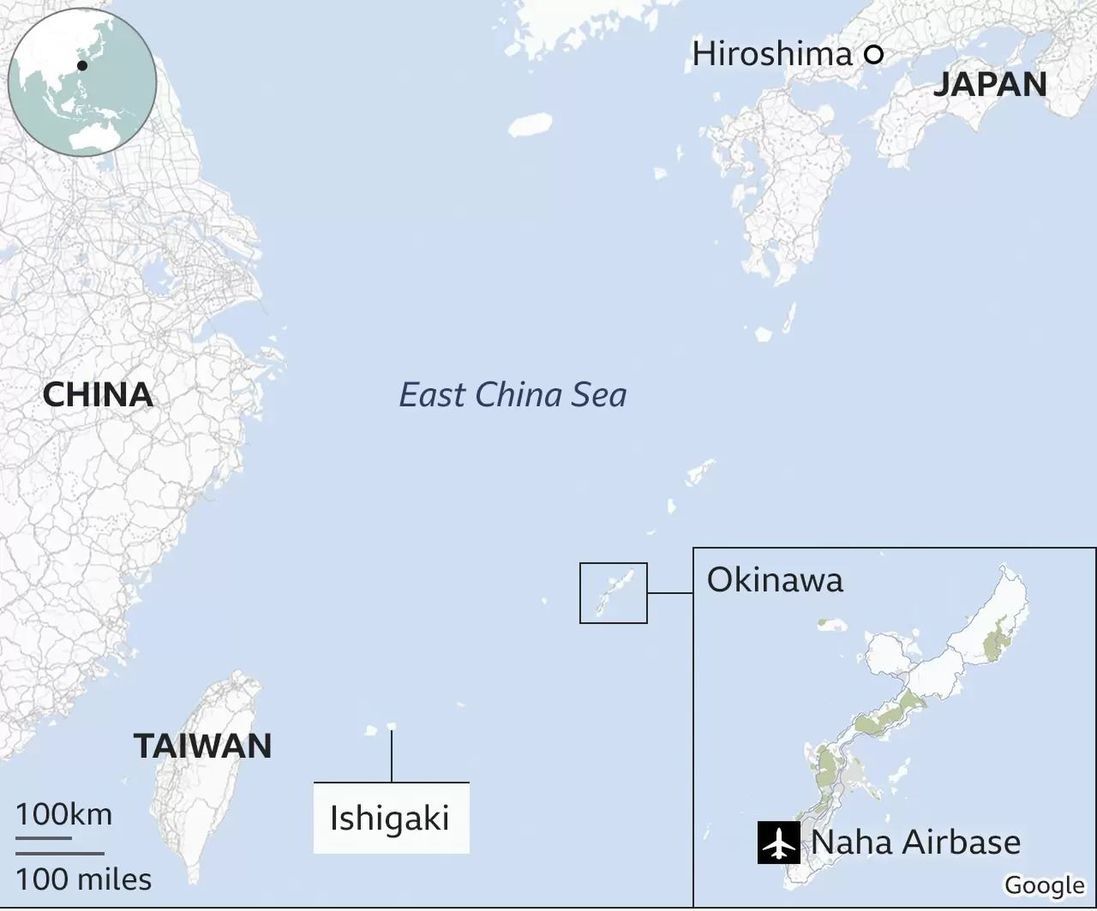 When China's military rehearsed "sealing off" Taiwan during three days of military drills in April, Japan's defence ministry said a Chinese aircraft carrier was some 230km (145 miles) south of Miyako Island, also part of the Okinawa chain.

When a furious China fired missiles after former US house speaker Nancy Pelosi's visit last year, at least five landed less than 100km from the westernmost Japanese island of Yonaguni.

"Geographically speaking we're very close to Taiwan and South East Asia, we feel a sense of crisis," says Yoshitaka Nakayama, the mayor of Ishigaki. The island is about an hour's flight from the Naha airbase and is a picturesque haven known for fishing and agriculture. Its white sands and crystal blue waters have long attracted holidaymakers and snorkelling fans.

Now, Ishigaki is also home to Japan's Self-Defence Forces' (SDF) newest military base. As farmers tend to their crops in the fields around it, soldiers man the gates and cranes and bulldozers move bits of earth as construction continues.

Mr Nakayama says they need to protect themselves: "Chinese ships are patrolling very closely. The equipment we have in terms of missile launchers is for defending ourselves. It's to protect us in case there are planes or ships that want to attack us. We're not looking for war."

Earlier this year nearly 600 troops moved here, including squads capable of launching land-to-ship and land-to-air missiles into the East China sea and beyond.

Ishigaki and the neighbouring chain of islands are in close proximity to two flashpoints. One is the uninhabited Senkaku Islands which Japan controls but China also claims under the name Diaoyu Islands. The other is Taiwan, which is 200km away.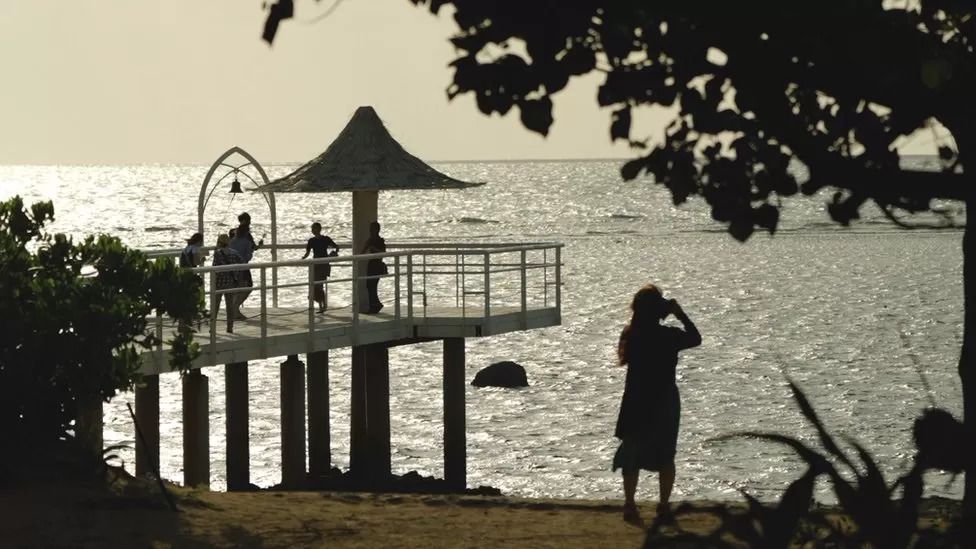 Ishikgaki is just 200km from Taiwan, one of the biggest flashpoints

And Russia's invasion of Ukraine has heightened fears of a potential Chinese attack. As the war rages on there, parallels have been drawn on this side of the world.

There are some similarities, according to Prof Iwama.

"The leader type: Vladimir Putin and Xi Jinping. But also the claim that a land that is controlled by someone else is yours," she said. "People see this and are afraid it could happen here."

She adds that watching large parts of Ukraine being bombed and shelled has brought up memories of World War Two. "You could relate to what was happening," Prof Iwama says.

But those memories have also angered people in Ishigaki who fear that their home might once again be caught up in conflict. Okinawa, after all, was the site of a historic battle between the US and the Japanese armies.

Now, nearly eight decades later, a military base has renewed those fears, splitting a once close-knit community.

When 85-year-old Setsuko Yamazato, who lost four members of her family in WW2, heard that a military base was being built in Ishigaki, she gathered a "group of grandmas" to speak out against it.

"The first thing that came to my mind was 'not again'," she says.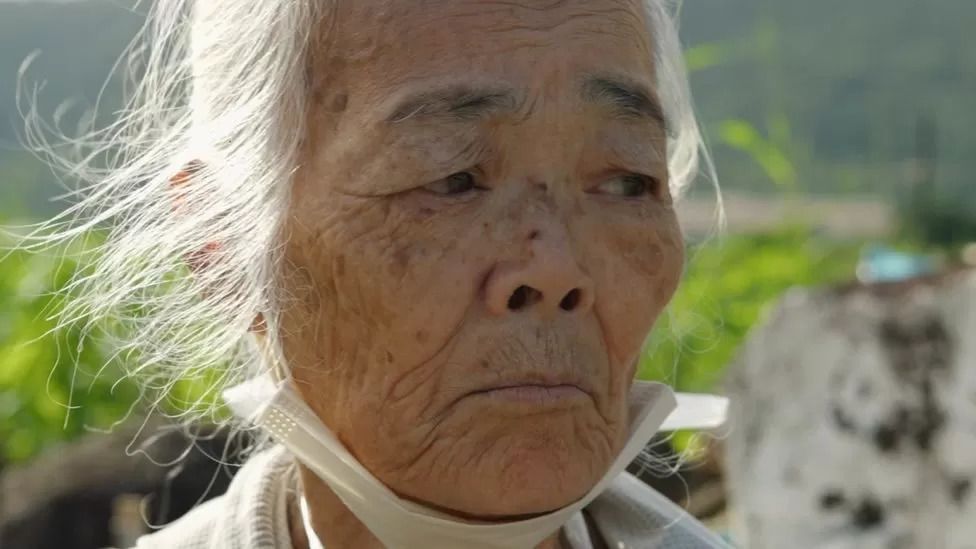 Setsuko Yamazato, 85, has been protesting against the construction of a military base at Ishigaki

Now, she and the others turn up outside the base every week to protest. With her cane in one hand and a banner saying "give our children a peaceful future" in the other, she chants, stopping at times to cough and take a breath.

"The SDF are coming to the island. They're building a missile base here," she chants. "Our island is protected by the God of Miroku, not by the military."

As someone who experienced war in her early life, she says she does not want to witness another in her old age.

"I don't want this island to become a battlefield," she says.

"We've been nurtured by the nature and culture of this island. I don't want that to be destroyed or stolen by war."