A national security law magistrate has granted bail to a former Hong Kong police officer charged with seditious intent over online comments he allegedly made about a chief inspector killed on duty.

Chui Chun-man, 26, appeared at West Kowloon Court on Friday afternoon following his arrest by the force's cyber security and technology crime bureau the previous day in Sha Tin.

He was charged with doing an act or acts with a seditious intention, an offence punishable by two years' jail and a HK$5,000 fine for a first conviction under the Crimes Ordinance.

Acting chief magistrate Peter Law Tak-chuen said the stringent threshold for bail under the Beijing-imposed national security legislation also applied in the present case, but he granted the defendant's application despite prosecutors' objections.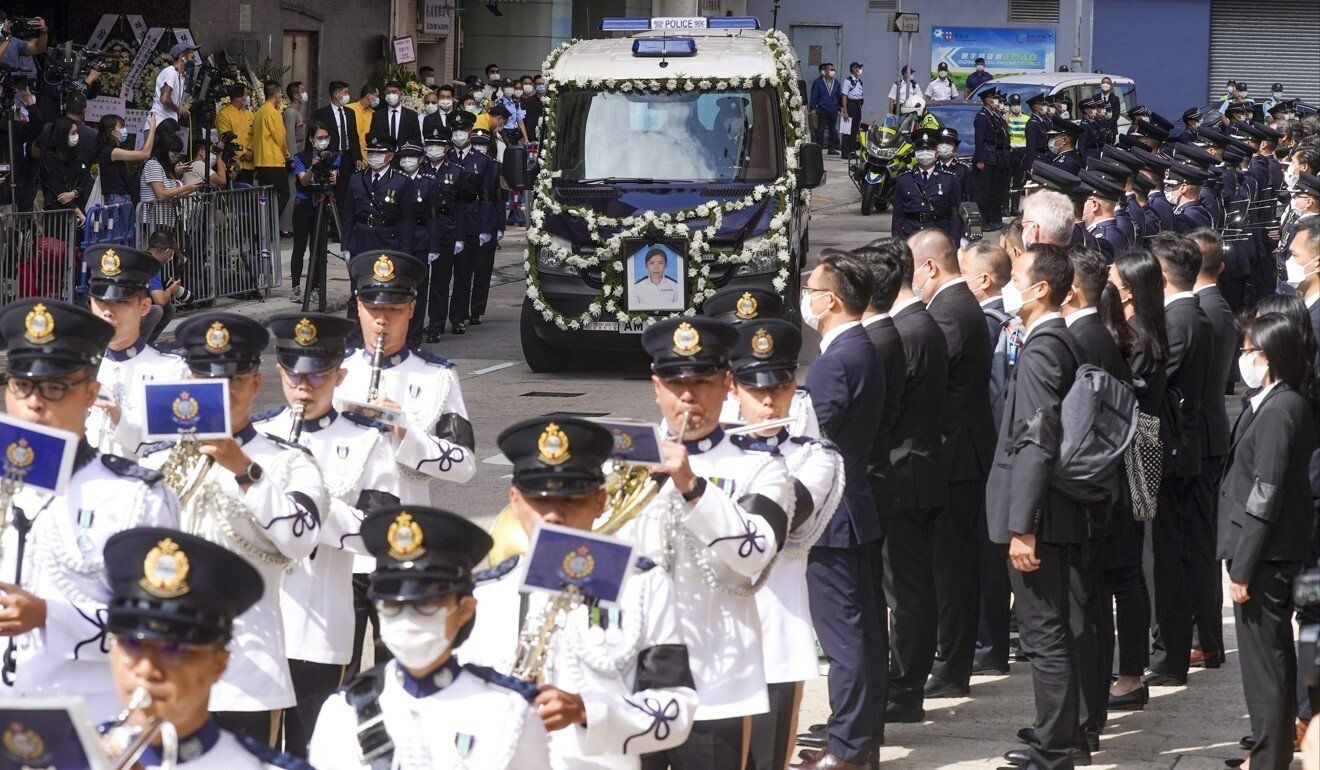 Top officials attend the funeral of Lam Yuen-yee.

Chui, who sat in the dock with his head down, wept upon hearing the magistrate's decision.

He was released on HK$20,000 bail, on condition he remain in Hong Kong, surrender all travel documents, report to police three times a week, and refrain from giving media interviews and acts that could "reasonably be regarded as bearing a seditious intent".

He was also barred from using social media and publishing on LIHKG, an online forum popular among protesters during the 2019 anti-government unrest.

Chui, who quit the force on Thursday, was accused of making a public statement on his Facebook page between September 25 and 28 with the intention of bringing hatred or contempt, or to excite disaffection, against the Hong Kong government.

He was also alleged to have raised discontent or disaffection among Hong Kong residents.

Prosecutor Ivan Cheung Cheuk-kan applied for an eight-week adjournment for police investigations, including taking witness statements and examining digital devices seized from the suspect. Law accepted the request and scheduled the next hearing for January 14.

Investigators seized three mobile phones from the defendant during his arrest. Police said they did not rule out more arrests.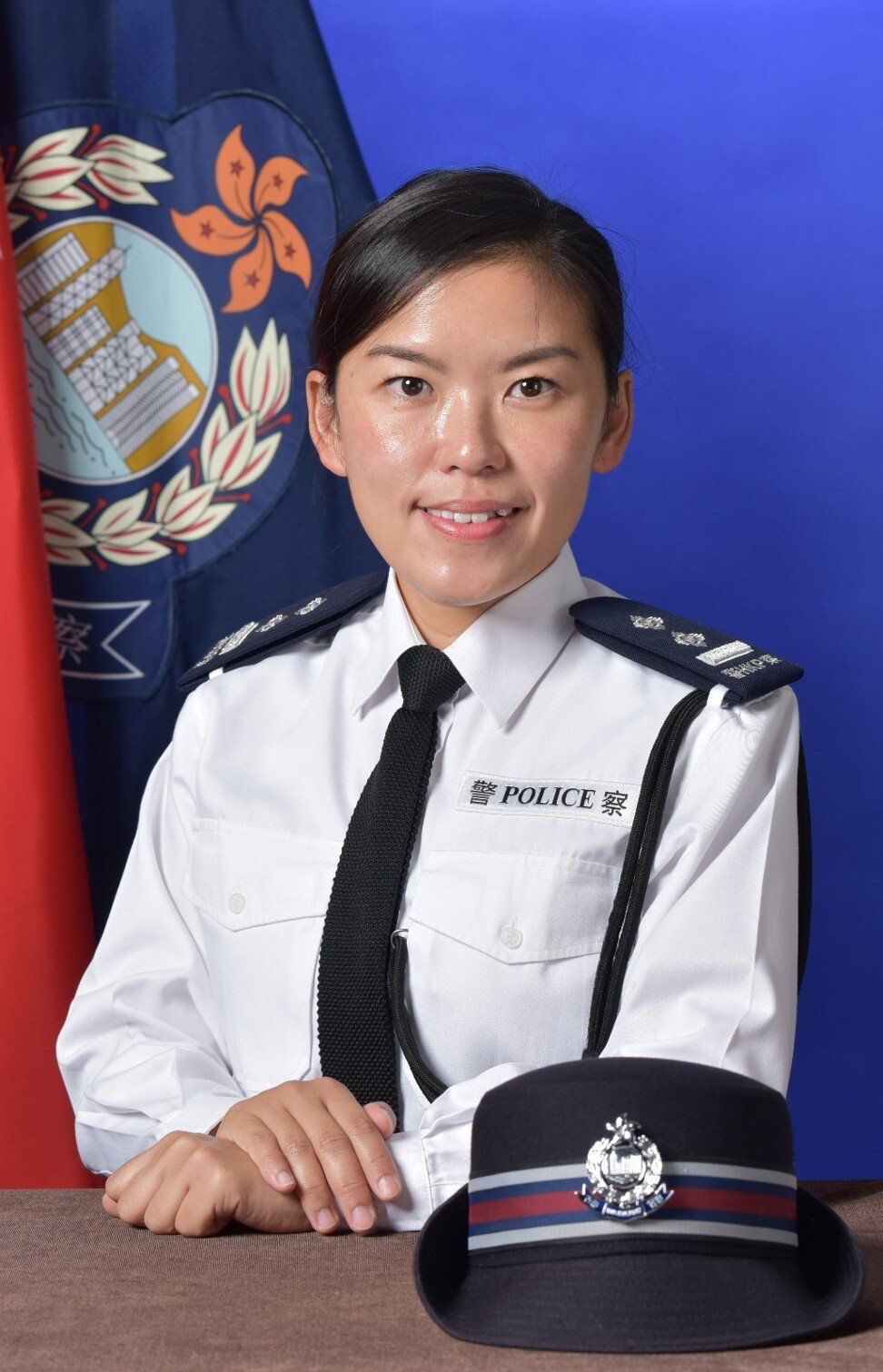 Lam Yuen-yee.

Fourteen-year police veteran Lam Yuen-yee, who was posthumously promoted last month from senior to chief inspector, was thrown overboard along with colleagues when their vessel was rammed in September by a turbocharged speedboat they were trying to intercept in mainland Chinese waters – about 300 metres outside Hong Kong's normal jurisdiction. Her body was found in Hong Kong waters two days later.

Hong Kong leader Carrie Lam Cheng Yuet-ngor and her top officials paid their last respects earlier this month at the funeral of the 37-year-old who was later buried with full honours.

The officer was laid to rest at Gallant Garden, a plot in the Wo Hop Shek Public Cemetery in Fanling reserved for civil servants who died on duty.

The High Court, meanwhile, denied bail to two leaders of a speech therapists' union who were earlier accused of inciting hatred against the government with a series of children's books.

Mr Justice Andrew Chan Hing-wai on Friday threw out bail applications from Lorie Lai Man-ling, 25, former chairwoman of the General Union of Hong Kong Speech Therapists, and her then-secretary Sidney Ng Hau-yi, 28.

The pair were among five speech therapists from the now-defunct union charged with engaging in a conspiracy to publish and circulate seditious materials between June 4, 2020 and July 22 this year.

All five defendants are expected to return to the District Court on December 10.

The union was deregistered on October 13, according to a government gazette notice last month.