The Hong Kong management of online food delivery platform Foodpanda has accused some couriers of interfering with others' work after hundreds of disgruntled fleet members launched a two-day strike to protest against changes in how they are paid.

In a message to all riders, Foodpanda operations director Pedro Dias on Sunday said that while every courier had the right to voice their concerns, he could not tolerate "intentional disruption".

"I cannot under any circumstances accept the … intimidation of other fleet members who chose to work," he said. "I trust the overwhelming majority of our fleet would agree that this is not the right way to conduct a productive dialogue. The only path forward has to be through peaceful and constructive dialogue, nothing less."

Dias also urged employees to send their concerns to management soon so face-to-face discussions could be arranged "within the week".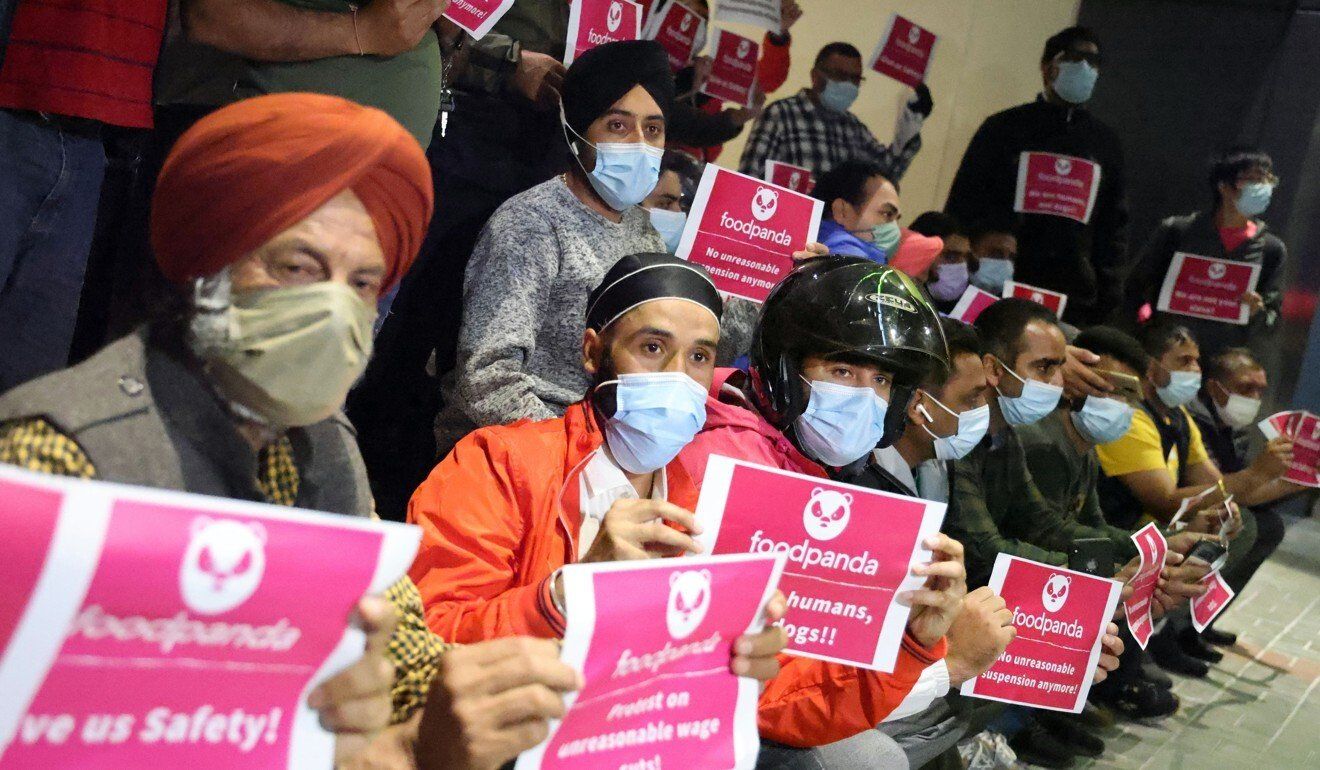 A group of striking Foodpanda delivery staff protest outside the Pandamart at Mega Cube in Kowloon Bay on Sunday.

The company estimated about 200 of 10,000 active couriers took part in the strike on Saturday, when riders gathered outside Foodpanda's Pandamart location at Mega Cube in Kowloon Bay and at various branches across the city in an attempt to disrupt operations. The strike is the first of its size to be undertaken by the company's delivery workers.

Many of the self-employed riders were protesting against cuts in delivery fees, which they said would lower their profits.

While exact fees were not explicitly laid out, the participants said couriers were previously paid at least HK$50 (US$6.42) for each motorbike order, and between HK$35 and HK$38 for orders delivered on foot.

But fees have now been cut to around HK$45 for motorbike orders and to as little as HK$28 for ones delivered on foot.

From Monday onwards, riders say the fees for both types of orders will be reduced even further, to around HK$40 and HK$22, respectively.

In his message to riders, Dias said one courier who was trying to carry out his duties was assaulted and forced to seek treatment in hospital.

"Several fleet members were met with hostility while exiting our Pandamart stores and even had their orders destroyed by other couriers," he said.

Meanwhile, striking drivers continued their protest on Sunday evening, with about 50 again gathering outside the Pandamart branch at Megacube.

At the peaceful protest, those in attendance chanted and held up signs bearing slogans such as "We are humans, not dogs", and "Shame on you".

Foodpanda on Sunday evening agreed to sit down for talks with the riders on Tuesday, and protesters said they would see how the dialogue progressed before deciding their next step.

Waqas Fida, a 27-year-old rider who has helped organise the strike, urged the platform to treat its workers more humanely and meet their demands for better pay and working conditions.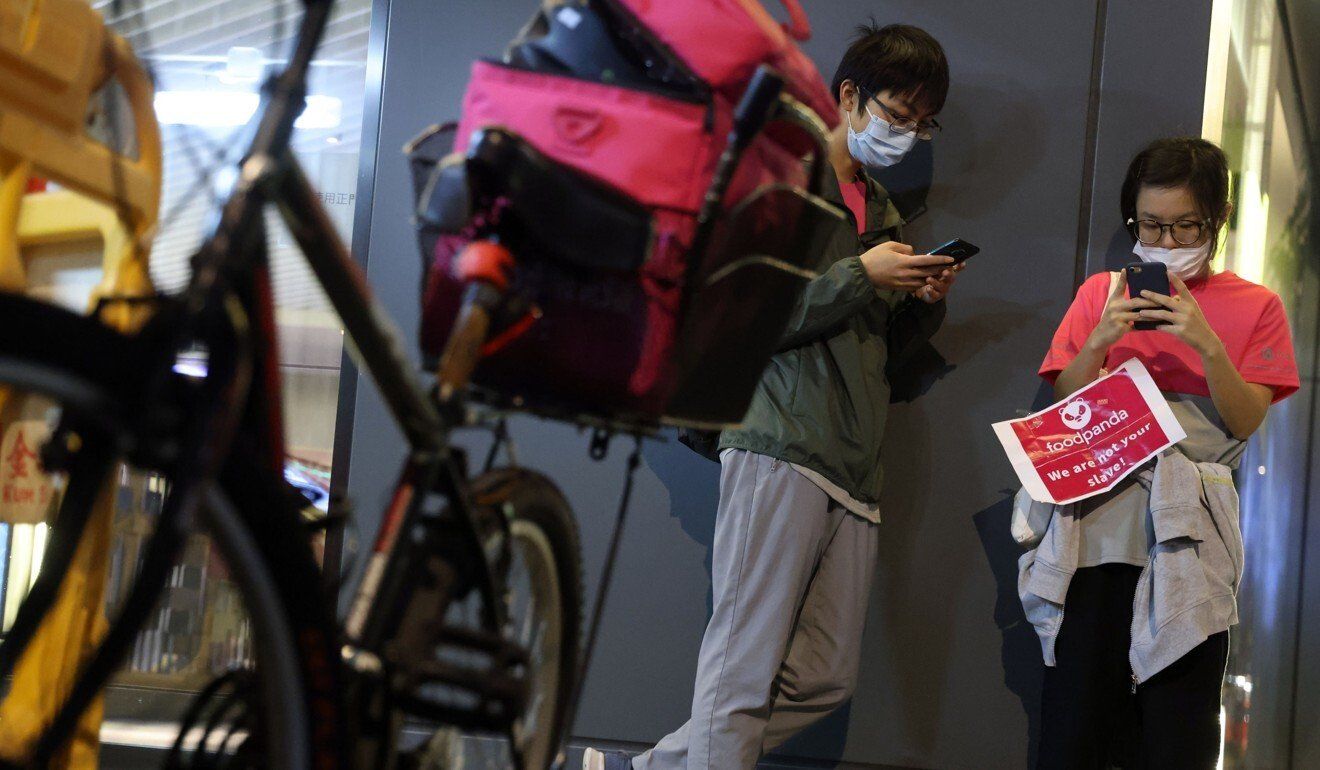 Striking Foodpanda riders take a break from protesting outside a Pandamart location in Kowloon Bay on Sunday evening.

Offering a message to Foodpanda, Fida said: "If you don't listen to us again and again, we can give you many surprises with these kinds of strikes.

"There is Christmas, New Year's and Chinese New Year coming up," he added. "These are busy days and we will give you pain if you don't listen to us."

Fida also apologised to customers for the inconvenience, adding that he hoped riders could resume their duties after reaching a consensus with the company.

Responding to Dias' allegations of disruptions incidents, Waqas said he had tried his best to urge those who were striking not to interfere with those who were continuing to work.

Striking driver Sunny, 35, who has worked for Foodpanda for four years, said his income had been almost halved by shrinking service fees, despite him working more hours in the last few weeks.

"It's a hard choice to take off work, but Hong Kong is so expensive. We need to work every day now," he said. "We are striking for hope."

Sunny said he believed the platform was introducing the fee changes because it had hired more riders during the pandemic, making it less risky to offer them less.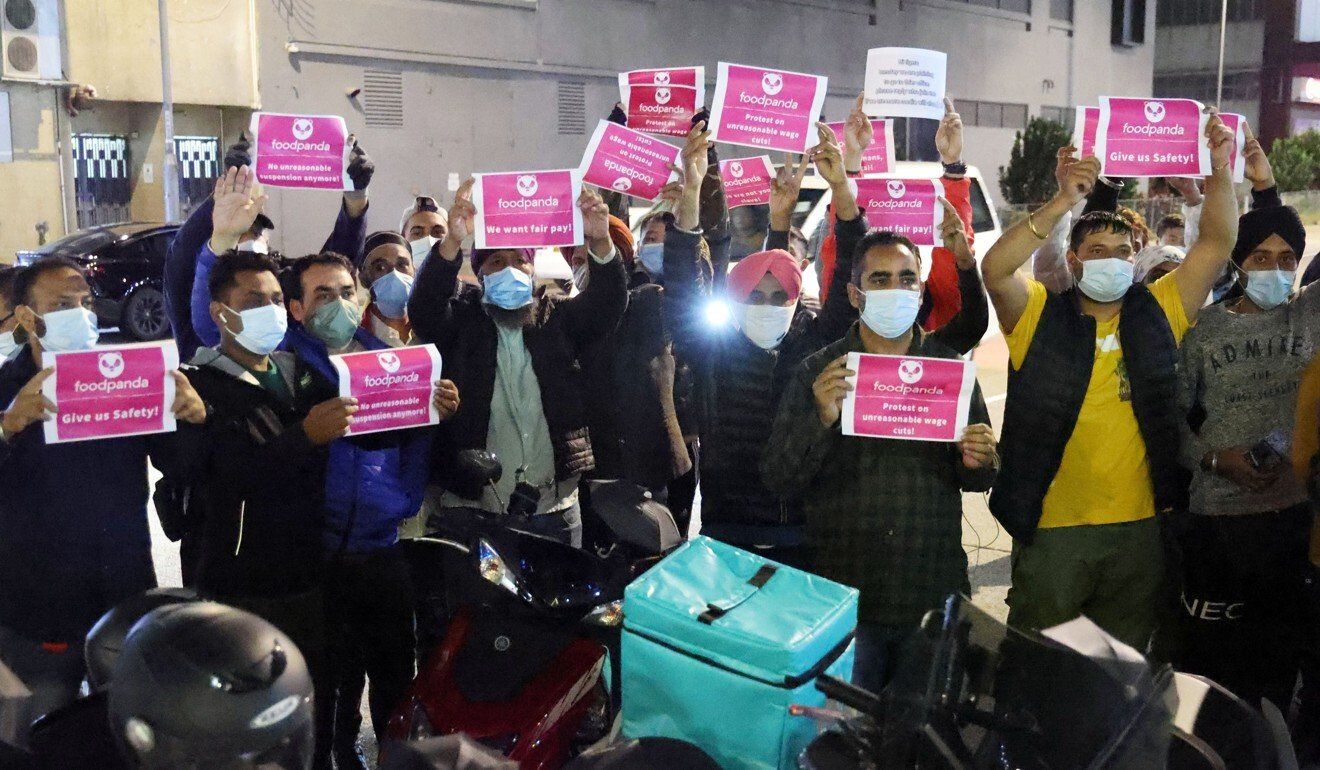 One striking driver said he had seen his pay nearly halved, despite working more hours.

Another courier, who gave his name as Lucky, said the platform had also axed riders' insurance, making their jobs more dangerous.

"All day we work on the road," the 33-year-old said. "It's very difficult in the rain; it can cause car accidents."

Riders have also alleged that even though they sent reams of feedback about the changes through the proper channels, replies from the company were either slow or unfavourable.

Dias acknowledged that the platform had been gradually reducing the base fee for each order, but insisted that the income of each rider could not be calculated based solely on that factor.

"To have a meaningful discussion about courier pay, we need to mention base pay, distance pay, peak/weekend bonuses, quest bonuses and number of orders per hour," he said.

"Often when we make adjustments to the base pay, we reinvest those funds into other components in order to allocate them more efficiently and to compensate orders more fairly according to the effort they require."