Talks between Cathay Pacific and its cabin crew staff over a new contract that would slash wages by up to 40 per cent went nowhere on Tuesday, with the union calling management's refusal to budge "hugely disappointing".

As the 3 ½-hour meeting was taking place at Cathay headquarters in the afternoon, the airline's pilots union was sitting down with Labour Department officials requesting their help in dealing with their own contentious new deal that would sharply cut salaries.

Both groups face a looming deadline, having been told they would be terminated if they failed to accept the new contracts by Wednesday next week.

"It is hugely disappointing that the management just did not want to listen to their colleagues at all," Cathay Pacific Flight Attendants Union chairwoman Zuki Wong Sze-man said after the meeting.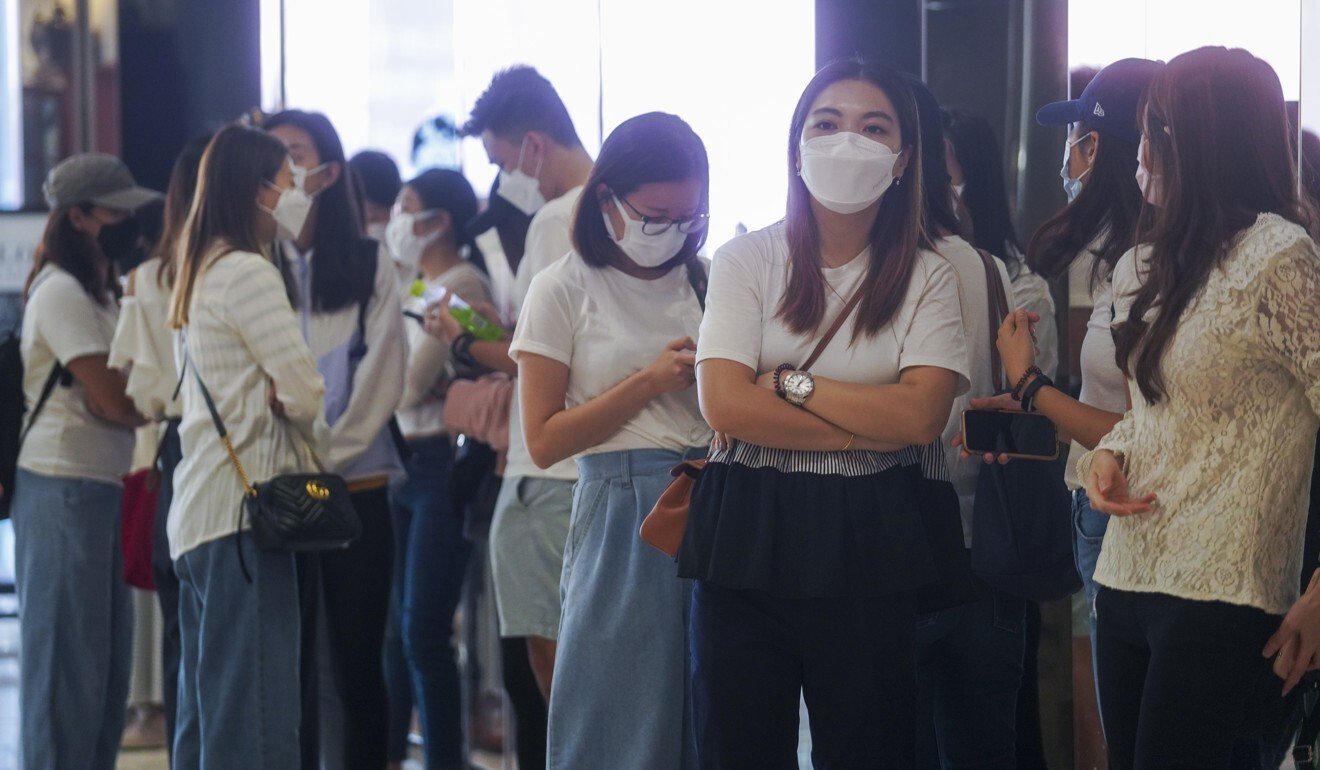 Cathay Pacific flight attendants met on Monday ahead of their union's Tuesday sit-down with airline management.

Wong said managers present at the meeting played union representatives a video featuring top brass explaining why cabin crew needed to sign the new contracts by November 4.

When the union demanded the deadline be postponed, Wong said the managers present would only promise to discuss it with upper management.

"They are standing firm on the deadline … they have shown no sincerity in negotiating with us," said Amber Suen, the union's vice-chairwoman. "However, we are not giving up at this stage."

The union, which represents most of Cathay's 8,000 flight attendants, has threatened collective action should the airline refuse to adjust its timetable.

It will meet with lawyers on Wednesday to seek their advice on possible actions they can pursue, and also discuss the issue with Labour Department officials.

Last week, Cathay announced the biggest mass lay-offs to hit Hong Kong in three decades, axing 5,300 jobs in the city and closing its Cathay Dragon brand in a desperate restructuring attempt to survive the coronavirus pandemic. The sackings encompassed 4,000 cabin crew, 600 pilots and 700 ground staff and office workers.

The airline then asked the remaining 8,000 flight attendants to sign new contracts the union said would cut wages by 20 to 40 per cent. Cathay set a November 4 deadline, but sought to encourage earlier sign-ups by dangling a one-off payment for those who took the deal by Wednesday.

The Hong Kong Aircrew Officers Association, which represents 2,200 Cathay pilots, meanwhile, met officials from the Labour Department for about 1 ½ hours on Tuesday over their own new contracts, which would cut wages by 40 to 60 per cent for more experienced pilots.

The union, which has accused the airline of not giving pilots enough time to consider their options, has questioned whether Cathay Pacific Group was in compliance with the Hong Kong Employment Ordinance in crafting the new deals without consultation.

Cathay Pacific Airways announces its largest job cuts in history


The union's general secretary, Chris Beebe, called on the Labour Department to take action "to make sure Cathay Pacific lives by the rules".

As to whether the union might seek an injunction, Beebe said after the meeting: "It is one of the legal options that is under consideration … all options are on the table."

He noted that his union had not been able to meet with the airline management to discuss the new contracts, saying pilots had been completely left out of the company's decision-making over its restructuring.

"We certainly would like to discuss with them the future of Cathay and its employees, rather than having them do something, that is, quite frankly, heavy-handed and giving people no option whatsoever," he said.

Airports in Asia left deserted amid coronavirus pandemic


In a statement, Cathay management acknowledged the meeting with cabin crew representatives and said they had tried to answer their questions as best they could.

The Labour Department, meanwhile, said it was "highly concerned" about the airline's restructuring plan and that Cathay should consult employees before varying the terms of their employment contracts.

"Failing to secure consent … on the variation of employment contract terms may constitute unreasonable variation of the terms of the employment contract, and employees may claim remedies against the employer under the Employment Ordinance," it said.

It added it had conveyed the two unions' demands to Cathay and requested the airline strengthen its communication with employees to clarify their doubts.