Five Hong Kong fugitives who reportedly fled to Taiwan and were intercepted by the self-ruled island's coastguard in July last year are now seeking asylum in the United States, according to an activist group.

Without naming the individuals, US-based Samuel Chu of the Hong Kong Democracy Council (HKDC) said in a statement the five had their hearts "filled with anxiety and all kinds of emotions" from the moment they left Hong Kong.

Chu said the fugitives were all aged below 30. They faced arrest or charges in connection with taking part in the 2019 anti-government protests in Hong Kong.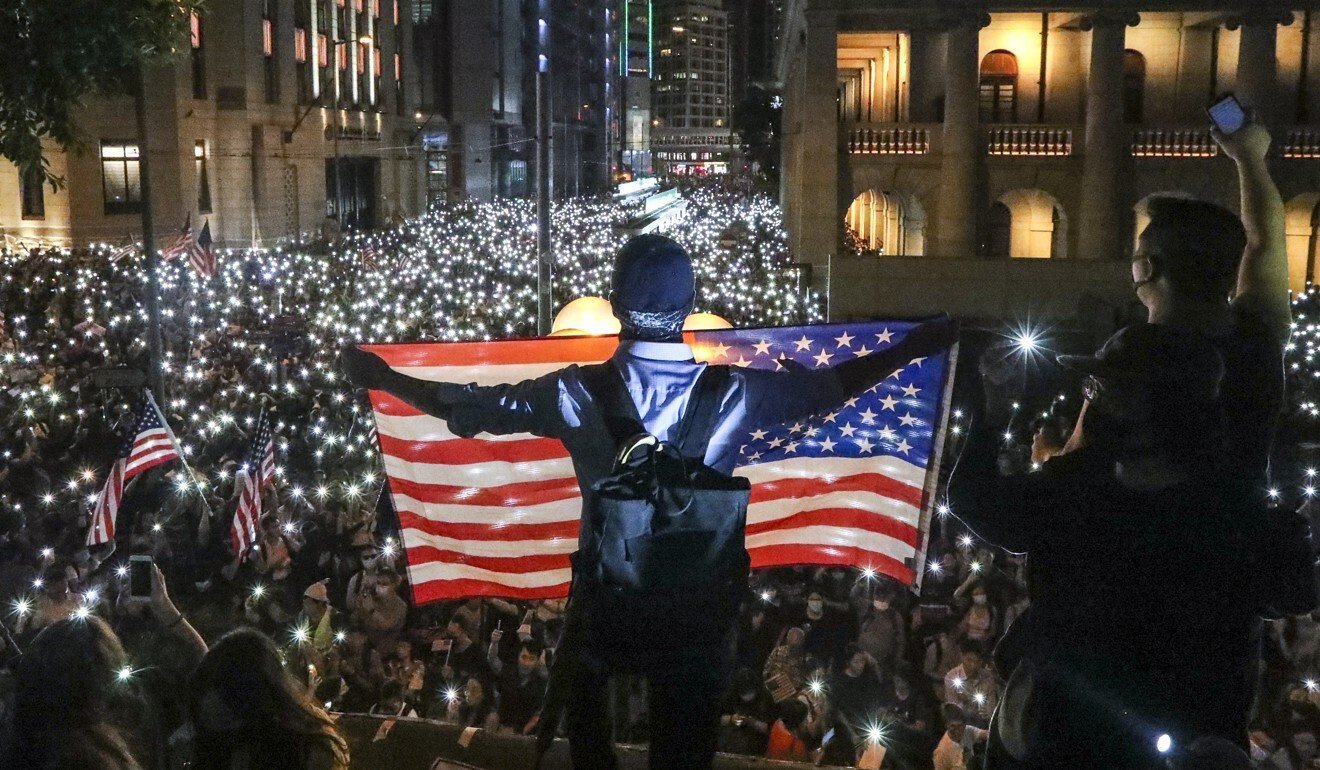 Anti-government protesters wave a US flag at Chater Garden in Central on October 14, 2019.

"I would be relieved and overjoyed to welcome them to the US and assist them as they seek asylum and a new life," said 43-year-old Chu, who has been a US citizen for almost 25 years. He is the first non-Chinese citizen wanted by Hong Kong police's National Security Department for subversion and collusion with foreign powers.

"They are now free and safe – but without additional actions from the US and its allies – they could very well be the last group to successfully find safe harbour abroad."

The five reportedly faced charges of rioting, assaulting police and storming the Legislative Council complex during the social unrest.

Last August, Taiwanese newspaper China Times reported that five Hong Kong activists were intercepted by the Taiwan Coast Guard at the end of July after their boat ran out of fuel and drifted towards the Pratas Islands, also known as the Dongsha Islands in Chinese.

Since then, the Hong Kong government has been seeking more information on them from Taipei. It is unclear if the five fugitives now in the US were from the same case.

Taiwan's Mainland Affairs Council on Saturday said it had no comment on the issue.

The fugitives were said to include a 24-year-old who was charged in Hong Kong with rioting, assaulting a police officer and possession of offensive weapons. Also said to be among them was Man Ka-kin, 21, who skipped a court appearance over a rioting charge involving the storming of Legco in July 2019.