A family of four expected a feast when they ordered a 30-piece KFC bucket – but were left with ruffled feathers when only a few chicken bits arrived.
The £36.99 Matchday Party Bucket was meant to contain 14 pieces of chicken, along with eight mini chicken fillets and eight hot wings – plus a large portion of popcorn chicken.

It was also meant to come with six portions of fries, a large tub of coleslaw, a large serving of gravy and a 1.5-litre bottle of Pepsi.

But after counting their chickens the un-clucky family found just three large pieces, along with a few burnt bits at the bottom of the bucket.

Fuming dad-of-two Steve Hunt, from Norwich, ordered the treat to celebrate landing a new job as a wellbeing coordinator.

After he contacted KFC and Deliveroo, both companies declined to give him a refund, insisting his festive order had been 'fulfilled'.

The family also received a tiny bottle of orange juice which they hadn't even ordered.

Mr Hunt said: 'I had just got a new job and we were celebrating with a KFC. Me, my wife and the boys were starving and our mouths were watering at the prospect of a delivery from the Colonel.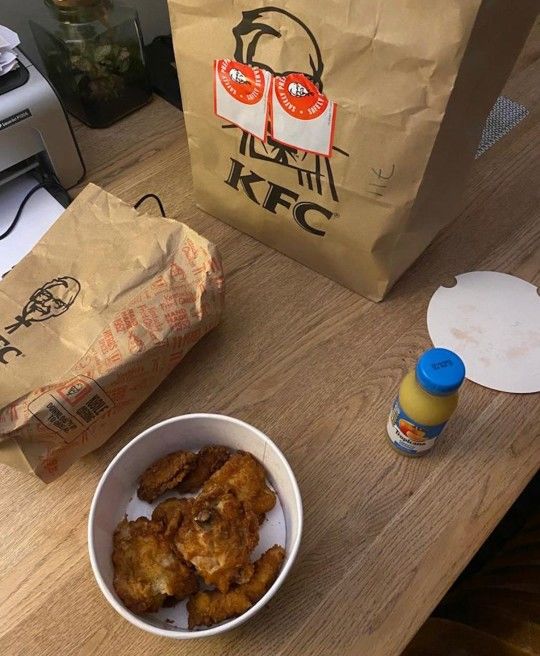 The £36.99 meal was meant to contain 30 pieces of chicken – a 14-piece bucket, eight mini fillets and eight hot wings – and a large portion of popcorn chicken
'When it arrived, my wife Syreeta shouted from the kitchen asking why I had ordered just for myself.
'Where were the other 27 bits of chicken, the popcorn chicken, the fries, the gravy, the coleslaw, the Pepsi?'
As their refund was declined, the family were forced to fork out another £30 for a McDonald's meal.
Mr Hunt added: 'Colonel Sanders has really let us down – this has got to be the worst culinary miscarriage of all time.'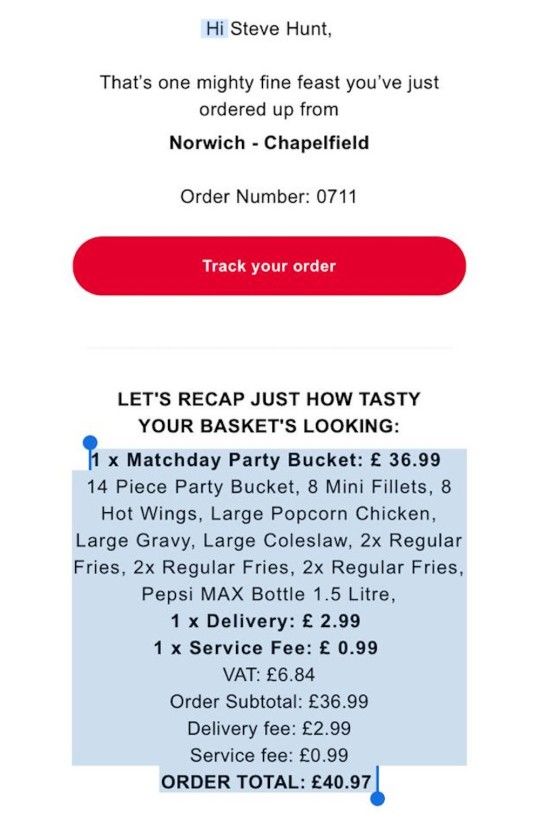 Instead, only three pieces of chicken plus 'burnt bits at the bottom' arrived

Deliveroo has now apologised to the family, giving them a full refund as well as £50 in credit.

A spokesman said: 'We're sorry to hear that Mr Hunt didn't have a great experience with his order.

'We've now refunded Mr Hunt and apologise for the disappointment – and would like to wish him all the best in his new job.'