Former Hong Kong chief executive Leung Chun-ying has said he is yet to decide whether to run in the next leadership race, while also urging the public to earn Beijing's trust if it wants the electoral system to be more democratic.

Leung did not rule out a second bid for the top job when asked on Sunday about the relationship between the chief executive position and the newly created role of convenor of the Election Committee, the influential body further empowered under Beijing's drastic overhaul of Hong Kong's electoral system.

Leung and his predecessor Tung Chee-hwa, the city's first chief executive, have been tipped for the convenor job by virtue of both being vice-chairmen of the Chinese People's Political Consultative Conference, the country's top political advisory body.

Asked in a televised interview on Sunday about the positions, Leung said he had neither been asked to take up the convenor role nor had he reached a decision on whether to make a comeback in the leadership race.

"I have not made any decisions in relation to both of the roles," he added.

Despite being one of Beijing's most trusted confidants, Leung said he had not received any information about the convenor role other than the details made public when the new post was announced two weeks ago.

He said he was unsure at this stage whether the convenor would also be allowed to run in the chief executive race when questioned about such a scenario.

Since stepping down as chief executive in 2017, Leung said he had been acting as a bridge between Hong Kong and mainland China, while spearheading various aspects of Beijing's ambitious Belt and Road Initiative, a scheme aiming to connect more than 70 countries across Asia, Europe and Africa through a network of railways, highways and ports.

On Thursday last week, Leung also launched the Greater Bay Area International Information Technology Industry Association, a cross-border group with a presence in Hong Kong, Macau and Guangdong to boost information technology development in the region.

The bay area is the Chinese government's plan to link the cities of Hong Kong, Macau, Guangzhou, Shenzhen, Zhuhai, Foshan, Zhongshan, Dongguan, Huizhou, Jiangmen and Zhaoqing into an integrated economic and business hub.

Leung said he found those roles "suitable and satisfying", but added he would be open to taking up new roles "not just as the chief executive or convenor".

"As long as it is beneficial to the interest of the country, I am willing to do my utmost to take up the role," he said.

Under Beijing's drastic changes to Hong Kong's electoral system, the number of directly elected seats in the Legislative Council has been slashed from 35 to 20, with candidates required to secure nominations from members of the Election Committee.

The committee, formerly responsible only for choosing the city's leader, will also send 40 representatives of its own to Legco, which has expanded from 70 to 90 seats.

Critics also expressed concern over Beijing removing an official five-step mechanism under which the city could initiate its own electoral reforms.

Political pundits and pro-Beijing figures have said getting rid of that provision leaves the matter entirely in the central government's hands.

Leung on Sunday said Beijing was forced into the changes by filibustering and other disruptive tactics to bring Legco to a standstill, as well as the conduct of some appealing to foreign governments for sanctions against Beijing and Hong Kong officials.

When asked how Hongkongers could propose their own electoral reforms, Leung urged the public to work towards winning Beijing's trust.

"We need to let the people of the whole country and central government know that by electing our chief executive and Legislative Council through universal suffrage, it would not cause scenarios which the people of the whole country and the central government do not wish to see," he said.

He also said it was too soon to speculate whether the requirement for Legco candidates to be nominated by the Election Committee would be permanent, an arrangement labelled as retrogressive by the city's opposition activists.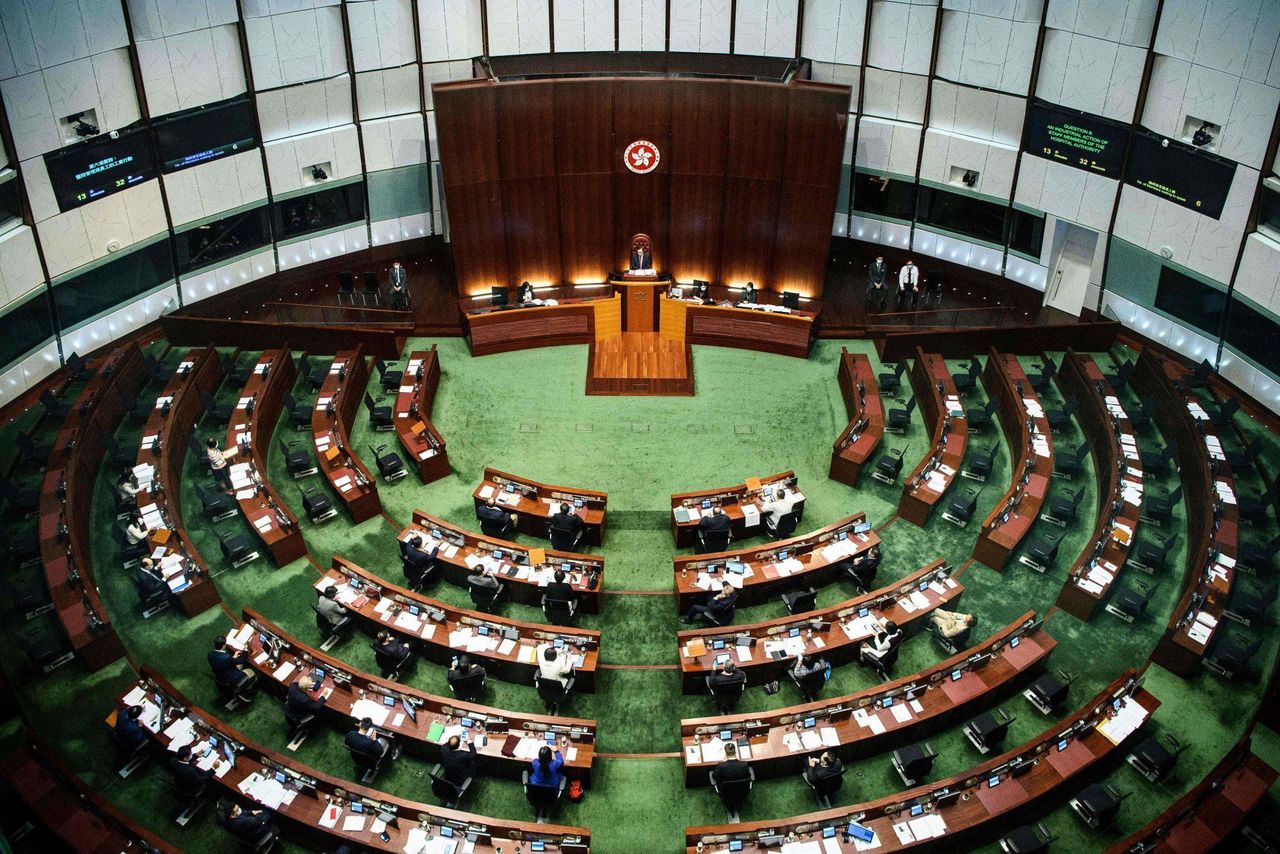 Legco is being expanded from 70 to 90 seats under Beijing's electoral reforms.

Lo Kin-hei, chairman of the Democratic Party, Hong Kong's biggest opposition party, said it was hard to imagine the electoral system going back to how it was before the recent changes were made, let alone being granted more democratic elements.

"Even if there is universal suffrage for Hong Kong one day, it will bear the hallmarks of all the stringent criteria we have now," he said, referring to the nomination process candidates will have to go through before being allowed to stand for office.

Separately, speaking on RTHK's Letter to Hong Kong, Chief Secretary for Administration Matthew Cheung Kin-chung defended the proposed overhaul, saying the electoral rights of residents would not be affected, while the Basic Law's ultimate goal of achieving universal suffrage would remain unchanged.

"Let me emphasise that the electoral changes will not impinge on the rights of Hong Kong residents to vote or to stand for election," he said. "Candidates from any political background faithful to the constitutional order can stand for election and, in accordance with the law, be elected."

He assured that Articles 45 and 68 of the Basic Law, the city's mini-constitution – which stipulate the ultimate aim is to select the chief executive and elect all Legco members by universal suffrage – would "remain intact".

Cheung said, subject to the Executive Council's approval, the government would present a bill for electoral changes before lawmakers on Wednesday, setting the scene for three major coming elections – for the Election Committee in September, Legco in December and the chief executive race next March.

"We sincerely hope that we can secure Legco's passage by the end of May," he said.