More than 1 million people visited Hong Kong products showcase in Victoria Park and generated HK$1 billion in sales.
Thousands of bargain hunters flooded into Hong Kong's Victoria Park for big discounts on the last day of one of the city's largest annual outdoor fairs, where vendors reported increased sales compared with 2021.

The 24-day, 56th annual Hong Kong Brands and Products Expo, organised by the Chinese Manufacturers' Association of Hong Kong, ended on Sunday after it attracted more than a million visitors and generated HK$1 billion (US$128 million) in sales.

Many of the 400 exhibitors in 860 booths at the Causeway Bay park enticed customers with hefty discounts on products such as food, home appliances, toys and health items.

Allen Shi Lop-tak, the association president, said on Sunday afternoon that business was so brisk that some booths had already run out of stock.

"This year's expo performed the best in terms of people traffic and sales out of the past three years during the pandemic. The resumption of on-site food tasting was a game changer," Shi said.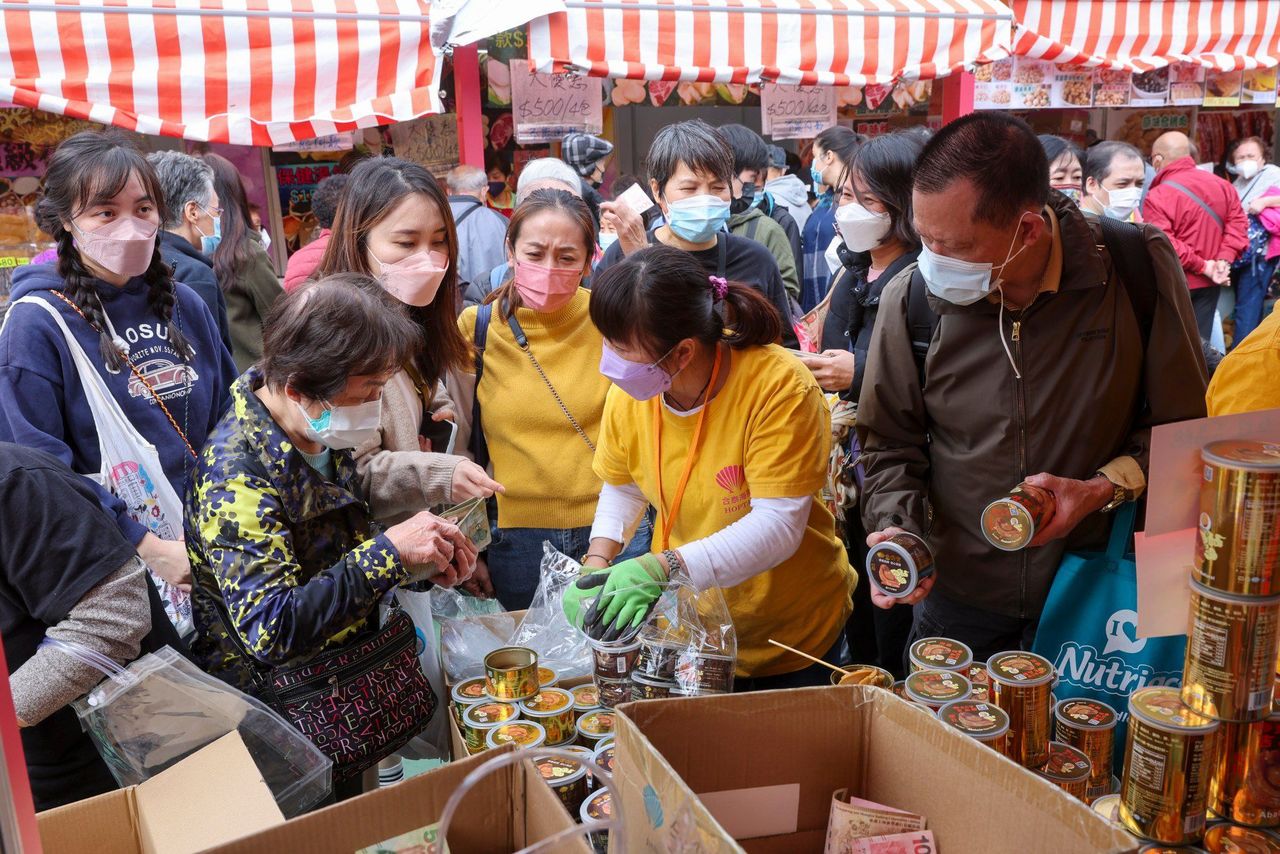 Vendors say sales at the Hong Kong Brands and Products Expo were up compared to 2021.
Eating and drinking were reinstated in outdoor areas at places of entertainment, event venues and sports premises after the government scrapped most pandemic-related curbs on December 22.
"More than 100 exhibitors quickly resumed food and drink tasting, which helped them promote their products and drive sales growth," Shi said. "We also decided to extend the opening hours every day from Christmas to New Year's Eve to further stimulate the flow of people and business."
Among the last-minute bargain hunters was Christine Hung Cheuk-yee, who spent HK$6,800 on 28 cans of abalone, four bags of dry scallops, a bag of fish maw, a few bags of mushrooms and other foods and snacks.
"My husband and I always come on the last day of the expo. We knew there would be good deals. We mostly target dry seafood for my parents and in-laws as we don't want them to be in crowded areas during the pandemic," the 52-year-old homemaker said.
Hung, who came prepared with a large suitcase and a backpack, added the cans of abalone were the least expensive ones, selling at HK$150 for seven cans.
"The dry scallop costs HK$480 per bag, and the dry fish maw is nearly HK$2,000 a bag. But still, they're cheaper here and it's about time to stock those up for the coming Lunar New Year," she said.
Leung Wai-lan, 63, a grandmother of two, who came on the first day of the expo and got some good deals of HK$1 abalone and a bag of rice for HK$2, returned on the last day.
"I already bought some dry seafood products last time, so I'm aiming to spend around HK$2,000 for some steak, sauces and pre-packaged soup bags for the Lunar New Year, as well as snacks and honey for my grandsons," Leung said.
Most of the booths were in the home stretch to further mark down their products. One booth provided a special abalone goody bag for HK$100 with five cans of abalone and three cups of turtle herbal jelly, attracting more than 300 shoppers to queue up at one stage.
Kelvin Lee Chun-hei, assistant sales manager at the Good Point Food Company, said business for 2022 was estimated to be 30 per cent up on the previous year, with abalone and caterpillar fungus the biggest sellers.
"There were not many people and sales during the first two weeks of the expo probably because some days were cold and rainy. But since the opening hours extended, we saw people queuing up at our booth all the time," Lee said.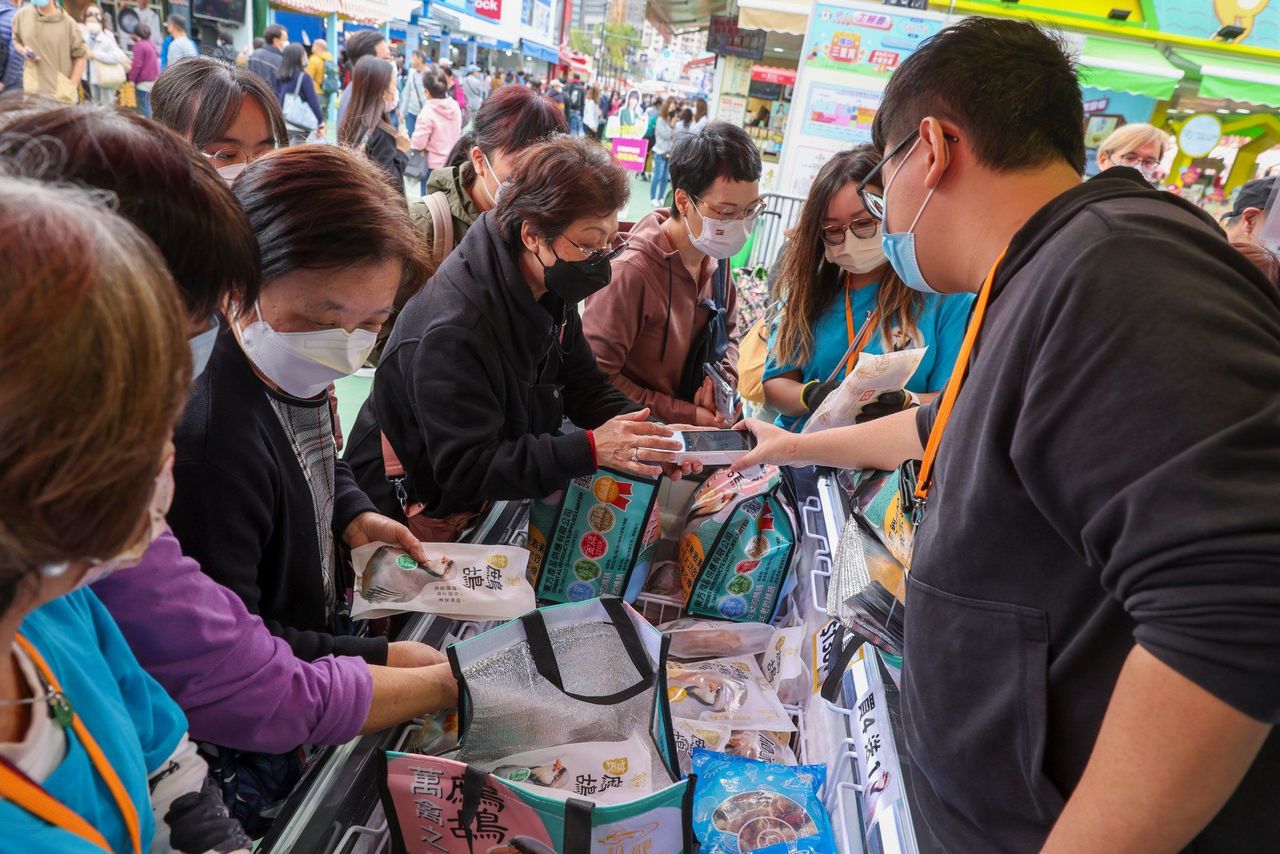 Shoppers flock to the expo, hoping to pick up some last-day bargains.

A booth selling pork jerky, pre-packaged lamb brisket casserole, walnuts and a variety of snacks also marked down its prices as the expo drew to an end, with HK$250 boxes of pork jerky for sale at HK$200.

A staff member at the booth, who gave her surname as Chiu, said the company aimed to shift as many products as it could rather than transport stock back to the warehouse.

"I estimate the sales have surged at least 10 per cent compared to the previous year. I'm happy to see people coming out and shopping as if the pandemic has done nothing to them.

"I secretly give more products to customers when they pay," she said.