The Education Authority (EA) has said it sincerely apologises to substitute teachers who were not paid on Friday as expected.
Some teachers now face a wait until 18 October before they are paid.

The NASUWT union has called on the EA to pay a cash advance.

However, the EA said it had "explored every potential avenue to provide those affected with an interim payment option, but unfortunately no viable option could be identified".

Schools can book substitute teachers through an online system called the Northern Ireland Substitute Teacher Register (NISTR) which is run by the EA.

Substitute teachers can also register their availability on the system.

The register was updated and relaunched in August just before the start of the new school year.

Some schools and substitute teachers have since reported problems with the system.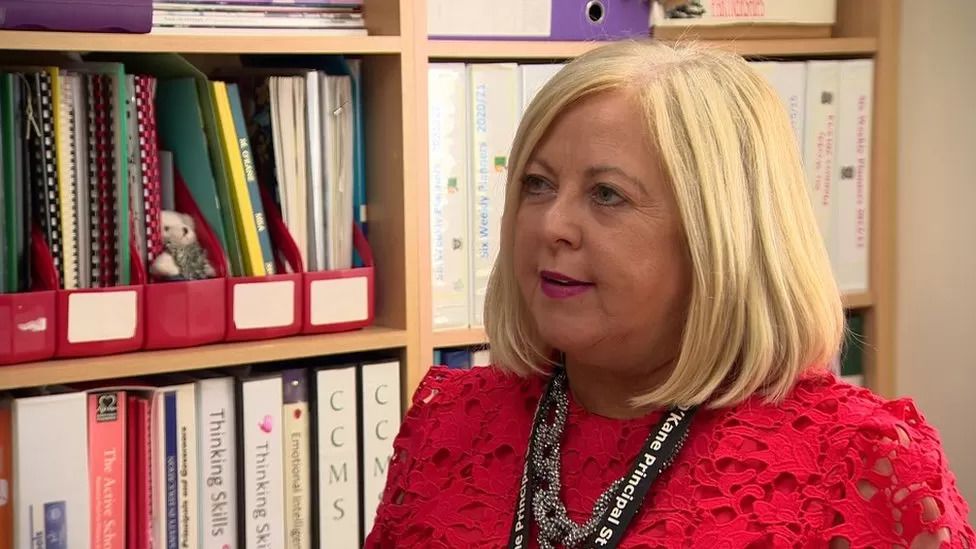 Principal Mary O'Kane said there had been a number of issues with the online booking system

On Thursday, teachers and schools received an email from NISTR which said that some substitute teachers due to be paid on Friday 16 September would now not be paid until 18 October.

The EA said that was a result of some bookings for substitute teachers "not confirmed by a teacher and signed off by a school".

'Slipping through the net'

But a number of schools and substitute teachers have told BBC News NI they encountered problems with NISTR when trying to confirm that a teacher had worked.

Mary O'Kane, the head of St Brigid's Primary School in Mayogall, County Londonderry, said that one of their two new substitute teachers had been paid on Friday and one had not.

"We have two young teachers, both booked in exactly the same way," she told BBC News NI.

"We did everything the same for both teachers.

"One of those teachers got paid, the other teacher didn't.

"They're coming to school every day, they're turning up for work, but at the minute the system doesn't recognise that that is actually happening."

She said there had been a number of issues with NISTR.

"Finding teachers to actually book them was one problem, and then we were getting teachers slipping through the net that actually had been booked with another school on a long-term booking but they were coming through to us as being available."

Ms O'Kane said, though, that EA staff had been helpful when the school contacted them about the problems.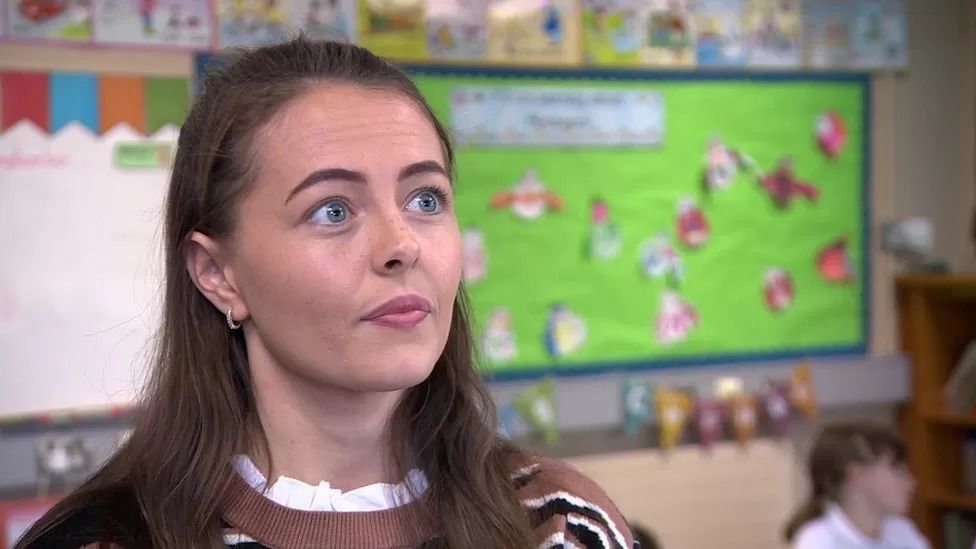 Anna Martin said rising fuel costs were an added concern while she waited on payment

Anna Martin, who is employed on a short-term contract as a substitute teacher at St Brigid's Primary, is one of

those affected by the delay.

She has been teaching Primary Three in the school since August and was due to be paid for that work on Friday.

But she was not paid and now faces a wait of more than a month for her wages.

"The rising cost of fuel as well is obviously an issue," Ms Martin said.

"I travel every day in the car and don't have a part-time job, as I'm in full time Monday to Friday so that has been a struggle."

She has also spent some of her own money buying supplies for her class.

"Just really basic things that I've bought myself for the classroom, like things for the walls that would be beneficial for the children," she said.

"It's all come out of my own pocket, and I suppose not knowing when the money's going to come back in is slightly concerning."

'Bit insane'

Meanwhile, post-primary teacher Chris Robb received only part of the wages he was expecting on Friday.

Like many substitute teachers who do not get paid during the school summer holidays, he was last paid in mid-July.

"The way the cost of living is at the minute and the fact that we don't get paid in August, waiting another month for essentially what is half my wages is a bit insane," he told BBC News NI.

"Thankfully my wife has a solid income and we can make it through the month, but if I didn't have that I would be panicking now."

In a statement, the NASUWT's Justin McCamphill said while "teething issues" with the new NISTR system were expected, there had been "more issues than anyone would have anticipated".

He also called on the EA to offer financial assistance to teachers affected by the pay delay.

"Failure to pay these teachers is causing extreme financial hardship in the middle of the cost-of-living crisis," he said.

"It is now incumbent on the Education Authority to put arrangements in place to immediately pay a cash advance to all those impacted by the situation."

But in response to questions from BBC News NI, the EA said that "unfortunately no viable option could be identified" to do that.

The authority was unable to specify exactly how many substitute teachers would not be paid until October for work they had done in August.

"4520 bookings that took place in August were successfully paid through the NISTR system," a spokesperson said.

"From statistics of previous years, we can see that payment in October for work completed in August is not unusual and not fully accountable to the new system."

'High volume of queries'

However, the authority acknowledged some "initial performance issues" with the system.

"For a small number of users, the issues experienced meant they could not process bookings ahead of the payroll deadline," it said.

"We sincerely apologise to those who September pay will be impacted as a result of technical issues experienced in the use of the new NISTR solution.

"We have explored every potential avenue to provide those affected with an interim payment option, but unfortunately no viable option could be identified."

"We are continuing to work with users on an individual basis to ensure they have full access to all functionality on their accounts."

The EA also told BBC News NI it had increased the number of staff dealing with queries about NISTR.

However, on its website the authority says it has had a high volume of queries about the new system.

"The NISTR phone lines are currently closed and staff resources have been moved to respond to emails," the EA said.

"This is allowing our team to effectively prioritise and manage the high volume of queries as efficiently as possible."