Dozens of people have been arrested during the King's Coronation, including the leader of a prominent anti-monarchy group.
London's Metropolitan Police said 52 arrests were made for a range of reasons, and all remain in custody.

The arrest of anti-monarchy protesters earlier in the day has been labelled "alarming" by human rights groups.

The Met said it "understands" public concern, but that officers had acted proportionally under the law.

"Protest is lawful and it can be disruptive," Commander Karen Findlay, leading the day's operation, said - pointing to numerous protests that had been policed without any arrests.

Officers, she said, have a duty to intervene "when protest becomes criminal and may cause serious disruption".

"This depends on the context. The Coronation is a once in a generation event and that is a key consideration in our assessment."

Accusations of heavy-handed enforcement began early on Saturday before the Coronation began, when the chief executive of anti-monarchist campaign group Republic, Graham Smith, was arrested at a protest in Trafalgar Square.

Footage showed protesters in "Not My King" t-shirts being detained, including Mr Smith. Republic said they were stopped by police while unloading signs near the procession.

The Met said "lock-on devices" - which protesters can use to secure themselves to things like railings - had been seized. Recent changes to the law, passed this week, make it illegal to prepare to lock-on.

But Republic said officers had "misconstrued" straps meant to secure their signs in place.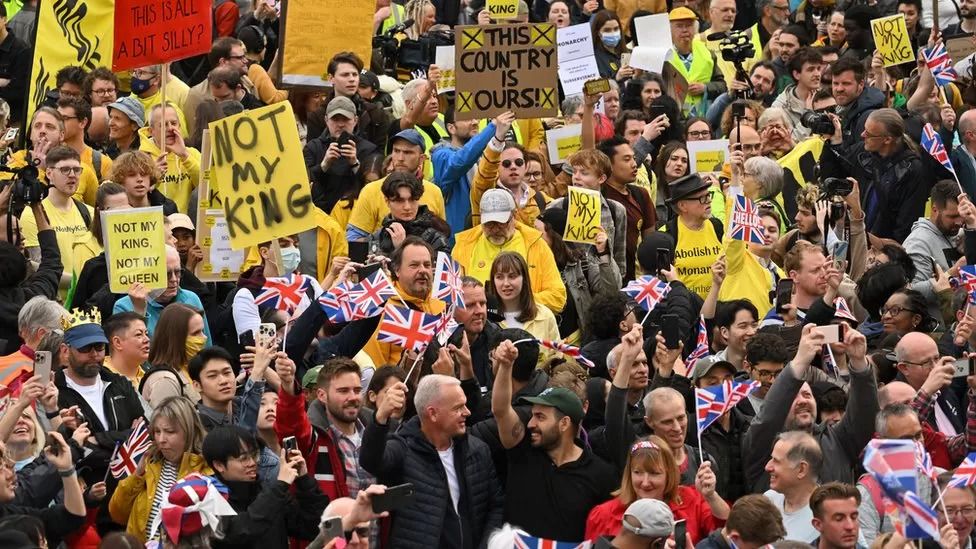 Police said the 52 arrests were made for offences including affray, public order offences, breach of the peace and conspiracy to cause a public nuisance.

A breakdown provided later revealed that 32 - or about 60% - were arrested on suspicion of conspiracy to cause a public nuisance.

The Met did not specify how many arrests were of anti-monarchy protesters, but climate group Just Stop Oil said about 13 protesters were arrested on the Mall in London and five others in Downing Street.

A Just Stop Oil spokeswoman said their plan was "only to display T-shirts and flags", adding: "This is a dystopian nightmare."

Fellow environmental protesters Animal Rising said a number of their supporters were arrested at a training session "miles away from the coronation".

"The reports of people being arrested for peacefully protesting the coronation are incredibly alarming," said Human Rights Watch UK director Yasmine Ahmed.

"This is something you would expect to see in Moscow, not London."

Hundreds of protesters gathered in the rain in central London on Saturday, with chants including "down with the Crown", "don't talk to the police" and "get a real job".

Other protests were organised in Cardiff, Glasgow and Edinburgh. No arrests were reported outside London.

Republic posted photos on Twitter of police officers taking details from those who were arrested.

"So much for the right to peaceful protest," the group said, adding the force would not give the reasons for their arrest.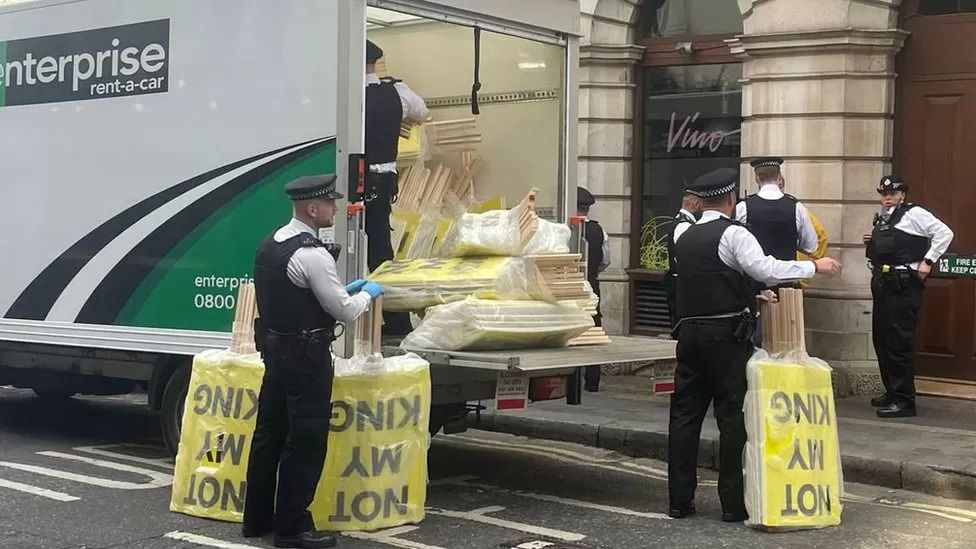 During the Coronation ceremony, which was broadcast in Trafalgar Square over loud speakers, hundreds of protesters booed the declarations of "God Save the King".

Around 300 people gathered for a protest organised by Republic Cymru in Cardiff City Centre.

In Scotland, supporters of Scottish independence chanted anti-monarchy slogans on a march in Glasgow city centre, while a separate rally was held by the group Our Republic, which campaigns for an elected head of state.