A federal narcotics sting in Florida that netted the elected leader of the British Virgin Islands and his director of ports shines a light on both drug trafficking operations by the Lebanese terrorist group Hezbollah and pervasive public corruption inside the Caribbean territory, authorities say.

On Thursday, April 28, federal prosecutors in Miami charged British Virgin Islands Premier Andrew Alturo Fahie, Managing Director of Ports Oleanvine Pickering-Maynard, and her son, Kadeem Stephan "Blacka" Maynard, with conspiracy to import more than 5 kilograms of cocaine into the US and launder the proceeds of the crime.

US Drug Enforcement Administration agents arrested Fahie and Pickering-Maynard at Miami-Opa locka Executive Airport earlier in the day. Around the same time, they collared the Kadeem Maynard in the US Virgin Islands, according to court records.

In a written statement emailed late Thursday to Coffee or Die Magazine, DEA Administrator Anne Milgram said their arrests should send a "clear message" to narcotics traffickers worldwide that they'll "be held accountable, no matter their position."

"Today is yet another example of DEA's resolve to hold corrupt members of government responsible for using their positions of power to provide a safe haven for drug traffickers and money launderers in exchange for their own financial and political gain," she wrote.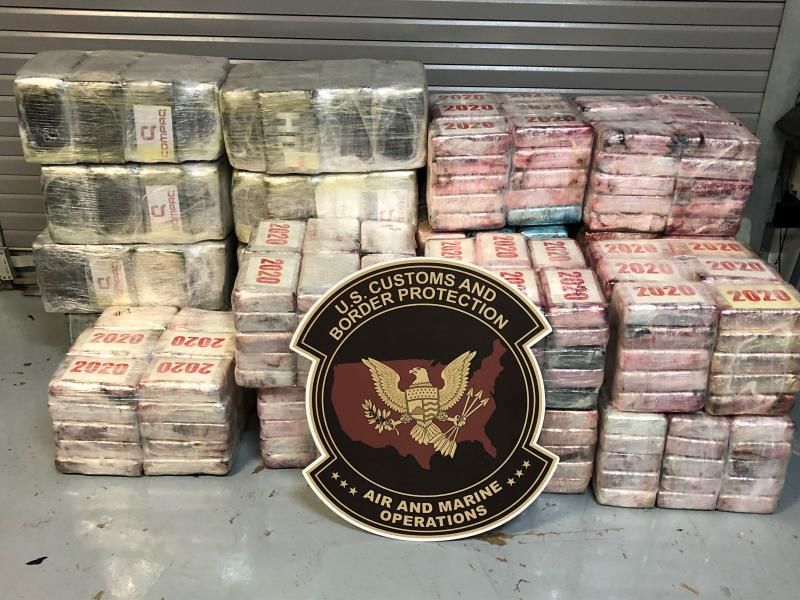 The British Virgin Islands have long been a drug trafficking waystation between South America and US destinations. On Jan. 9, 2022, US Customs and Border Protection Air and Marine Operations agents, along with Homeland Security Investigations and the Drug Enforcement Administration, intercepted a vessel with four citizens of the British Virgin Islands. On board they found 667 kilograms of cocaine worth nearly $20 million on the street. US Customs and Border Protection photo.

The probe into the highest reaches the British Virgin Islands' government apparently began on Oct. 16, 2021, when an unnamed confidential source handled by DEA began a series of meetings on the island of Tortola with Hezbollah operatives, who claimed they had business ties to both South Florida and the Middle East, according to the criminal indictment.

The informant allegedly asked Hezbollah to temporarily store narcotics bound for the US from Colombia by boat in Tortola. The Hezbollah members said they'd make the necessary introductions to senior officials of the British Virgin Islands, "but would require payment for their assistance," according to court records.

The members told the informant that they'd set up a meeting with Premier Fahie and that they already "owned" his director of ports, Pickering-Maynard. Prosecutors said she agreed to the meeting, but only if she received "an up-front payment."

On March 16, 2022, the informant met with Pickering-Maynard's son, Kadeem Maynard, on Tortola, according to his arrest paperwork. The meeting was recorded, and Maynard told the informant he'd been helping drug traffickers for 20 years, according to the DEA.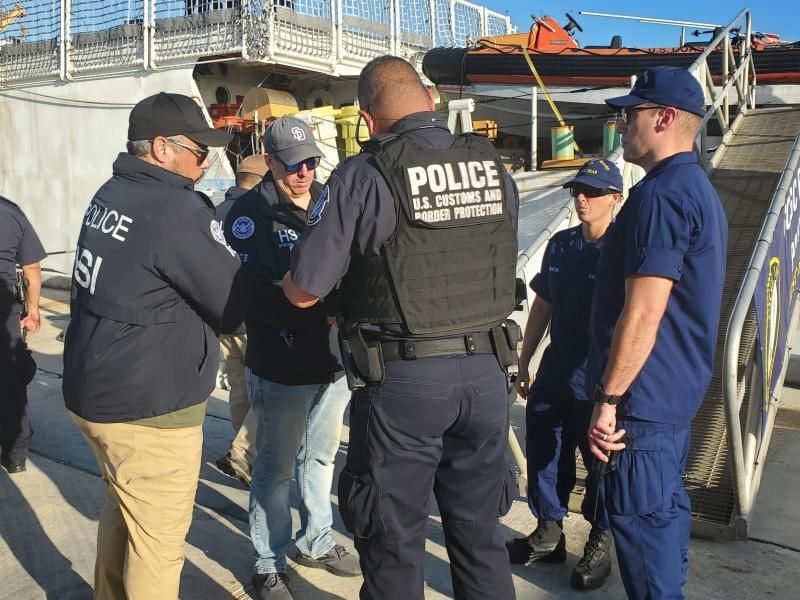 British Royal Navy and US law enforcement partners seized 1,400 kilograms of cocaine and detained nine suspected smugglers following the interdiction of two separate drug-smuggling vessels in the Caribbean Sea Jan. 24 and Jan. 30, 2020. US Customs and Border Protection photo.

Four days later, Pickering-Maynard and her son met with the informant in St. Thomas, part of the US Virgin Islands, according to the DEA. The informant told them he was a member of the Sinaloa Cartel, a major Mexican drug trafficking syndicate, and that he needed help moving thousands of kilos of cocaine from his "kitchen" drug labs in Colombia, through Tortola, to Puerto Rico and then Miami and New York.

Pickering-Maynard allegedly asked, "You want it to be done legally so nobody will come around?" When the informant said he needed paperwork justifying the cocaine's stay in the British Virgin Islands for up to two days, she allegedly said, "That is where I can assist. We need different licenses, which I can get … so we can process your paperwork, so you can come into the territory for a couple days, and then move on. That is easy."

Kadeem Maynard allegedly told the informant that a kilo of cocaine on Tortola retailed for roughly $10,000. The informant said he could deliver it for $4,000 to Tortola, but he could flip it for $26,000 – $28,000 per kilo in Miami, and $32,000-$38,000 in New York, according to the court records.

The informant allegedly promised the Maynards that he'd cut them in for a portion of the US sales, and he'd already set up a shipping company to bypass US Customs and Border Protection officers, but he needed help funneling the money back into the British Virgin Islands. Pickering-Maynard told him, "What we do is set up shell companies," and, "You have to legitimize what you're doing," according to the DEA.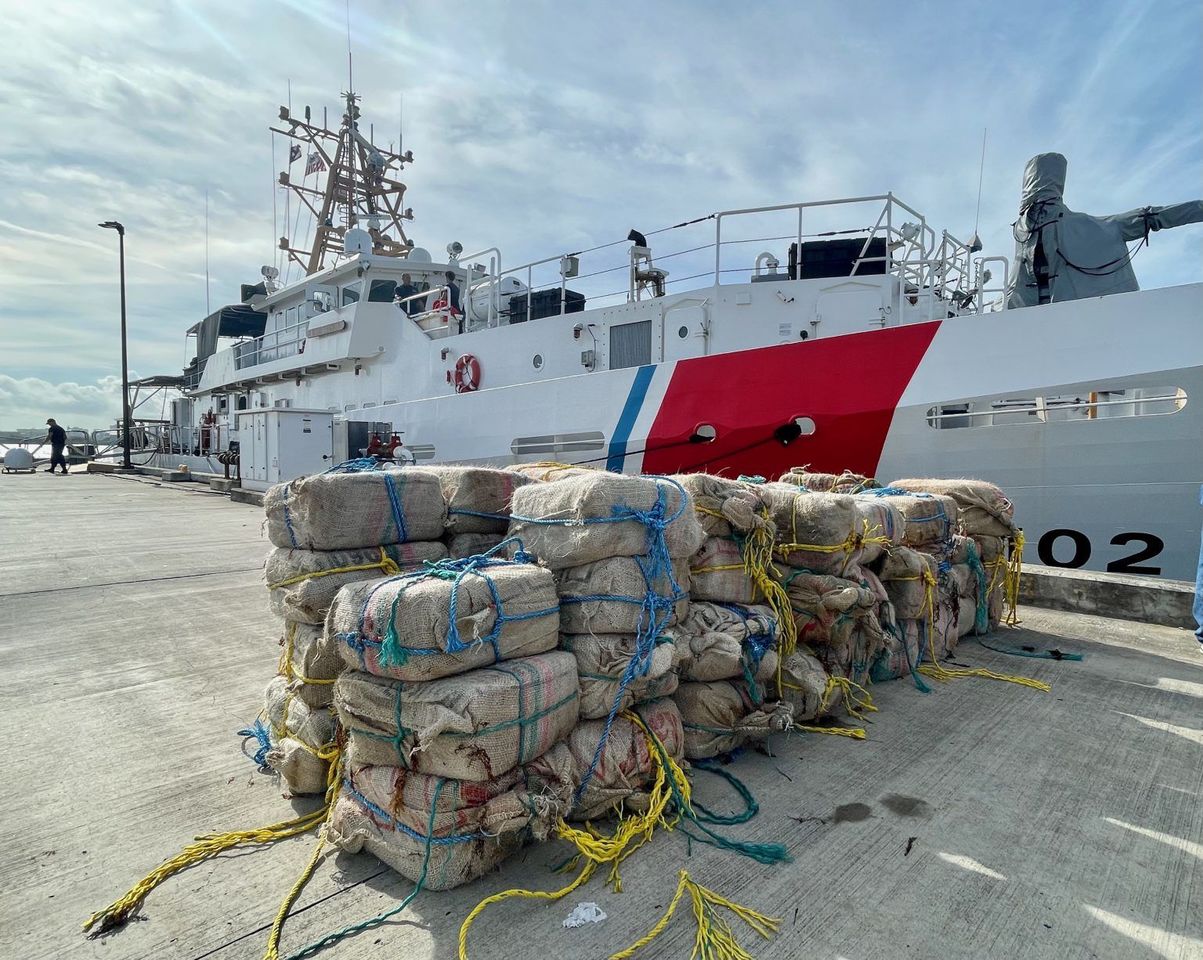 Then the parties allegedly began discussing the need to get the premier involved.

"I know the man," Director of Ports Pickering-Maynard allegedly said. "If he sees an opportunity, he will take it."

"You see with my premier, he's a little crook sometimes," she allegedly added. "He's not always straight."

The informant proposed a test run of 3,000 kilos of cocaine through Tortola and handed her $10,000 in cash, allegedly prompting her to promise to start her "homework" the next day.

According to the DEA, the informant and the others began communicating through WhatsApp, a popular messaging application. On the app, Fahie allegedly became "Head Coach, and according to Kadeem Maynard, Fahie wanted "to play with the team this season."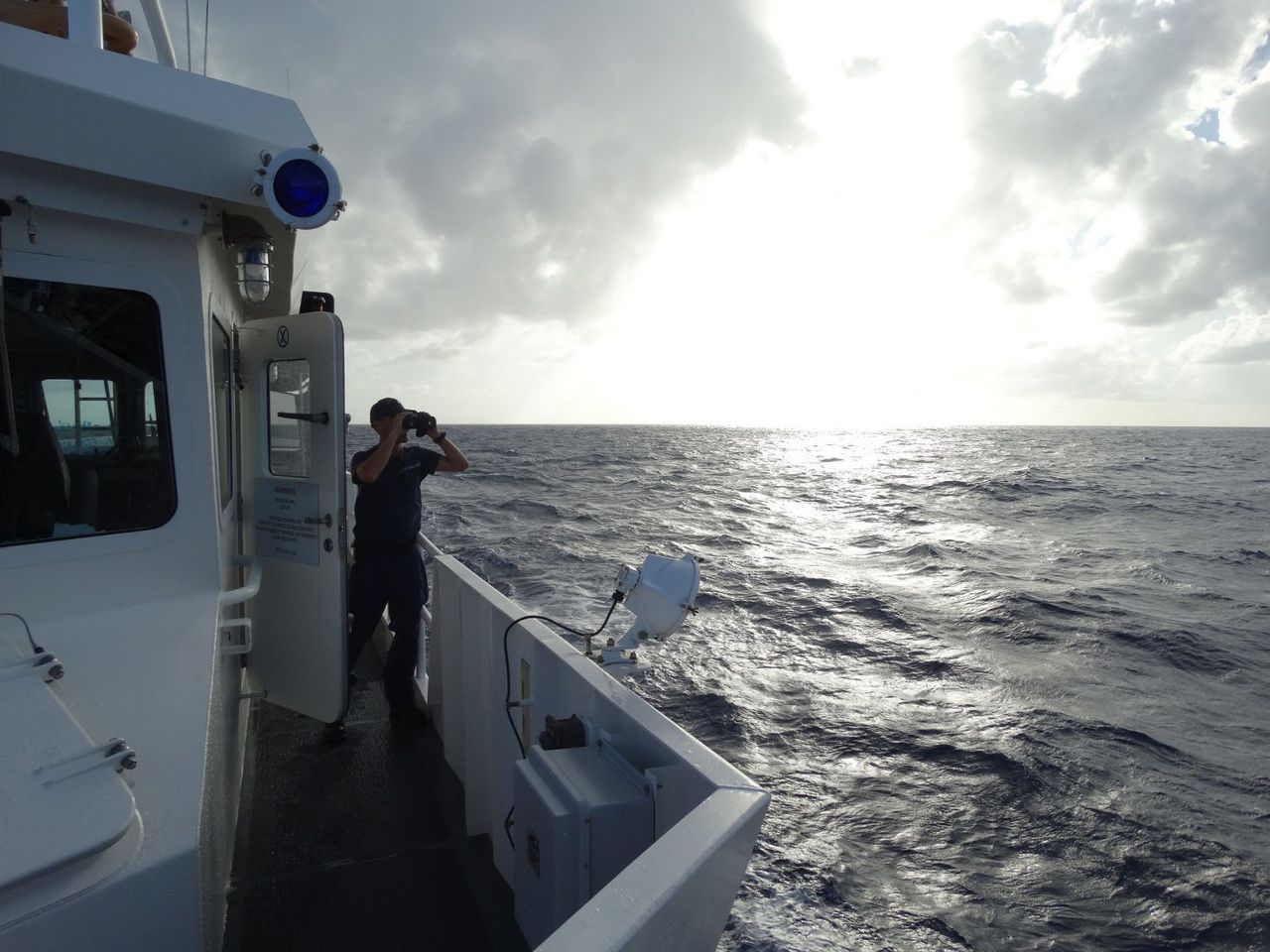 The DEA reportedly recorded a March 22 phone call with the informant, Pickering-Maynard, and her son, during which they said Fahie had requested an initial payment of $500,000 to cover cocaine shipments through the territory's ports and airports.

Known as the "Brown Bomber" in the British Virgin Islands, Fahie, 51, ascended to the premier post on Feb. 26, 2019, and he continues to control the powerful Virgin Islands Party. His alleged involvement in the drug plot came amid an ongoing "Commission of Inquiry" by the United Kingdom into public corruption on the island territory.

On Thursday, British Foreign Secretary Liz Truss released a prepared statement saying she was "appalled by these serious allegations" and indicated Fahie's arrest "demonstrates the importance of the recently concluded Commission of Inquiry."

On April 7, the DEA's informant allegedly met with Fahie and the Maynards in a stone house on Tortola. That session was also recorded, according to the DEA, and it involved the informant plotting to move 3,000 kilograms of cocaine through Tortola at a time, with 5-kilo buckets of the narcotic mixed into water, labeled as waterproofing paint, with the drug extracted from the compound in Puerto Rico or Miami.

The informant allegedly told Fahie that the Sinaloa Cartel paid the Revolutionary Armed Forces of Colombia — better known as "FARC" — for land to grow coca leaves, which started the process of milling cocaine worth between $350 and $400 per kilo in Colombia, and exporting it to New York, where it was worth up to $38,000 per kilo.

The informant allegedly promised Fahie and his port director a 12% stake in all cocaine sold in the US.

"Fahie pulled out a calculator, and ran 3,000 (kilos) times $26,000 (Miami price per kilo). The total was $78 million. Fahie then calculated that 10% of $78 million would be $7.8 million," according to the court records.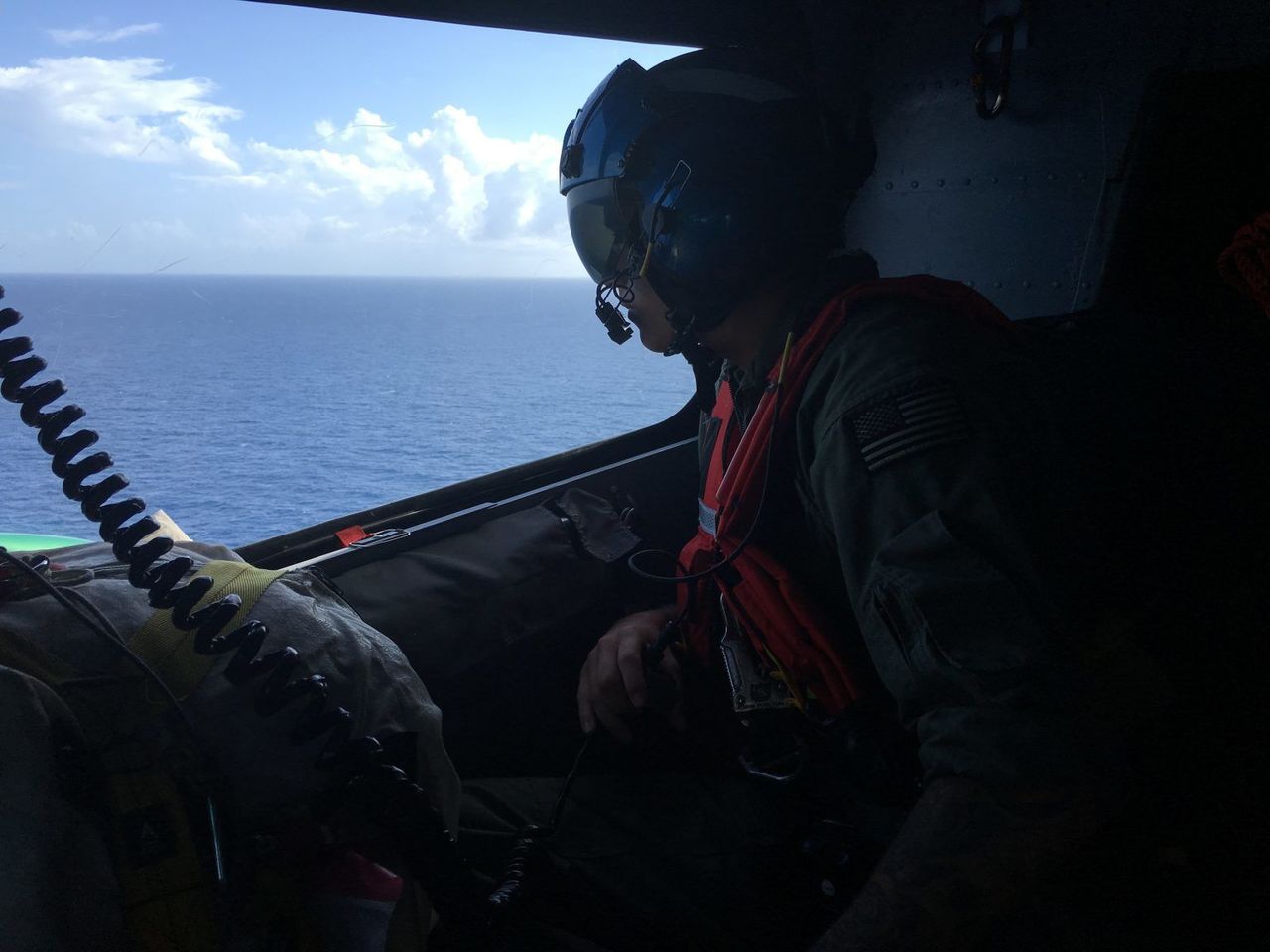 A crew member on board a US Coast Guard MH-65D Dolphin helicopter from Air Station Borinquen searches for survivors from a capsized vessel July 14, 2016, in waters between the British Virgin Islands and the Caribbean Island of St. Maarten. US Coast Guard photo.

Fahie then agreed to let the informant use his ports and said his director would provide all the necessary shipping paperwork for an up-front $500,000 fee, according to the DEA. The informant allegedly agreed to pay him during a meeting in Miami and also pledged to help fund the premier's reelection campaign and to set up phony "bad drug" seizures of low-grade "brown" coke to make it look like the British Virgin Islands had cracked down on smuggling.

According to the DEA, its informant then gave Fahie $20,000 in cash as a "good faith gift" to "seal that we have an agreement."

When his director of ports left the room, Fahie allegedly asked the informant for another $83,000 in $100 bills to pay a debt to an unnamed creditor in Senegal, according to the DEA.

The informant allegedly said he'd make it all work out during an April 27-28 meeting in Miami. The informant said he'd leave $700,000 in cash on a private jet at Opa locka Airport for the director of ports to retrieve, and then Fahie would meet with the informant and the Senegalese man on the Caribbean island of St. Martin on May 2, according to the DEA.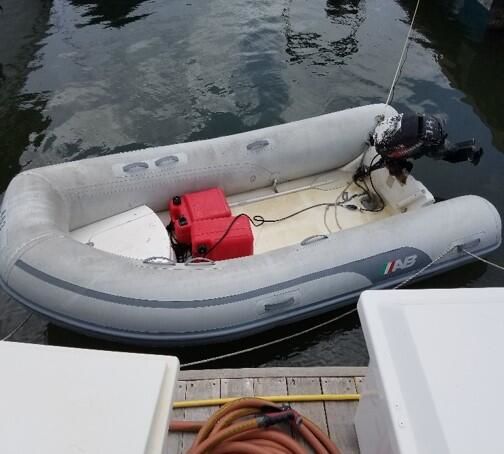 On Oct. 4, 2018, US Customs and Border Protection Air and Marine Operations Interdiction agents intercepted a dinghy with two Haitians and one British man navigating without lights, crossing the border between Tortola and St. John in a suspected smuggling operation. US Customs and Border Patrol photo.

During a later conversation, Fahie allegedly told the informant "that he believed in magic and witches, and how to read lies in people."

As a side deal, the informant allegedly agreed to supply Kadeem Maynard with 60 kilos of cocaine every week, according to DEA.

Throughout the discussions with the informant and an unnamed DEA undercover agent, the parties routinely discussed political leaders, police officers, airport and port officials, and others on the British territory who needed to be "fixed" so the cocaine could keep moving north.

On Thursday, the informant and the DEA undercover agent arrived where Fahie was staying in South Florida to take him to the airport. According to the DEA, it began recording all discussions between the men as they entered the airport. In the back of the plane, the informant allegedly showed Fahie the $700,000 stuffed into designer shopping bags.

When the premier exited the plane, agents arrested him. He allegedly asked them, "Why am I getting arrested? I don't have any money or drugs."

The informant and the undercover DEA agent then allegedly repeated the sting with Pickering-Maynard and another person identified only as "RS" in the court records. On the plane, the informant showed her the money, said $200,000 was for her and the rest was for Fahie. When she exited, she was arrested also.

Court records show that Kadeem Maynard was arrested by DEA agents in the US Virgin Islands on Thursday, where he's being held without bond. His attorneys didn't respond to messages from Coffee or Die Magazine seeking comment.

In a string of public statements on Thursday and Friday, British Virgin Islands leaders urged citizens to remain calm and insisted that the government would continue to function while the premier remained in detention overseas.

"As this situation unfolds, we must remain focused on the business of the Territory and committed to the work of the Public Service," Deputy Gov. David D. Archer said in one of the messages. "Be assured that I am working closely with His Excellency the Governor, the Acting Premier and Permanent Secretaries to ensure that there is no disruption to the continuity of the Public Service."