David Logan drove into Joshua Flynn, 37, Coby-Jay, 15, and Skylar, 12, in Abbey Road in Dalton-in-Furness, Cumbria, on 21 June 2020.

The 47-year-old admitted causing death by dangerous driving and driving over the alcohol limit.

He was jailed for 10 years and 10 months at Preston Crown Court.

Logan, who also admitted criminal damage relating to the family's dog which also died at the scene, was also banned from driving for 16 years and five months.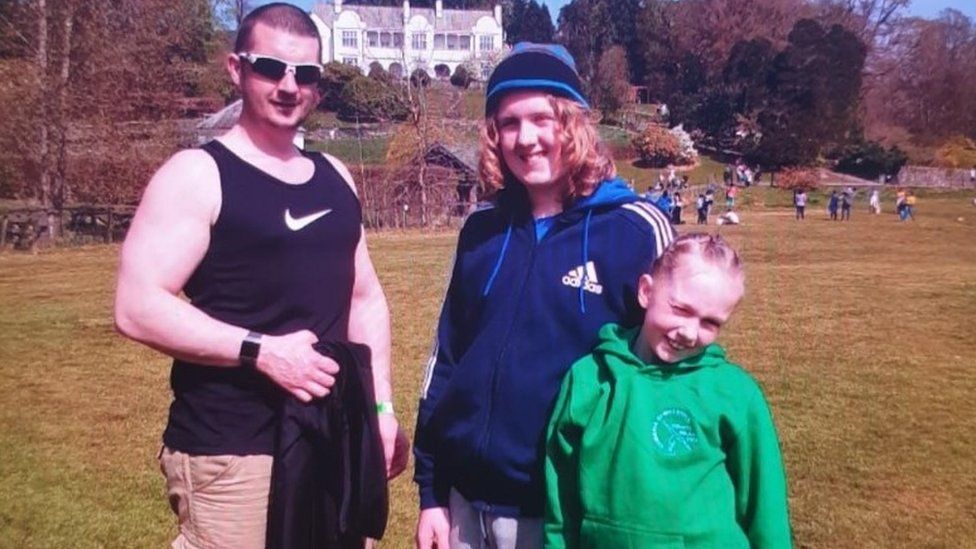 The supermarket worker, of Broughton Road in Dalton, was driving his Peugeot 206 when it mounted the kerb and hit the family, the court heard.

All three died at the scene as well as the family's Yorkshire terrier Troy, the hearing was told.

Logan was slurring his speech and staggering on his feet when he was pulled from his car, which was left embedded in a tree.

He said he suffered coughing fits causing him to black out, but the judge said this in itself meant he should never have got behind the wheel.

Logan was taken to hospital with a broken arm and his alcohol intake was determined by doing a "back calculation" which gave a reading of 141mg of alcohol in 100ml of blood.

The legal limit is 80mg.

It was also the sixth time Logan had been convicted of drink-related driving offences over 20 years, the court heard.

Passing sentence, Mr Justice Hilliard said: "He's proceeded as though the road traffic rules simply did not apply to him.

"In continuing to drive the defendant must have known he was putting the safety of others at serious risk.

"I have no doubt the defendant must have known he should not have been driving a car at all until his condition had been diagnosed and treated."

'Hurt and heartache'

Emma Flynn's victim impact statement said: "I will never hear my children or husband say 'I love you' ever again.

"My husband, my kids and Troy, my dog, were brutally ripped away from me.

"It kills me to know I will never get to see my children grow up. I hold an uncontrollable amount of grief. I don't even know how to cope without them.

"I'm living in constant pain and hurt. I don't understand why it happened. It's such a selfish and horrible thing to do.

"The moment he got behind the wheel of his car and killed my family was the minute my life stopped. I can't put into words the hurt and heartache."