Aaron Gray saw the blaze while getting his three-year-old son a glass of milk at 05:00 BST on Sunday morning.

The Afghan veteran rushed over and roused the two women and five children inside the bungalow in Prestatyn.

He said if he had been five minutes later "I think we'd be looking at a different outcome".

Former Royal Welch Fusilier Aaron said all seven people in the rented property were "totally oblivious" to the fact the building was alight when he dashed round just before 05:10 to raise the alarm.

"I phoned the fire service at eight minutes past five and by 22 minutes past five the whole roof was ablaze and by six o'clock there was nothing left of the roof," said Aaron, who served with the RWF for 12 years, including a tour of duty in Afghanistan.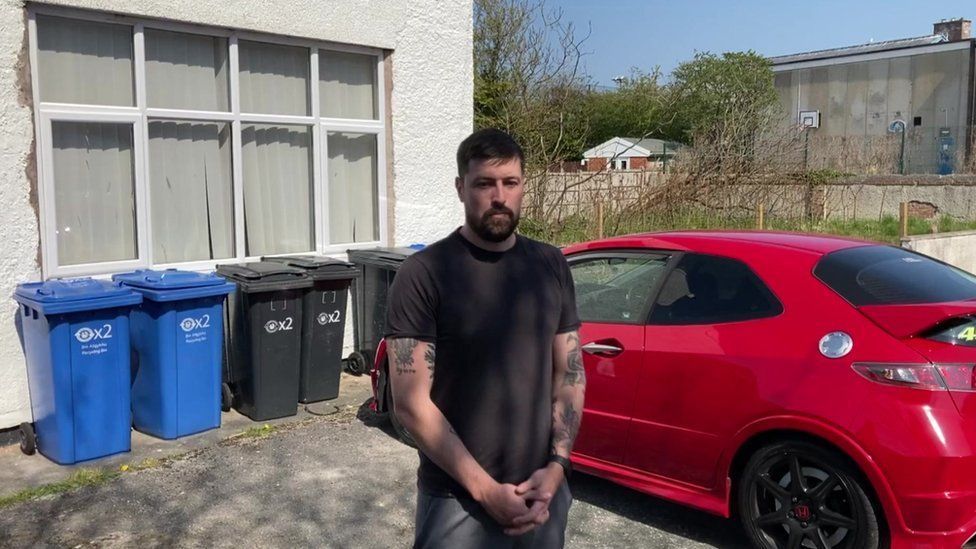 The 33-year-old, who now works for the Civil Service, said the blaze appeared to have started after an incinerator bin in the garden of the bungalow set fire to something on the ground.

It is then believed to have spread to a bush close to the house, setting fire to the roof of the property.

It was only after he had got up to get the milk that he spotted the fire.

"As I came back into my bedroom, I seen (sic) orange light behind the blind. So I opened the blind and seen (sic) the back garden and the fence ablaze," he said.

"So, once I seen that, I put my clothes on, ran round, whilst phoning the fire service."

Aaron said he had trouble getting those inside to wake up.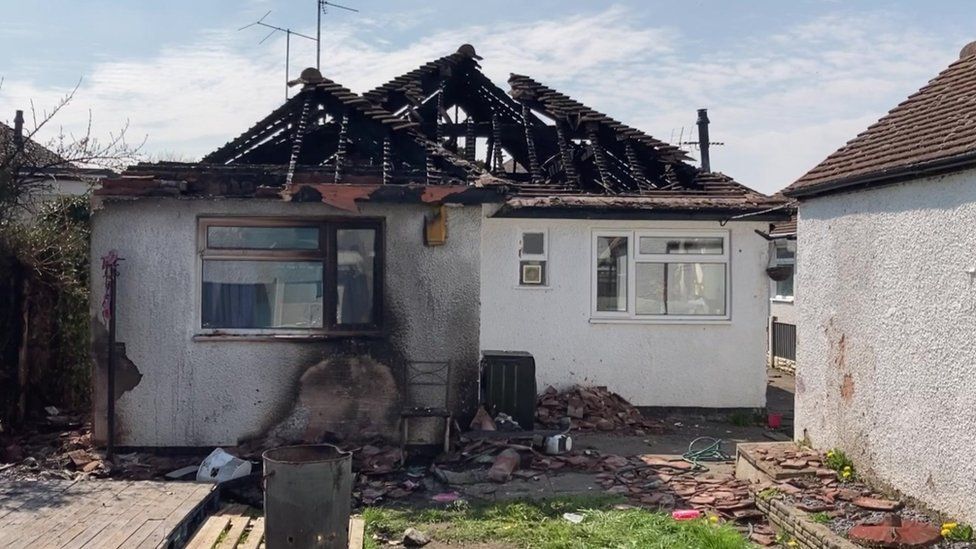 "I was kicking the door, punching the door, banging the windows, screaming through the letter box - everything," he explained.

He said those inside were "panicking" when they realised the danger and started trying to get everyone out.

He then helped lift the children over a garden fence to keep them away from the fire as they fled the property, via the back door as they were unable to find the front door key.

He said: "If I'd left it five minutes, later, as the fire service said, I think we'd be looking at a different outcome."

It's understood that the property was rented by one of the two women who lived there with her three children. The second woman and her two children were staying over at the time of the fire.

Aaron, who had never spoken to his neighbour before, said that they thanked him for what he had done and he has since been contacted on social media by family members expressing their gratitude.